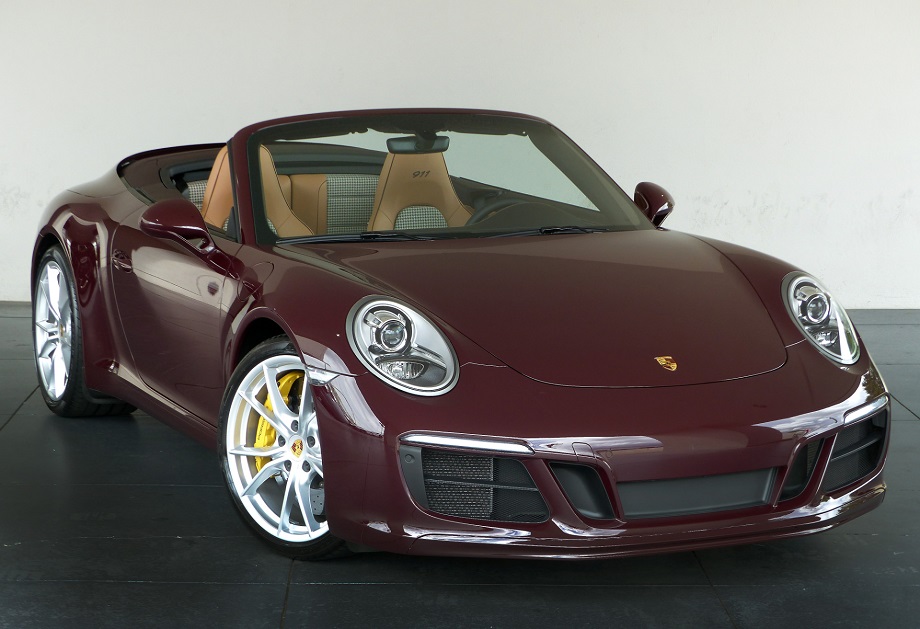 It is not uncommon for us to come across Porsches touted by their sellers as "the most highly optioned 911 ever" or some such thing. The window sticker will be a full-page of optional extras and it'll have a super high MSRP. The problem in many cases is that a lot of those builds aren't really much more than a buyer checking off every box on the option sheet. It is indeed a highly optioned 911, but you might never know it unless someone sat you down to point out each option. They aren't really all that special.
This 911 took a slightly different route to arrive at a similar result and I think it's much better for it. Here we have a Pascha Red 2018 Porsche 911 Carrera Cabriolet with an Espresso over Cognac natural leather interior with Houndstooth inserts. It also has the Sport Design Package, PCCB, and a host of other more standard options. Rather than going through and checking all of the option boxes, this buyer chose the most different options available. As such, simply by the number of options this probably isn't the highest optioned 911 we've seen (though it can't be far off), but by cost it would be pretty difficult to surpass it. The result is a Carrera Cabriolet with an MSRP of nearly $160K. That's almost $60K in options! On a base Carrera!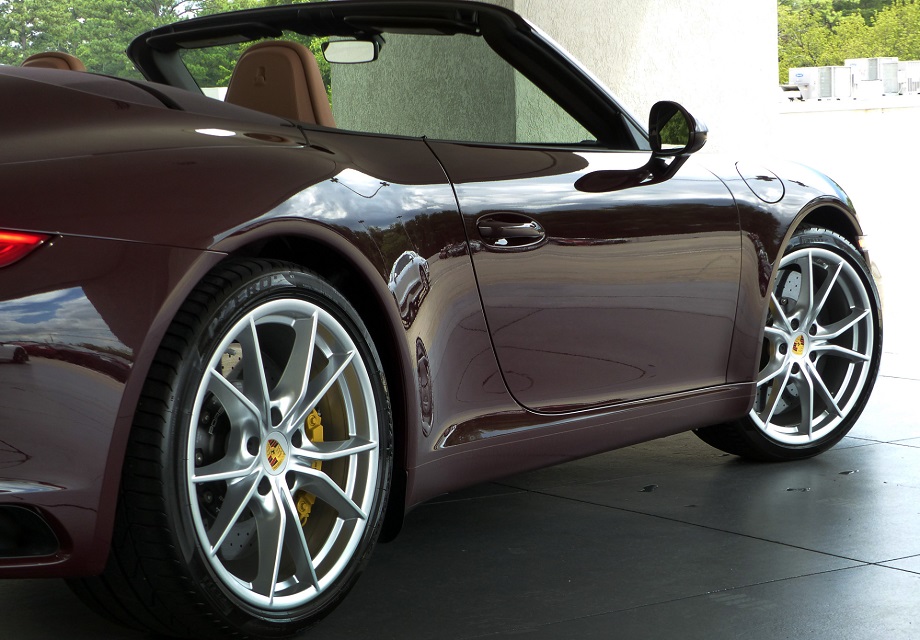 Year: 2018
Model: 911 Carrera Cabriolet
Engine: 3.0 liter twin-turbocharged flat-6
Transmission: 7-speed manual
Mileage: 3,445 mi
Price: $133,900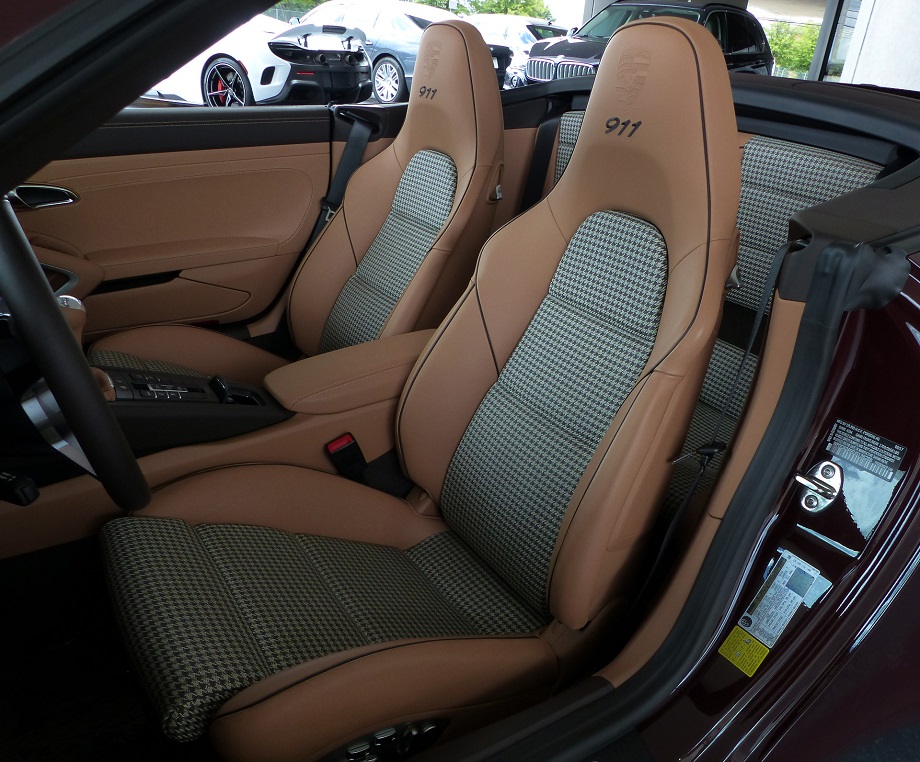 $159K ORIGINAL MSRP! STUNNING EXTERIOR / INTERIOR (MUST SEE PICTURES)! CERAMIC BRAKES! 18-WAY ADAPTIVE SPORT SEATS! SPORTDESIGN PKG! WON'T LAST!

* $159060 ORIGINAL MSRP: $55K+ IN OPTIONAL EQUIPMENT (YOU WON'T FIND ANOTHER 911 CARRERA WITH THIS MANY OPTIONS OR BESPOKE INTERIOR).

ONE OF THE RAREST MOST BESPOKE AND GORGEOUS COLOR COMBINATIONS WE HAVE EVER SEEN AT SELECT: PASCHA RED ($6960 EXCLUSIVE OPTION) EXTERIOR W/ ESPRESSO / COGNAC LEATHER ($5800 OPTION) INTERIOR W/ HOUNDSTOOTH SEAT INSERTS (ONLY ONE IN THE US $13180 EXCLUSIVE OPTION) W/ BROWN ROOF. MUST SEE PICTURES!!

* PORSCHE CERAMIC COMPOSITE BRAKES – $8520 OPTION!!!

* 18-WAY SPORT SEATS W/ MEMORY – $3470 OPTION!!!

* SPORTDESIGN PACKAGE – $4500 OPTION!!!

* HEATED SEATS – $700 OPTION!

* 20-INCH CARRERA S WHEELS W/ COLORED CRESTS – $1780 OPTION!

* SPORTDESIGN SIDE MIRRORS – $600 OPTION!

* BOSE SURROUND SOUND SYSTEM – $1600 OPTION!

* LOWER REAR FASCIA PAINTED PASCHA RED – $680 OPTION!

* CUSTOMIZATION PACKAGE MANUAL GEAR LEVER – $1040 OPTION!

* STAINLESS STEEL ILLUMINATED DOOR-SILL GUARDS – $1210 OPTION!

* LEATHER INTERIOR PACKAGE – $1100 OPTION!

* SPORT TAILPIPES IN SILVER – $950 OPTION!

* SPORT SEATS PLUS BACKREST SHELLS IN LEATHER – $1870 OPTION!

* IN BUSINESS SINCE 1994: BUY WITH CONFIDENCE! NUMBER 1 PRE-OWNED DEALER IN GEORGIA TWO YEARS IN A ROW!

* ALL VEHICLES CAN BE SHIPPED BY THIRD-PARTY WORLDWIDE!

GREAT FINANCE RATES AVAILABLE (WE BEAT OTHER BANKS AND CREDIT UNIONS PRE-APPROVALS DAILY)! BEING A FULL-SERVICE INDEPENDENT DEALERSHIP WE ALSO OFFER CERAMIC COATING PAINT PROTECTION WHEEL / TIRE ROAD HAZARD PACKAGES EXTENDED WARRANTIES CLEAR BRA PROTECTION VEHICLE WRAPS AFTERMARKET WHEELS AND AFTERMARKET ELECTRONIC DEVICES. JUST ASK YOUR SALES CONSULTANT.

* WE WELCOME ALL TRADES!

WE WELCOME AND ENCOURAGE ALL CLIENTS TO ARRANGE A PRE-PURCHASE INSPECTION AT THE VENUE OF THEIR CHOOSING BEFORE THE SALE IS FINAL. PLEASE UND
ERSTAND AND RESPECT THAT POST-SALE INSPECTIONS OF ANY KIND WILL NOT BE HONORED.

PLEASE READ OUR FULL DISCLAIMER BELOW PRIOR TO COMPLETING A PURCHASE.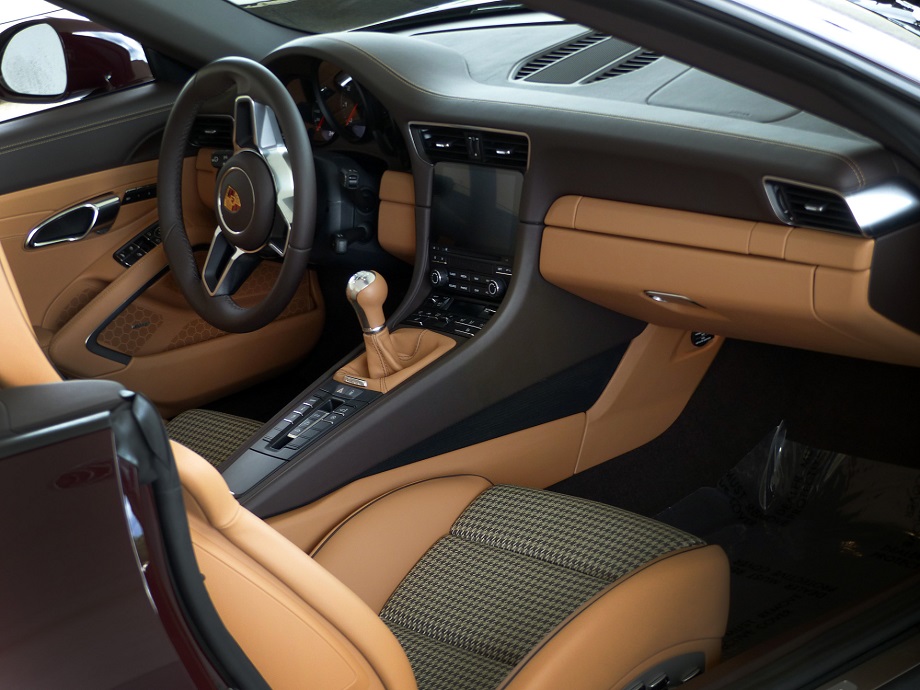 As insane as this build is I must admit it does look really good. I don't know that I've ever seen Pascha Red, but I really like it. It'd be great to see it in the sun to see how the color looks under that lighting, but I enjoy the slight purplish hue it shows in these pictures. This three-way color combination works really well and the houndstooth inserts always are a favorite. Here they provide a nice level of contrast to bring everything together in the interior. (Are they really a $13K option?!) This build does walk a somewhat fine line between enthusiast and elegant cruiser. That's not an unusual spot for a 911 to find itself, but if you had asked me to guess what transmission this Cabriolet possessed I'd have bet large on PDK. I'm not going to complain about it having a manual transmission, but it is surprising to me. The choice of the ceramic composite brakes follows in a similar vein.
The only way in which that really matters is in thinking about who the buyer of this car would be now that it's up for sale. You're always going to have a tough time finding a buyer willing to spend this sort of money on a base Carrera. I've posted a couple really nice Carrera GTS Coupes with manual transmission in historic PTS colors that are less expensive than this Carrera. They certainly weren't as unique in their entirety, but they were pretty darn unique in their own right. I'm also quite curious why it's for sale. Why go through all of the trouble to put together such a striking (and expensive!) build just to turn around and sell it almost immediately. As you can see from the asking price it's already lost nearly $30K in value. For the next owner, that's a good thing.
I don't know what I expect to happen with this one, but there's a good chance someone is going to end up with a great buy, even if it's a bit expensive overall.
Special thanks to Arun for bringing this 911 to our attention!
-Rob