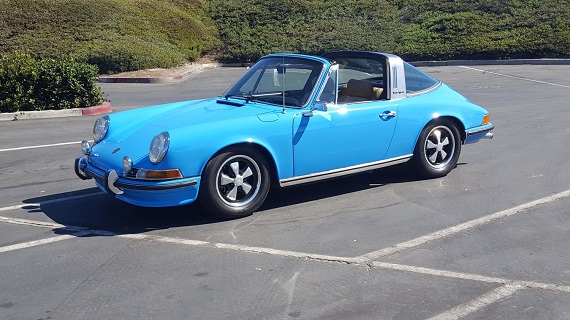 Earlier in the week I featured a Burgundy 911S Coupe that looked really nice and within that post I discussed the potential relative value of a long-hood 911 in that color versus one of the pastels Porsche produced during that time. Here we have just such a pastel: a Pastel Blue 1972 Porsche 911S Targa, located in California, with Tan interior and a well traveled 135K miles on it. Hopefully it can provide us a nice glimpse into these relative values. It's also stunningly beautiful. I've said before that when these sorts of blues are contrasted with a tan interior they make for one of my favorite color combinations throughout the Porsche catalog. Naturally, this one is no different and I particularly enjoy the combination on a Targa where we can see the interplay of the colors to a greater degree. It's simply a wonderful and highly desirable combination, and that this is a 911S just takes the entire package to another level.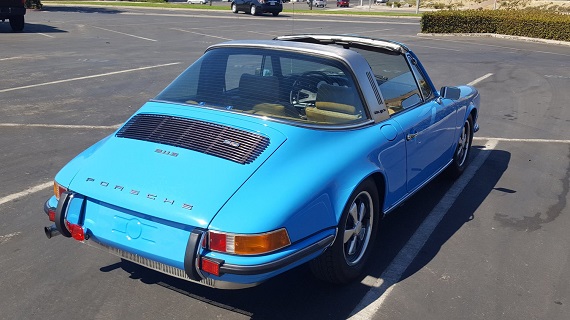 Year: 1972
Model: 911S Targa
Engine: 2.4 liter flat-6
Transmission: 5-speed manual
Mileage: 135,000 mi
Price: Reserve Auction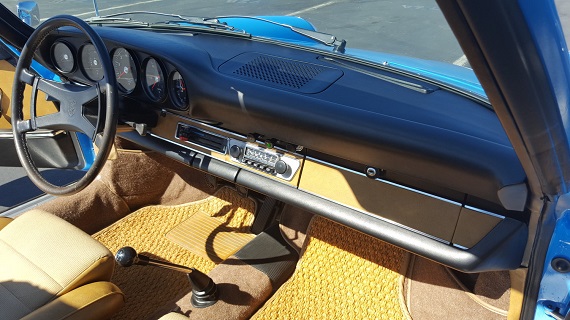 Currently offered for sale a 1972 911S Targa, 1 of only 989 72' 911S Targa's built, finished in the rare and desirable Pastel Blue color.

**1972 911's have the one-year only side mounted oil door which improved weight distribution and handling.

Originally delivered new on May 25th, 1972 to the Honrath Porsche-Audi-VW dealership in Bingen, Germany (rear windshield still carries original dealer sticker from new). It was purchased by Walter Schellhase in the Rhein region of Germany. Walter kept the car for about 4-years before trading it back into the same dealership. The car was then sold to Dr.Rolf Wittek on April 9th, 1976 who only kept it a couple years and then sold it to Nikolause Treis on August 31st, 1978. The car eventually made its way to the United States in 1982 when it was purchased by an active PCA member and local autocross enthusiast in Connecticut. He drove and enjoyed the car in all its original glory and even won two SCCA Solo-II National Championships in 1985 and 1990 (information and pictures from that time will be included with the car). In order to keep the car competitive it was well maintained; the floor, battery boxes, suspension pans and undercarriage were all immaculate with no rust. In early 2001, the car was eventually sold to another Porsche enthusiast in California, where it has now spent the last 15 years.

This is a very highly optioned 911. Per the Certificate of Authenticity; Bumper Horns, Leatherette Headrests, rare 'Recaro' Sport Seats, apron for rear bumper(muffler skirt), halogen floodlights, over bumper, antenna left w/loudspeaker and noise suppression, tinted glass all around, rear fog lights, three-point seat belts and pirelli tires.

Pastel Blue was no longer offered in 1972 and had to be special ordered in Germany, making this an extremely rare color option. A bare metal, glass out, all trim removed professional repaint (all supporting documents/pictures will be included with purchase) of the original Pastel Blue color was done.

This car is matching numbers – the suspension, transmission and all other mechanicals such as brakes etc. were thoroughly serviced, replaced and rebuilt where necessary. The car is in superb mechanical condition.

The mostly original interior is immaculate with extremely rare sport Recaro seats. The door pockets are also original and in great condition. The original dash has no cracks or warps whatsoever. Original S steering wheel looks great with minor patina. The interior needs absolutely nothing and the Targa top fits great.

This car has been preserved extremely well over the years and retains most of the original parts (aluminum S calipers, trombone oil cooler etc.)

We are currently in the process of rebuilding the original numbers matching MFI engine to RS Spec, which will have 210bhp. Once the engine is rebuilt the car will be sorted, tuned, straight, dry and ready to be enjoyed. The car had a very well documented life and comes with the original owner's manual, maintenance/warranty book and ownership records including German title (Fahrzeugbrief) from when the car was new.

This 911 S comes with the original owners manual, extra keys/correct key fob, Porsche COA, original maintenance book/ownership records, recent service history, German registration log book, original sway bar, tool kit, jack, spare and original seat belts.

For more images of this vehicle;

http://early911specialist.com/new-products-1/1972-porsche-911s-targa

If you are interested in finding out more information about this vehicle, email: henk@carparcusa.com

The car is available for inspection by appointment only at our location in Costa Mesa, CA.

We can be reached by phone however please note we are on Pacific Standard time +1 562 331 0681

Since the car is locally offered for sale, we reserve the right to end this listing at any time should the vehicle no longer be available for sale.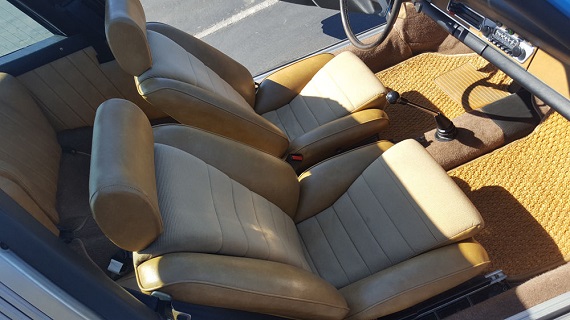 This 911S has quite a few things working in its favor. That its lovely Pastel Blue paint is paint-to-sample should make it one of the few '72s existent in the color. Also, in virtue of being from the '72 MY itself provides further distinction as these were the only models that carried the external oil filler door. It sounds well documented as well and the bits of history we're given here make it clear that this was no garage queen having propelled its driver to two SCCA Solo-II championships many years back. To come across such a great looking 911 that we also know has been driven as intended just adds some extra panache. It's been loved and used properly, yet still sits now looking great. The seller says they are rebuilding the engine to RS-spec and this probably stands as the biggest question mark on the car at the moment. Why it is up for sale prior to the completion of the engine work seems a little confusing to me, but here we are. Bidding, while certainly not low at $102,011, is lower than I'd expect, but there are still a few days remaining for it to come up. How much it does, we'll have to see, but I am curious where the final bids settle and whether this one takes a few rounds of auctioning before it finds its way to a new owner.
-Rob