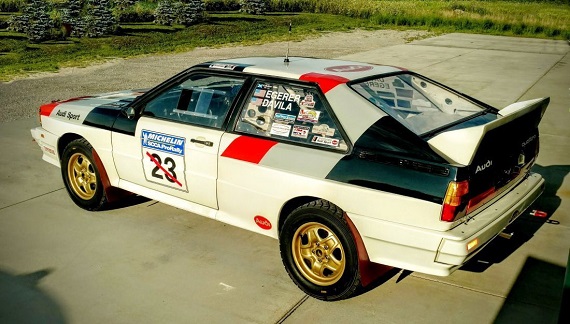 The Audi Quattro was not nearly as dominant in World Rally as pretty much every article you read says it was. That may sound shocking, but in the years the Quattro "dominated" the WRC, it only won the driver's and constructor's championship together one time – in 1984. In 1983, Hannu Mikkola won the driver's title in a Quattro, but the constructor win went to – wait for it – a rear-drive Lancia 037. In 1982, Audi's design won the constructor's championship, but again it was rear-driver Walter Röhrl in an Opel Ascona that captured the driver's title. Those shortened, screaming, flame-belching bewinged monsters you've seen on numerous clips? Well, the truth is they were never very successful, as the much better balanced Peugeot 205 Turbo 16 swept the end of the Group B period up. If you want real dominance in that era, though, you need to look at the Lancia Delta Integrale, which captured every title from 1987 to 1992.
But the Quattro was evocative. The sound was memorizing. And even if the recipe was perfected by other makes later, it was Audi's design that revolutionized the sport with unfathomable speed and aggression. So compelling was the Quattro, that long after Audi had retired from Rally and was now dominating race tracks, plenty of enthusiasts were trying to recreate the magic on their own: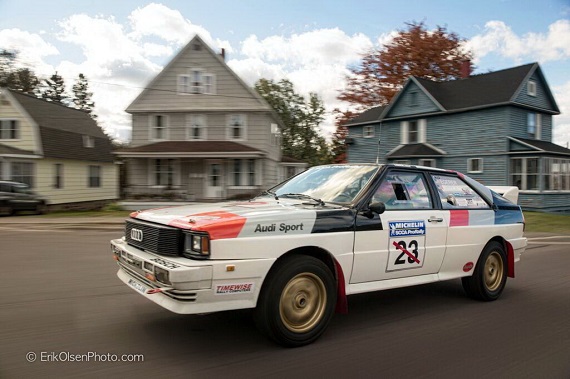 Year: 1983
Model: Quattro
Engine: 2.1 liter turbocharged inline-5
Transmission: 5-speed manual
Mileage: 63,109 mi
Price: Reserve Auction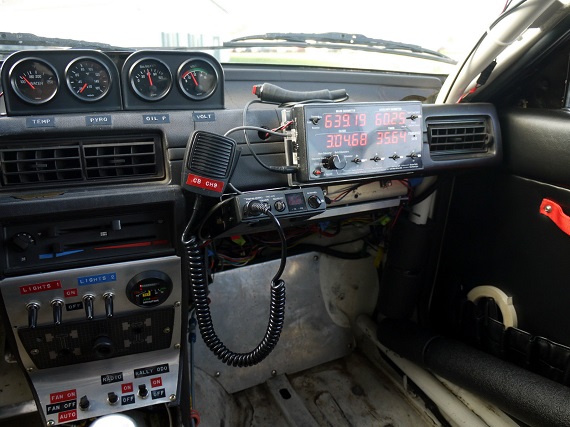 This 1983 Audi turbo quattro is a competition rally car from the 1999 and 2000 Michelin SCCA Pro Rally Championships. It is one of only a handful of log-booked ur-quattro rally cars in North America. The car was raced in Open Class by the late Jim Warren and co-driver Chuck Binder. After the 2000 season, Jim retired from rallying, switched to sled dog racing, and competed several times in the Alaskan Iditarod. The car was in storage until I purchased it from him in 2010. Since then, I've driven the car less than 1000 miles and have not raced it. The car is ready to race in Historic/Vintage stage rally, TSD, ice racing, and rallycross. And like all rally cars, it is road legal, registered and licensed, so it can be street driven if you don't mind all the attention! The car has a clear Michigan title.

MORE PHOTOS CLICK HERE!

The car was built by Pierce Race Car Fabrication & Preparation in Midland, MI. All original build documents and receipts are included. They started with a rust-free, factory white production car in very good condition and stripped it down to the shell. A welded-in SCCA Pro Rally-spec roll cage was built with reinforcement of the door sills, A & B pillars, front & rear shock towers, the cowl, the dash, and the front bulkhead – the car is incredibly stiff. A lightweight fiberglass hood was fabricated. Lightweight plexiglass side and rear windows were installed. NACA ducts were installed in the rear side windows for interior ventilation (or can be used for rear differential cooling like the A2 werks cars). The heavy metal bumpers and supports were removed and only the lightweight FRP bumper shells remain with the front shell cut out for cooling (front bumper shell can be quickly removed with 2 bolts). The inner headlights and supports were cut away and an extended grill was fabricated to house the intercooler. A large aluminum front skid plate and various underbody armor were installed. Suspension was converted to coil-overs with Bilstein shocks (many spares included). The power-assist was deleted from the brakes. Brake calipers remain stock. Power steering was retained. Also added: an on-board fire suppression system plumbed to the interior and engine bay, a Peltor intercom, a Timewise rally timer/odo, map lights, various engine gauges, a large Sparco helmet box, a Momo steering wheel, and custom door panels & pulls similar to the Audi Sport-built rally cars. In the trunk, there is a quick-release mount for a scissor jack, permanent tool box, and a custom spare tire mount with quick release.

When I purchased the car, the 2.1 liter 5-cylinder 10-valve engine ran but had a cracked head and blown turbo. The engine has since been modified by Pepp Motors with the installation of a new large-valve ported head, custom ground high-lift cam, 034 electronic fuel injection, RC injectors, stainless steel header, Garrett GT28RS turbo(oil- and water-cooled), straight dump pipe for the wastegate, a large intercooler, and a straight exhaust pipe with a race muffler. There is a Howe aluminum racing radiator and Howe front oil cooler. For racing, there is also a rear-mounted oil cooler from AM Cars UK that is plumbed but not currently connected if additional cooling is needed. The engine runs very strong, has that legendary 5-cylinder Group B sound and, of course, shoots nice flames out the exhaust and dump pipes. It has not been on a dyno so the horsepower is unknown. The gearbox and center & rear differentials are stock as far as I know. The shifter has been modified for reliability – eliminating all factory plastic parts – in a manner similar to the Audi Sport-built rally cars.

The car is reliable, it shifts smoothly, the clutch is good, it tracks straight, there are no unusual driveline noises, there are no wheel vibrations and the handling is fantastic (due in part to built-in toe-out of the rear wheels for quick turn initiation). Although it is currently set-up for gravel stages, it drives well on pavement too. The car starts quickly except in temps near or below freezing when it will take 3 or 4 attempts to get it running, then it's fine. There have been no attempts to optimize the ECU, so I'm sure even more horsepower is available – ECU software and cable included (older 034 Stage IIb I think).

The car is in very good condition for a rally car. The car was never crashed. There are minor spots of surface corrosion but no rust-through or structural rust. It retains its original paint from the rally build and there are stone chips, scratches, and paint touch-ups as would be expected of any rally car competing on gravel. I elected to keep as much of this patina intact as possible and have purposely not even cleaned some areas of the car. Remember, this is an authentic rally car – not a show car. It presents very well and appears to have just come off stage – as it should in my opinion!

There are numerous miscellaneous spare parts, including an unpainted spare fiberglass hood, various rally lights, a correct replica aluminum dash panel & cross-bar if you wish to convert from the stock dash to the type used in the Group B cars, wheels, and more.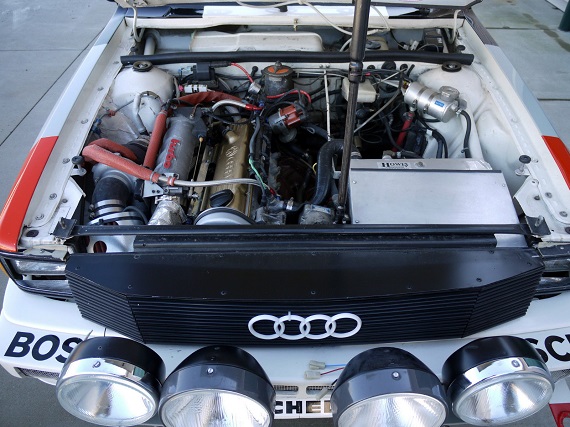 What more is there to say? The patina is perfect. The livery is perfect. The wheels, stance, rally-bred history and details? All perfect. And because this car isn't a factory build, the value (normally in the hundreds of thousands of dollars for a real Audi Sport chassis) is much more reasonable. The recent resurgence in the interest of 1980s WRC legends like the Quattro assures that the value will be fairly high, though, and already this car is close to $30,000 in bids with a few days to go. That would buy you a pretty well sorted early road variant, but this car is so much more. Even if it's not original, the nostalgia that comes along with the decal set is worth its weight in mud.
Thanks to our reader Jim for the excellent spot!
-Carter