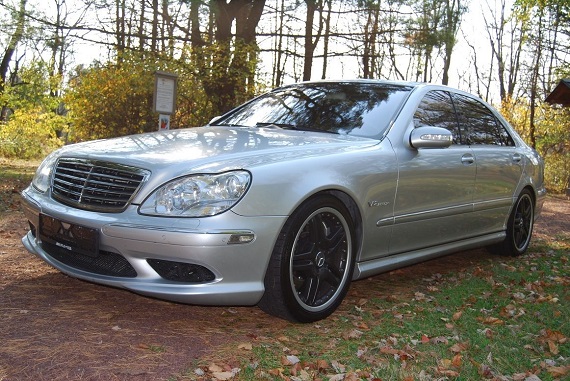 Bonkers.
That's what the engineers at Mercedes-Benz went on the W220, apparently. They were not content with already have a very potent sedan in the supercharged S55 AMG (which featured the same supercharged M113 as yesterday's E55 by the end of the run, but kicked up to 493 horsepower) or the ultra-luxurious S600 that had a 5.5 liter twin-turbocharged V12 that made the same horsepower as the S55 but even a bit more torque.
So, they combined them in 2005.
The result was the S65 AMG, which with the punched out M275-AMG 6.0 liter twin-turbocharged V12 produced a simply outlandish 604 horsepower and 738 lb.ft of torque. That was enough to propel this 5,000 pound sedan from 0-60 in 4.2 seconds. And while that sounds really quick (and IS really quick), that was not where the S65 excelled at accelerating. It was really on the fly that the numbers started to tumble as the speedometer rose; a quarter mile was dispatched in 12 seconds. No fancy launch program, no trick dual-clutch gearbox, not even really enough tire to transfer that power to the road despite the massive 275-35-19 treads in the rear. This was just pure, unadulterated Victorian-era power. The real number that stands out isn't the top speed, because like all other sensible German sedans from the time period it was maxed at 155 m.p.h., but how quickly it got there: 21 seconds – 2.3 seconds ahead of a Ferrari 575. If you're counting, that was about the same amount of time it took an early 1980s Volkswagen diesel to hit 60. And you were able to achieve this speed in what was effectively a modern Swiss chalet, comfortable, quiet and full of all the modern technical features you'd expect from the automotive equivalent of a Brookstone catalogue. But it was expensive, topping $180,000 before the few options you could select – yet today, these physics-defying super executives can be purchased by mere mortals: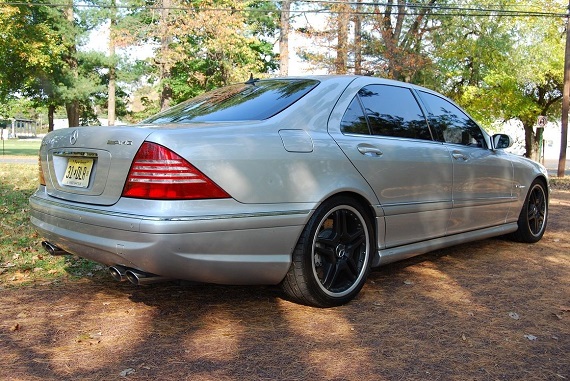 Year: 2006
Model: S65 AMG
Engine: 6.0 liter twin-turbocharged V12
Transmission: 5-speed automatic
Mileage: 100,990 mi
Price: Reserve Auction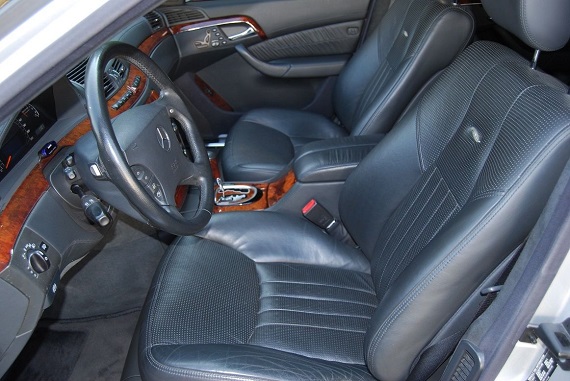 This 2006 Mercedes S65 V12 AMG has 604HP and 738 lb/ft of torque? Read that again and let it sink in for a minute. With this S65, you can alter the earth's rotation with your right foot! Want to pass a car? Press the throttle down and hang on, because you will pass the speed of light at the same time. This is a car that should always have a change of underwear kept in the trunk for unsuspecting passengers. There are two reasons to buy this gorgeous 2006 Mercedes S65 AMG. First, its cosmetic condition is excellent and it has been garaged and well cared for since new. Second, and maybe even more important, its service history and mechanical condition is impeccable, and I will go into more detail about that in this ebay auction listing. You will not find a better 2006 S65 at this price than this one; on ebay or anywhere else. A MINT condition S65 AMG with 100K original miles, fully serviced since new, with TONS of recent service, near-new tires and brakes, recent multiple inspections, and all for the price of a well-used Hyundai!!! The first person that appreciates this car, its condition, and especially it service history, will buy it. YOU ARE SAVING $158,000 OFF OF THIS CAR'S ORIGINAL MSRP!!! It needs nothing but a new owner, and looks/drives like a brand new car. This S65 has satellite radio, AMG sport package, trunk closer, heated/cooled front seats, heated/cooled/electric REAR seats, side shades, parktronic, bi-xenon lights, and much much more.
— Here is your BEAST!! —
Please let me stop you now if you are looking for a cheap S65. They are out there, and trust me, there is nothing more expensive on this earth than a cheap S65. Some of these cars have been neglected, leak, have faulty ABC suspensions, rattle, and generally need expensive repairs and have not been serviced by authorized MB dealers. Not this one! It's been serviced to within an inch of its life, with over $15K being spent in the last 20K miles!!! Including engine and trans mounts, trans service with new conductor plate, new A/C system, new LR ABC strut, engine drive belt, front brake pads and rotors, rear brake pads, tires, ABC transverse hose, coil pack voltage converter, coil pack, ECU, multiple Mnobil 1 oil changes, wiper blades, and more. EVERYTHING needed to go another 100K miles without issue, and much much more. Also, this S65 has been inspected three times in the last month!! It needs NOTHING, and no other S65 you will find can compete combination of mechanical, cosmetic, and with this car's condition, either cosmetically or mechanically. Please read on to find out more.
Here's the deal:

— This is a 2006 S65 V12 bi-turbo sedan in 744 brilliant silver metallic over 581 charcoal perforated leather, burl root wood trim, and charcoal carpets with alcantara headliner. It has 100,xxx documented original miles (10K per year), looks like a million bucks, and drives like a million bucks too! –
— Let's start with service history, because when shopping for an S65, service history is the first, second, and third most important thing to look for! This car in the last 6K miles has had its front brake rotors, pads, rear brake rotors, tires, ABC transverse line, A/C compressor, and Mobil 1 oil change all done. That's about $10000 at a Mercedes dealer. Within the last 18K miles, it's also had all 24 spark plugs, a voltage converter for the coil packs, ABC high-pressure line, gateway control unit, ECU, LR ABC strut, and other Mobil 1 oil changes and routine maintenance. That's another $5500 at the Benz dealer. So now there is nothing for the next owner to do except drive and enjoy. THAT'S why you buy THIS particular S65, and not the other ones that will need brakes, repairs, and other attention that will instantly add $5K plus to their purchase price. –
— Exterior 9.25 out of 10 (I'm finicky) – Fantastic overall condition paint, body, glass, and trim. No dings, no dents. This car looks amazing, with a deep shine to the glossy silver paint that's like looking into a mirror. This car looks great even under fluorescent light in a garage! You will not believe the cosmetic condition of this car inside and out. It's THAT nice. —
— Never any accidents, clean carfax, and most importantly wears all its original body panels, bumpers, and paint. Even the lower side-body moldings are in great shape. Chrome, rubber, glass, trim is all excellent. No oxidation, fade, wear, rust, etc. Headlights are clear and do not have 'road-rash'. The bottom of the front spoiler has some curb scuffing on it, and the rear bumper has a small scuff on the right side. Both are minor. —
— Look at the body panels…..they are perfectly straight. —
— The wheels are 19" authentic AMG five-spokes. They are in very good overall condition with no bends and only some mild rub to the edges. This S65 wears a staggered set of Bridgestone tires, 245/40/19 in front and 275/35/19 in back, with about 80% tread remaining in front and 65% tread remaining in rear. At the BIN price, I will include a SECOND set of rear tires (get used to buying rear tires if you own an S65!). The car drives straight as an arrow at any speed you choose. —
— Interior 9.75 out of 10 – The charcoal leather interior overall including all seating and door leather, seat padding, dash, console, and carpets are in amazing original condition. No dash cracks, carpet rips, very little wear of any kind on the leather (driver's bolster shows nearly zero wear). Everything looks and feels new; you can't even tell anyone has been in the car. No smoking, no eating, no drinking. —
— The door panels and trim are also in great shape, like the rest of the car. One wood ashtray cover is missing on the RR door. —
— Even the headliner, trunk, and spare are perfect. —
— This S65 comes equipped with full hand-stitched leather doors and dash, heated/cooled front seats, heated/cooled/electric REAR seats, trunk closer, satellite radio, AMG sport package, dynamic front seats, parktronic, rear-side window shades, CD changer, TPMS, COMAND navigation, moonroof, bi-xenon headlights, leather steering wheel, power rear shade, and more. —
— More great options! –
— The windows have been professionally tinted. There is a hidden Passport 9500ci GPS radar detector, and an OEM Euro front plate mount. The car has been professionally lowered using lowering links, and aligned. —
— Electrical 10 out of 10 – All lights, switches, radio, windows, wipers, seat motors/memory, and power mirrors work perfectly. Headrest motors, vacuum lock system, etc. all operating properly. The HVAC system is fast to respond, and perfect with hot heat and ice-cold A/C. —
–Mechanically 10 out of 10 – Engine starts, idles, runs, and revs to redline in every gear smooth and strong. With 604HP and 738 ft/lbs of torque, you have enough to destroy a Ferrari on the road or pull a tree stump out of the ground. Transmission is smooth yet aggressive, and downshifts eagerly with lightning fast positive engagement shifts. The car runs at high speed with no vibrations or noises. There are no leaks. —
— Engine is strong and VERY eager to run, transmission smooth and ready to drop down two gears at your command to rocket you past slower traffic. When you floor the throttle in this car, you'd better be prepared to arrive where the car is pointing RIGHT NOW. Brakes are solid and pedal feel is firm. Suspension is tight like new, but floats on a cloud just like an ABC-equipped W220 is supposed to do. ABC sport mode works perfectly. Steering nicely weighted with no play in the box. This car drives and handles like new. —
— It has all its books, working remote key, and complete service history including all warranty records. With only 100K miles, this car is not even broken in yet. All you have to do is drive. —
— At the BIN price, I will include the second set of rear tires mentioned above, floor mats, and a full $200 detailing including engine bay, carpet shampoo, leather conditioning, orbital polishing, etc. I'll also include ToughGuard paint protectant. This stuff is simply amazing for durability, as it will last up to five YEARS. Dealers charge up to $695 for this stuff! That's over $1,500 in value all included at the BIN price! —
— Nits: A sealed rock hit to the windshield, and the few minor items mentioned above. The car is basically as close to new as a 2006 car can be with 100K miles. A few tiny rock chips, surface marks to the wheels, etc. THAT'S IT. NOTHING ELSE. And if I did not mention those, it's unlikely anyone would even notice…I just want to be up front and honest. —

— I have good feedback, and sold many Audis, Acuras, and Benzes that the new owners are thrilled with. They and others have offered to act as references to verify that I am honest in my descriptions of the cars I sell, and you are welcome to contact them. —

THIS IS A ONCE-IN-A-LIFETIME CAR, AND IT'S AN UNBELIEVABLE DEAL!!

If you have questions, please call Bruce at 856-912-2600 or email me in advance.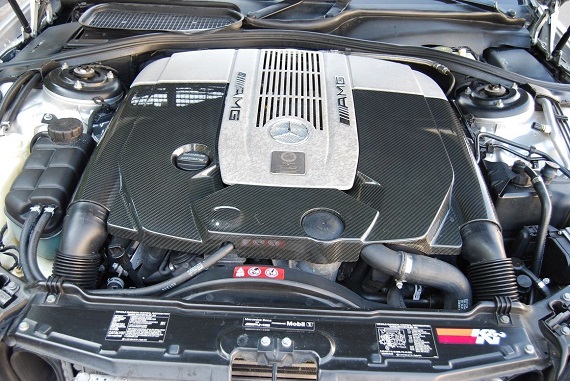 This is the second of three listings we have from this seller, and once again his reputation lends comfort to the ominous nature of buying into this price and performance bracket of car. "There is nothing more expensive than a cheap S65" is perhaps the best truism of our generation. While normal super-sedans can bankrupt most middle-class bank accounts quickly, the ability of the S65 AMG to empty your wallet is only exceeded by its acceleration numbers. If you're even remotely considering one, then, you need to find one that has been serviced and serviced properly. That's the case here; Mercedes-Benz dealer services which back up the near perfect condition of this 2006.
I was lucky enough to drive a newer CL65, and it's perhaps one of the best automotive expressions of absolute power corrupting absolutely. Half throttle was sufficient to break the rear end loose, the traction control struggling to barely contain the fury being forced through the drivetrain. It was surreal, the closest I've ever been to a real-world hyperspace experience. I could do nothing more than hold on and laugh maniacally as the needles danced a cartoonishly fast arc. Yet, outside of some discrete badges, a lowered stance and larger, more aggressive BBS multi-piece wheels, there is little in this package which indicates the performance potential. Driving one is a transformative, visceral experience because of the nature of the delivery package – truly, a rabid, fire-breathing rip-your-head-off wolf in gourmet, pure-bred sheep's clothing.
-Carter