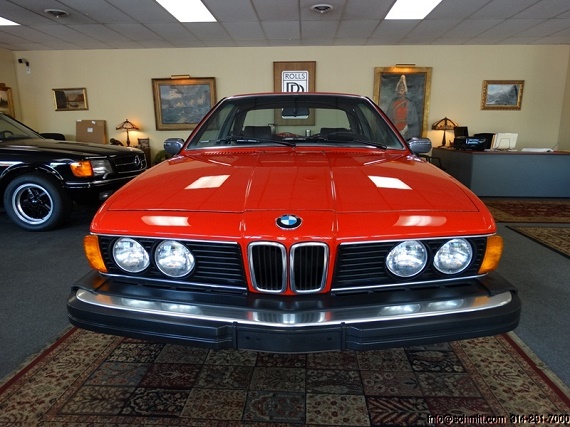 I still remember when my father purchased his first German car. It was a 1982 BMW 633CSi in metallic grey with tan leather and a 5-speed manual, with the original BBS Mahle wheels. It was otherworldly to me; long, lean and low compared to the Toyotas I was used to being carried around in, the BMW had a feel of quality that the other cars I had been in couldn't match. It snarled with a wonderfully raspy exhaust note and I felt invincible inside. The 633 was also the first car I displayed at a show myself; in that case, I proudly spent hours cleaning it and getting it ready for the Pittsburgh Vintage Grand Prix in 1993. At that point, the 6 was still a pretty new car – but even then, it was rare to see 6 series and since then it's even more rare to find them. The best of the bunch are arguably the ones that came after my father's car was made and got the post 1983 E28 chassis updates. Although considered the lesser model due to the lower displacement motor, in fact the 633CSi was only 1 horsepower short of the 3.4 that made its way into the 635CSi replacement for the United States in 1985. Today, there are three lower mile examples of these clean coupes up for sale – which would you choose?
Year: 1983
Model: 633CSi
Engine: 3.2 liter inline-6
Transmission: 4-speed manual
Mileage: 69,000 mi
Price: $23,900 Buy It Now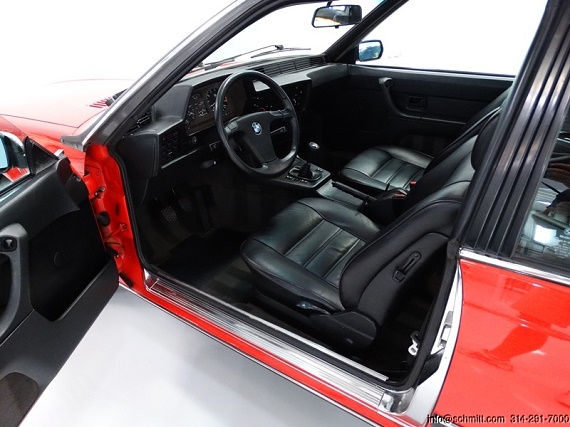 1983 BMW 633 CSi COUPE

MAGNIFICENT, ORIGINAL CONDITION!

ONLY 69,000 ACTUAL MILES!

ONLY ONE OWNER FROM NEW!

BEST COLOR COMBINATION!

FITTED WITH ALL OPTIONS, INCLUDING:

POWER STEERING

DESIRED 4-SPEED MANUAL TRANSMISSION
CLIMATE CONTROL AIR CONDITIONING

POWER WINDOWS

POWER BRAKES

DOOR LOCKS

ELECTRIC SUNROOF!

COMPLETE ORIGINAL TOOLKIT!

ORIGINAL BOOKS, MANUALS AND SERVICE RECORDS!

100% ORIGINAL!

TRULY ONE OF BEST EXAMPLES OF THIS HIGHLY DESIRABLE MODEL TO BE FOUND ON THE MARKET TODAY!

A COLLECTOR'S DREAM!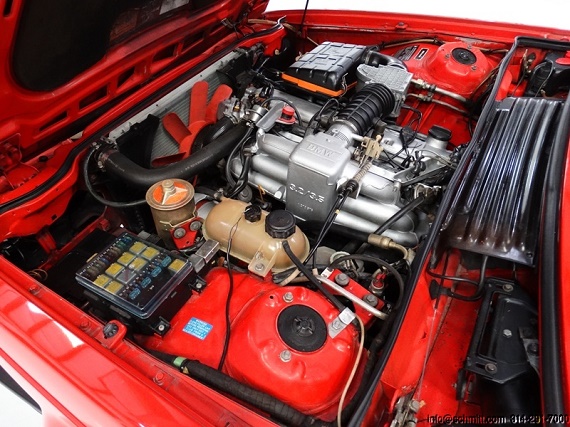 This car is listed as a 4-speed, but should be a 5-speed. The U.S. bound cars got a wide-ratio 5 speed with economy-based gearing in 1983, so unless it was refitted with an earlier box or something is wrong it shouldn't be a 4-speed. The Henna Red is a nice color but not my favorite on these early cars that have a little too much U.S. bumper; I think that the lighter silver colors hide those bumpers a bit better. Condition is certainly very good and the car appears to be all-original and clean, but the pricing is extremely high for a non-M 6 in my opinion.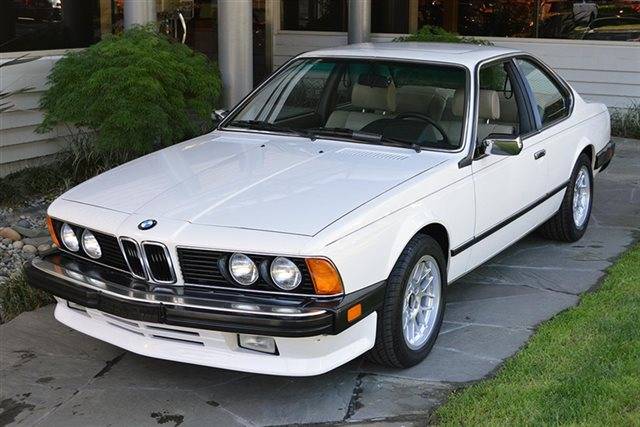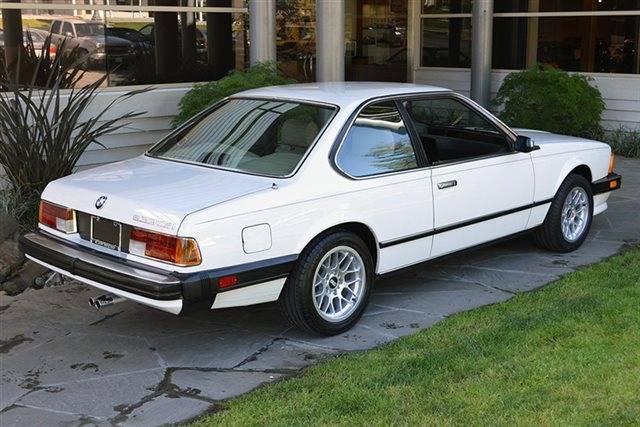 Year: 1983
Model: 633CSi
Engine: 3.2 liter
Transmission: 5-speed manual
Mileage: 53,912 mi
Price: On Request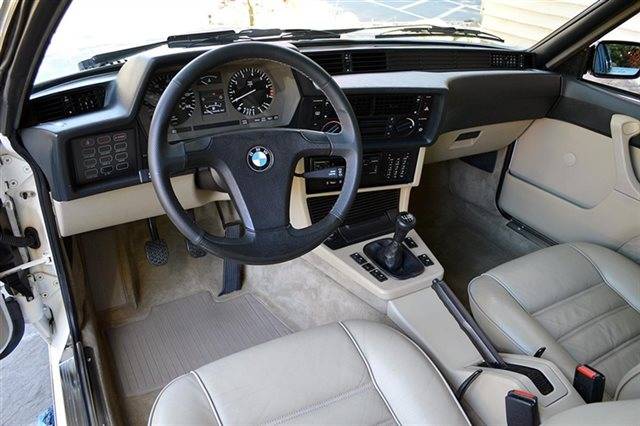 Description: 1983 BMW 633 CSi E24 VIN: WBAEB7405D6726410 Original, unrestored car 53,912 documented miles European delivery Complete books, tools, first aid kit, and service records dating back to 1996 Built on May 5th 1983, this 633 CSi was picked up at BMW AG on July 8th by Roland Milller of Kansas City, MO. He would drive the car over 1000 miles in Germany before bringing it home to the States. By 1996 the car had only covered 44,253 miles when it moved on to its second owner, also from Missouri. The next two owners would show the car at many BMW CCA events over the next few decades treating the 6-Series as a show car, and accumulating very few additional miles. Since arriving at Canepa the E24 has had over 200 hours of detail work performed, bringing it to a level of finish that would shame a new BMW. It has been fully serviced and presents and drives as a new car. BMW Options: Limited Slip Differential –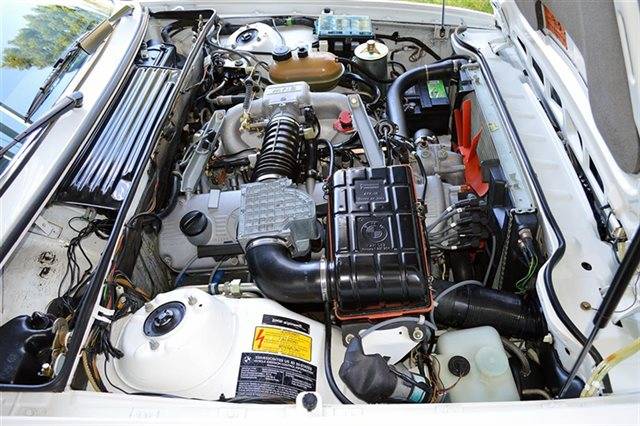 If you thought Enthusiast Auto Group went to extremes for their cars, Canepa is the same if not moreso for Porsches. In this case, though, they have a clean and low mile 633CSi with an interesting history, including European delivery. It's nice to hear the stories and the condition certainly looks very impressive but notably there are several non-original items. The 633s in U.S. spec trim didn't receive the deep chin spoiler which appears to be off a later 635CSi. Of course, the wheels are wrong and to my mind the much newer BBS design doesn't fit. I'd opt for some clean BBS Mahle wheels in their place where it up to me. Also, the black painted plate surround isn't correct but is a detail that I think looks good. As with EAG cars, you're buying the best here and Canepa knows it – so you'll be paying dearly for the opportunity. However, this is one of the nicer 633CSis I've seen overall.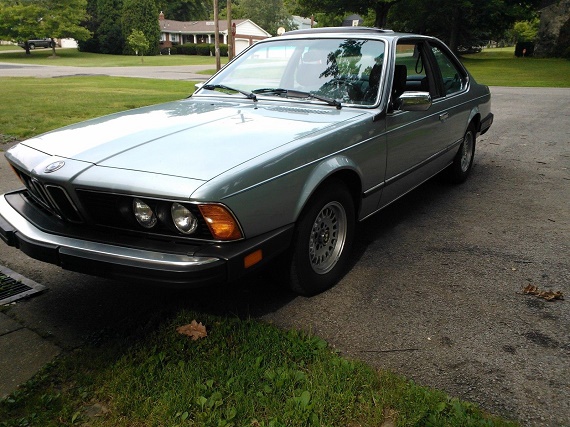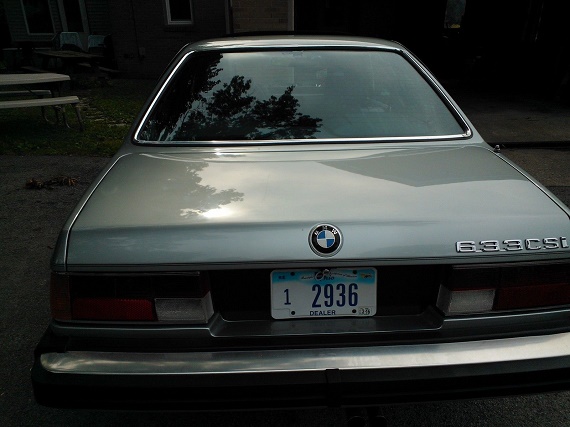 Year: 1984
Model: 633CSi
Engine: 3.2 liter inline-6
Transmission: 5-speed manual
Mileage: 43,000 mi
Price: $12,000 Buy It Now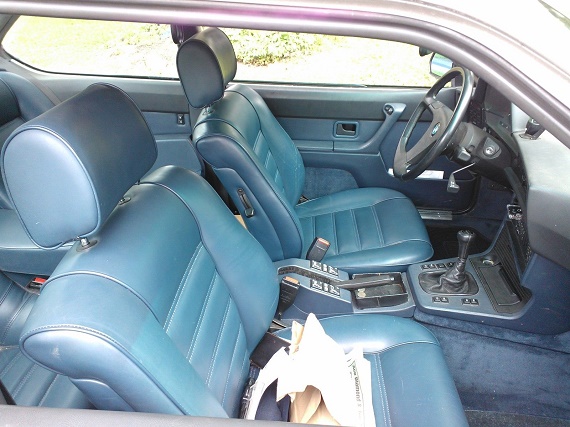 The care is in great shape. Only driven a few hundred miles for the past 6 years. A beautiful car for any collector. I do have the service manual and part manual. Tires only 2 years old. Can arrange for delivery Car is located in Salem, OH 44460

Data for vehicle identification number: WBAEB740XE6727912
Model description: 633 CSI
Market: USA
Type: 5274
E-Code: E24
Chassis: Coupé
Steering: links
Doors: 2
Engine: M30 – 3,20l (0kW)
Drive: Heckantrieb
Transmission: manuell
Body Color: Saphirblau Metallic (149)
Upholstery: (0160)
Production date: 01.03.1984

Code Sonderausstattung Optional Equipment
S458A
Sitzverstellung vorne elektrisch Electr. front seat adjustment
S550A
Bordcomputer On-board computer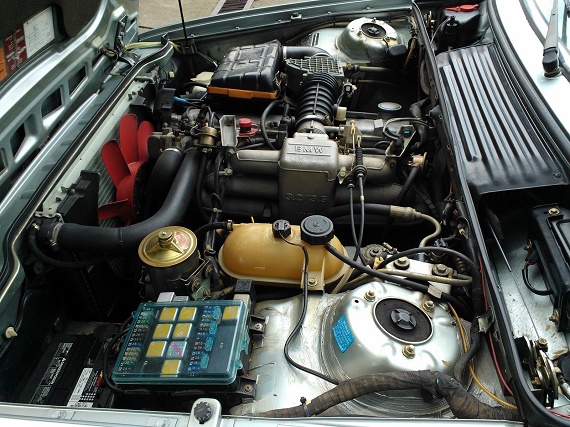 Lastly, there is this very nice Sapphire Blue with navy leather example. Miles are lowest of the three and this car looks very nice and original overall. I'm not a fan of the pin striping and it could use some more detailing – but outside of that, I don't think there's much to complain about here. 1984 was the last year of the 633 and this one has some neat features like the electric seat adjustment – usually associated with the later, more luxurious models. While not much is covered in terms of mechanical history, it certainly appears that this car was well cared for. However, the best part of this car is the realistic pricing – at $12,000, it's about where most very clean 6 series change hands for.
Which is the winner? As pleasing as the Canepa car looks, I'd estimate they're looking for high teens at the very least and more likely above $20,000 for that example. That prices both of the first two squarely into M6M635CSi territory, and it's hard to argue the appeal of the the lesser motored car when considering those even if they have much higher miles. The Sapphire example, though, is reasonably priced and highlights the classic lines of the E24 at a more realistic entry point.
-Carter