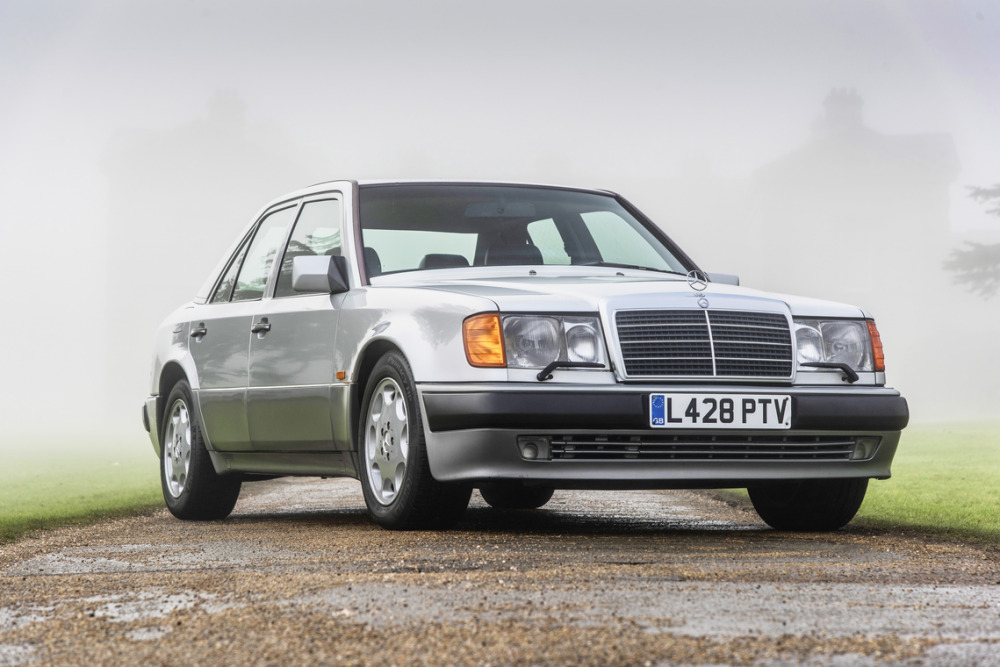 Most people know him as 'Mr. Bean', car enthusiasts know him as the guy to crash his McLaren twice but only the most hardcore Mercedes aficionados will know him as a mutiple Mercedes-Benz W124 500E owner. This man is of course the legendary actor, comedian and screenwriter, Rowan Atkinson. Atkinson has always been known as a "car guy" with classics like the Acura NSX, Renault 5 GT Turbo, Aston Martin DBS V8, 1939 BMW 328 and the list goes on and on. Surprisingly, he has chosen to give up two of his classic sport saloons at auction next month in England. One being the super rare Lancia Thema 8.32, the car famous for being powered by the Tipo 105L 3.0-liter V8 shared with the Ferrari 308 and Mondial Quattrovalvo and the other being this handsome 1993 500E. The W124.036 has been blue chip vehicle from the 1990s for years now, but one that has the ultra-rare cloth interior and owned by Mr. Bean? This super sedan could end up being pretty pricey once the hammer falls.
Year: 1993
Model: 500E
Engine: 5.0 liter V8
Transmission: 4-speed automatic
Mileage: 80,500 Km (50,200 mi)
Price: No Reserve Auction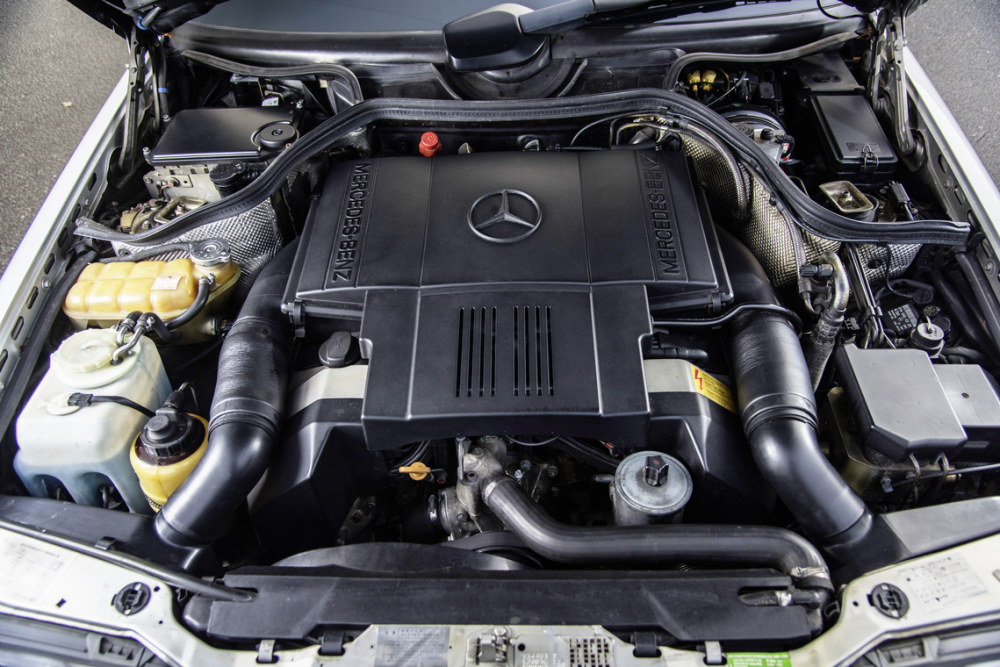 The ultimate "wolf in sheep's clothing" of the 1990s, the 500E saloon was built to rival the BMW M5. It was powered by the 5-litre V8 shared with the 500SL and featured upgraded brakes and suspension but offered no visible clues on the outside except for very slightly flared wheel arches, wider tyres and discreet side skirts. 60mph arrived in just 5 seconds and 100mph in just over 14 seconds, remarkable for a car with such 'stately' presence. It was only available as a (hand built) four-door saloon and in left-hand drive form, and the low production numbers rendered it an instant classic.

This particular car is the second 500E owned by renowned comedian, actor, and classic car enthusiast – Rowan Atkinson. He retained wonderful memories of his first 500E, bought new back in the 1990s, and always harboured a desire to own another one so, in 2015, he set about finding the very best example of the breed. He acquired this car because of its outstanding condition and also because it featured cloth upholstery which Rowan much prefers to the standard slippery leather finish.

Today, it has covered just 80,500 Kms which is about 50,000 miles. It comes with an owner's file which confirms a comprehensive service history as well as the original book pack and spare keys etc.

Topically, the car is featured in a comprehensive road test in the March 2018 edition of Classic Car magazine which will be available form the 24th Jan 2018, alongside his other left-hand drive four-door saloon – the Lancia Thema 8.32.

Offered at 'No Reserve', this rare, hand-built, German super-saloon has a distinguished past and an excellent pedigree and represents a fantastic entry into classic car ownership.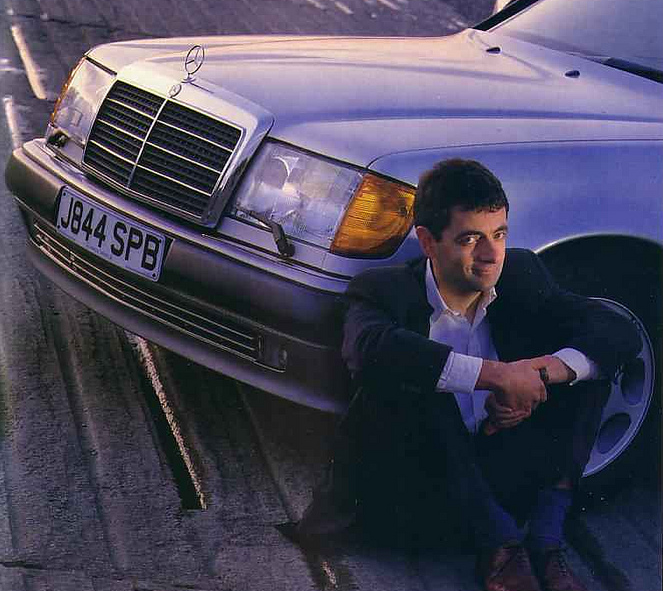 Atkinson is no stranger to the 500E. He has owned more than one of these cars and actually wrote a piece for CAR Magazine called "Why I bought a 500E." He says in his article that it is his 3rd Mercedes after a W100 600 and a W116 6.9. Not bad cars either. It's an interesting read as his experience with a used German car is much like most of ours. He had some issues and his car isn't perfect by any means, but at the end of the day he is genuinely happy with it. The car he wrote about in piece for CAR isn't this example he is selling today, as this car up for auction next month was acquired in 2015.
What is interesting is that since Mercedes never made the W124 500E in right hand drive, Atkinson had to settle for a car made for a left hand drive market. Surprisingly, this 500E came from Japan of all places. Instead of the normal leather that you used to seeing the .036, you have a really unique plaid cloth on the seat inserts and door cards. You very rarely see the 500E optioned like this and if they are, they are from Japan for whatever reason. The description for this car doesn't give a whole lot of info or even photos, but I trust that someone as wealthy as Atkinson had no problem keeping this car up to snuff. And in reality, the buyer will be in the same position.
What should this special 500E bring? Well, if it is anything like other Atkinson cars that have come up for bid, his name being attached is going to matter a whole lot. He sold a 2015 Land Rover Defender 90 last summer at auction that fetched £48,000, which is £21,000 more than the £27,800 he paid for it new. Doing the math here, you can guess that this 500E won't be going cheap. If this example was up for sale without any attachment to Atkinson, I'd guess that $30,000 wouldn't be a bad price. But with his touches on the car? I'd wager $60,000 isn't out of the question. Maybe even more if there are some really stubborn bidders on the line.
– Andrew