The first Mercedes-Benz to be tuned by AMG after the division became an official Daimler-Benz subsidiary was the C36 AMG. A little over a year after the 190E replacement arrived, the C36 was revealed. It featured a 3.4 liter, 276 horsepower inline six mated exclusively to a four speed automatic transmission. With front brakes from the SL600 and rear brakes from the E420, stopping power was upgraded substantially, along with a lower, tauter suspension. Sixty miles per hour could be achieved in 6.3 seconds, a respectable time for any sports sedan of the era. Other than modified lower body cladding, dual exhaust tips and larger, staggered 17" AMG Monoblock rims, little would tip you off into informing you this was anything but an ordinary C class. One turn of the wheel, however, would tell you differently. This C36 for sale in upstate New York is a very clean example of the genesis of AMG as an in-house brand.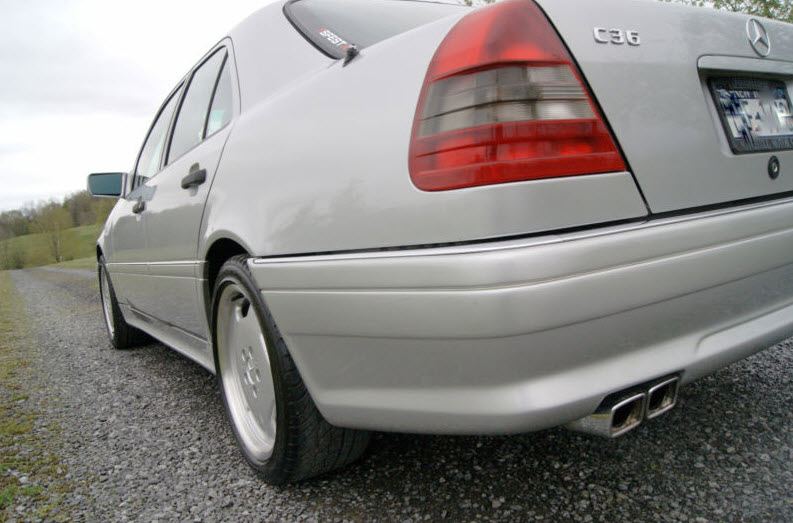 Relisting my C36 due to the winning bidder not following through with the sale. I can assist with being available for your shipper to pickup the vehicle, or I can pick you up at Albany International Airport.

I've been a car collector and enthusiast for over 20 years. My focus has always been German steel with a strong leaning towards BMW's, Mercedes and Audi's of the 1990's. In my opinion, this was an era when cars had more verve and character than a lot of what's out there today. If you've been thinking of cutting back on lease payments yet still want to drive an iconic high performance sports sedan the C36 does it better than anything in my experience. Its a timeless look, and speaking of look, this car still turns heads at gas stations, Cars and Coffee gatherings and at a recent outing to Lime Rock race park this car garnered more looks and questions than the BMW 335i parked next to it.

The fit and finish and overall quality is something we no longer see. I will never tire of the sound of a bank vault when you close the doors. This is the first official production Mercedes AMG vehicle ever and was hand assembled at Affalterbach. AMG took a plain-jane Mercedes C280 inline 6 motor and massage it to 3.6 liters with forged lightweight pistons, a forged and balanced crank and other heavy duty drivetrain components, the end result was a very grunty 270hp powerplant mated to a 4spd transmission that came from an S class and brakes from the SL.

With one of the last lightweight chassis's Benz ever put out ( 3300lb curb weight ) the C36 had performance stats equal to V8's of the day, and even by today's standards the C36 will run with some of the sports sedans . The car will do 0-60 in just under 6 secs and runs the 1/4 mile in 14.2 ., all this while turning 24-25 mpg. This car actually handles very well in the twisties., and this is with stock suspension. My previous C36 had full Koni suspension with Vogtland Cup coils and lightweight BBS wheels and that car was on-par with a BMW M3 I once owned.

This car has been owned by Mercedes Benz fanatics, all adults over 40. It is un-molested. 100% stock, nothing is changed or missing ! Very rare to find in this condition as most of what I've come across has been lowered, or modded to some effect. This car was also featured a few years ago in the Mercedes Benz Club of America's " Star" magazine by its previous owner who regularly writes for auto magazines. The article was entitled " Living with Rivals" . It was a comparo between the C36 AMG and the 97 BMW M3, which at one time the owner owned both.

One of the reasons why I strongly feel that this is THE best condition C36 in the USA is that all the major issues that potentially plague these cars once they hit 100K miles have all been addressed already with invoices from a Mercedes only facility. As robust as the 3.6 motor is, they all succumb to a headgasket failure due to a somewhat inferior gasket that AMG used at the time. A few years ago, an updated gasket was made available and once the change has been made its pretty much a lifer.

So in 2011 this car got the headgasket job and the head was re-surfaced, matched and new head bolts were utilized. Also, at the same time and shop, the timing cover, tensioner, pads and VC gasket were done as well. The job was perfect as the car has gone about 10K miles since then and its dry as a bone everywhere!

Also some other key services were performed in the last 16 months:
-Throttle body actuator was rebuilt ( $ 800 )
-New AC condenser ( $ 600 )
-New oem Fuel pump ( $ 300 )
-New spark plugs & coils ( $ 350 )
-transmission fluid service w/ oem fluids.
-Brakes F/R new pads, rotors OEM
-tie rods bushings, tie rods
-strut mounts in the front
-New Goodyear GT tires 225/245's ( they have about 3K miles on them now )

So to sum it up, this car is good to go for the next 100K miles. It pulls very hard, very smooth and the car goes down the road like a new C36 probably did. No noises, clunks , thumps or anything. No warning lights. AC blows ice cold, all gauges work and illuminate at night. No burnt out bulbs. All windows , power door locks and remote keys work as they should. 2 key fobs are included. The interior is in excellent to mint condition. No funny odors. The C36 smells amazing due to the combination of hides and MB tek materials from that era.
The paint is a solid 8+ condition. All original except the very bottom of the front airdam which I had resprayed to get rid of all the typical road pits from years of driving. The silver paint looks fantastic ! I can only see 2 very miniscule pin size dings. Its very hard to spot them as the car is silver.

Only a garage kept car can attain this preservation as this car was spoiled. I have the clear NY state title in my possession as well as the last 5 yrs worth of service invoices. The original owners manual folio is complete as in includes as are the 4 very rare and always missing C36 AMG floor mats. All this car needs is gas. No stories, and nothing but big smiles to its next owner/caretaker. Pick it up and drive it to California and then some….it won't flinch at the trip.
Normally, I'd be averse to buying a high performance from the Northeast with over 100,000 miles. However, the owner of this C36 should be commended for maintaining this car to a level which makes it appear like a car a fraction of its age. Average values for a C36 these days tend to run in the $6,000 to $8,000 range. Given the owner's level of care and maintenance items attended to, anything around $8,000 or so should be just about right for this car. If the mileage was well under 100,000, there might be the room to return even a bit more in terms of resale. Only 5,200 of these understated beasts ever left the factory. I'd say that statistic makes this German hot rod well worth preserving. Good luck to the owner in the sale this time around, as this car deserves to find a good home.
-Paul