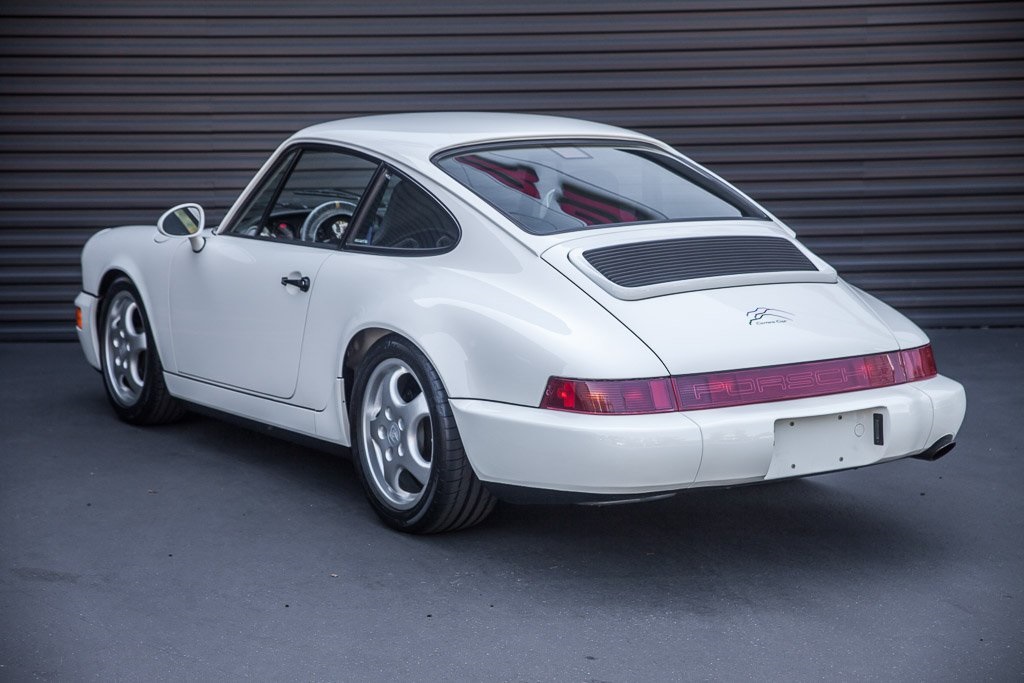 It would be easy to assume that the '92 Carrera Cup USA was a turned up version of the RS America, but actually it shared more DNA with the European market Carrera RS. Porsche intended to continue the trend of its successful 944 Cup and 944 Turbo Cup support series races with a 911 Carrera Cup in the U.S., but after luring 45 buyers and converting 25 to full race spec by Andial funding for the series fell through. Many of the Andial-converted cars were then returned to full road-legal spec and the legend of these lightweight 911s has been circulating ever since.
he RSA was actually the least expensive 911 version in showrooms in the early 90s too, while the Cup was a substantial 20% premium. Why? Well, it was a lot more than just removing a few extra items. While the RS America lopped 70-odd pounds off a standard C2, the Carrera Cup was 200 lbs lighter. The Cup wore bigger 24mm 5-way adjustable front/ 18mm 3-way rear sway bars, stiffer progressive-rate springs that were 50mm front/45mm rear lower than a standard car, aluminum hubs, ball joint upper spring mounts, and Bistein rear shocks. The engine was the M64/03 rather than the RS America's M64/01, and featured a lightweight flywheel, only one accessory belt, a remapped DME and solid rubber mounts to channel more of the extra power to the ground. The Cups had a lightweight battery and master electrical shutoff, along with a more simple carpet and rear shelf layout. The gearbox was also different, as the Cup for the G50/10 with longer first and second gears, hardened synchros and mounts, and a standard variable locking differential. Brakes? Yep, different too – the Cup wore Turbo calipers with 322mm front vented and cross-drilled rotors. They kept the standard retracting rear spoiler rather than the RS America's fixed unit, but had no undercoating and thin glass as well. These were racers through-and-through. And today, they're not cheap: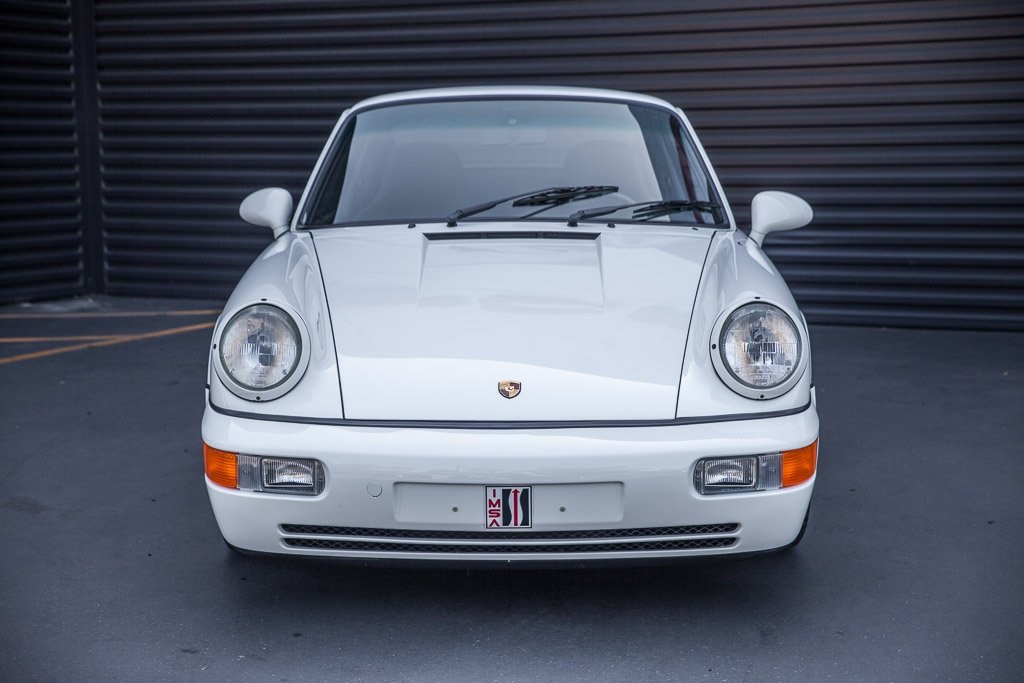 Year: 1992
Model: 911 Carrera Cup (USA)
VIN: WP0AB2963NS420574
Engine: 3.6 liter flat-6
Transmission: 5-speed manual
Mileage: 8,842 mi
Location: Hawthorne, California
Price: $499,964 Buy It Now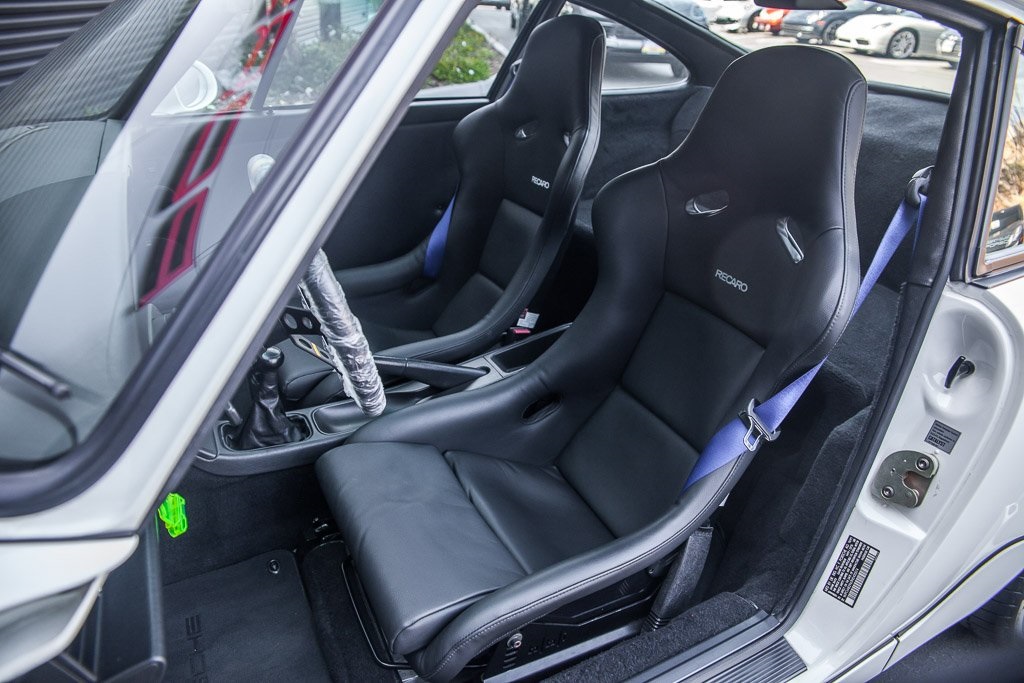 Porsche South Bay is thrilled to offer this exceptional 1992 Porsche 964 Carrera CUP USA. The following puts the extreme rarity of the CUP USA in context: "In 1992, 45 US-legal cars that were very similar to the Carrera RS were imported to the US for a proposed "Porsche Carrera Cup" racing series. This Carrera Cup series was to function as a support race for the American CART racing series just as European Carrera Cup has supported Formula One.

These 45 cars were identical to a Carrera RS other than having airbags (with required electric windows), alarm system, American lighting, American bumpers, aluminum wheels, and standard seats. The cars otherwise had the lightweight seam welded chassis, lightweight interior trim, aluminum hood, lightweight door glass, suspension, brakes, G50/10 transmission and M64/03 engine etc. of the Carrera RS. These cars were approximately 200 pounds (90 kg) lighter than a normal US Carrera 2 model. All were finished in white with one exception that was finished in Guards Red."

This Cup USA was one of the original 25 cars converted By Andial to race specification and returned to stock for retail sale. Porsche South Bay was privileged to own and sell this example
in 2017 to the current Los Angeles based collector who is adjusting the mix of his stable. Improvements to this Cup USA include complete clear film wrap over the original paint, Recaro Pole Position seating in black leather and Momo Cup steering wheel. The original seats and wheel are also included with the vehicle. Prior ownership history includes the original celebrity owner (three times) and a couple of his friends. This is among one of the lowest mileage examples known and has always been properly cared for. Contact Carl Tofflemire our Classic Operations Director with any questions or to arrange for an inspection.

Clean Carfax, Serviced at Porsche South Bay, Limited-Slip Differential, Special Chassis. WHITE RWD 5-Speed Manual 3.6L H6 Clean CARFAX.

Recent Arrival! Odometer is 44313 miles below market average!

Call, email or come in to find out more about this and other pre-owned Porsches at Porsche South Bay, a 2018 Premier Porsche Dealer!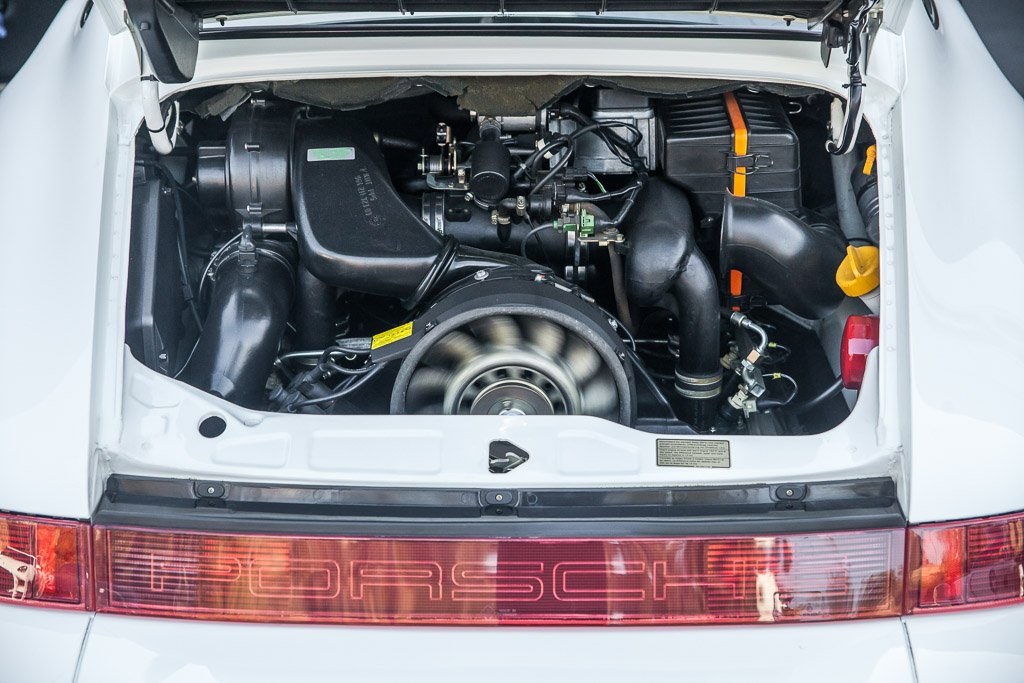 So within the already special group of 45 Cup cars brought to the U.S., this one is extra special as it's also one of the 25 Andial cars that was double-converted. Grand Prix White is in keeping with the traditional German racing color and looks fantastic, as does the Recaro and MOMO-equipped interior. As 964s go, it's a very impressive example with a fantastic history and very low mileage.
But that price. Back in 2018 Rob looked at a more race-ready version of the same car and the ask was equal at $450,000. Look up some auctions and that half-million dollar number is often teased, but seldom realized. Perhaps that's because you can get a very nice European version of the Cup for half that number? Here's a really neat Summer Yellow example for $270,000: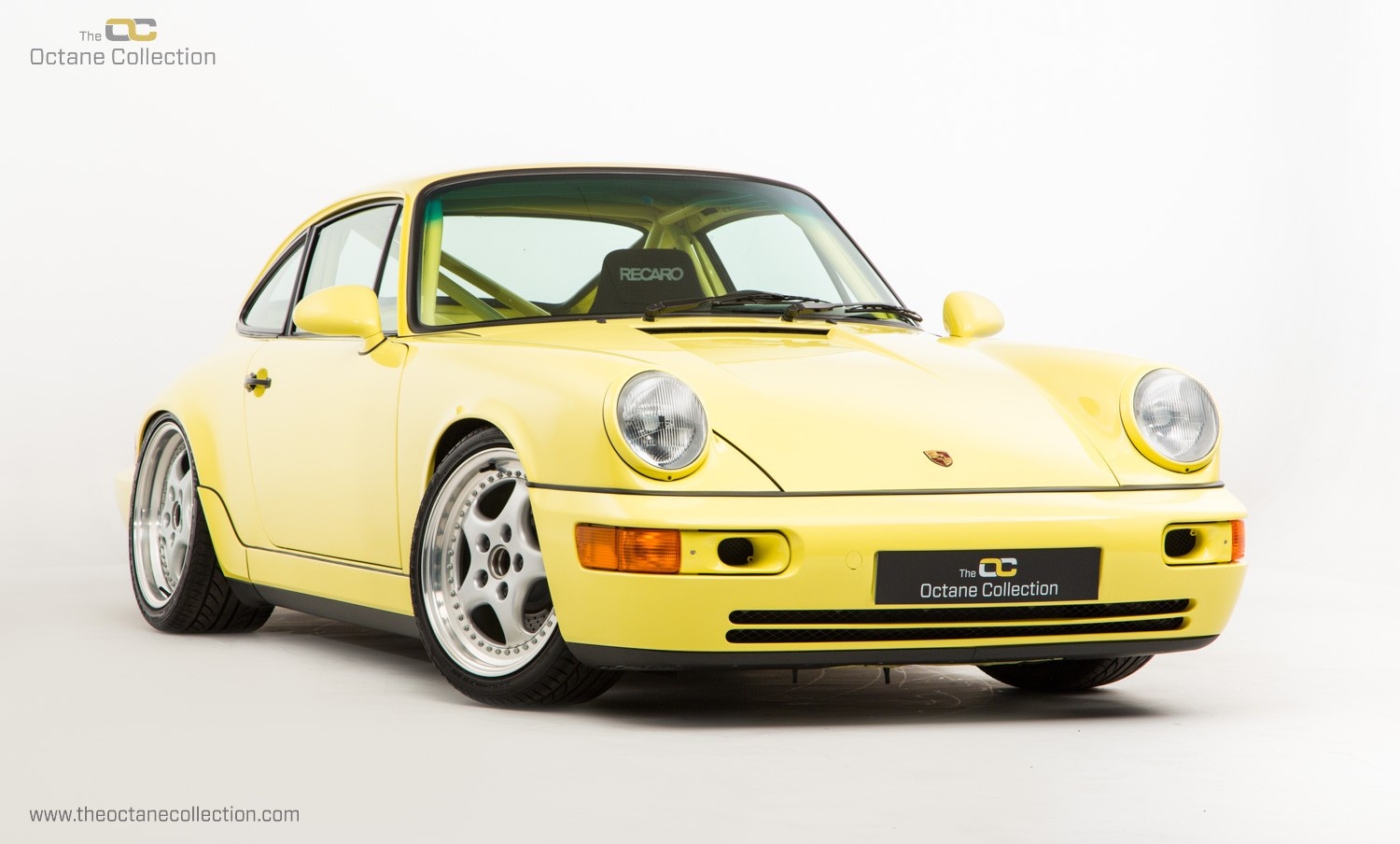 So is it worth double to have one of the rare U.S. versions? I'm not the person to say, because I'm not paying the bill. But you could own several very neat 911s for the price of just this one for argument's sake. Yet if you want the top trump of U.S.-specification normally aspirated 964s (not to get TOO specific), it's hard to beat this car.
-Carter