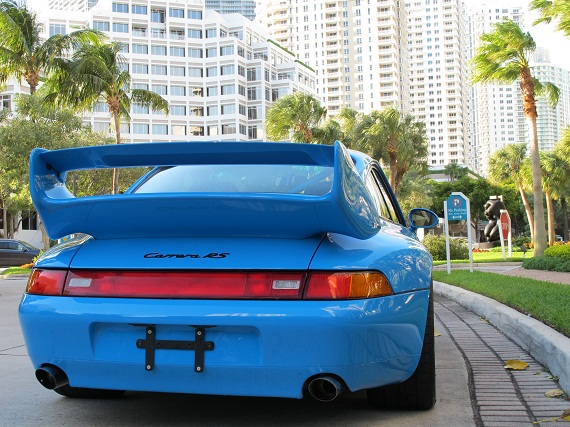 They say God is in the details, and if that is the truth than this car must certainly be holy. For 993 fans, it may just be the Holy Grail – a car that was never offered in great quantity or in the United States at all. Similar to yesterday's 993 Carerra RSR, the Supercup version of the car had a roadgoing derivative as well – the Carrera RS and RS Clubsport. While the RS took the normal "add lightness" route, the RS Clubsport was an out-of-the-box race car, replete with roll cage and all amenities removed. Not content that these cars should remain out of U.S. hands, several copies of the RS and RS Clubsport cars have been made, but perhaps none as exacting as today's Riviera Blue 1995: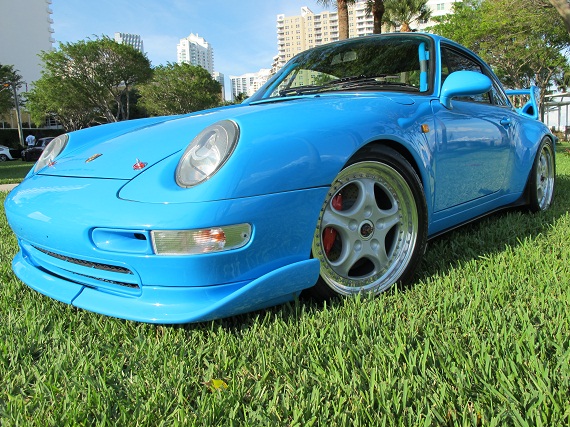 Year: 1995
Model: 911 RS Clubsport
Engine: 3.8 liter flat-6
Transmission: 5-speed manual
Mileage: "1" mi
Price: $145,000 Buy It Now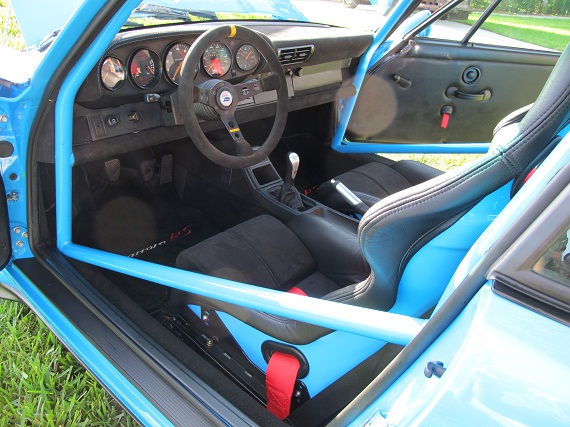 1995 Porsche 911 993 Carrera RS Clubsport "Tribute"

The 993 Carrera RS Clubsport is the ultimate of all naturally aspirated air cooled 911′s. There are even fewer Clubsports built by Porsche than the RS it is based off of.

The Porsche 911 Carrera RS Clubsport is a lightweight variant of the Porsche 993 Carrera, and a lighter version of the RS. This RS version in particular is a track-oriented Carrera RS Clubsport with only limited road usability. It features a naturally aspirated 3.8 liter engine with 300 hp. On the outside, it is easily distinguishable by a special non-retractable rear wing, small front splitter and 3-piece 18" aluminum wheels. The headlight washers were also deleted for additional weight savings. On the inside of an original Clubsport, the rear seats were removed, carpet removed, all power functions including radio, power locks, have been removed and two racing seats and flat door panels were installed. Sound proofing was eliminated completely.

The Porsche 911 Carrera RS Clubsport was produced in model year 1995 and 1996. It was street legal in European and many other countries, but was not exported to the US.

This Porsche 993 Carrera RS Clubsport Tribute Re-Creation started off as a base model 993. This vehicle was the perfect candidate to convert into a rare sought after clubsport; the shell / tub is in great condition with no previous repairs or damage.

All parts used on this specific build are all original Porsche parts. Since many items from the 993 RS Clubsport are very hard to find or NLA, tracking them down was not easy. Every bolt, nut, washer, clip, hardware is brand new from Porsche Germany. Not one single component was left used or untouched. The vehicle was completely stripped down and rebuilt new with 0 miles. This vehicle is a rebuilt title due to previous water damage before the build up, the tub is clean with no accident or body damage history, it was never touched. View the project page on our website tunersmotorsports.com to see the before and after including the media blasting process.

The original 993 RS Clubsport was built mostly for track use, and were never imported to the US for street legal use. This RS Clubsport recreation however is intended to be used both on street and track, giving the owner the opportunity to enjoy this vehicle anywhere!

This Clubsport Tribute started off as a clean, base model Porsche 993 Carrera 2 Coupe. The entire vehicle was stripped down to its bare galvanized frame and built from the ground up. All parts on this vehicle are original Porsche Carrera RS parts, giving it a true "tribute" title to it. It took many years to gather all of the original parts from all over the world to complete this vehicle to near exact specifications that the factory would deliver back in 1995. Not one nut, bolt, seal went un-touched. The entire suspension was overhauled with original RS components, JIC Cross RS Coil overs, factory cup adjustable sway bars and every nut and bolt was replaced with factory new. The engine and transmission were reconstructed with new components; the engine built into a 3.8L and the transmission assembled with steel synchronizers, a lightweight flywheel and racing clutch. This RS also sports a super cup exhaust system, custom x-pipe, and original exhaust manifolds modified to eliminate heat exchangers. The brakes were upgraded to the "big reds", 322mm front and 299mm rear, steel braided lines, cross drilled vented rotors and Pagid pads.

On the exterior of this tribute, the vehicle features a functional original rear plastic wing, original front lower spoiler, original RS side rocker panels, original front aluminum lightweight hood, original lightweight European doors, original lightweight rear thin glass and door windows. The RS Clubsport has been painted Riviera blue, a color from the era, in a single stage paint. The front and rear bumpers were converted to original European with the added original RS front air ducts and clear lenses, and European amber tail lights to compliment the rear. The roof panel was also removed during the build, and a light-weight carbon fiber panel was installed. Take notice as well that this RS has original center lock system installed, with original Speedline cup center lock wheels for Porsche, a rare find.

Getting to the interior of this vehicle; the original RS Clubsport from Porsche came naked, no carpet, no accessories with a full weld-in 6 point roll cage. The roll cage is to near-exact specifications that Matter cages installed into the original vehicles in the 90's. This RS followed the same concept, but instead it was opted to have a lightweight RS carpet installed for a more "street-able" feel. Two Recaro Pole Position seats with alcantara centers and blue stitched leather match the blue stitched leather center console with original RS 6 speed aluminum and leather shifter and a blue stitched alcantara dashboard. The roof liner and side panels were done in alcantara as well. Vehicle features a completely functional original A/C system for hot climate areas.

This RS Clubsport is as close to an original RS from the time as you can get. The feel, looks and overall quality of the build resembles factory new.

1st place winner peoples choice 993/964 class

3rd place winner Judge Concours 993/964 class "wash and shine"

at the 50th anniversary PCA Gold Coast Region Mandarin "Porsches by the Bay"

ENGINE / TRANSMISSION
3.8L Naturally Aspirated Air Cooled Engine
3746 cc, stroke 76.4mm, bore 102mm
aluminum crankcase and cylinder heads
GT2 / TT Connecting Rods and hardware
dry sump lubrication system
964 Cylinder Heads with some extra attention to get the most out of them
RS Spec camshafts
sequential multi point-fuel injection
two stage resonance intake manifold, one central inlet air duct
dual spark ignition
Crankshaft balanced
6 speed G50 transmission with steel synchros
limited slip differential 40/65%
Engine control management flashed to RS 3.8L
Lightweight flywheel, performance clutch and pressure plate
Original 993 RS / Cup 72Liter Fuel Tank

Modified exhaust manifolds (heat exchange delete)

Custom X-Pipe (no catalytics)

Fabspeed SuperCup Exhaust

SUSPENSION / BRAKES
Original Porsche RS Suspension (control arms and links)
Original non-power assisted steering rack from the 993 Cup car
JIC Cross Adjustable Coilover Suspension w/Front Camber Plates
Front / Rear Adjustable Sway Bars
Complete corner-weight balance for maximum weight distribution
Porsche Brembo Big Red Brake Kit, Front/Rear with Pagid Brake Pads
Steel braided brake lines, fluid flushed with Castrol SRF
993 RS ABS Pump
993 RS Brake Master Cylinder Assembly

INTERIOR
Complete FIA approved design cage, 6 point weld-in (993 Clubsport Style with single door bar)
Original RS Lightweight Door Panels with red pull straps
Original RS Lightweight Carpeting (black)
Carrera RS Embroidered front floor mats
Original RS Crank windows
Original RS 6 speed shifter
Original RS Radio delete plate
Original RS European Glove Compartment
Two Recaro Pole Position Seats (manual sliders), blue stitched leather with Alcantara Suede centers
6 point red Sabelt Harnesses (hans friendly)
Original 993 Seat Belts (for street use)
Center console wrapped in blue stitched leather
Dashboard wrapped in blue stitched Alcantara Suede
Roof liner wrapped in black Alcantara Suede
MOMO Suede 350 steering wheel with SuperCup Series center cap
This vehicle DOES have Air Conditioning, Original parts
Original 993 RS Cup Manual Extinguisher

EXTERIOR
Single stage urethane Riviera Blue Paint (interior / exterior)
Original 993 RS Cup Center Lock Kit
Original 993 RS Cup Speedline 18" 3-piece center lock wheels
Original Porsche 993 RS Cup Aluminum Hood
Original Porsche 993 RS Cup Rear Plastic Spoiler
Original Porsche 993 RS Cup Side Skirts
Original Porsche 993 RS Cup Front Splitter
Sunroof deleted, Carbon Fiber roof panel installed
Halogen headlamp assemblies
Original Porsche 993 RS Front Brake Air Dams (fog light delete)
Original Porsche 993 RS Side Marker Lights
Original Porsche 993 RS Front White Side Lamps
Original Porsche 993 RS "thin" rear glass
Headlamp washer system removed
European windshield washer reservoir

VIDEO WALK AROUND – https://www.youtube.com/watch?v=YOZ6hRfXtkA

See the entire project build from day 1 to completion here: http://tunersmotorsports.com/?portfolio=1995-porsche-993-rs-clubsport-re-creation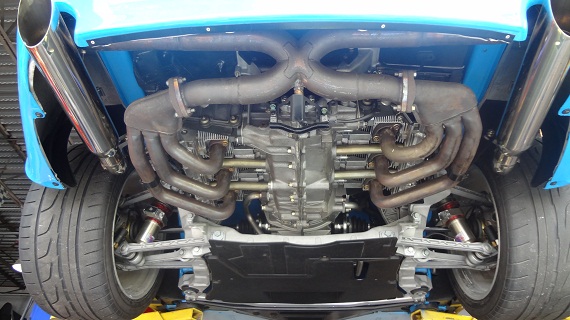 The level of detail on this car is pretty impressive – all OEM parts or at least OEM replicated parts means this was both an extensive and expensive build. I'd recommend visiting the TuneRS Motorsport link to see where the car came from and how it was built; it is certainly impressive. Really the only item which is out of place but not unwelcome are the Supercup-spec center lock wheels. They're great looking and suit the design perfectly, though the original came with 5-bolt versions of the wheels as seen on the Turbo 3.6 in the U.S.. Price? If you have to ask, it's going to be a lot, and $145,000 for a 993 generation Porsche sure seems like a lot. However, real RS Clubsports hover in the 180,000 Euro range and getting them to the U.S. would certainly be difficult. Further, though I haven't priced out the parts listed here my guess is that a solid chunk of the asking price would be eaten up just by ordering them all. Just as with the 4000 Quattro from yesterday, then, you'd probably be silly to try to replicate this vehicle as I'm not sure you'd come out significantly better off for all of your aggravation. That, and this one is achingly beautiful. Hats off to TuneRS for making one heck of a piece of Porsche art.
-Carter