The link love continues tonight with another rare sighting: A 1988 Porsche 911 Club Sport. One of only 28 officially imported to the U.S. and sporting the excellent Gulf Blue paint. Check it out on 6SpeedOnline.com for best offer over $60k: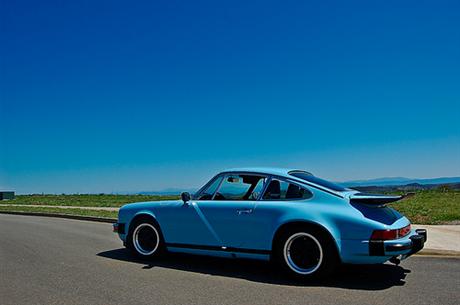 Many of you have seen photos of my Club Sport. Business opportunities lead me to very reluctantly sell this car. When selling cars that I've owned in the past I've been guilty of saying, "I'll find another one". I cannot make that statement with this car.

The 1987-1989 Club Sport is arguably the most-rare, lightweight production 911 that Porsche has ever produced. It took me over two years to find this one. Not only is this Club Sport rare from a production standpoint, this is a "Sonder-Wunsch" or Special Wishes 911. The rarest of the rare, one of the 28 North American Carrera Club Sports painted by the factory in Gulf Blue. Believed to be the only Club Sport worldwide painted this color. The car was built with Chrome rather than black window trim and a Burgundy pinstripe velour interior. It is a car that is all original including the paintwork with extensive paperwork back to 8,000 miles.
Granted that's a lot of cash for a Carrera of that vintage, but again I agree with the comments that this car isn't going down in value anytime soon. I think it would make for an excellent collector car as well, and would be so awesome on back roads this time of year!
dc