We see a lot of rare German cars. Some of the best gems from tuners the likes of AMG or Alpina bring the buyers out of the wood work and as such realize high prices. The one common theme that we see in big ticket sales of tuner cars is documentation.
Now documentation on cars like these is not always easy. It is well known that trying to find specific records of modifications done to a car from some place like AMG can end in a dead end. In some cases if you really want to be sure about an engine modification it takes opening up the engine and looking at stampings on internals. That said there are often other clues that can help you back up a story about a one off vehicle. Scanning in any documentation you have is the obvious first step, but then adding pictures of data plates, the VIN, or other unique features is needed.
A seller should never make any rock solid claims about the vehicle without being able to back them up. At the very least give some indication of a reason as to why you are making a claim. If you aren't sure about something it is much better to say so up front or even to ask for help in identifying a feature or modification within the text of an advertisement. Enlisting the help of enthusiast out in the world can help in two ways. You might get some helpful information back and the up front nature can prevent a listing from seeming cagey and turning off the very community where your potential buyers reside.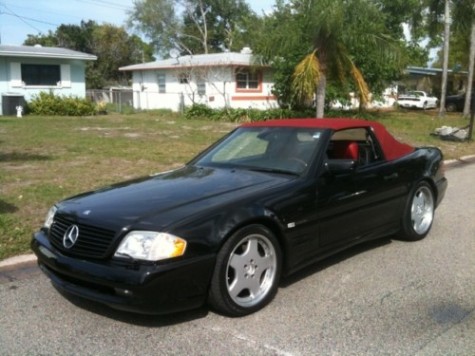 Ok deep breath, what's all that have to do with this particular car. Here we have a Mercedes listed as a 1998 SL60 with modifications from Swiss firm Rinspeed, the car has 71,000 miles.
The car looks good with the Benz Designo style red interior complete with dash accents and soft top contrasting with the black. The seller states the car started life as a SL500 Special Edition and that it was then bumped to AMG spec with the 6 liter V8. The car has period correct 18″ AMG monoblocks. Nothing about that seems out of place. Mercedes did produce a "special edition" of the R129, one of several R129 editions. Rinspeed did have a history with AMG, they worked as an agent for AMG in Switzerland.
So what are the red flags with this ad? The painfully slim description provided in the advertisement with this car is the first thing that catches you. There are so many wannabe "badge engineered" Mercedes out there that just because a car has the badges a seller has to do a lot more than give one sentence and expect people to accept it as fact. The AMG badge on the engine does match up to what can be seen on documented SL60 Benzs, there is some variation in how AMG badged these engines. The seller offers to talk to potential buyers over the phone about the car or have the guys at the local Mercedes shop talk about the car, which is good. If the guys at the shop know something about the car it should be stated so in the auction. Buyer's in the real exclusive small production AMG market are often buying as collectors with investment in the back of their mind. Collectors of this type will not touch a car with such thin description.
Other things that make you question the integrity of the seller include the car being sold out of Portland Oregon with photos showing it with Florida plates. Not a huge deal, but it does make you question how old the photos are. The bigger sin though is placing a picture from a sales brochure in your ad and not disclaiming it as such. The overhead interior shot is from Benz sales literature and is not the car being sold, its the last photo in our gallery on this page.
The seller states "DO YOUR HOME WORK ON THIS CAR", yes buyers should do research on perspective purchases, but unfortunately in this case searching for info about the car yields several threads discussing how shady the seller seems.
The ask on the car is $22,950, which is line with other genuine AMG engined cars of the era, but without more info this price will never be realized. There is just two much to question and no one wants to drop $23k and end up with a slightly more than standard SL500. If I was selling this car and couldn't pull together documentation I'd find the nearest dyno and take a few pulls and post the results. There would be no question as to whether the car was packing a real deal 6.0 then. That small investment could mean a $10k swing in what the market will bring for this car.
Despite the warning signs I actually am leaning towards suspecting this is the genuine item, but wouldn't even think about buying it the way things stand and I really don't like the sales brochure photo mixed in with the others. A seller that is ok with that is probably ok with not disclosing flaws. I open it up to you readers, what's your take on this ride?
~Evan