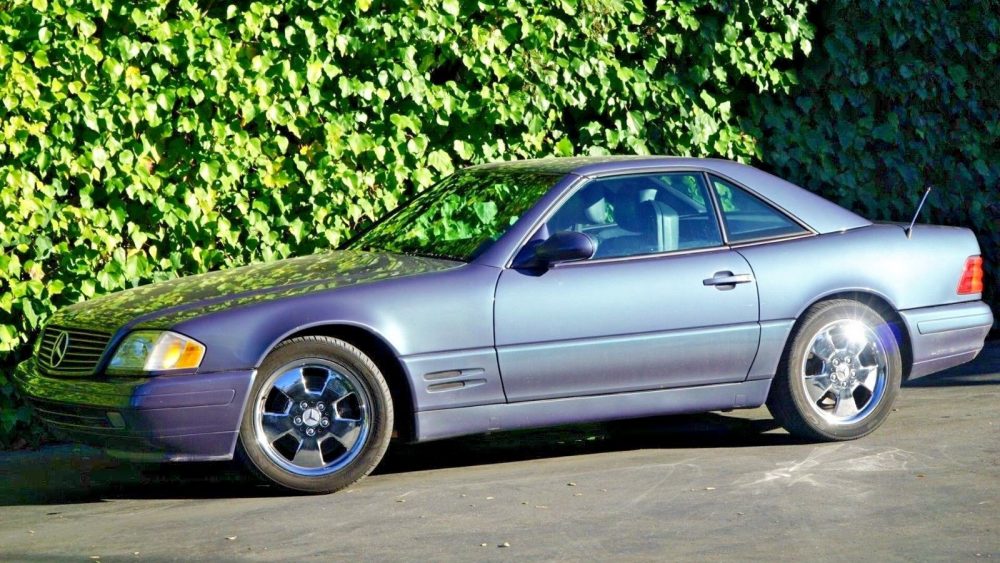 Last week I checked out probably one my favorite R129s, a 2000 SL500 Designo that everyone else seemed to enjoy too with its unique paint and interior color combination. Well, turns out we weren't the only one who fawned over this unique SL. Recently decrowned richest person in the world, Bill Gates, seemed to have an eye for this R129 too. According to this seller, this 2000 SL500 up for sale in Silicon Valley no less, was originally owned by the Gates for the first two years of its life. This is wonderful and all, but unlike the car I checked out last week, I'm not totally in love with this specific example. Let me explain why.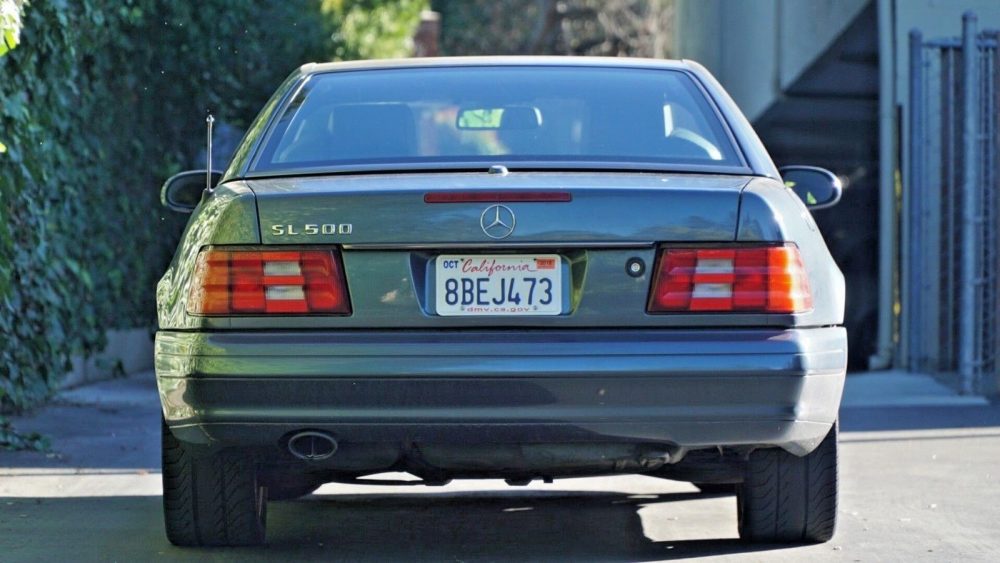 Year: 2000
Model: SL500
Engine: 5.0 liter V8
Transmission: 5-speed automatic
Mileage: 204,573 mi
Price: Reserve Auction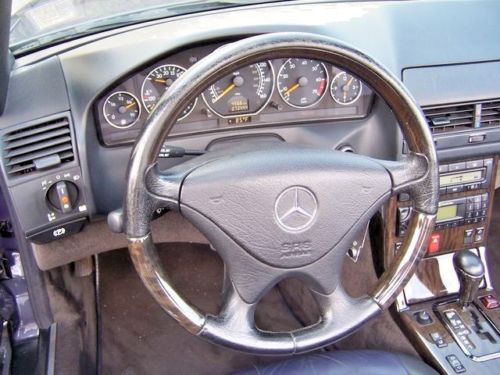 Own a piece of history! This car was Bill Gates' from 2000 till 2002; I've been its proud and loving third owner since 2004.

This piece of magnificent German engineering exudes sexy elegance and luxury, while the 300+ hp V-8 motor will not disappoint!
It was ~$100,000 when new, and still boasts the high quality throughout which justifed that price tag.

The very rare and highly-desirable Designo Slate Blue color changes hue from dark blue-gray in the shade to shimmery shades of blue, purple & green in sunlight! You'll get tons of compliments on it! The photos don't do it justice.

It has two-tone Designo leather seats and Designo carpets, and black walnut swirl console/dash details and door panel inlays.
The interior is mostly black (with some contrasting blue leather on seats and door panels) and the headliner is gray.
Custom 17″ chrome wheels are in fair condition for their age; you can replace them and/or the tires with your preference.

I've lovingly owned and driven it daily for the past 14 years and over 180k miles (it now has ~205k on it).
The car runs great, shifts smoothly, and will likely go for another 100,000 miles — as many of them do!

Its many options include:
5.0 V-8 motor with 300+ hp
Automatic transmission
Power steering
Power disc brakes
Power leather heated seats w/memory
Power heated exterior mirrors
Auto-dimming interior mirror
Power tilt and telescoping wheel
Heat, A/C & defroster
Automatic climate control
Windshield wiper w/rain sensor
Cruise control
Driver and passenger airbags
Pop-up roll bar
Xenon HID headlights
Owner's manual
Hydraulic retractable soft and hard tops, hardtop storage rack with wheels.

***Optional black Panorama roof (wall-to-wall glass) hardtop for only $5k more — get the benefit of a convertible without the wind, sun, or even rain! (see last four photos for Pano roof)

Recently replaced: plugs & wires, clutch fan, air filters, cabin air filter, front & rear brakes, trunk struts, front hydraulic top pistons, oil change, etc.

Clean title in hand and Carfax — which only shows a minor bumper-bender 10 years ago when car was rear-ended at a stoplight.

Recently smogged and registered till October. Ready for its next happy owner.

I love this super-sexy beast and would keep it for another 14 years — it still runs like a champ. (Had to get a longer-distance commuter.)

Did I mention it was once leased by THE Bill Gates? 😀

I reserve the right to remove this ad before it expires, as this gorgeous car will be advertised on other venues also.

Please contact me with ANY questions before bidding! I can provide more detailed pictures as well.
As mentioned earlier, it has some wear and tear of 18 years ~ and many miles of many smiles. 😀

Local pickup only.

Good luck! 🙂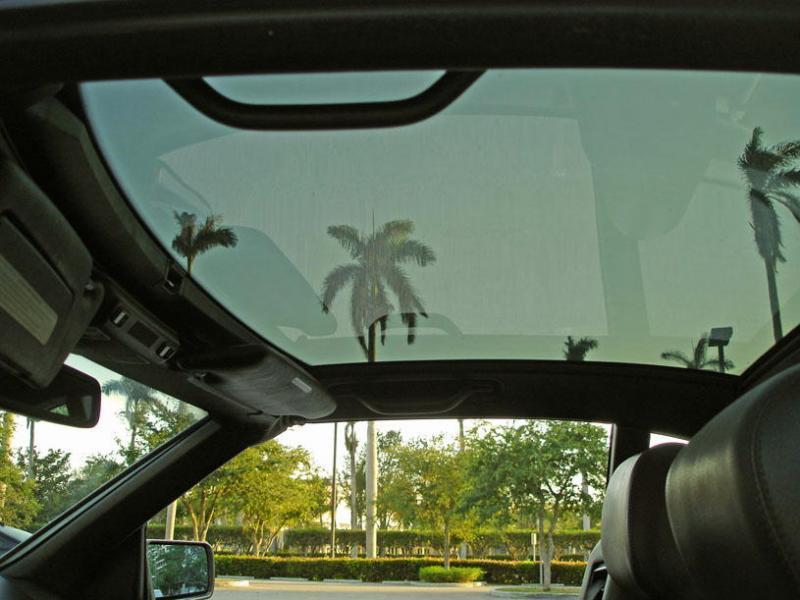 As you might have noticed, this 2000 SL500 is not equal to the 2000 SL500 of last week. This car is missing the SL1 package that comes with the "AMG designed" bumpers and sideskirts with 18 inch Monoblock 1 wheels. I don't know about you, but this changes the entire look and feel of the car for me. It's not like the wheels and bumpers on this car are ugly or something, but once you know what is out there it changes the whole way I look at the car. The other big difference with this car is the overall condition. This R129 has over 200,000 miles and it sure looks the part. The front bumper is blasted with stone chips, the interior is pretty worn with torn side bolsters, heavy creasing on the seats and ripped up speaker grills and to top it all off, the panoramic hardtop doesn't match the car and is an extra $5,000 on top of the purchase price of the car. I know these pano roofs bring a pretty penny on the secondary market, but it always irks me a little to see people hedging their bets when selling a car and asking a totally different price for something that was included with the car in the first place. Since this pano roof is black it wasn't included when this specific car in the first place, but once you actually sell the car the roof becoming useless outside of an asset to sell to a very small marketplace.
As you might also have noticed, this auction starts at $15,000 — $1,500 more than what that exceptional example sold for last week. Yes, I know one sale doesn't set the market and last week's car was underpriced, but this isn't a good look for this car right now. With 205,000 miles, a bunch of random photos at different resolutions, an accident on its record and a soft market in California, I will be surprised if it garners a bid at all. This auction should start at $7,500 and let it ride if they really wanted to sell it, but to be honest, I think that is all its worth. The 2nd richest man in the world (damn you, Jeff Bezos) isn't going to be enough to get the premium asking price for this one.
– Andrew