People that know me know that I'm not a fan of large cars. Which is a problem because, living in the United States, it's the land of big. If, however, I was in the need for a large car, at the top of that list would be the Mercedes-Benz S Class. Big, imposing and powerful, these cars are the go to transport for the rich and famous. Probably the most imposing of all S Classes has to be the 1992-1999 W140 model. Introduced during a global recession, they were derided as brash and unnecessarily large, which is a stigma from which they quite haven't recovered.
Twenty years on from its introduction, prices are at bargain basement levels, which is a good thing and a bad thing. Good, because these extraordinary machines are within the reach of less than wealthy enthusiasts. Bad, because those who don't buy wisely could be easily bankrupted in dealing with the car's complexity. This is precisely why I prefer the smaller engined, less optioned S classes, as the maintenance costs are lower than the bigger engined models. Here is a clean, lower mileage 1995 S320 with the 3.2 liter inline six for $7,995 in California.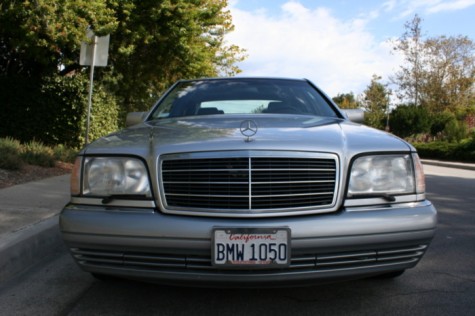 1995 Mercedes-Benz S320 Sedan, 69k actual miles, oil changed every 3k. Californian car, approximately 4k miles per year, possibly one of the lowest mileage cars of this type in the country,
Sparkling unmarked metallic silver, soft gray leather. Fully loaded, tinted windows, alloy wheels, garaged, non-smoker, this car is in 9.5 condition (10 is new). Drives and feels like new, fabulous value,
$7,995, this is the one you've been waiting for.
I'm sure there are naysayers out there who would think this buy is way too risky and not worth it, but, well, I'm the kind of person that likes risk. Given the owner is open to negotiations, this represents a lot of car for the money. While you could buy a perfectly good subcompact car for about twice the price, I'd rather take a flyer on this S320 and just figure in the extra cash going forward for the maintenance and repairs and enjoy a big, comfortable, stately cruiser.
-Paul