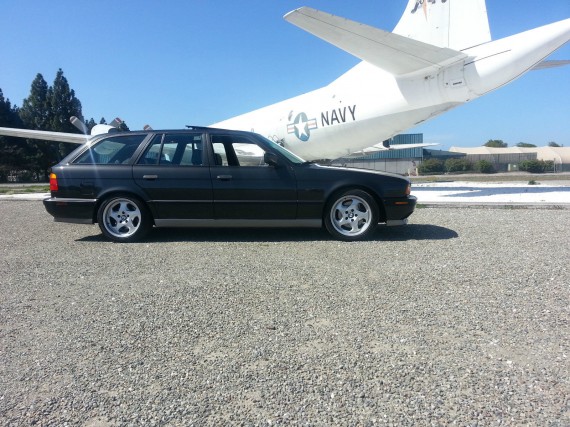 M5 tourings command a lot of attention on this side of the pond, regardless of generation. I've seen an E61 M5 in person thanks to some clever license plating, but only pictures of the E34 and dreams of the prototyped E39. Some clever chap bought this E34 M5, the very first produced, from the original owner 6 years ago and had it professionally imported to the US. Clearly someone with an eye for that kind of provenance cares more than a little, and a high-quality repaint from top to bottom along with a reskinned interior show the lengths he was willing to go to make this a prime example. No matter how much rebuilding happens, you can't turn back miles, but an engine and transmission replacement means it has more like 150k than 220k. You've got a few years left before E34s are legal to import, and you'll never get a chance to buy the first Touring.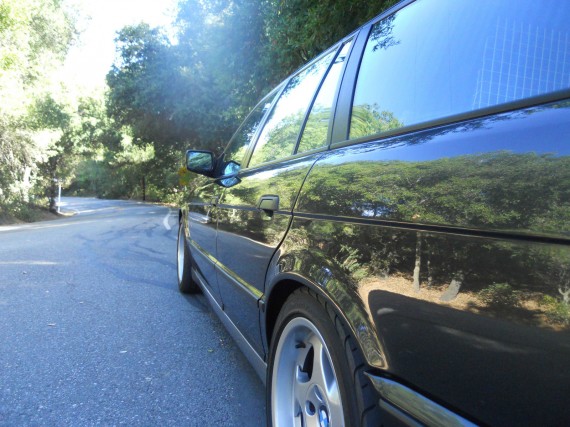 Year: 1992
Model: E34 M5 Touring
Engine: S38B38 3.8 liter inline-6
Transmission: 5-speed manual
Mileage: 295,000 km (~ 220,000 mi)
Price: Reserve-on auction, $40k Buy-It-Now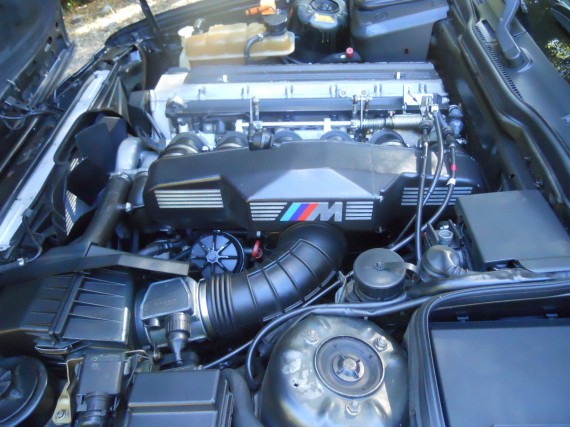 I am the proud owner of first M5 touring ever produced. I imported it from Germany and had it federalized by Barry Taylor Enterprises in Richmond, Ca. Here's a link to the world wide M5 Touring Registry :http://www.bmwmregistry.com/models.php?id=25, my car is at the top. BMW made 891 Tourings and never brought them to the USA. I have owned my car for 5 years and it's time for a change. If you are looking at this ad you know how rare and special these tourings are. Here's a link to great information on the E34 M5 http://www.bmwmregistry.com/model_faq.php?id=12

Here are pictures from Germany before I bought the touring:
http://euromcars.com/gschultz/04-09-07/

History:
In the beginning of 2007 I stated to browse the German car site Mobile.de for an M5 touring. I saw my car and had my friend who runs euromcars.com go and check it out. It turns out the car is the first M5 touring to be built. There is some dispute with my car's vin ending with BL01001 and there's a BL 01000 but the experts in Germany insist that mine was done first. I purchased the car and had it federalized by now retired Barry Taylor Enterprises. He had been in the car importation business for over 45 years. It took until the middle of 2007 for me to get my car. I bought the car from the original owner.

Condition:
Exterior- I had a complete paint job in '08. I just had the hood, roof, bumper, and grille re-sprayed. It had picked up too many stone chips. The wheels were refinished 2 months ago. I just installed all new euro bumper strips. It looks pretty good. The front bumper was bead blasted down to clean plastic and painted. The body shop felt this the best way to make it like new.

Interior- Very clean, I've had all of the seats recovered with good leather. It gets a ton of complements. The only modification I've done was to change the radio to a later BMW CD43 unit with Ipod connection. The iPod cable is near the parking brake. The FM had died in the original. I have replaced the rear window blinds and the rear dog net. I just purchased one of the last sets of OEM black floor mats. The dash is clean with no cracks. The door cards aren't perfect but I've seen much much worse.

Since I've owned it I've replaced:
Valve adjustment just completed
Fuel pump and CPS
The brakes were replaced the first year I owned the car
Radiator replaced first year
Alternator (February)
PS pump
2-EDC shocks, ordered from Greg at Concord BMW (Great guy)
A/C compressor, has been converted to R134. It blows cool but not cold.
Front steering components
Very recent drive shaft rebuild including guibo and center support bearing.

I have just passed strict California smog inspection. It burns virtually no oil. A fellow E34 M5 owner came by and asked me to start it up while cold. He was utterly amazed at how smooth it idled. We tried to balance coins on the plenum. This phrase is used a lot but I would truly drive this car cross country without fear.

I bought the car with 295,000 kilometers and it now has approximately 369k or about 220,000 miles. It had a factory engine and transmission replaced in Germany at about 100k kilometers. With 220,000 miles it's not ready for a concourse but it's in very good condition.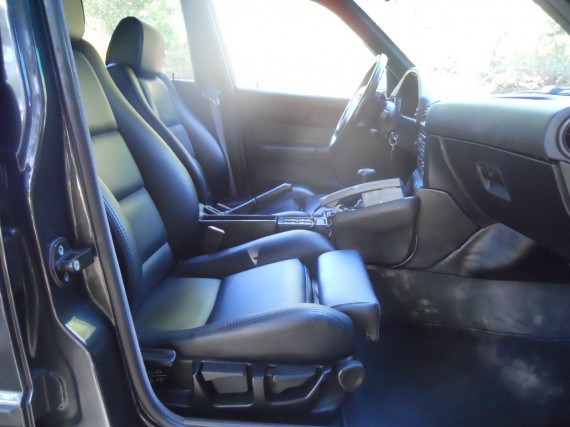 This is a definite unicorn and the owner knows it. The cleanliness inside and out is impressive and when stacked with first-born history, it's a serious counterbalance to the mileage. He's going to a get a very nice price, and someone else can have an ///M trump card for the shows without worrying about driving it.
-NR