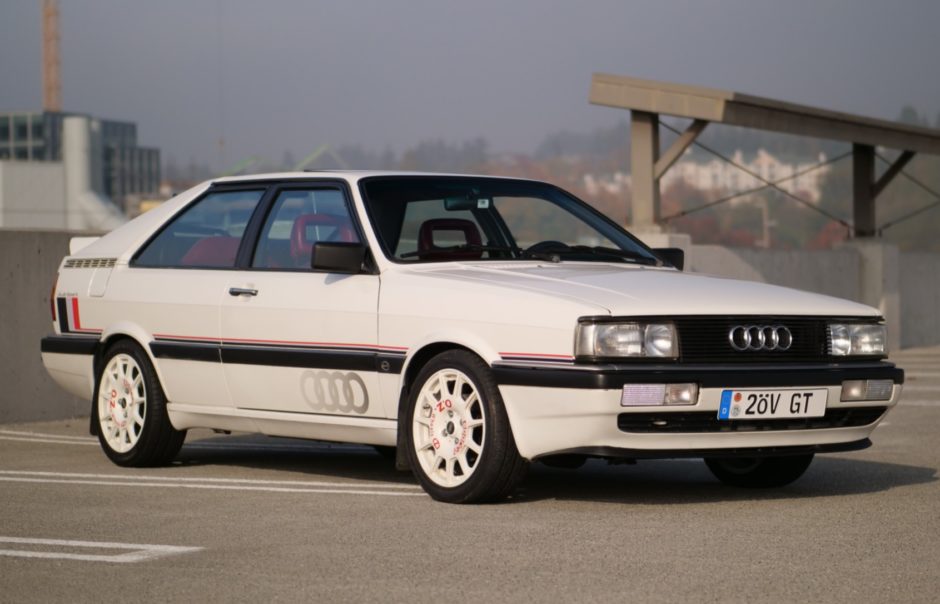 This Audi Coupe GT 20V sold for $11,900.
Yesterday's Jade Green '74 911 Coupe was for me a 'Greatest Hits' example. It was a great color on a great classic, with great wheels, great flares, a great interior and great graphics. While I'm certain it wasn't for everyone, the 911 market of today means that whatever genre your particular greatest hits are composed of you'll probably find what you're looking for.
The same cannot be said for Audi, especially when it comes to 1980s examples. Yet here, today, we have what I would consider to be a pretty good attempt to make the greatest Coupe GT. First off, there are some who like the early Coupe or Coupe GT models, but as I've had a string of them my heart beats to the later '85-up chassis. Couple the better looks with improved European headlights and you're starting off well. Make it one of the better colors for the GT – Alpine White L90E – and things are still great. Inside, the best interior to match that outside was the limited edition Commemorative Design "Mouton" red leather. You'll want the Nardi leather wheel to hold on to. Kick the wheels up a few notches to really make the GT look more purposeful, and while you're there, lower the ride height too.
But it's the go that really separates this GT. The stock KX is hard to develop, between the lack of parts, the CIS fuel injection, and the lack of parts. Did I mention the lack of parts? You can go the cam route and do a bunch of other goodies and once it's all done, you'll come out the other side with maybe as much power as the later 2.3 NG. Maybe. But since the GT is a one-wheel drive wonder, you won't want to overdo the power department. The solution is the short-lived 7A 2.3 20V DOHC motor found in the 1990-1991 90 quattro 20V and Coupe Quattro. Match the 164 horsepower, 7,200 RPM screamer to the 600 lb lighter chassis of the GT and suddenly you've got quite a stunner. And why not throw in some period graphics, too?