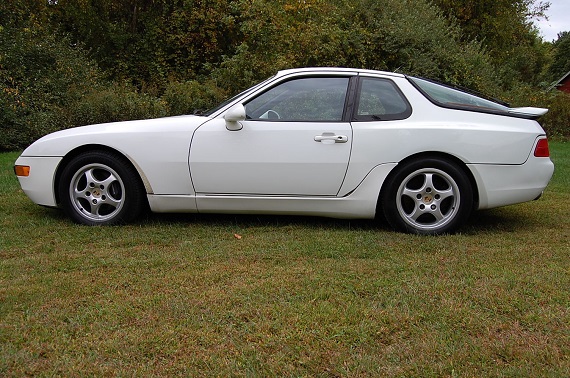 In my post from earlier today, I looked at the dilemma in my fictional enthusiast life; the Porsche 944 Turbo versus the 944S2. To throw a monkey wrench into that theoretical debate, there is of course the car that replaced the 944S2 – the 968. With updated styling, the addition of the Variocam variable valve timing and a 6th gear, the 968 is arguably one of the best front-engined water-cooled Porsches. Now with better fuel economy, modernized looks and 236 horsepower, it was really a match for the 944 Turbo. However, as I've covered before, most of the competition left it behind; in the marketplace, the 4 cylinder Porsche not only squared up against the V8 Corvette, but the refined trio of Japanese turbocharged cars in the RX-7, 300ZX Twin-turbo and Supra Turbo. If you just wanted performance, it was hard to argue that your money was best spent on the 968. However, a few decades on, the 968 is really starting to come into its own as a potential collector and is widely recognized as a great driver with classic Porsche attributes. Today, I have an interesting pair; a cheap 6-speed coupe and a supercharged cabriolet. Which would you choose?
Year: 1993
Model: 968
Engine: 3.0 liter inline-4
Transmission: 6-speed manual
Mileage: 143,000 mi
Price: $9,500 Buy It Now
1993 Porsche 968 6 Speed Coupe White with a Blue interior 143,000 miles. Clean car fax. Cold Air Conditioning. Many service records including a clutch replacement. Very Rare Car, only made from 1992 to 1995. Wonderful to drive, feels great on the road. A great value in a Porsche. Sharp looking car, the color White really works on this car! It looks great! It is very nice to drive and it is a very rare car that you are unlikely to see driving the other way.

California car most of its life up until about 2 years ago, service book stamped regularly up to 1998 then receipts continue service history from there(there are additional receipts from later on with another timing belt replacement), with brake work, clutch replacement Car runs nicely,shows well with the exception of the front lower spoiler which is off, the drivers side behind the door has some clear coat that has come off, this is hard to notice, drivers side rear rim has bend in it. Interior shows very nicely with only a small amount of cracking on the dash.Car just passed Connecticuts emissions test, so it is good to go. I have been driving it regularly and it runs very nicely! A.C. is cold!

Located in northwestern Connecticut about 75 miles north of New York City. If you have questions you can reach me thru ebay or call 860-350-1140. There is a page with many highly detailed photos of the car, please take the time to visit this page if you are seriously interested, forzamotorsports with the usual com ending. Buyer pays shipping, International buyers welcome, I can help set up shipping to any part of the world.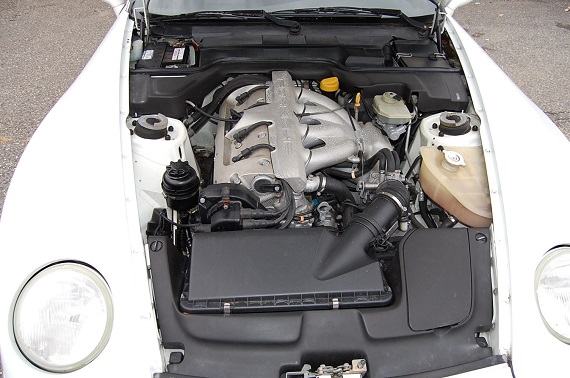 I do like the looks of the white over blue interior and at first glance this car looks pretty nice. It's not optioned with the sport wheels, but it is a 6-speed manual. However, the front bumper cover has encountered something fairly hard; not only is it broken below, it looks like the belly pan is gone and the sides are peeling off. The seal in between the rear cover and the body is hanging off in one photo, and the protection strip shows the normal cracking of 20 year old plastic. I'm also not sure touting maintenance records from 16 years ago is particularly relevant – I'd prefer to see something much more recent, considering the 143,000 miles on the clock. Still, it's priced aggressively below $10,000 and could be a reasonable driver with some money left to repair the small items and a maintenance budget. Just make sure that the motor didn't encounter whatever the bumper obviously did.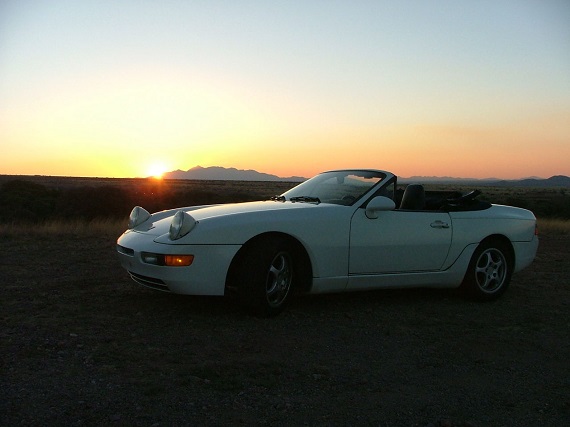 Year: 1992
Model: 968 Cabriolet
Engine: 3.0 liter supercharged inline-4
Transmission: 6-speed manual
Mileage: 167,000 mi
Price: $17,000 Buy It Now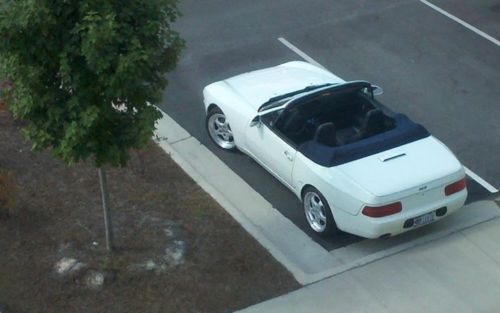 Let me start off by saying that the reason I am selling my wonderful 968 is because the family is growing, and the boys can no longer fit in the back. (Yes. In the back of a 2-seat convertible. More on that below). The wife wants a larger vehicle for herself, so the time has come to part ways with my 968. We are not, however, in a massive hurry, so only serious bidders with serious inquiries will be entertained. This car is also listed locally and on cars.com, so I reserve the right to end this ad early. I must also preface the description of this car with this statement:

This is a 23-year-old car. She is not a Garage Queen. I drive her just about every day of the week, even if it's just to the store and back. Many things have been upgraded, replaced, and/or fixed, but she is still 23. I will speak to things that are right-out broken here in this ad, but if you are serious about this car, you understand that new is new, everything else isn't. Cosmetic "deficiencies" and old car parts are part of the territory when buying a quarter-of-a-century-old car.

The Price:

Kelley Blue Book Online only goes back to 1994. The '94 968 in Very Good condition is valued at $9250. Excellence Magazine valued all 924/944/968 recently (I don't recall the month), and a '92 high-mileage car was valued at roughly $12,500. The Supercharger is a $5000 kit, and the rims run about $2500. Neither are new, but only a couple years old, so I took the mean average of KBB and Excellence (about $11,000) and added a depreciated value (~75%) of the rims and supercharger (about $6000), for a total of $17,000 – give or take. I will think about serious offers. If you think it's a reasonable offer, please send me an email and maybe we can work it out! Now on to some details.

The Good:

– D1R Supercharger. The developer/builder is very active in the 968 community and helps out with all questions, no matter how minor.
– 18″ Veloce 3.6 rims
– Front Euro lenses (replace ugly U.S. front bumperettes)
– Shifter leather and handle replaced.
– New radiator
– New water pump
– New clutch
– New rotors (all 4)
– Belts, tires, pads and rotors all less than one year old
– I have replaced the back shelf with seats from a coupe (complete with seatbelts). It doesn't match in color, but it was a functional decision. I still have shelf, you can re-install.
– I have all my paperwork, as well as most of the paperwork from the previous owner I bought it from back in 2008.

The Bad:

– Right headlamp won't go down, but I think its a loose wire, not the motor. I removed the fuse for the motors and ride around with them up all the time. I like the look anyways.
– Convertible canvas is getting old and leaks a little bit after sitting in a massive deluge. Top motor is disengaged, has been since I bought it.
– Getting a sympathetic vibration from under car at 2800-2950 RPMs when cruising. I think it's a heat shield near cat. Don't hear it when accelerating thru those RPMs.
– All but one speaker is blown/in-operational. CD player needs replaced.
– Odometer has been broken for about a year or so. Reads 167,000, but I'm probably more near 180,000. However, you couldn't tell. She runs like it's only 80,000!

The Ugly:

– Driver seat has been sat in. (gasp!) ALOT! This is my daily driver (20 mile commute), so the seat is worn.
– Dash has some cracks.
– Carpet has some fading.
– Paint is in pretty good shape for its age.
– Body gaskets shrinking from age. I have new set in bag ready for installation.

The Extras:

– Rear shelf
– Set of original 16″ rims (no tires)
– Box of extra parts and doo-dads in the garage. I can itemize for serious bidders.

Thank you for looking! I can take more photos, if you are serious about buying. Again, I am not in a major rush to sell, but when the right buyer comes along, I'll be ready to let her go. I hope she finds a good home with someone who will drive her like she deserves!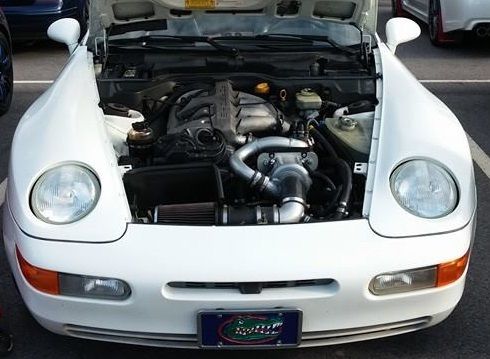 From the coupe we move on to an interesting cabriolet; a 6-speed that's more rare to see than the typical Tiptronic models. What's extra interesting is that the car has an additional supercharger which should boost performance notably. I like the 17″ wheels even if they're replica Speedlines as they mimic the look the Turbo S 968 came with. Unlike the other car, there's documented maintenance performed here – but also a long list of broken and non-functional items, such as the top and the headlights. The asking price is also nearly double the asking price of the coupe.
In this pair, the Coupe is probably what I would choose. But compared to the earlier pair, I think I'd prefer to get the earlier 944S2 even with less power. The condition is just so much better and with low miles, there should be less concern long term and there's a lot less to correct. We've seen how these Porsches can look enticing at a low price, but you're often better off paying for the better example long term and I think this is a case where the 944S2 looks the best even at double the price of the 968 Coupe.
-Carter