Warning!
This post is in our archives. Links in this post may have been updated to point to similar cars available to bid on eBay.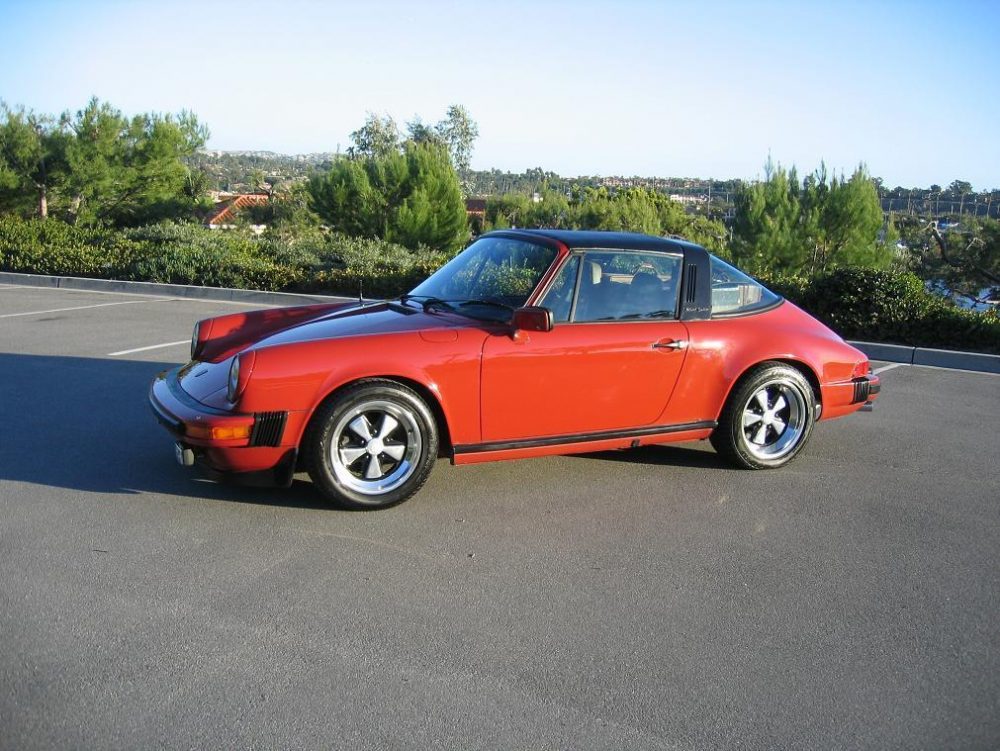 Yes, you have read the title correctly. This 1981 Porsche 911SC Targa houses a 537 horsepower 8.2 liter V8 from a 1970 Cadillac Eldorado. A couple weeks ago I posted the Safari 911 and began that post stating, "Let's get weird." Little did I know just how weird things would get.
From the outside there actually isn't too much to really distinguish this 911 from any other SC of the period. Observers might notice the extensive grill work on the boot lid, but otherwise it looks like a 911 that someone has stuffed a bunch of luggage in the back. The condition even looks quite good. If you start poking around though you'll realize things are not quite what they seem. I imagine pulling up next to it at a stoplight would reveal a little bit as well!
This obviously isn't a very traditional method for modifying any 911, but for the owner it was the culmination of a desire stemming from his teenage years. I'm not sure I'd ever consider such a thing myself, but as someone who does lust after some of the V8 Miatas that lurk the streets I can't say I don't totally understand the impulse. I'm not sure 'unique' even begins to describe it.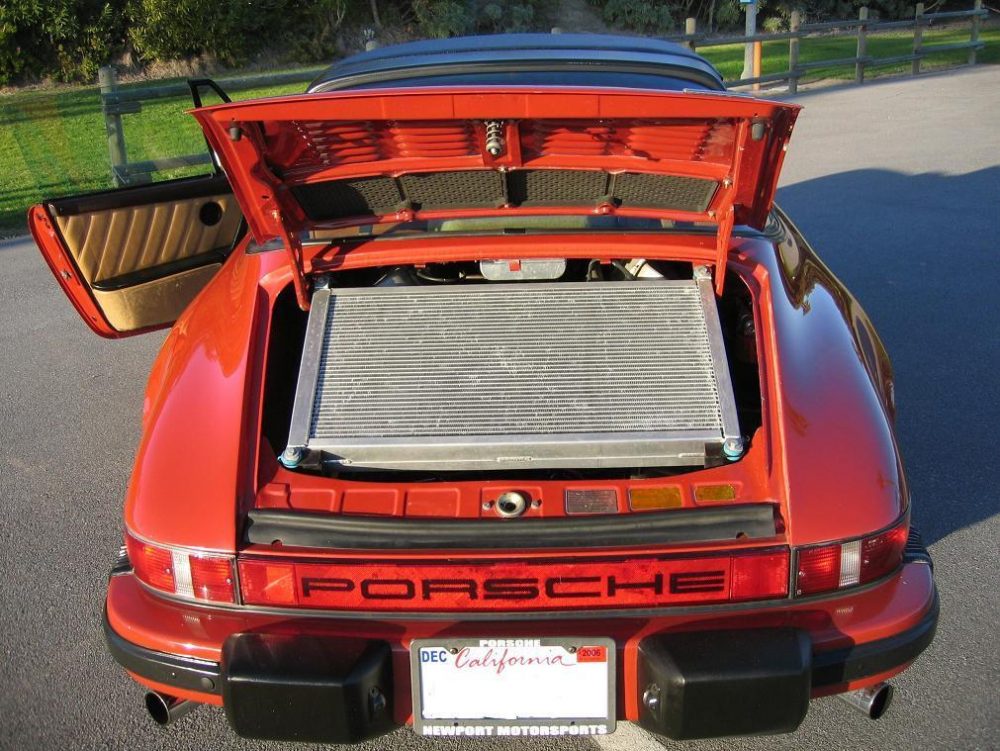 Year: 1981
Model: 911SC Targa
Engine: 8.2 liter V8
Transmission: 3-speed automatic
Mileage: 85,000 mi
Price: $28,000 Buy It Now
1981 Porsche 911 Targa – 8.2 Litre Mid-Engine Cadillac V8

General

When I was 15 years old in 1972 I read about this type of engine transplant written up in "Peterson's Complete Book of Engine Swapping No. 2" and always thought is was a very clever idea. That write-up was for an Olds 425 V8 into a Porsche 912. That book had been sitting on my shelf for years and when I reached 45 the itch was just to great to resist and I decided to build my own.

This engine swap is actually very easy to do. I used a 1970 Cadillac Eldorado 500 cid engine and TurboHydramatic 425 transaxle. The assembly is just as Cadillac designed it. After removing the Porsche engine & transaxle it was simply matter of building motor mounts, CV joint adapters and axles, a custom radiator and exhaust system. The Cadillac package has a single front and dual rear mount setup that was easily adaptable to the stock Porsche mounts.

Fitting the package in

The Porsche shock tower crossmember and sheetmetal behind the rear seat had to be removed. I chose a Targa body because of the extra unibody rigidty provided to help when this sheetmetal was removed. The body is still surprisingly stiff. When I was building the car onlookers swore that the back window would pop out and the chassis would twist. But it is all still nice and stiff.

When the final drive & axles arealigned properly with the rear wheels the powerplant is located perfectly fore/aft…..almost like Dr. P and Cadillac had planned for this swap to happen. The engine fits low in the back seat area as can be seen in the photos.

The Engine

The engine is a 1970 Cadillac 500 cid block specially built for me by Maximum Torque Specialties of Wisconsin. They are/were THE performance Cadillac engine builder. The engine has been slightly bored, decked, and fully balanced. Forged rods and pistons are used, the very expensive Bulldog aluminum heads, pretty healthy cam with roller rockers and a specially designed valve train. Roller timing gear & chain, high flow oil pump, and lots of other goodies went into building this engine. It pulled 537 +/- hp on the dyno. It idles a little rough and gives this Porsche a very suspicious sound! To keep engine area temperatures low we ceramic costed the exhaust manifolds in and out to direct exhaust gas heat out the tailpipe. The stock manifolds to keep it quieter under the luggage (since the engine is literally right behind you). A high torque starter, remote oil filter, Holley spread-bore double pump carb and some billet goodies were also added.

When you pull that luggage off and your onlookers see those "Porsche 8.2 Litre" valve covers you'll grin with delight at their complete bewilderment.

The Transmssion

There are only a few people that know about these TurboHydrmatic 425 Automatic transmissions. They are essentially a TurboHydramatic 400 with reverse rotation and a different valve body. These transmission were used in GMC motor homes and so there is tremendous strength and great aftermarket parts are available. This transmission was built to heavy motor home specs, has a Trans-Go Shift kit, and is the VERY SPECIAL Switch-Pitch torque converter system. For those of you not familiar, applying a 12V signal to a transmission terminal changes the converter from low stall to high stall. This gives great hi-stall off the line performance and exceptional pull with it switches back to low stall. For more info just email me. I also have an aftermarket Switch-Pitch transmission controller that I have not installed and does with the car.

Final Drive

I used a 2:73:1 final drive. I tried a 3:17 ratio but the engine just revved too high at cruising speeds. With the huge torque of this motor and the dual range torque convertor the 2:73 gears are great.

In terms of getting the power to the rear tires, I have used Turbo Carrera CV joints because they are stronger and also allow the greater axle shaft angles (because the axles are shorter then stock). Axles were custom built by Dutchman Motorsports in Portland, OR according to the torsional moment strength specs I provided. To carry the extra weight I've installed 30mm torsion bars. The ride is great and the car sits very nicely.

Note the wheels are 7's in front and 8's in the rear. These are the largest size stock Porsche rims and tires that fit this car properly and all are brand new (and were expensive).

Powerplant Installation

After removing the shock tower and rear seat sheetmetal the engine just lifts up from below. I use the stock Porsche corner engine mount structure in the back with different biscuits. The custom front mount is welded to the torsion bar tube.

Exhaust

I tested three exhaust systems and have settled on a MagnaFlow dual in, dual out muffler mounted in the typical Porsche location. 2.5″ pipes are used. There is NO "humming" effect (Flowmasters sounded the worst). For heat control I use ceramic coated stock exhaust manifolds. Certainly headers were considered BUT because the engine is so close to the interior I think the noise would be unpleasant. Besides….the power and torque is pretty insane anyway and I like the "sleeper" design.

Cooling

Engine cooling is handled by a specially designed aluminum dual cross flow radiator. This radiator also contains a transmission cooler and uses two VERY high capacity fans. A high capacity water pump was also used. After installation of a large oil cooler up front with a temperature switch the car is staying cool at all times in stop & go and light freeway driving here in Southern California during 75 to 90 degree weather.

Interior

What everyone loves is the leather Hartman luggage engine cover. I purchased used Hartman luggage on ebay and my fantastic interior guys (Roberto's Auto Trim in Costa Mesa, CA) figured out how to cut, hollow and attached the luggage to make the cover. The inside of the cover uses marine "SoundStop" engine room insulation to keep the passenger compartment quiet and cool.

The tachometer was recalibrated for an eight cylinder pulse and the MSD tach adapter makes it all work just great. The oil pressure, water temperature, and associated idiot lights all work as well. The speedometer is not hooked up yet…..I have a really clever commercially made adapter that coverts the mechanical Hydramatic speedo drive to an electronic pulse.

Shifting is handled by a common Lokar automatic shifter and shifter cable. It mounts right where the Porsche shifter does and looks totally stock.

I've had the seats redone and all of the interior carpet replaced. The interior is near immaculate.

Since the original Porsche works off the air cooling it was removed and no heater or A/C is installed. This is not a cold states car….drive this custom beauty in nice weather please.

Summary

This project turned out just terrific. The power plant package fits just great, it's a total sleeper, and people just can't believe it can be true. I've held onto the car for all these years because it is so unique. Well its time to move on. I've owned 75+ classic & special interest cars and now am turning my time to family, travel, outdoors and boating. The buyer will be getting something that will turn heads everywhere and appreciate the well thought out design and execution of the build. The has a clear Montana title. Cars of this age are granted "Permanent" registration status.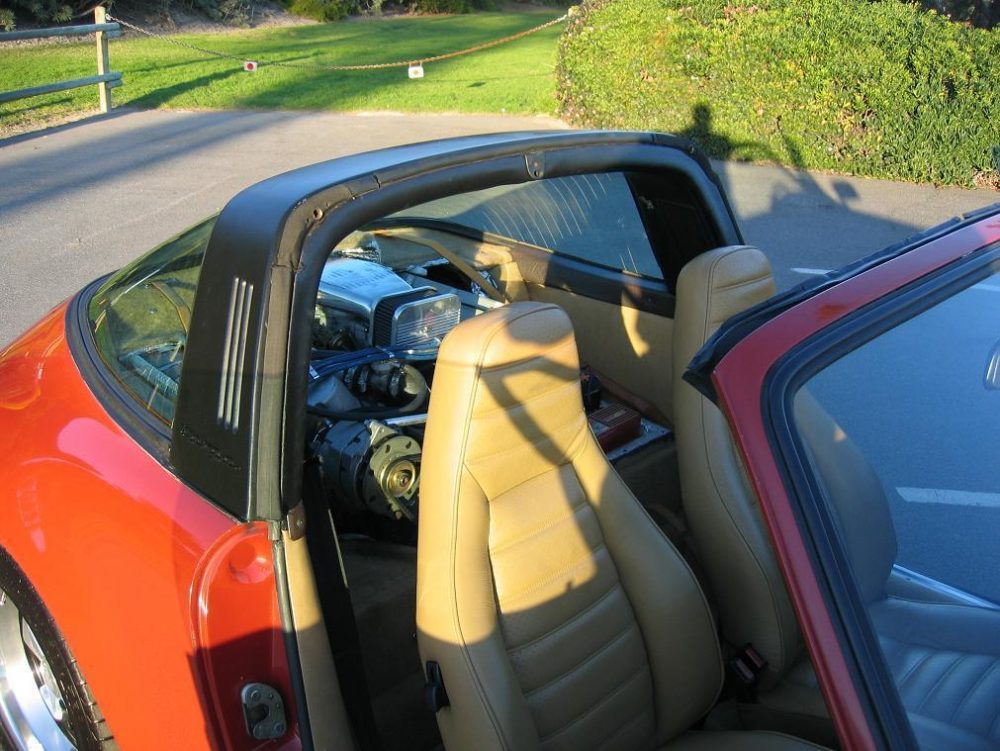 To get the full gist of what went into the build I'd suggest reading through the ad. It's pretty thorough and seems fairly well thought out. The transmission is a 3-speed automatic from a motor home. That definitely is not a traditional source for a transmission, but given the power of the engine a fairly beefy unit was necessary. I imagine it will handle the power without much problem. I'm not sure how spirited it will allow you to drive, but with 537 hp I imagine everything is pretty spirited in a straight line.
If you're like me, your first thought when seeing this might have been, "Wouldn't putting a V8 directly behind your head (and that is precisely where the thing is located) be quite loud and very hot?" Well as it turns out yes that is true. The builder had a solution and it's the most ingenious stupid solution I think I've seen. Step 1: buy a set of luggage on eBay; Step 2: cut said luggage to serve as an engine cover; Step 3: line the interior of the luggage with insulation to soak up all of the heat and noise. Voila! I was quite confused why there were so many pictures showing this stack of luggage on the rear shelf. It made no sense. At least, it made no sense right up until the moment it made complete sense. I'm not entirely convinced it works as well as the seller says it does, but maybe I'm wrong. Or perhaps you simply accept certain limitations to such a design. I don't know, but it is insane.
I have similar questions about the general rigidity of the chassis, but the seller claims everything feels pretty solid. He chose a Targa for this build precisely for its increased stiffness. Maybe it's a concern, maybe it isn't. Frankly, I'm not sure my list of usual concerns with a 911SC even applies once you stuff an 8.2 liter V8 into the thing. This is mad scientist stuff at its best.
As far as price goes, it's totally in the eyes of the beholder. Plenty of 911 fans wouldn't pay a cent for this and I'm sure there are plenty others who'll think it's really neat, but not really want to own it. It's priced at $28K and that doesn't feel too bad. I'm sure the owner is open to negotiation, but I think it should be clear that you couldn't replicate this for $28K, at least not without already having a 911 to build upon. And as I said above, the condition actually looks pretty good. As strange as the idea might be, it does appear to have been carried out well and taken care of over the years since its completion. In that regard, it's absolutely worth a look.
-Rob