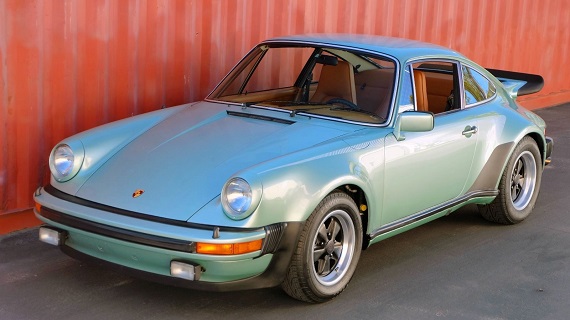 This is one of my favorite cars to come across: an Ice Green Metallic 1976 Porsche 930 Turbo Carrera. I realize that's really specific, but the combination of the 3.0 liter 911 Turbo with this color really works for me and it always grabs my attention immediately. For my tastes this one is also helped by its Cinnamon interior, which has just enough darkness to it to provide the right contrast to that light green exterior. I even like the somewhat quirky and, in this application, subtle "Turbo" graphics that run the length of the car. I can't really vouch for the seller's claim that it is the single-most beautiful early Turbo to exist, but it would certainly rank highly.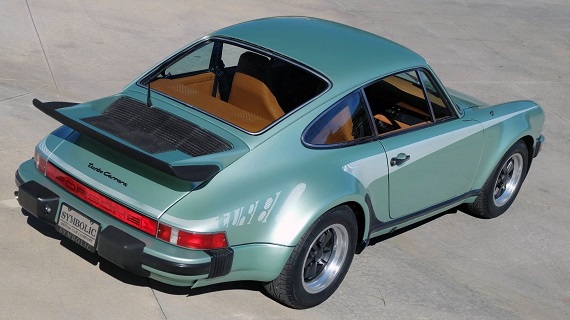 Year: 1976
Model: 911 Turbo
Engine: 3.0 liter turbocharged flat-6
Transmission: 4-speed manual
Mileage: 88,484 mi
Price: $249,000 Buy It Now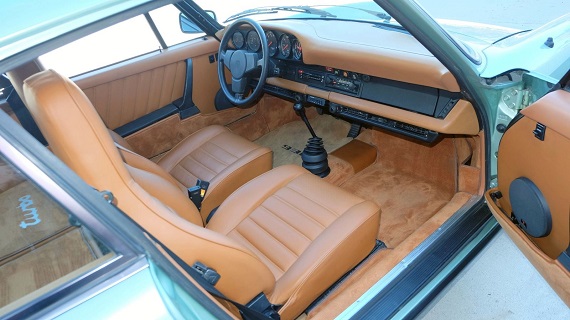 Year 1976
Make Porsche
Type 930 (M781)
Model Turbo Carrera
Chassis No 930.680.0143
Engine No 686.0123
Engine Type 930/51
Gear Box No 776.0191
Gear Box Type 930/30
Exterior Color Ice Green Metallic (Code 266-9-3)
Interior Color Cinnamon Full Leather (Code 86)
Mileage 88,484 Miles

It is my personal opinion and one that is shared by many others that this rare original "Ice Green Metallic" early first-year Turbo Carrera is the single most beautiful example known to still exist. The color combination and overall level of originality, authenticity and the quality of the restoration are second to none.

This particular 930 Turbo Carrera was "Special Ordered" new in September of 1975 on behalf of a South Florida Porsche collector via Brumos Porsche. The order specified that the exterior be finished in the impossibly beautiful and ultra-complementary color "Ice-Green Metallic" with a contrasting full leather interior in the color of "Cinnamon." The only other request was that the vehicle have no optional equipment of any kind. It was not even to be equipped with the standard "sunroof" feature, marking it as a rather unique example to say the least! The one and sole option fitted was a rare set of Porsche Factory Wheel Locks which remain with the car to this day. The original owner sold the car in the early 1980s to a private collector in Pisgah Forrest, North Carolina where it quietly remained until just last year in a remarkably well cared for and fully preserved state.

Recently this early Turbo Carrera was carefully stripped to bare metal and given a proper and complete repaint in the correct original delivery "Ice-Green Metallic." At the same time, an original "new-old-stock" complete leather interior in the original "Cinnamon" color was sourced via the Porsche Factory and carefully installed. Just last Fall, this first year USA Turbo Carrera was sent to marque experts at Jakob's Porsche in North Vancouver, Canada where at a cost in excess of $22,000 it was given a complete and thorough servicing and safety check-over. The gearbox was inspected and serviced and all other maintenance and safety checks were also completed and brought up to date. Brand new, no-time Pirelli P6000 tires were then fitted to each of the light alloy Fuch rims.

All services and safety checks are completely current and up to date. This vehicle is without question one of the all-time most beautiful original "First-Year" Turbo Carrera Coupés left in existence. If such a vehicle has been on your "wish list" look no further… you have found a true automotive treasure without equal!

More than 100 high resolution inspection photos of this vehicle can be accessed by contacting me for a direct link to our website.

This Porsche can be inspected and test driven at our main San Diego Showroom located at:

Symbolic International
11425 Sorrento Valley Road
San Diego, California 92121 USA

California buyers are subject to applicable tax, license and registration fees if delivery is taken within the State of California. Please make sure to check out my additional ebay auctions and feel free to contact me to find out about many of the other collectible and classic automobiles we currently own and have for sale and trade.

I can be reached directly on my cell phone by voice or text at 619 840 7811 or by E mail at bill AT billnoon DOT com and I look forward to hearing from you and to assisting all interested buyers.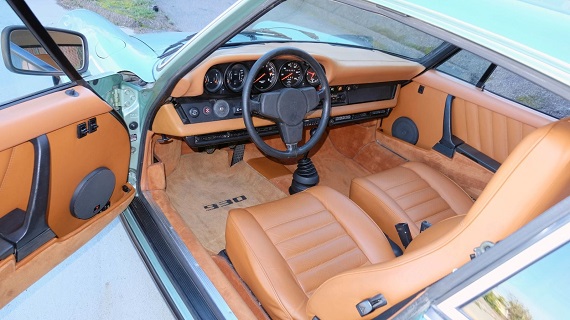 Like with most early Turbos the price is quite high, with this particular asking price pushing very high. Thankfully we have some real world numbers to help us gauge its value. This 930 sold earlier this year at Gooding & Co.'s Scottsdale auctions for $198,000. I remember seeing it at the time and being somewhat shocked at the relatively low price given that Gooding's estimate of the car's value had it pegged between $250,000-$300,000. At the very least I was expecting it to exceed $200K fairly easily. That makes a sale here fairly unlikely, but I still love the car itself nonetheless.
-Rob