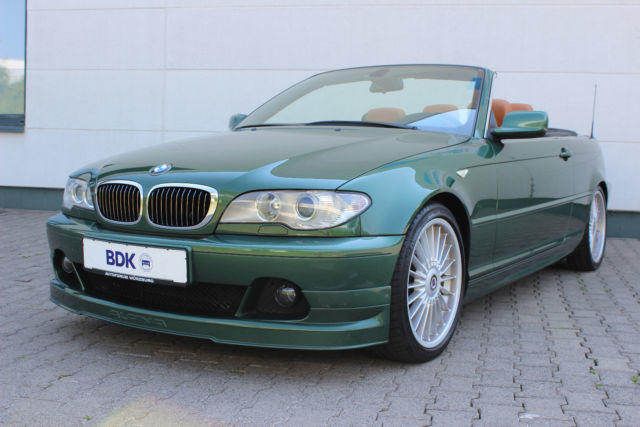 The prospect sounded promising, but I was left feeling lackluster at best about the 750 mile 2001 BMW 330Ci I wrote up a few weeks ago. Sure, it was nice and that interior certainly was to die for; so, too, was the basically as-new condition. But the 5-speed automatic transmission, coupled with the outrageous $32,000 asking price, had me thinking there were better options out there. So if I was in the $30K range for an E46, what are my options?
Well, obviously there are plenty of M3s to check out any day of the week, and I'll be looking at one soon enough. But when our reader John sent through this seriously impressive Alpina, I couldn't help but take a look. The B3 isn't a model we often look at; in fact, I've only reviewed on prior, and it was a E36 chassis. The E46 took an unusual route for Alpinas; rather than a blank-slate motor, the Buchloe company selected the S52B32 from the U.S. spec E36 M3 for their basis. It was bored and stroked to 3.3 liters, netting 280 horsepower. In 2002, the "S" version of the B3 was released, with a bit more bore and a revised engine management and exhaust system. This brought the power to 305, 0-60 plummeted to 5 seconds and with a 6-speed manual you could come close to hanging with the M3. Why buy one, then? Well, the looks were a bit more discrete overall, and you could buy not only a sedan and Touring version, but an all-wheel drive one as well. Today, though, we have a lovely Cabrio with the 6-speed manual to check out: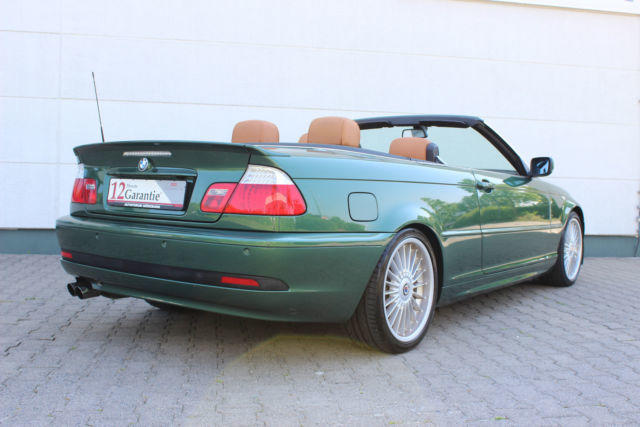 Year: 2004
Model: B3S Cabrio
Engine: 3.35 liter inline-6
Transmission: 6-speed manual
Mileage: 137,000 km (85,127 mi)
Price: E. 29,500 ($34,403 today)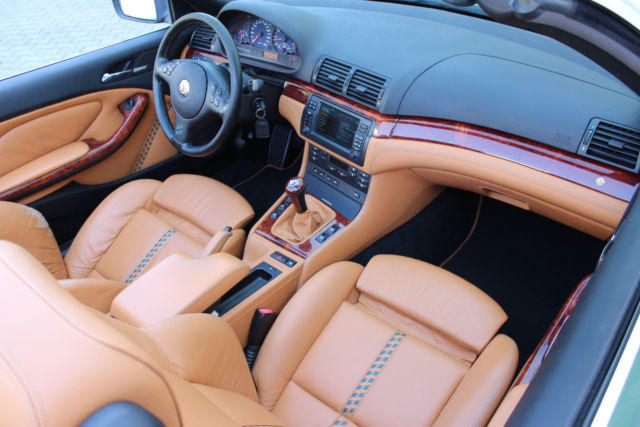 Well Maintained
Careful Care
Xenon
Wind Shield
Emission standard Euro 4, green environmental badge 4 (green)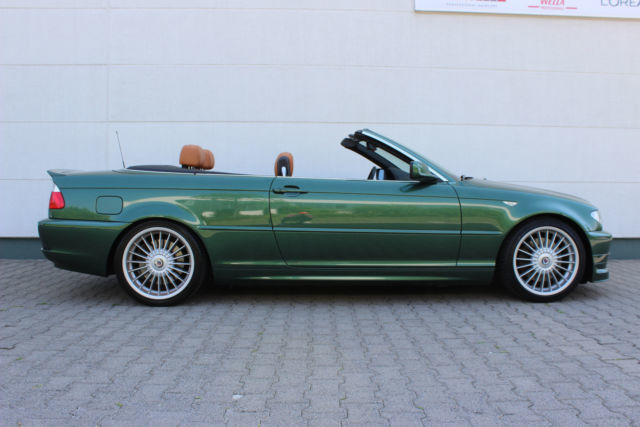 The motor was coupled with typical subtle Alpina exterior revisions; the classic 18″ turbine wheels, the deeper chin spoiler and a slight rear spoiler. The Cabrio was the most popular model in the E46 B3S lineup, with 292 produced. This one appears in perfect Alpina Green with the unusual omission of the contrasting Alpina decor. That unique look continues inside, where instead of the typical Alpina interior we have tan sport leather with contrasting Alpina stitching and warm wood. The combination is gorgeous to me, though admittedly you can spy damage on the driver's bolster. Outside of what can be seen, little information is offered.
Again, because these were world cars, it's possible to apply for an exemption from the government. However, it's going to add to the headaches and expensive of this car, which admittedly already isn't very cheap. The result is that the special interior, exterior and unique model's appeal probably fails to convert many people from just grabbing a M3 Cabrio. Since they don't command a premium – quite the opposite, in fact – it's possible to get just as nice a car for a lot less money. Take this 2003 M3 in Black with Cinnamon leather with ony 54,000 miles for example. At only $16,000, you can have plenty of money left over for maintenance and a potential manual swap down the road. It's lovely to see such an impressive example of a rare car, but for most the exclusivity and location doesn't currently justify the premium.
Thanks to our reader John for the spot!
-Carter