Warning!
This post is in our archives. Links in this post may have been updated to point to similar cars available to bid on eBay.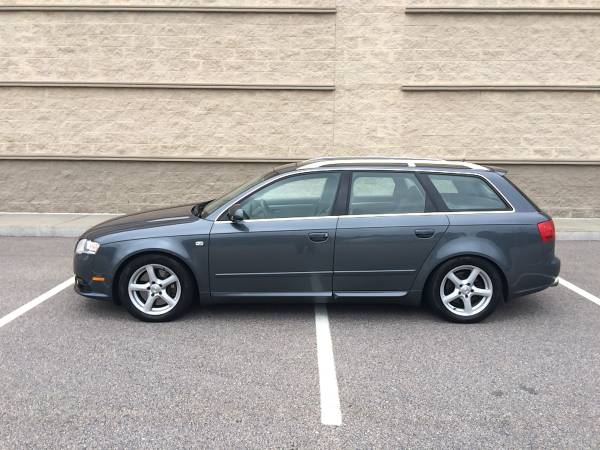 I've got to admit that I have a pretty big soft spot in my heart for the B7 Avant, and without a doubt my favorite is the one with one of the longest names Audi ever blessed a car with – the A4 2.0T quattro Avant S-Line Titanium Package. It's not quite as bad as some of the recent BMW number/letter/word designations (I'm looking at you, X5 xDrive35d M Sport) but it's pretty ridiculously long. Luckily, to make up for that, it is ridiculously good looking too, as well as capable and tunable. In fact, I'd wager that the 2.0T is long-term a much better ownership proposition and practically as fast when compared to the S4. Of course, I do have one complaint – the interior. S-Line cars came only with black interiors – which is another reason that today's car is all the more interesting. At first glance, it appears to be just another grey colored A4 Avant. But get closer, and the details make the package pretty special. Underneath, this A4 has been thoroughly revised by noted race specialist tuner STaSIS, who through their "Touring Package" upped the power of the 2.0T by 25% to 245 horsepower with even more torque. Rolling on bigger unique wheels, the Touring kit also upgraded the suspension to STaSIS coilovers and hid S4-spec larger brakes. Along with some badging, the kit was a staggering $9,000 addition to your already expensive A4. But a neat package it makes, and this one is certainly interesting: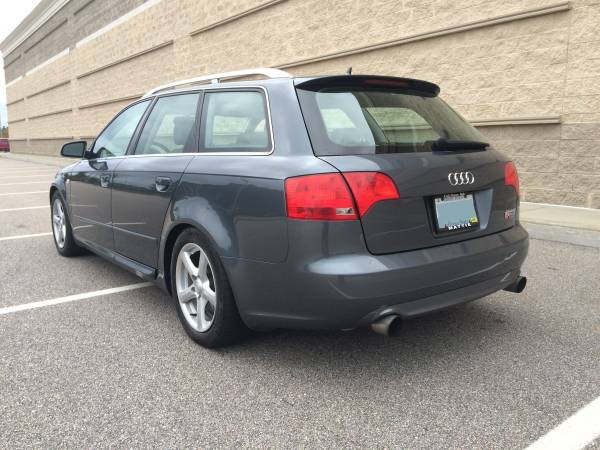 Year: 2008
Model: A4 2.0T quattro Avant S-Line
Engine: 2.0 liter turbocharged inline-4
Transmission: 6-speed manual
Mileage: 160,000 mi
Price: $6,800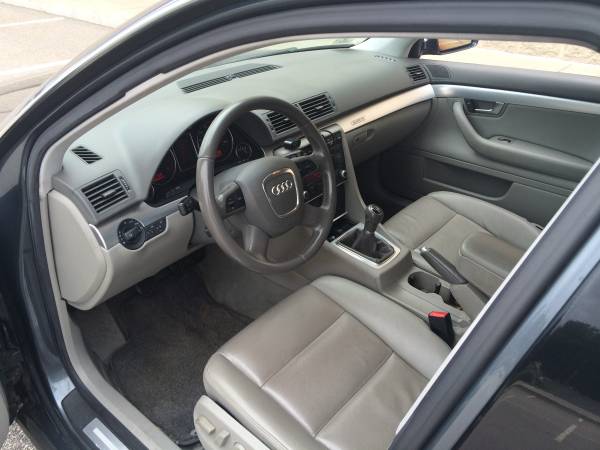 2008 Audi A4 Quattro S Line Avant, 6-speed manual, 2.0L turbo, AWD, 160,000 miles.

Dolphin grey exterior, grey leather interior. HID headlights, cd changer, heated seats, all power options, sunroof, premium sound, etc.

Comes with rare dealer installed "Stasis Touring Package" includes ECU tune, adjustable coilover suspension, upgraded S4 brakes and upgraded exhaust. This package completely transforms this car, all while maintaining reliability and fuel economy! This package was a $9000 option from the dealer!

Very well maintained and in excellent shape in and out. Mechanically sound, very fast and fun to drive. Great in the snow, very roomy and gets excellent fuel economy!

Very hard to find A4 wagon 6 speed manual with Stasis package!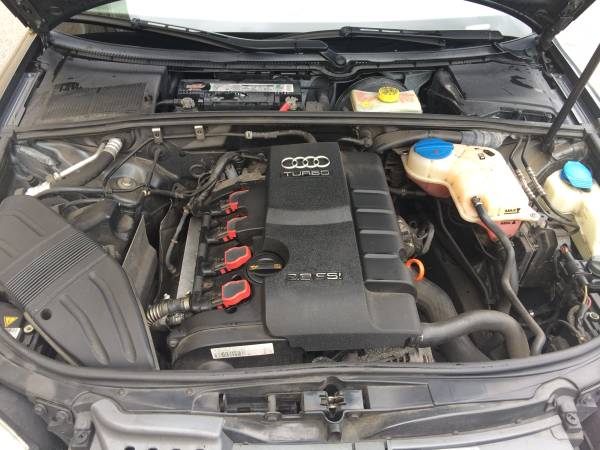 The answer to why it is interesting comes specifically in the details. Claimed, and badged, as an S-Line car, it has a mixture of some of the S-Line package and other aspects that are not. That's partly because by 2008, the A4s were coming with a mix of S-Line bits even if they weren't full S-Line cars. In this case, that means you get the aluminum belt trim and thresholds, coupled with the S4 door blades, deeper front and rear bumpers and S-Line grill. But a few details let us know this car didn't have the S-Line package: missing, for example, are the aluminum pedals, the 3-spoke S-Line wheel, and the biggest give away is the non-black interior. As a package, though, I'm not sure that does anything other than make this a bit more affordable than the Titanium cars we have looked at. I also think that the addition of the generally very highly regarded STaSIS bits makes up for the lack of Titanium package here. The downsides are twofold; the wheels aren't original and look a bit out of place, though not horrible, but most worrying is probably the mileage. That's a double edged sword, because you need to balance the above average mileage with the much below standard asking price. It certainly makes this very good looking A4 a compelling and versatile 5-door to consider though, and I'd wager it'll make the next owner quite happy even if there are some high-mile wear items to replace. Fit some of the quattro GmbH multi-spoke Titanium Package wheels and call it done – you'd have an awesome sleeper. A unique package amongst A4s, the Touring kit makes the normal 2.0T a real threat to the S4 package both in performance but in practicality as well.
-Carter