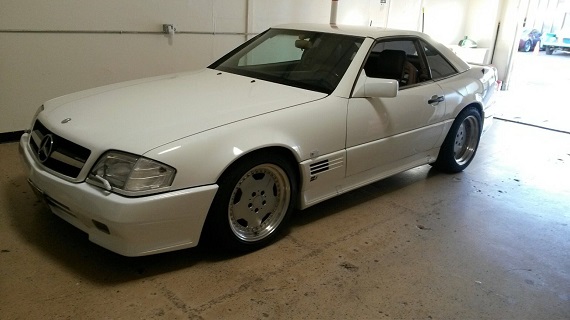 A few weeks ago, I wrote a "Roll the Dice" article about a European specification 380SE with a host of period AMG bits. However, there was no supporting documentation that the car was actually an AMG car and, notably, several items were incorrect. The verdict was that without that documentation, it was probably overpriced for what it was. Today I'm back with another white "AMG" – this time, a pre-merger R129 500SL. Again, we get little documentation on what is reportedly a Japanese-specification 500SL with AMG bits. Is it worth a roll of the dice this time?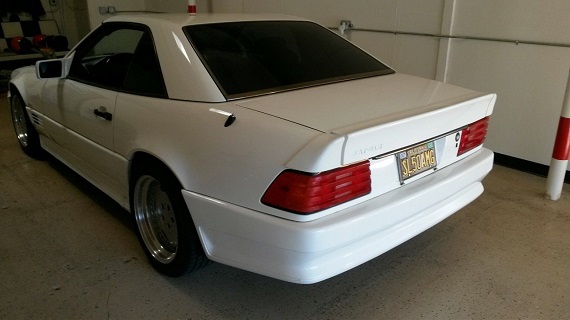 Year: 1991
Model: 500SL
Engine: 5.0 liter V8
Transmission: 4-speed automatic
Mileage: 56,000 mi
Price: $12,900 Buy It Now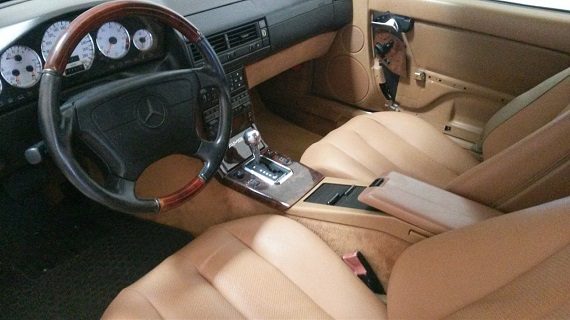 You are looking at a 1991 Mercedes Benz 500SL AMG! Yes AMG ! White on palomino, 56000 mls or 92K km. Imported from Tokyo in 1995, I have all the Customs , EPA, DOT papers to prove and it comes with the Japanese license plates as well. These were called JDM ( Japanese Domestic Market) cars. The AMG sport packages are stamped and were installed either in Germany or in Japan by approved AMG Dealers. Special AMG designed front and rear bumpers side skirts, AMG door plates, rear wings and 3 piece wheels separated the AMG's from the rest of the pack. The AMG's also had different power options you could order from the factory. Starting at 350hp to 385 and 412! I have not Dynoed this car but it feels like a big bore and it does accelerates like one. Both mirrors are convex do to driving on the left , Instrument panel in white with 300km per hour = 186 MPH . Headlights are European Bosch. Grill is aftermarket but the original included in sale. It is a very clean excellent running and driving car but it needs a few things to make it perfect. Seats just have been reupholstered and the hard top headliner is brand new as well. The plastic windows are removed from the soft top ready to install with either tinted or clear new generation windows. You can find those on eBay from $129. The driver side hydraulic lift has a leak and needs to be replaced I do provide the replacement one. Both door compartment lids needs to be fixed with replacement hinges $200. Stereo needs to be hooked back up. Unable to locate map light console do to a move to another house. The clear coat started to peel off at places the painter said its an easy fix by either recoating or buffing it out. Tires are one year old, new Brillstein's shocks. I will also include four new harder rate H&R springs and brand new harder front and rear control arms. I find the car handling on the (soft side) VS its power. Car is registered in California till 10/17.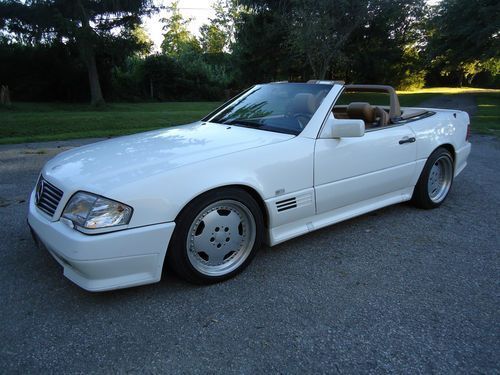 Outside of the grill, this car seems to wear the correct period AMG bits; the spoilers and most relevantly the 3-piece modular OZ Racing wheels. They look spectacular on this package, giving the R129 a much more sporty look. However, the seller then seems to claim that the seat-of-the-pants-ometer indicates this car has an upgraded motor as well. Indeed, we've seen AMG modified 6.0 500SLs before. However, what appears under the hood here looks to be a standard M119 hooked to the 722.3 4-speed automatic. The VIN check, when run, returns a strange Canadian Special Edition result. There are also a host of unoriginal items; from the ugly grill and shift knob to the white face gauges and tacky "Bilstein" stickers on the front fenders, the taste of the prior ownership is somewhat questionable. There also appears to be a fair amount of stuff wrong with this particular model, both mechanically and superficially.
What you're left with is a European specification R129 with what may be some original AMG items and a nice set of wheels, but a laundry list of items to correct. The $13,000 asking price wouldn't be out of line if the car had no faults or if an upgraded motor and original suspension from AMG could be documented, but without that paperwork it's tough to price the origin of this one. And, if you want a R129 with needs, you can pick one up for a fraction of the asking price here. Unfortunately for the seller, as awesome as those wheels and that spoiler is I think the price will have to come down about 50% before this one is really appealing.
-Carter