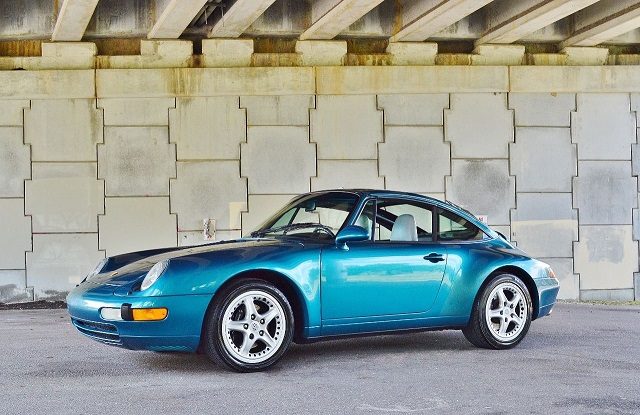 Will I ever warm to the 993 Targa? I will admit that when I see one on the street I like them. But I like them in the same way that I like every other 993: they are a very nice design and look great. This is precisely my problem: the 993 Targa looks just like every other 993. For some (many?) that may be exactly the appeal. For me, it is not because I like the way other Targas stand out and I like the general design aesthetic of the classic Targa. Who knows, perhaps the original Targa design with the roll hoop accentuated would not have looked good on the 993. I just know that I prefer the original, and now current, Targa.
But I am not everyone and even I can admit that the Targa we see here does look really good. Here we have a Turquoise Metallic 1996 Porsche 911 Carrera Targa, located in Miami, with Ivory interior and around 81,000 miles on it.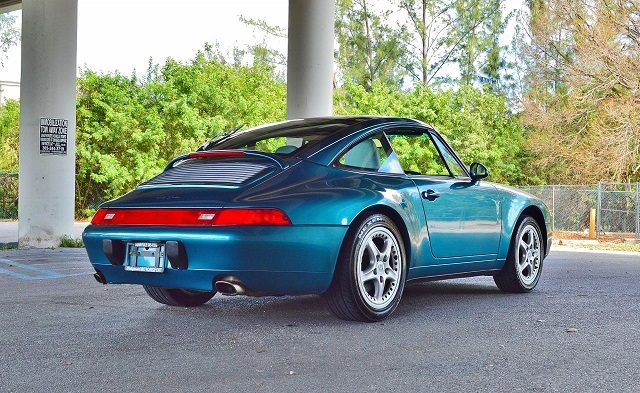 Year: 1996
Model: 911 Carrera Targa
Engine: 3.6 liter flat-6
Transmission: 6-speed manual
Mileage: 81,000 mi
Price: $58,500 Buy It Now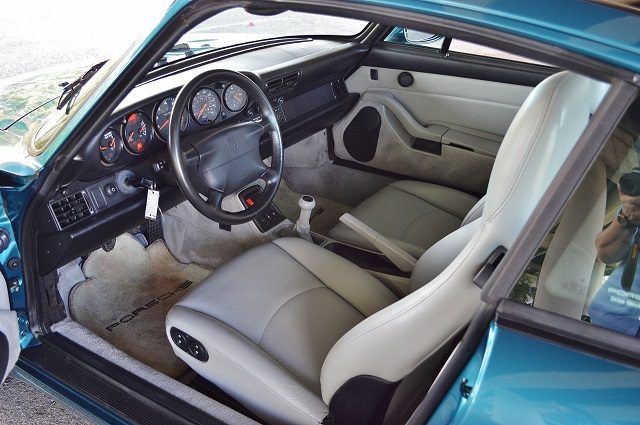 1996 Porsche 911 | 993 Targa | 6 Speed /3.6 LITER

Desirable and Rare Turquoise Metallic on IVORY interior

California and Louisiana Owned Targa
No Rust, Dry Undercarriage, Body is Straight and Solid

The 993 generation of the Porsche 911 is mostly referred to as the best and most desirable of the 911 series, not only because of its beauty,
but also because its performance is very good, even by modern standards, and the 993 was "the last complete "modern classic",
"the 993 was and forever will be that last fresh breath of air that Porsche gave the world; elegance and muscle all in one package."

The interior and exterior are in beautiful condition, paint shines beautifully with very minor chips from normal use. Almost all original paint besides bumper and hood.
The interior has minimal wear and remains all original as well.

Motor starts up and runs perfectly with no smoke minor or oil leaks
Clutch engages and shifts into all 6 gears, pulls hard, and accelerates nicely.
All electronics, including Targa top roof, and interior work as they should.

Comes with All of the Books, Manuals, Spare, Compressor, Records and Tool Kit

Call 786-291-3622 DANNY | 305-988-3092 for Inquiries

Car is located in Miami, Florida 33126
Insured Shipping Worldwide is Available
Financing Available w Approved Credit
TRADES of any kind Welcomed
Turquoise Metallic is such a great color and works on a pretty wide variety of cars. It isn't quite pastel, but it isn't dark either. It stands out without being ostentatious and its metallic nature really sparkles in the sun. It looks great on this Targa, though I'm not sure this would be my ideal choice for the interior. It provides contrast and reminds us of the many blue/linen combinations we've seen on earlier 911 models. But that shift toward the greener end of the spectrum that we see with Turquoise calls for a different shade. I think I'd prefer tan, but even black might be good. I don't know.
The paint is said to be original with the exception of the bumper and hood. That may suggest an accident so is worth investigating, as will be the case with the rest of its history. Whether this price makes sense will depend largely on what we find there. The price here is similar to the Speed Yellow Coupe I featured earlier this week, except that 993 had far fewer miles. That said the repaint may simply have been from typical dings and whatnot to the front of the car from use (though we should note that the front bumper shows those kind of dings right now). We'll have to see.
Altogether this is a nice looking Targa with reasonable mileage for its age. The price probably is a bit high, and it may be quite high depending on its history. We'll have our eye on it to see where this goes.
-Rob