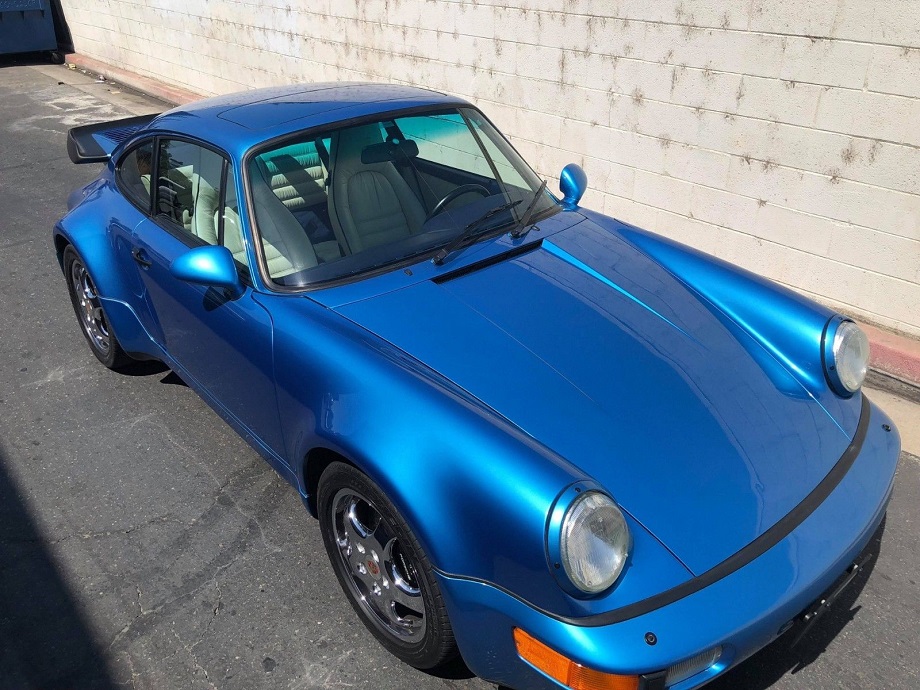 Update 11/26/18: This Tahoe Blue Metallic 964 Turbo has dropped from the original $200,000 ask in September to $170,000 today.
I'm going to have a lot of questions about this 1992 Porsche 911 Turbo, but I'll start with the one that struck me immediately and isn't necessarily related to this particular Turbo. Are we now at a point where the 3.3-liter 964 Turbo is a $200K car? Assuming we're not talking about some ultra-rare sub-5K mile example, of course. I'm really not sure we're there yet, but this one seems set on trying to get us there. I will say, I have been seeing a lot more high prices among 964s in general so I'm beginning to wonder if that market is shifting upward for some reason. I have in many cases offered these Turbos as a relatively inexpensive alternative to the collector-sought 1989 930, but if prices are moving up then that idea may no longer work.
As for this one: it's certainly a very good looking example and appears to be in very good condition. I think the exterior is Tahoe Blue Metallic, a relatively uncommon blue that Porsche offered in the early '90s. We've seen it before, but not quite with this contrast in the interior. It's certainly a rare example, but enough so to command this sort of price?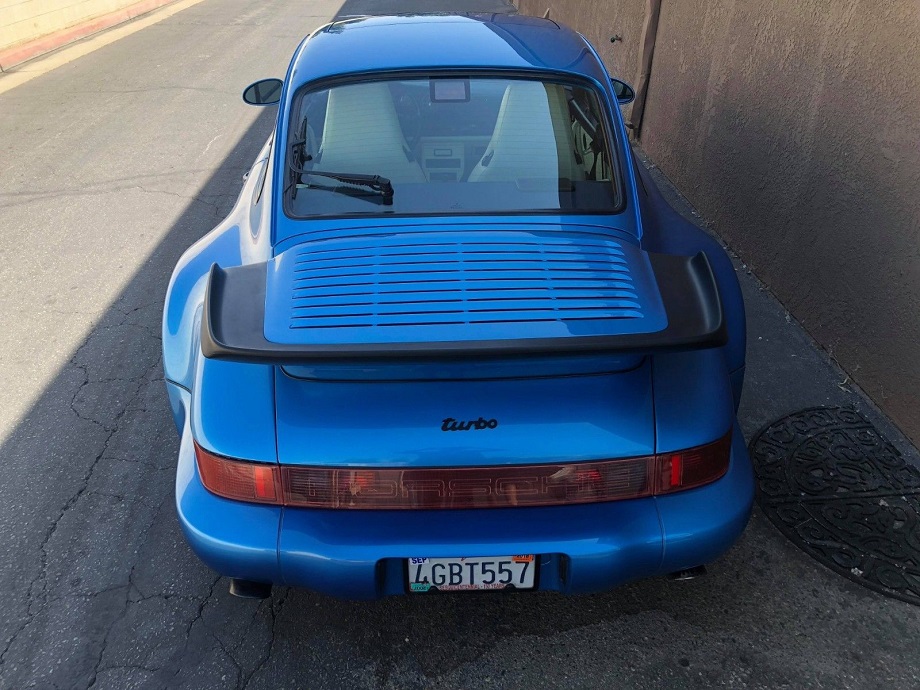 Year: 1992
Model: 911 Turbo
Engine: 3.3 liter turbocharged flat-6
Transmission: 5-speed manual
Mileage: 38,537 mi
Price: $170,000 Buy It Now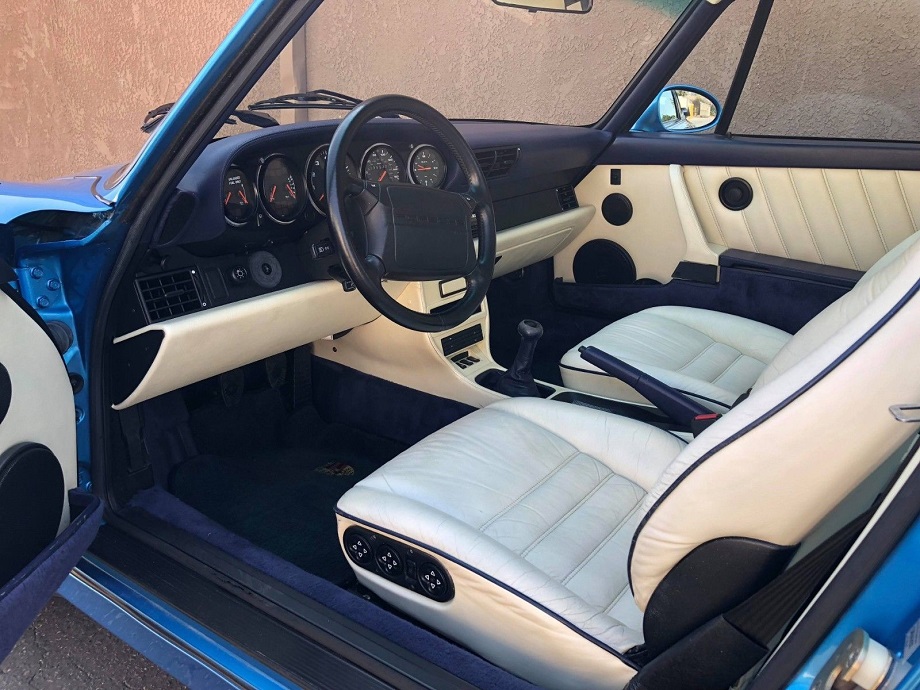 1992 PORSCHE 964 TURBO
3.3 L V6 TURBO CHARGED
5 SPEED MANUAL TRANS
RARE BLUE WITH WHITE INTERIOR
ONLY 38K MILES!!
PURCHASED IN 2003 WITH 27K MILES
IN FANTASTIC SHAPE INSIDE AND OUT
CAN NO LONGER DRIVE DUE TO MEDICAL ISSUES
GREAT CAR FOR A SERIOUS PORSCHE AFICIONADO.

The 964 is Porsche's internal name for the 911 models manufactured and sold between 1989 and 1994. Designed by Benjamin Dimson in 1986, the 964 featured significant styling revisions over previous 911s, most prominently the more integrated bumpers.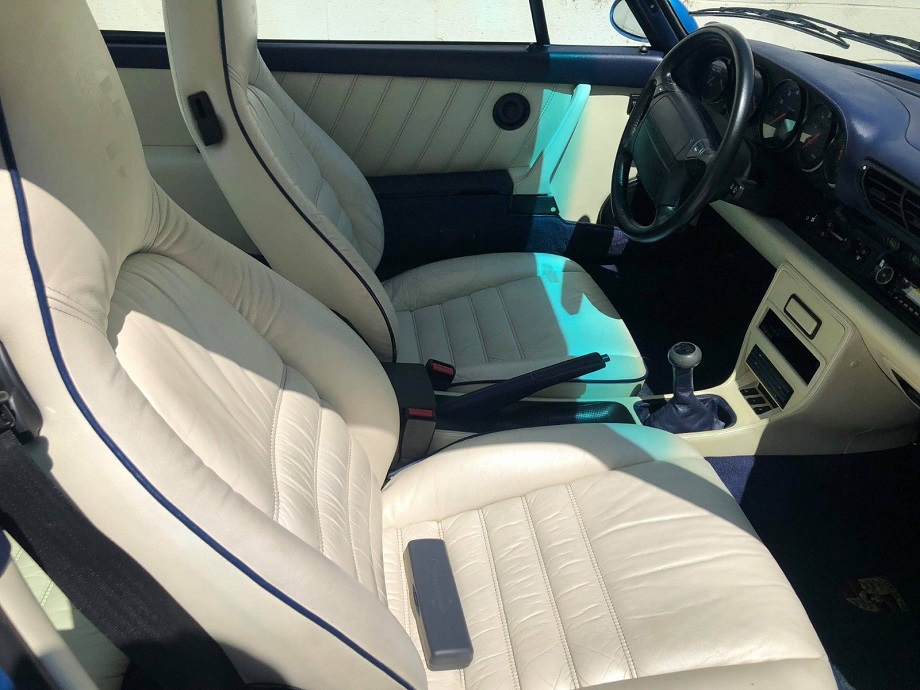 Let's get to the questions about this Turbo. The seller doesn't seem particularly knowledgeable (I'm not sure if the seller is the current owner or someone else) so we're left a bit in the dark on a lot of issues. Obviously, this doesn't have a V6 engine, but the rest of the information we're provided makes sense. The big question is whether it's all original. I can't say I have much reason to doubt it, but when the ad possesses lots of gaps we're naturally skeptical. These colors were available at the time and everything else other than the radio appears to be original. But we don't know whether the paint itself is original or resprayed. The same goes for the interior. Are these all the original materials? The carpet looks in very nice shape, but the driver's seat shows a little more wear than we might hope on a car with fewer than 40K miles. There aren't any visible tears or anything, but the bolster doesn't look as crisp as we might like. That's a high wear area so not a deal breaker, but at $200K you quibble. And, of course, we'll have all of the usual questions about ownership and servicing none of which is revealed here.
A prospective buyer might have to do a good bit of legwork to sort out everything here and with such a high asking price I don't know that many will want to embark on that adventure. Perhaps the seller/owner actually does know quite a bit more than it seems. A phone call could sort that out, but if not there's some research to do. I do really like the color combination though and I don't see a lot of 964 Turbos come up for sale in interesting colors. The effort could be worthwhile and could pay off with a very pretty, low mileage, Turbo in nice condition. I suspect the price will have to come down regardless so you probably have plenty of time to work out these issues.
-Rob