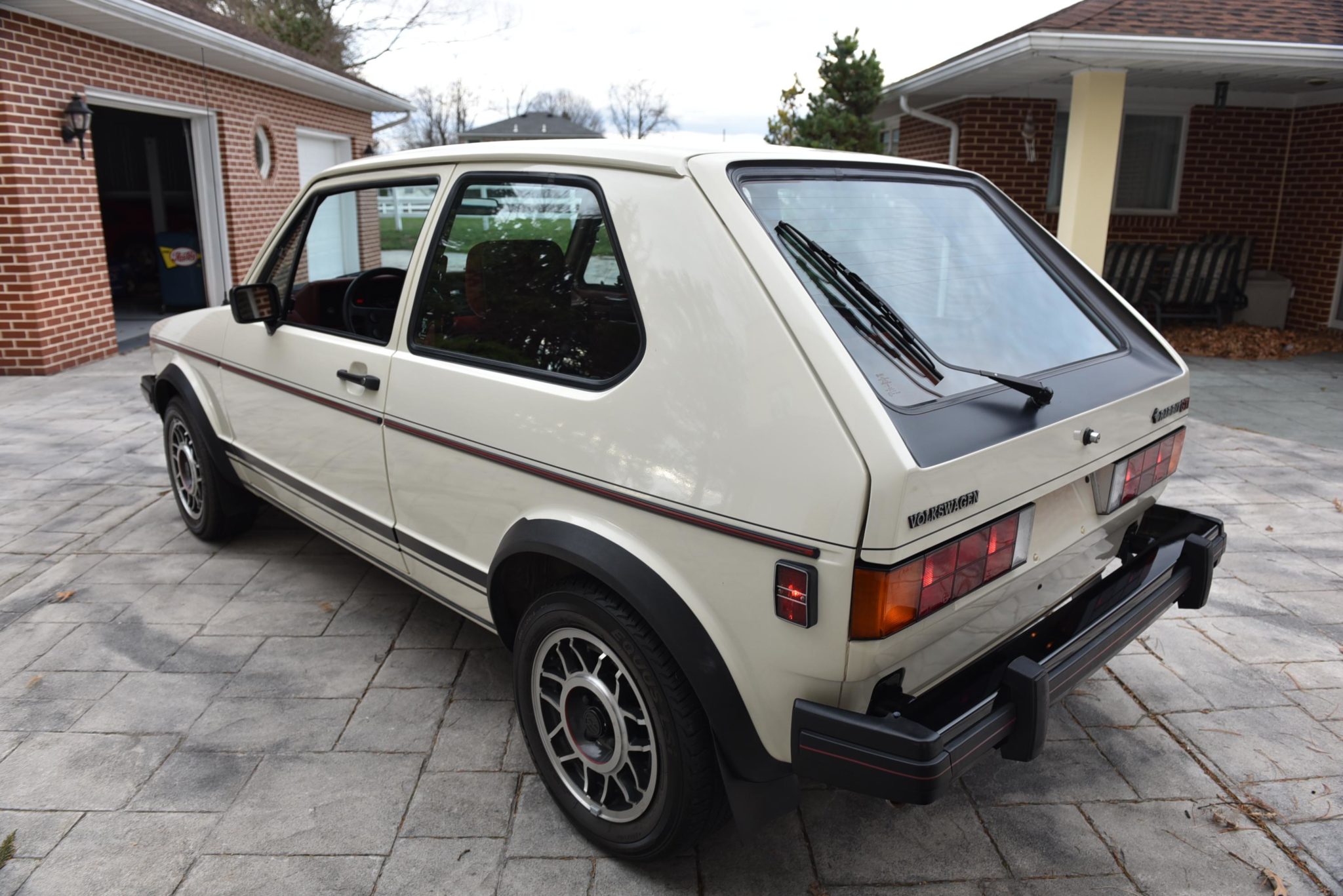 Popular wisdom would suggest that modifying a car will never be rewarded in improving its desirability. After all, they are personal expressions of automotive passion, and passions vary wildly. So slap a set of VMR rims and an APR tune on your GTI, and yeah, it's faster. But it's not necessarily worth more. That logic has been challenged over the past few years, though, as tuners from the 80s have really come to the forefront of value in the classics market. Ruf, AMG, and Alpina have all produced some stunning cars, and lately, stunning numbers at auction. But it's hardly a new trend.
Way back in 2013, I watched in amazement as an unassuming 1983 GTI took center stage in a bidding war which resulted in a then-staggering $18,000 worth of bids. I was lucky enough to speak with the new owner, and shared his vision and experience in a Reader Ride story which revealed a lot more not only about why he bid, but about what we didn't know – how incredibly well preserved that Cashmere White GTI was, with full documentation from day one. Certainly, the chance to own such a piece of history was unrepeatable. Or, was it?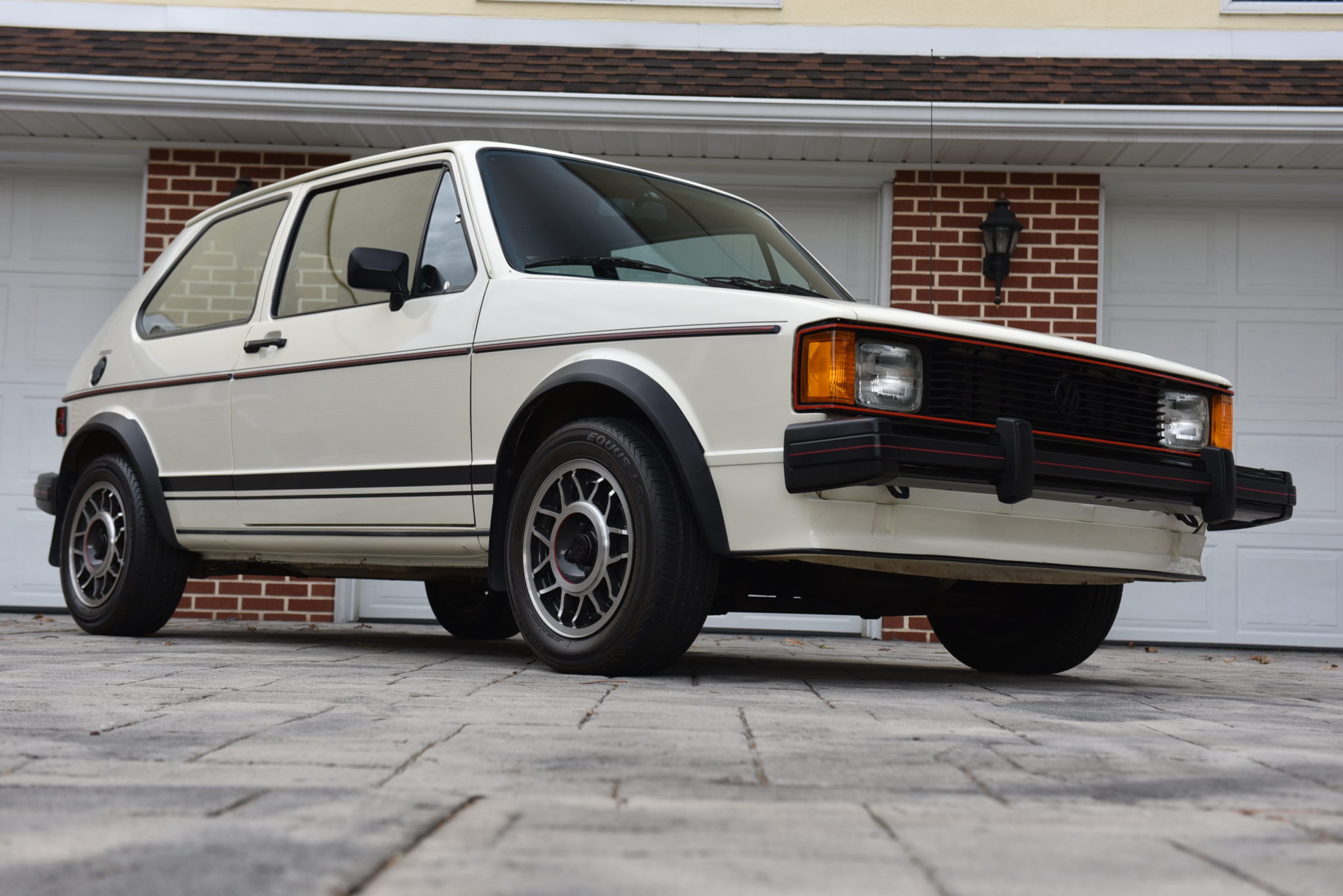 Year: 1983
Model: GTI
VIN: 1VWDC0174DV022996
Engine: 1.8 liter turbocharged inline-4
Transmission: 5-speed manual
Mileage: 18,900 mi
Location: Carlisle, Pennsylvania
Price: Reserve Auction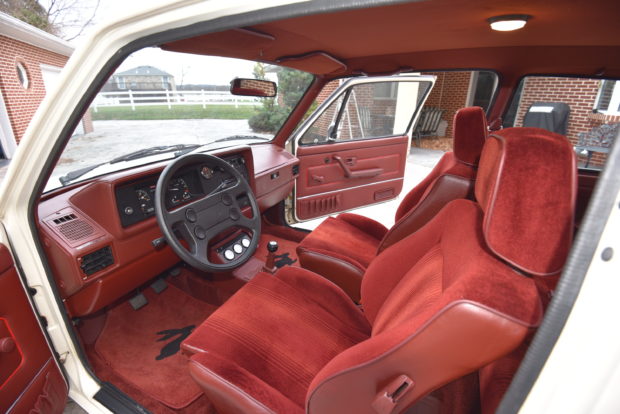 This 1983 Volkswagen Rabbit GTI was sold new at Riverside Volkswagen in Gallipolis, Ohio in December 1982 and was fitted with a Stage II turbocharger system by Callaway Turbosystems in Old Lyme, Connecticut the following August 1983. The car was reportedly purchased by the selling dealer from its original owner in 2013 and now shows just 19k miles. It is finished in Cashmere White over a red velour interior, and power comes from a turbocharged 1.8-liter inline-four paired with a five-speed manual transmission. Work in July 2019 included a brake fluid flush, a valve adjustment, and replacement of the valve cover gasket, shocks, and shift bushings. This Mk1 GTI is now offered with service records, factory literature, a window sticker and purchase documents, Callaway literature, spare parts and accessories, a clean Carfax report, and a clean Pennsylvania title.

The exterior is finished in Cashmere White (LE9C) with a color-matched front air dam, red-stripe trim, and black impact bumpers, stripes, window trim, and fender flares. The selling dealer repainted the front bumper to correct flaws and notes a blemish on the roof. Close-up photos of the body, lenses, trim, and glass etchings are provided in the gallery below.

Factory 14″ snowflake wheels with custom red pinstripes around the centers wear 185/60 Dean Equus LSi tires. Standard equipment on the GTI included a sport-tuned suspension, front and rear anti-sway bars, and ventilated front disc brakes. The Callaway Turbosystems paperwork notes that an aftermarket front sway bar and lower stress bar were also installed. The shocks were replaced and a brake fluid flush was performed in 2019.

The interior is trimmed in red velour with matching vinyl door panels and red carpets. Amenities include Rabbit-logo mats, a golf-ball shifter, a four-spoke GTI-logo steering wheel, an AM/FM cassette radio, and a rear defroster and wiper.

Instrumentation includes an 85-mph speedometer and a 7k-rpm tachometer, along with temperature and fuel-level gauges. A VDO boost gauge was added to the right of the cluster, and an additional three-gauge pod in the center console includes voltage and oil temperature readouts. The six-digit odometer displays just under 19k miles, approximately 300 of which were added by the selling dealer.

The 1.8-liter inline-four was fitted with a Stage II turbocharger in August 1983 by Callaway Turbosystems in Old Lyme, Connecticut. The kit was originally rated at 200 horsepower, and hand-written notes indicate that it included an oil cooler with thermostatic control, an intercooler, a Turbonetics wastegate, an exhaust system, heat shielding, ducting, an ignition-retard system, the aforementioned boost gauge, and a Callaway-logo valve cover. Service in 2019 included adjusting the valves, replacement of the valve cover gasket, and an oil change.

Power is sent to the front wheels through a close-ratio five-speed manual transmission. At the time of the turbocharger installation, a 'Street Comp' clutch was also installed by Callaway. The selling dealer notes corrosion on the underside and suspension components. Additional photos are available in the gallery below.

The window sticker indicates initial delivery to Riverside Volkswagen in Gallipolis, Ohio and lists the factory options as well as a total price of $8,800. A copy of the original invoice that lists the dealer-added charges is viewable in the gallery.

The receipt from installation of the Callaway Stage II turbo kit and replacement clutch is dated August 29, 1983 and shows a total cost of $4,142.12.

The Carfax report lists no accidents or other damage and shows registration history in Pennsylvania from its first update in May 2015 through its most recent entry in October 2016. A walk-around and driving video is shown below, while an interview with the selling dealer about the car in 2014 can be viewed here.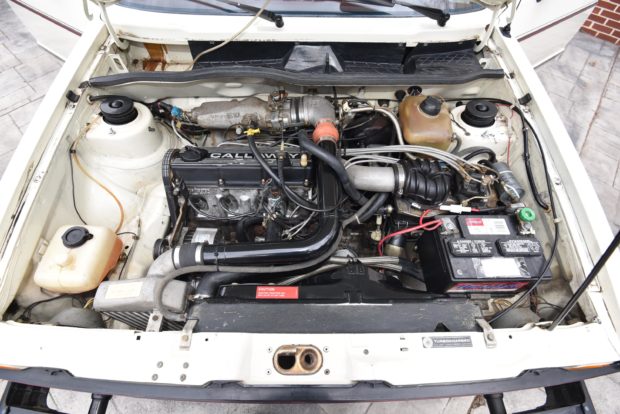 Take a few minutes to head over there and click through the photos and documentation that came with the car. I already knew about it, and I was still impressed going through it. The idea that someone bought a rather expensive (in period) GTI and then drove it while new to Callaway to add bascially the base price of another Rabbit's worth of modifications to it seems so off-the-ranch. But the execution, and the documentation of the execution, coupled with the current condition is what wins. I have to add that I was pretty proud to see GCFSB's listings included in that documentation!
This car may have amazed at nearly $18,000 in 2013. But today? Well friends, the market has moved onwards and upwards on 80s VWs. Just last December, BaT featured a supercharged '84 with 29k miles that hit $31,500. It's far from alone. Clean examples are consistently trading upwards of $20,000, as the seller of this Callaway example showed just a few days ago – his other black example traded for $25,000. Where does that leave today's subject? An interesting question. If the black car traded at $25,000 with four times the mileage, no Callaway mods, and less documentation, one shouldn't be all that surprised that one the first day of bids $20,000 was already pledged for the Cashmere White turbo. Strong money? Perhaps, but when Reeves Callaway himself pops in to say this is the best one out there, people should take notice. So you're not only buying a legend, you're buying a story. And I'm glad that I was part of its story.
-Carter