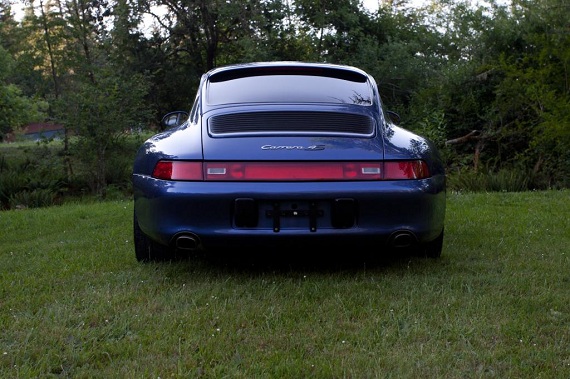 This past weekend I caught a bit of the Mecum Auction action, and I was pretty stunned to see a fairly new 993 Turbo in Arena Red come across the auction block. Generally, when newer metal comes across the block at these auctions, the commentators break to commercial sponsors and don't really pay attention. But the 911 market is such that this particular 993 – which wasn't perfect, mind you – hammered for around $170,000 not including fees. The surge in air-cooled prices is amazing, and it seems that there's a scramble to buy what good examples are left while they're still affordable. Two cars were sent our way by readers last week that got me thinking more about this; one was the 993 Carrera 4S that you see here from our reader John, and a 2005 996 Turbo S in Signal Green – reportedly 1 of 1 – from our reader Michael. I've talked before about how the 996 Turbo is a screaming performance deal right now, and this one-off Turbo S wasn't too far from the price of the 993 Carrera 4S offered here.
Obviously, despite being very similar cars in many respects the two have very different markets. Those in the 993 market are looking for a rapidly appreciating classic; a well proportioned, ultimate development of the air-cooled days of Porsche when limited production numbers, over engineering and sublime driving experiences ruled the day. Those in the 996 market are looking for the most performance they can buy, and a twin-turbo, all-wheel drive 911 is truly a car that now can be used all year long while lighting your hair on fire every time you hit the loud pedal. Unfortunately, that Signal Green example disappeared before I could get this article up; what I found to replace it might even be more astounding – a 997 Turbo Sport Chrono with less than 40,000 miles on the clock. Nearly a decade separates these two cars and there's a substantial performance gap as well; which would you choose?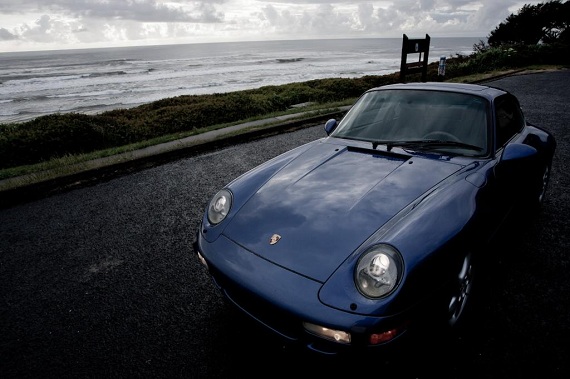 Year: 1998
Model: 911 Carrera 4S
Engine: 3.6 liter flat-6
Transmission: 6-speed manual
Mileage: 108,900 mi
Price: $55,000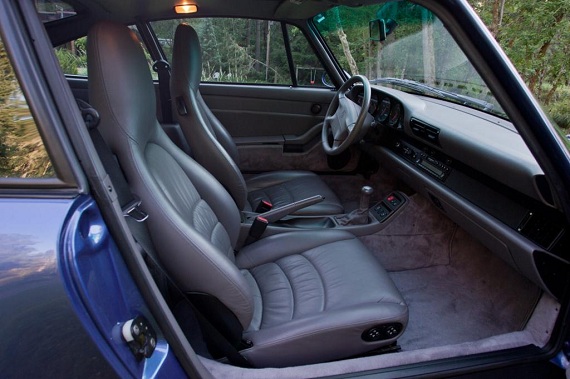 This is a beautiful example of a late model 993 in rare Zenith Blue Metallic, with classic grey leather interior. The paint and interior are in excellent shape. I have owned the car for a little over 2 years, and have always kept it in a heated garage. The car currently sits on new-ish Michelin Pilot Sport 2 tires (now 15 months old/2500 miles). During my ownership the car has had all the regular scheduled maintenance performed (e.g., distributor caps, new Porsche belts, fluid changes, etc.), so it should be good to go for awhile. Around a year ago the front differential needed to be replaced, so I replaced it with one from a low mileage turbo purchased on eBay (the wait time to get a new differential from Porsche was almost 6 months). The Porsche specialist who installed the turbo differential serviced and resealed the unit before putting it into the car.

I have the original window sticker and manuals that came with the car originally, along with both keys. All of the services through the first 90,000 miles are marked and stamped in the service book. Unfortunately, I have no records from the previous owners, but I was able to obtain some records from the dealership where the car was serviced by its first owner. Before I purchased the car it had been serviced at Carlsen Porsche in Paulo Alto and Redwood City.

The only real blemish on the car is that the right rear fender has a small run (difficult to photograph but visible in the right light). I believe it has been repainted even though the Carfax shows no accidents.

I had a PPI done at Porsche of Fremont CA when I bought the car in May of 2012. Since owning the car I have put on about 7,000 miles and addressed all of the mechanical issues spotted in the PPI. That said- there are some lingering aesthetic issues, as you might expect from a 16 year old car. The sunroof seal is worn, the windshield is pitted, and the left front fog light is yellowed. Overall however, the car is in incredible shape a 16 year old car with 108,900 miles.

I welcome and encourage any serious buyers to come see the car for themselves in Eugene, OR. Feel free to contact me by phone, (541.554.11(eight)6) or by email (Cashtestdm (at) aol.com).

Asking $55,000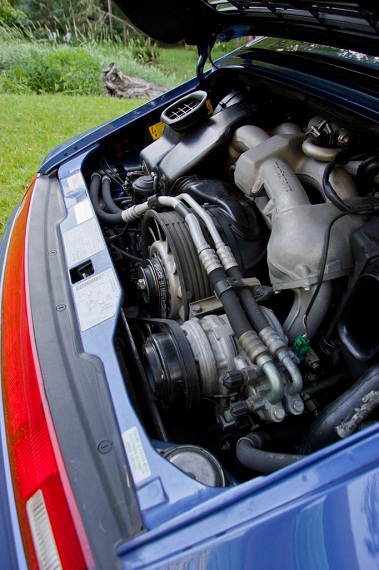 This 993 is a well presented, honest car in a great color combination. I love the lines of the 993 in the understated Zenith Blue – it's pretty and stunning at the same time. The 4S was 7/8s of the 993 Turbo, and with those quickly escalating towards $200,000 for a good example (or sometimes more, shockingly) these represent a better bargain in the 993 world. The performance is lower than the Turbo but still quite good, Car and Driver recorded 0-60 in 4.9 seconds, 0-100 in 12.8, a 13.5 second 1/4 mile and 161 m.p.h. top speed. Those are figures that earlier Turbos struggled to best, so the normally aspirated 993 really made good use of on it's 280 horsepower. Stopping that speed were Turbo-spec brakes and wheels, creating one of the better looking packages in the 993 lineup. This particular example looks well cared for, is presented in a rare color with maintenance reported up to date and a clean bill of health overall. Still, your $55,000 is buying a 993 with nearly 110,000 miles on the clock – hardly a spring chicken. While for a driver that wouldn't bother me at all, if I were looking at this 993 as a potential investment I'd be concerned about the miles on the clock – or adding to them. What's the alternative?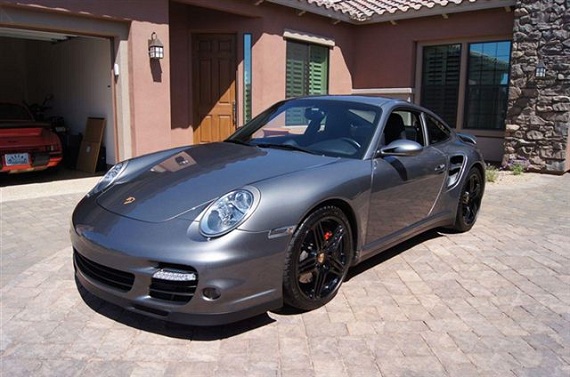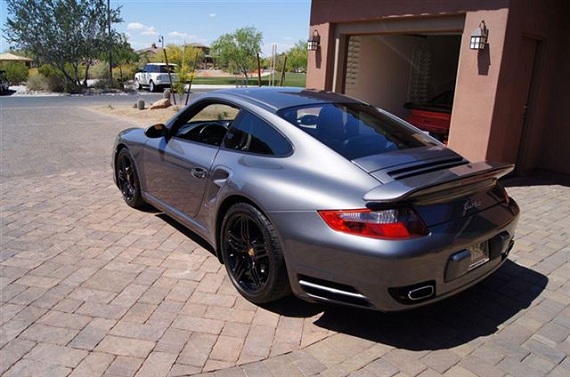 Year: 2007
Model: 911 Turbo
Engine: 3.6 liter twin-turbocharged flat-6
Transmission: 6-speed manual
Mileage: 39,970 mi
Price: $67,995 Buy It Now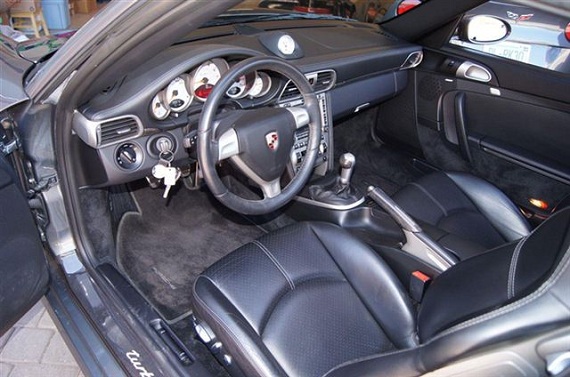 2007 PORSCHE 911 TURBO,ABSOLUTLY FLAWLESS,MANY OPTIONS,CPO FACTORY WARRANTY!!!!!
UP FOR SALE IS A 2007 PORSCHE 997 CHASSIS 911 TURBO. IT HAS JUST UNDER 40,000 MILES AND WAS JUST TRADED INTO US ON A CORVETTE ZR1. IT IS FINISHED IN A STUNNING GREY METALLIC AND COMPLIMENTED WITH A BLACK LEATHER INTERIOR. IT WAS SOLD AS A FACTORY CERTIFIED PRE-OWNED IN 2013 AND HAS A FACTORY EXTENDED WARRANTY VALID THROUGH OCT 2015.

IT HAS MANY UPGRADED FACTORY OPTIONS AND INCLUDE:

PORSCHE COMMUNICATION MANAGEMENT SYSTEM (NAVIGATION)
SPORT CHRONO PLUS
MULTI STAGE HEATED FRONT SEATS
SPORTS SEATS
SPORT SEAT BACKS IN EXTERIOR COLOR
LIGHTED CARBON FIBER DOOR SILL PLATES
CARBON FIBER SHIFT KNOB
CARBON FIBER EMERGENCY BRAKE HANDLE
6 DISC CD CHANGER
CARBON PACKAGE
BOSE SOUND SYSTEM

IT HAS HAD THE FACTORY WHEELS POWDERCOATED BLACK AND A NEW SET OF MICHELIN TIRES WERE INSTALLED WITHIN THE PAST FEW HUNDRED MILES. IT WAS ALSO JUST FRESHLY SERVICED AT THE DEALER WITHIN THE LAST 200 MILES.

THE PAINT AND BODY ON THIS ARE ARE ABSOLUTLY STUNNING AND AS CLOSE TO FLAWLESS AS IT GETS. THE HARDER YOU LOOK AT THIS CAR THE NICER IT GETS. THE INTERIOR IS EQUALLY AS STUNNING AND IS ODOR FREE. MECHANICALLY IT IS ALSO PERFECT AND STILL HAS OVER A YEAR OF CPO WARRANTY REMAINING.

THE CAR IS ALL ORIGINAL PAINT WITH THE EXCEPTION OF THE REAR BUMPER COVER. IT WAS BACKED INTO IN A PARKING LOT AND WAS MINOR COSMETIC ONLY. PORSCHE HAS VERY HIGH STANDARDS FOR TURNING THE CAR INTO A CERTIFIED PRE-OWNED AND OBVIOUSLY THE CAR PASSED. THIS IS A PERFECT NO ISSUE CAR!!!

IF YOU HAVE ANY QUESTIONS, PLEASE CALL RANDY AT 480-206-1701

Options & Packages
OEM Code
Description
MSRP
TRANSMISSION

6-SPEED MANUAL TRANSMISSION
$0.00
(STD)

*** SEAT TYPE *** *NOT REQUIRED FOR COMPLETE VEHICLE ORDER*
P78
SPORT SEATS
$0.00
*** SEAT OPTIONS *** *NOT REQUIRED FOR COMPLETE VEHICLE ORDER*
342
MULTI-STAGE HEATED FRONT SEATS
$480.00
ADDITIONAL OPTIONS
803
CARBON PKG
$890.00
640
SPORT CHRONO PKG PLUS
$1,840.00
analog & digital chronometer
sport button in center console
ability to adjust lighting
wipers
air cond & door locking to personal preference

P16
PORSCHE COMMUNICATION MANAGEMENT SYSTEM (PCM)
$3,070.00
5.8″ screen
keypad
2-tuner radio w/CD-ROM
DVD-based GPS navigation module
on-board computer

692
REMOTE 6-DISC CD CHANGER
$650.00
DAW
SPECIAL GEAR LEVER & HANDBRAKE
$2,130.00
X69
CARBON DOOR SILL MODEL INSIGNIA
$780.00
XSA
SPORT SEAT BACKS IN EXTERIOR COLOR
$1,495.00
Features & Specifications
Standard Features
– MECHANICAL

3.6L horizontally-opposed 6-cyl engine-inc: twin turbochargers, twin intercoolers, variable turbine geometry, dry sump lubrication
Vario-Cam Plus variable valve timing system
6-speed manual transmission
Dual-mass flywheel
All wheel drive-inc: Porsche Traction Management (PTM)
Front/rear stabilizer bars
P235/35ZR19 front tires

P305/30ZR19 rear tires
19″ x 8.5″ front/19″ x 11 rear pressure cast alloy turbo wheels
Pwr rack & pinion steering
Pwr 4-wheel vented disc brakes-inc: 6-piston front/4-piston rear monobloc fixed alloy calipers
Anti-lock braking system (ABS)
Porsche stability management (PSM)
Porsche Active Suspension Management System (PASM)-inc 10mm lowering
This 2007 997 Turbo Sport Chrono package isn't the most rare car out there, but the performance on tap is astounding. Pushing nearly 200 horsepower more than the 993 out of its twin-turbocharged water-cooled flat-6, the 997 Turbo is capable of 3.5 second 0-60 runs and with a tail wind can hit 200 m.p.h. – numbers that most motorcycles aren't capable of matching. This is a weapon, not a car – it should require a special license to drive. But, it doesn't, meaning that if you're willing to spend a little more than the 993 price you get into another league of performance. You also get an almost new car; with a scant 40,000 miles on the clock, this car was also enthusiast owned (check out the 930 in the background pictures!), well optioned and amazingly still covered under warranty. Plus, the criticism of the boring looks of the 996 is out with the 997; it manages to channel some of the best attributes of the 993 while still looking fresh.
$68,000 is a large leap over the $55,000 asking price of the 993, I'll admit – but then, don't you feel like you're easily getting $13,000 worth of more car? And while purists will I'm sure say "Right, but the 997 is mass produced versus the 993", nearly 7,000 of the Carrera 4Ss were made – certainly not the most rare Porsche made. Nor is the 997 turbo, for that matter – production numbers vary by source but it seems that somewhere in the neighborhood of 8,000 Turbos were built in 2007 alone. However, while the 993 has been looked upon as a special part of Porsche's history for over a decade, it's only recently that values have really started to take off on them, so the future has yet to reveal if the same will happen to the 997. Perhaps, as with the 993, the 997 will be looked upon as a classic compared to the vastly revised 991, and in another decade will also take off in value. There's no denying, though, that even if it didn't take off in value you're getting a huge amount of performance and good looks in the 997 Turbo for your money. Which would be the car you'd choose and why?
Thanks to our readers John and Michael for their contributions!
-Carter
Michael and John