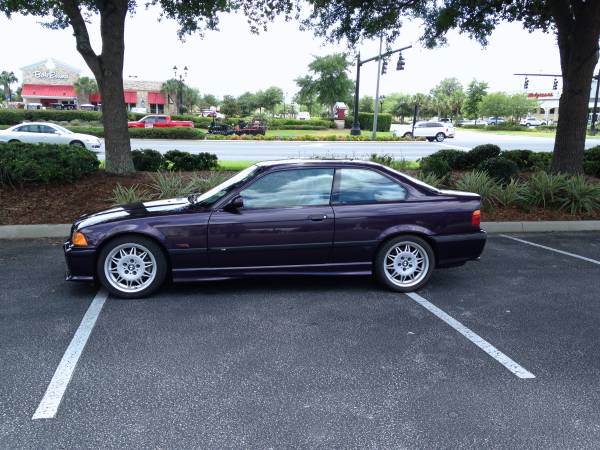 Last week we featured a string of E36 M3s, culminating in a very low mileage but high priced, lightly modified Dakar Yellow priced at $26,000. To me, it was a strong as considering there are many other very good E36 deals in the teens that would be equally striking and potential investments down the road. So, today I'm taking a look at two other E36 models, both priced about $10,000 less than the low mileage example, that I'd jump into first:
Year: 1995
Model: M3
Engine: 3.0 liter inline-6
Transmission: 5-speed manual
Mileage: 68,500 mi
Price: $14,900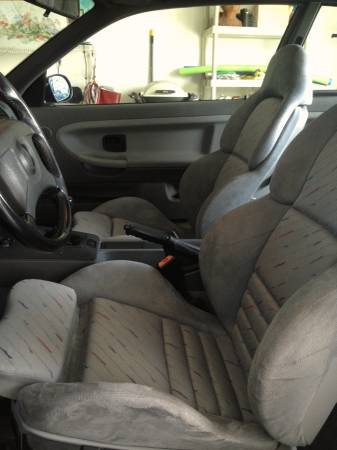 With only 68,500 miles on it this vintage M3 is all original and is truly remarkable to drive and own. Very low maintenance required over the long haul with excellent investment car potential seeing as it is considered to be one of the best M cars every produced. This has been a true gem to me and has always been garaged, and very well maintained/taken care of. It also includes:

-New performance tires and all weather mats
-factory heated seats
-Rare color combination with real suede interior
-All service records kept, never any major issues for the life of the vehicle
-Clear title
-No accidents

-This car drives like a dream and is one of the best Bimmers to drive! On board computer, air conditioning and heating, and radio all work perfectly. Mechanically the car runs magnificent.

Give me a call if interested! Thanks very much.
Daytona Violet must be my favorite BMW color from the E36 range for its sheer lunacy. Who would opt to pick such a color in 1995? Me, for one, because of how much this car pops. Paired in this case with the Grey M Hurricane Cloth, it's certainly quite striking. The seller claims excellent investment potential, and I'd have to agree, though I'd argue that most don't consider the S50 E36 M3 to be "one of the best M cars". That it is currently overlooked as a future classic means that it's currently reasonably priced, and this sub-$15,000 example is just that. Very clean, low miles, all service and all original, this is one truly attractive package that can be bought and run on a budget with a reasonable certitude that it will appreciate in the future if well kept.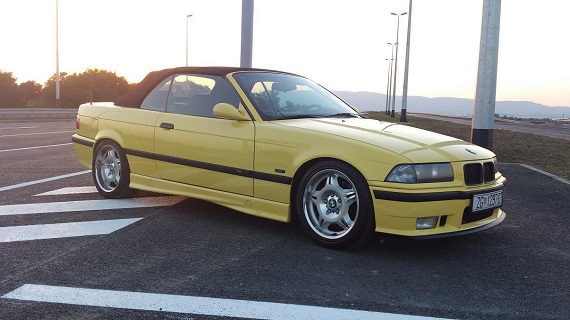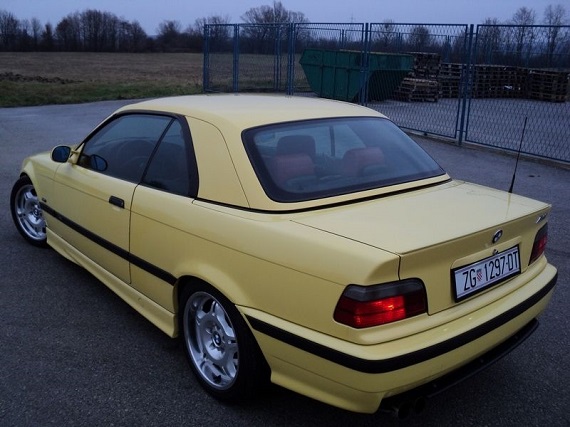 Year: 1996
Model: M3
Engine: 3.2 liter inline-6
Transmission: 6-speed manual
Mileage: 111,000 mi
Price: $16,000 Buy It Now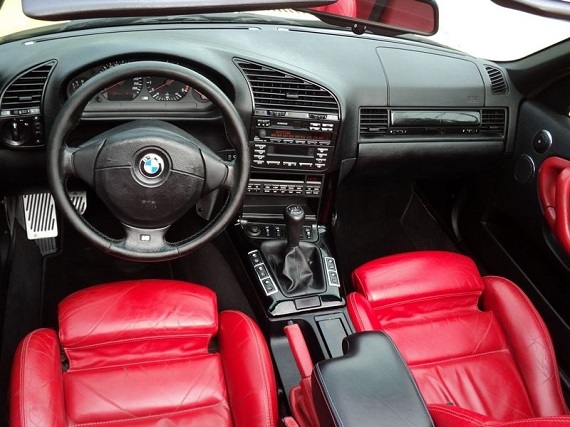 Bmw M3 3.2 euro 321bhp Convertible Individual
MINT condition
04/1996
111 000 miles
VIN WBSBK91020
6-speed manual gearbox
Vanos rebuild
Eibach ProStreet coilovers
Weichlers front strut bar
Castrol Edge Titanium FST 10w60 new oil
Hard top original oem
Wind deflector screen Bmw original oem
Bastuck race muffler exhaust
Pulley and belts are all new bmw original oem
Shortshifter
Universal joint and Constant-velocity joint wth knurled bush new original bmw oem

For any additional photos or questions feel free to contact me.
I'm willing to ship the car to USA without issues. For the rest of the world You need to organise Your own shipping container!!! I'm not responsible for Your country customs pollicy! Check the details about importing to Your country before bidding!!!

Shipping costs for USA approx. 2000USD
While the seller doesn't go into depth about what makes this particular example special, there's a lot to really like here. First off, it's one of the very early S50B32 equipped E36s; model BK91. With a full 321 horsepower on tap, they were considerably more potent than their U.S. bound brethren. On top of that, this example was optioned with the 6-speed manual. While the convertible aspect may not be to everyone's liking, there's even more to delve into; this was a BMW Individual car – painted Dakar Yellow 2 with the flashiest of flashy red individual interiors – option Z1XX. The car was also heavily optioned, with heated seats, rear headrests, leather steering wheel, wood trim, CD changer and remote control onboard computer. Additionally, the seller lists the car as having a hard top as well, and factory OEM windscreens, as well as the forged Double Spoke M wheels. Modifications are minimal and unobtrusive, and with lower miles and top condition, this is one impressive E36 convertible. The combination of all of the special items results in a mass-produced E36 that feels decidedly bespoke. Additionally, a majority of the BK91 models – over 1300 of the 1700 produced – were SMG cars, making the manual a bit of a rarity compared to the nearly 8,500 USA spec S50 Coupes and nearly 12,000 USA spec S52 Coupes produced. The asking price of $16,000 doesn't seem all that unreasonable, but unfortunately – as with all of the Euro cars – we're still a few years from them being easily importable to the U.S., though this would slip easily into Canada for someone interested.
Either of these cars are interesting, striking and good value for well kept M3s. And, in their own ways, I think each has the potential to be affordable and future investments if properly cared for. While beauty is in the eye of the beholder, I find both of these examples more attractive than the low mileage, pristine coupe from last week.
-Carter