The Volkswagen Transporter has long been a commercial workhorse the world over. But that hasn't stopped tuners from having a crack at this rather pedestrian looking box. Back in the 1980s, Porsche built a T3 Transporter based "B32," essentially a Volkswagen Transporter with a 3.2 liter flat six engine from the 911 Carrera at the time. More than just a prototype, Porsche built 11 of these vans as support vehicles for the newly developed Group B 959 which was competing in the Paris Dakkar Rally.
Fast forward two generations later, and the formula for putting a Porsche mill in the back of a Transporter still seems attractive. A company called TH Automobile has undertaken a monumental task in turning the front-wheel drive T5 Transporter into a rear engined beast, replete with the 3.6 liter, twin turbocharged flat six from the Porsche 911 produced between 2004 and 2008. With 480 horsepower on tap, 60 mph arrives in under five seconds with a top speed of over 170 mph. Impressive numbers for what is not the most aerodynamic vehicle out there.
While we as Americans won't have much of a chance importing a stealth van like this anytime soon, it's nice to occasionally look across the pond and see what forbidden fruit is out there.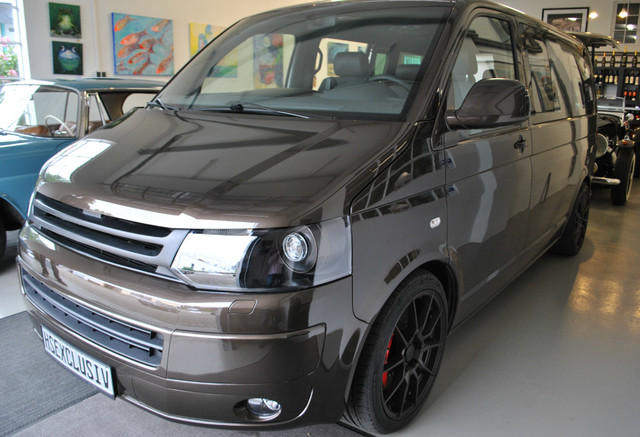 The TH2 is made ​​by hand. The TH Automobile Company is a well known car factory in Berlin. Here was manufactured, among other things, the fastest bus in the world (311 km/h). This car is built forge T5 Bus with Porsche Turbo technology for true individualists. The motor is always in the back of the T5! Driving pleasure is guaranteed. This has everything: luxury, space, athleticism, speed and on request relaxed driving. Add to that a very good quality. Since the list is very long, please call with any questions or simply browse on www.thautomobile.de.
…