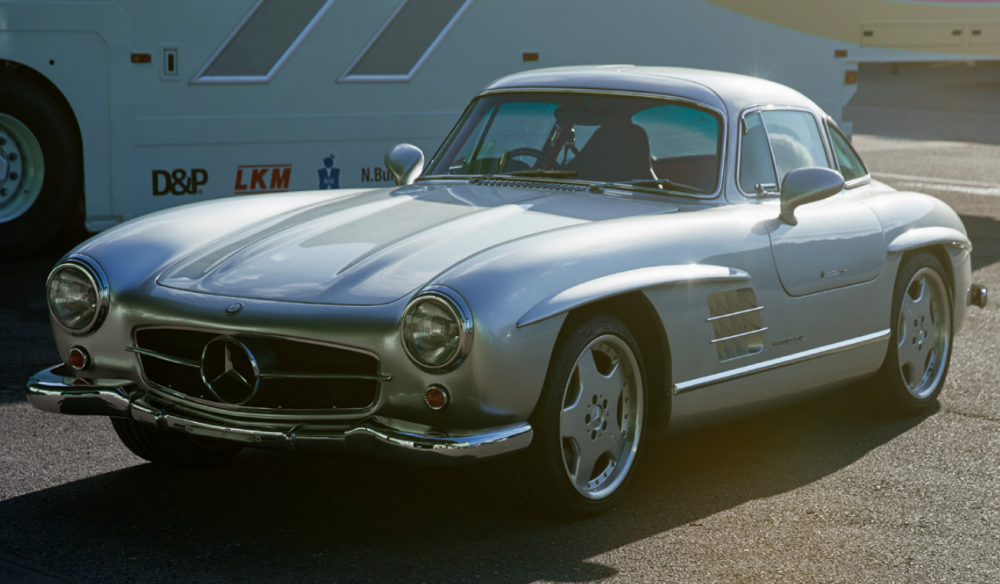 Here is a special one. This is a 1955 Mercedes-Benz 300SL Gullwing AMG. You are probably thinking to yourself that "300SL Gullwing" and "AMG" don't go together and up until the year 1996, you would be correct. That is because in 1996, AMG began taking original W198 Gullwing and Roadsters, and putting modern AMG drivetrains and interiors in them.  Who thought this was a good idea? The Royal Family of Brunei. Remember him? According to AMG, 11 of these cars were produced from 1996 to 2008 with five going to the Royal Family and the other six going to qualified AMG customers. The rumored price tag at the time was over €1,000,000 thanks to AMG literally having to rebuild these cars from a bare metal shell.
This 1955 model that was converted in 2000 is one of only two right hand drive cars built. It was imported to Japan when the conversion was wrapped up and has been with its only owner ever since. Now it is coming up for auction in Tokyo, Japan soon. But first, lets take a look at what exactly a 300SL Gullwing AMG is: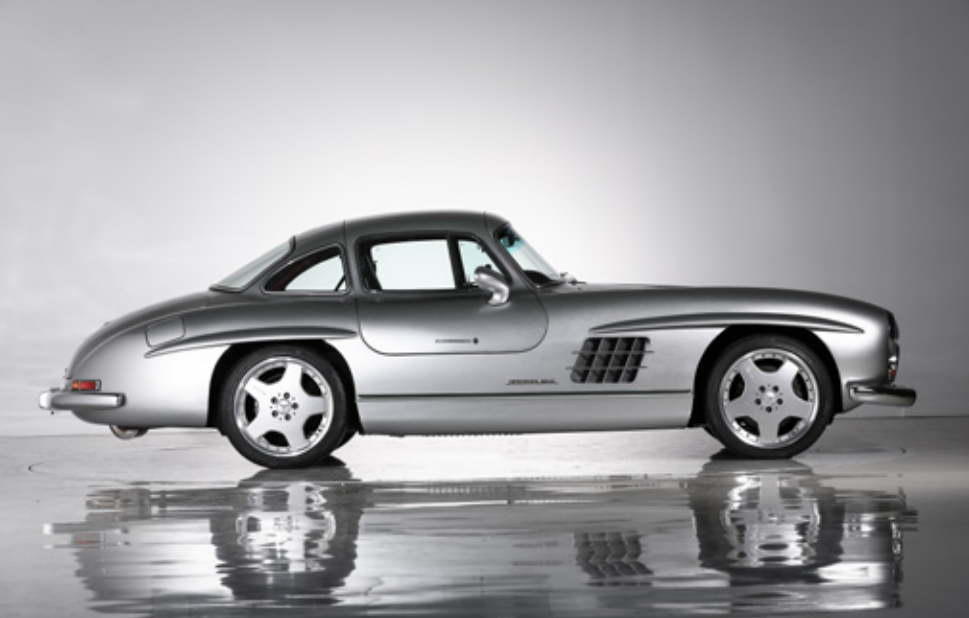 Year: 1955
Model: 300SL Gullwing AMG
VIN: N/A
Engine: 6.0 liter V8
Transmission: 4-speed automatic
Mileage: N/A
Price: Reserve Auction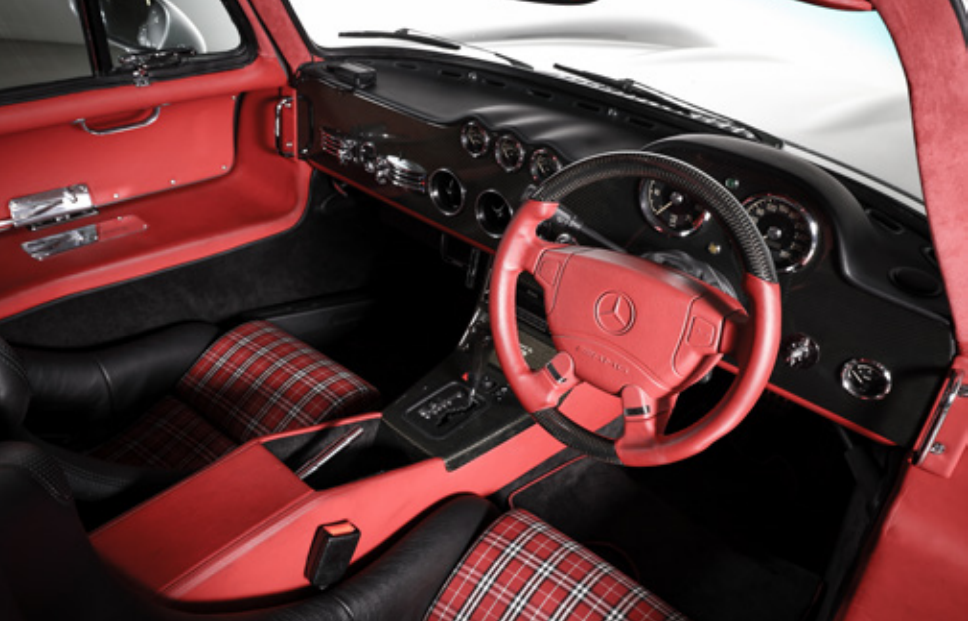 ・One of only eleven converted by AMG
・One of only two RHDs produced
・6.0 litre V8 M119 engine mated to a four speed automatic gearbox
・Updated to a more modern spec all around
・Comes with a pair of original seats in "as new" condition
・Currently fitted with a pair of after market bucket type seats
・Completed and imported into Japan in year 2000
・Single owner since new
・Comes with hundreds of pictures taken during conversion and owner's manual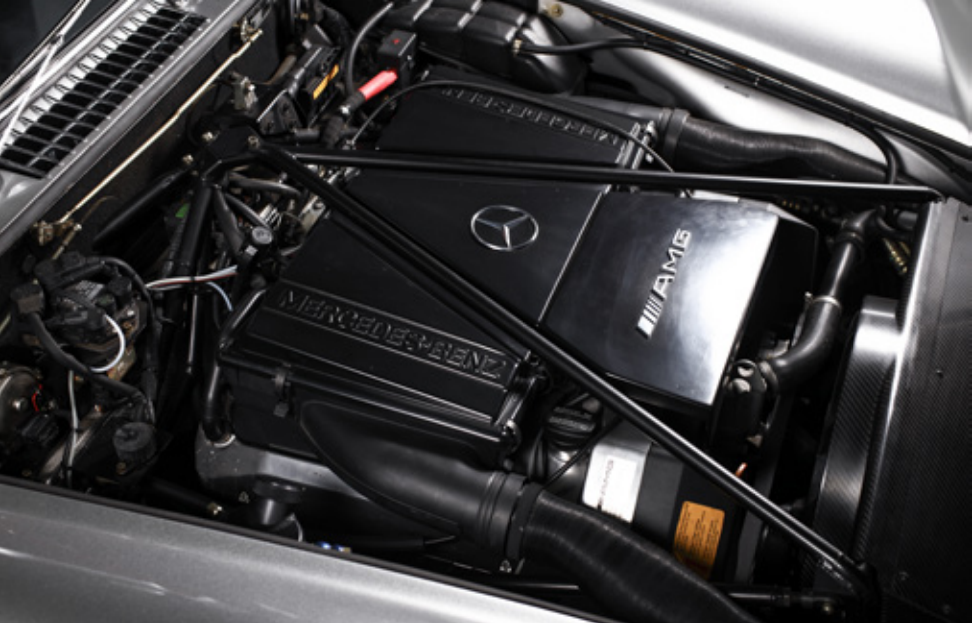 To put it simply, the only thing that is original to the W198 is the body shell and some of the interior. Everything under the body is a mash-up of 90s Mercedes parts. The engine is a M119 modified to 6 liters that makes 380 horsepower. The transmission is a 722.4 4-speed automatic connected to the rear end from a R129. The brakes are from a C36 AMG and with some of the rear suspension pieces from a W124. The wheels were borrowed from the SL600 which look totally out-of-place on something like this. I know they needed wider tires for the extra power, but it looks really odd on this car. Like I said, everything is sourced from somewhere in the Mercedes parts bin and AMG made it all somehow work together. You'll even notice on the airbox there are two channels to accommodate the chassis braces to the front core support. You'll only see that airbox in these cars. Inside, the dash kind of resembles the original 300SL dash, but you can tell it has been highly modified and isn't nearly as nice. One interesting thing is the steering wheel is the same as the one from the CLK-GTR. That isn't the case for all these converted cars as depending on the year, you got a different wheel. The center console and armrest is a modified R129 unit and they had to put the parking brake handle inside the console where it looks kind of strange. AMG did managed to fix this in the later cars. Why did they do all this? My guess is that the Sultan and his family really loved the original Gullwing, but it just wasn't usable in a place like Brunei where it can get very hot. That also explains the modern air conditioning system. The bean counters at Mercedes and AMG probably did the math and said it wasn't worth it to build less than 11 cars no matter how big the check was from the Sultan, so the other cars were made it make up the cost of all the engineering and labor that went into making this car a reality. Was it worth it?
Back when this project started, the 300SL wasn't a million dollar car. From the late 80s into the early 2000s, you could grab a Gullwing or Roadster in nice shape for under $200,000. Then in about 2003-2004, prices took off and haven't slowed down until just very recently. Today, to even sniff a W198 in any condition, you need to be prepared to spend $1,000,000 and the price only goes up from there. No one saw this coming, not even Mercedes, so it wasn't a huge deal to cannibalize a handful of these cars to make one of their very best customers in the world happy. Today, this would never happen and probably isn't ever going to happen again. Every single one of these original W198s are precious and it is getting to the point where those who bought these 30-40 years ago can't enjoy them now because of what the values are now. Even selling a long-term owner W198 is more difficult now because the 1031 exchange on classic cars recently expired and while 300SL owners are usually well-off, they aren't "paying taxes, both federal and state, on 1.6 million dollars well-off" where it makes sense to sell if they don't have to.
So what should this car bring? Well, the auction is saying ¥135,000,000 – 160,000,000 ($1,252,435 – 1,484,367) as an estimate, which is really close to what an actual 300SL Gullwing sells for. Much to my surprise, a few of these have gone up for auction in the past few years. A 2006 build sold in 2009 for $583,506 and a 2001 build sold in 2014 for $925,800. You can bet this climb is only going to continue. I suppose there is no crying over spilled milk now that these cars are already built, so you might as well enjoy them, but you know Mercedes is kicking themselves now given how the W198 is cherished now. I can't wait to see what this one goes for.
– Andrew