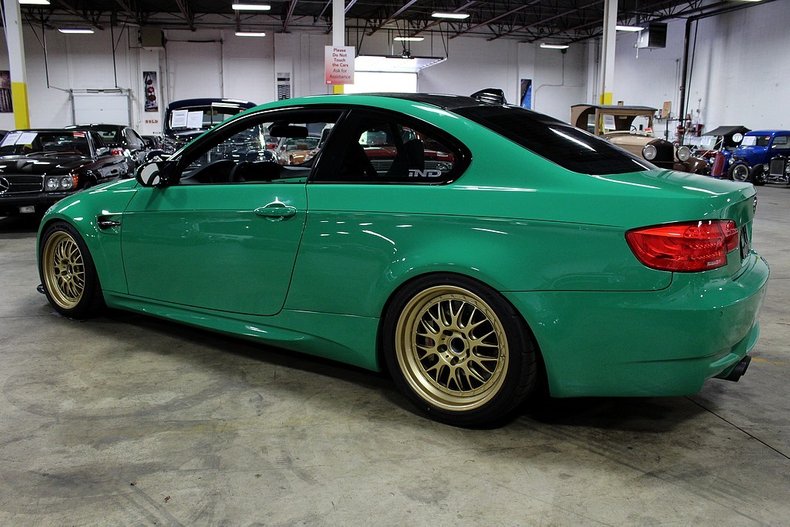 We're on a bit of a modified car kick, so I wanted to continue with a superlative BMW. In this case, it's not a classically modified example, but rather a very recent one. For a long time, modifying cars was relatively easy – they came from the factory usually in a pretty tame form with a lot of potential – from aerodynamic tweaks to suspension overhauls and, of course, more power. But when you consider the E9X BMW M3, you have to really wonder if an aftermarket company could improve upon the design. After all, with the S65 4.0 V8 that revs to 8,400 RPMs and generates nearly 420 horsepower in completely stock form, how much better could you really make it?
That hasn't stopped companies from trying, and relative unknown IND took on the task of making a Nürburgring-inspired E92 M3 the ultimate dual purpose street/track weapon. Did they succeed, and how have the mods held up?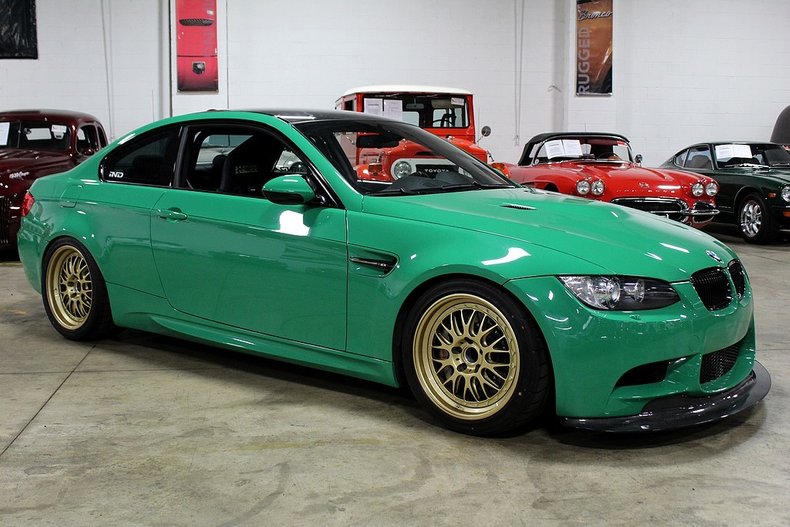 Year: 2008
Model: M3
VIN: WBSWD93578PY39536
Engine: 4.0 liter supercharged V8
Transmission: 6-speed manual
Mileage: 34,102 mi
Price: $44,900 Buy It Now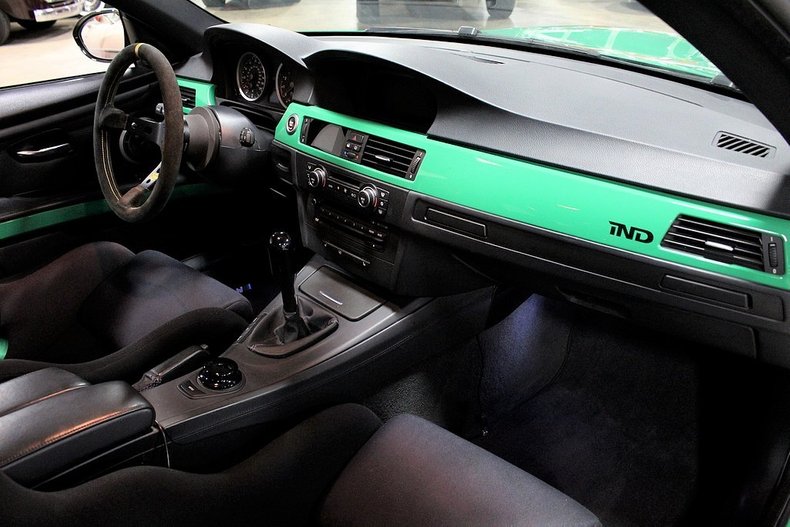 GR Auto Gallery is pleased to present this 2008 E92 M3, this particular M3 has a beautiful custom Porsche GT3 RS Green paint job done by IND over a black leather interior. Under the hood, this M3 features a 4.0L V8 with an ESS VT2-625 Supercharger kit mated to a 6-speed manual transmission. A larger Motorsport 24 radiator has been installed to keep this beast cool on the track – other features include; straight through x-pipe, Eisenmann sport muffler, KW
clubsport dampers, roque engineering adjustable toe arms, RD sport sway bars, Brembo 365/346mm big brake kit, widened rear fenders, RKP GT4 carbon fiber lip, IND carbon fiber mirror caps, Motorsport 24 CSL-style trunk lid with multi-element GT wing (not currently installed), LCI updated tail lights, momo steering wheel adapter modified by IND to fit OE steering angle sensor, OMP steering wheel in black alcantara, IND painted interior trim (color matched), AMS shift knob, IND shifter extension, macht schnell floor mounts, sparco side mounts, sparco pro2000 seats with full carbon shell and green and gold sparco logo, autopower roll cage custom painted by IND gloss black with green flake and more. Two sets of wheels are included with this E92 – BBS E88 3-piece Motorsport wheels (freshly rebuilt) F: 18×9.5 – R: 18×10.5 and a set of Volk ZE40 wheels for the track. This M3 has been professionally built and done right from top to bottom, please call or email us today for more information.

Similar to the previous M3 generations that introduced a new engine, the fourth generation M3 did the same: the BMW S65 V8 engine. The engine produces 414 bhp stock at 8,300 rpm, with peak torque of 295 lbâ‹…ft at 3,900 rpm. A six-speed manual transmission is standard. As of April 2008, BMW offered a new seven-speed Getrag double-clutch gearbox called M-DKG or M-DCT as an option, which reduces shift pauses to less than a tenth of a second and shortens the car's 0-60mph sprint time by 0.2 seconds vs. manual. It features both automatic and manual modes similar to the SMG gearboxes in the E36 and E46, but with more speed and efficiency. This car does not skip any corners by any means and is truly something you have to see yourself and hear.

Follow the link below for more a more detailed showcase on this M3 build by IND:
forums/showthread.php?t=604259
e-MscPulRvI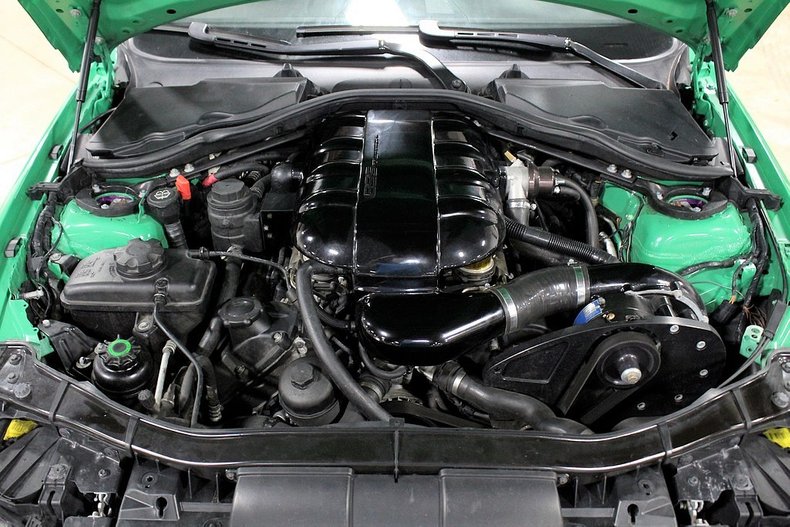 Obviously what grabbed my attention first was the color. It's not the first time I've written up a brilliant green M3, but unlike the Java Green I saw last time this one's Signal Green is grabbed from the Porsche color pallet. Originally the car was Alpine White, and the buyer selected the slower – but more engaging – 6-speed manual. The work started almost immediately, but IND's major overhaul didn't happen until 2011. At that point, the car got an ESS stage 2 supercharger good for 530 wheel horsepower. To channel all that power to the ground, IND reshaped the rear quarters to accommodate 315 section tires. But unlike the trend of today in tacking on flares, this was done very subtly and few would probably know looking at the car from the outside. The wheels selected were Motorsport-derived BBS E88 magnesium center multi piece wheels, but they were further customized with color-matched gold barrels. It's a perfect touch and I'm glad the car isn't sporting blackened wheels! KW coilovers, RD Sport swaybars, and race-ready GT3 wing and splitter were fit to round out the exterior mods. Brakes were upgraded to Brembo 365mm GT units with ducted cooling, and the engine cooling was also upgraded. Inside, a roll bar was fit along with Sparco racing seats and a cleverly integrated Momo wheel along with color-matched harnesses. As a package, IND really outdid themselves here with top-dollar mods and excellent execution.
After seeing track duty for several years, this car is now for sale still looking quite fresh overall. There aren't too many signs of use and most of the mods remain in place, although for stealth the original trunk configuration has returned and the massive wing is an extra included in the package. Unlike some period mods from the 80s, IND's transformation of this M3 has held up remarkably well. And being offered on the used market gives us an idea of the value. The ESS supercharger kit retails at nearly $10,000 alone, the BBS wheels a further $5,000 plus. Brembo brakes will set you back $4,200 for the front axle, the KW Coilovers around $2,500. The splitter and rear wing are a few grand each, then you've got the exhaust, splitter, seats, tires…and of course I'm not including labor, or the beautiful color change. As a result, it's not hard to see most of the $48,000 asking price just in the modifications present. While that's getting on for two clean E9X Ms today, this is one still very serious and potent package that's a bit of a bargain.
-Carter