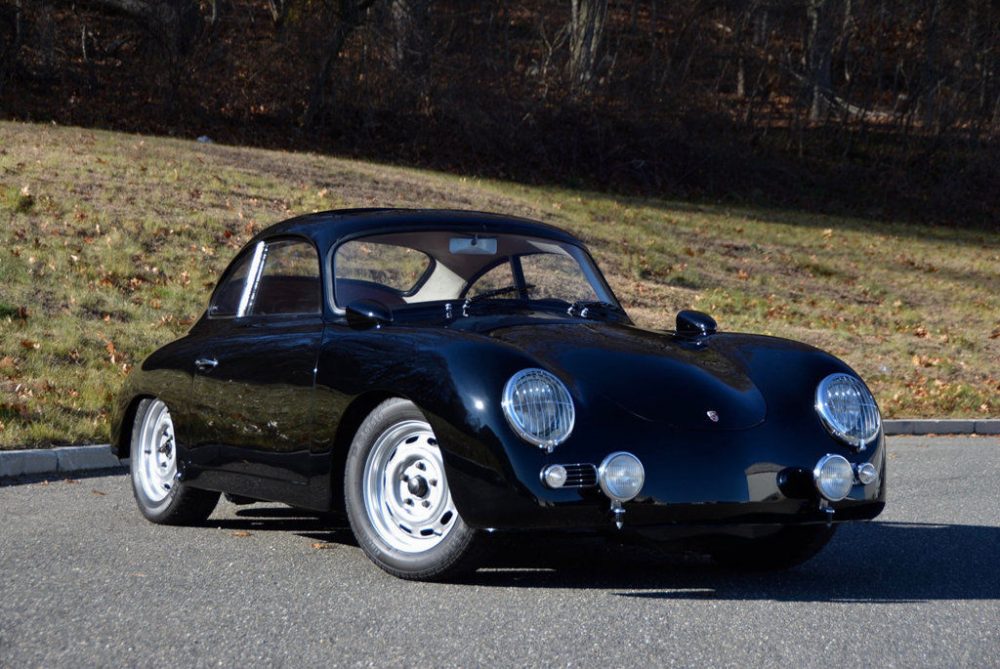 The 356 Outlaw always has presented me with somewhat of a conundrum. I'm most attracted to the 356 for its elegance and beauty. It possesses a vintage style and charm that for me represent joyful, if not necessarily spirited, motoring. It's a backroad cruise in the sunshine with a loved one appreciating the beauty of the environment in a beautiful car.
The Outlaw attempts to shift that and I must admit they do a very good job! With its meaner appearance and more aggressive demeanor these builds utilize the sporting side of the Porsche pedigree to produce something that no longer strives for elegance. The curvy, almost bulbous, nature of the 356 Coupe's body fits these models incredibly well and their already spartan interior makes for an easy canvas with which to create something unique and fitting of the Outlaw's new attitude.
Like with backdated 911 builds, 356 Outlaw builds come in a wide array of attention to detail and general appearance. Some pay more attention to the interior with only minor exterior updates, while others do the opposite with perhaps the only interior modifications being a new pair of bucket seats. The one we see here, based upon a 1958 Porsche 356A Sunroof Coupe, has gone the full way with quite a few alterations to both the exterior and interior and I must say it really looks quite good.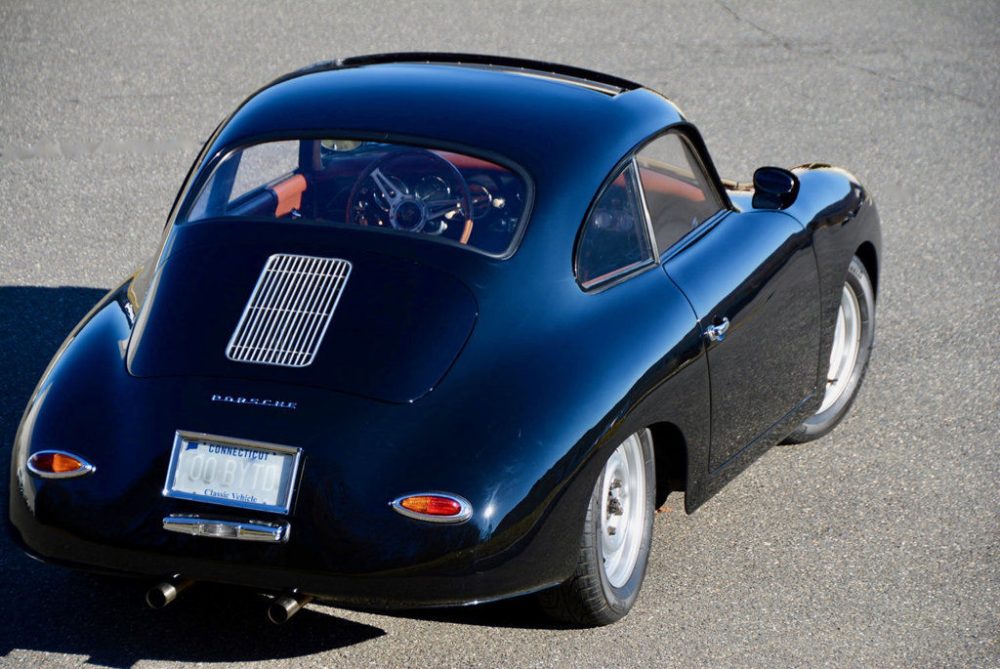 Year: 1958
Model: 356A
Engine: 1.7 liter flat-4
Transmission: 4-speed manual
Mileage: 0
Price: Reserve Auction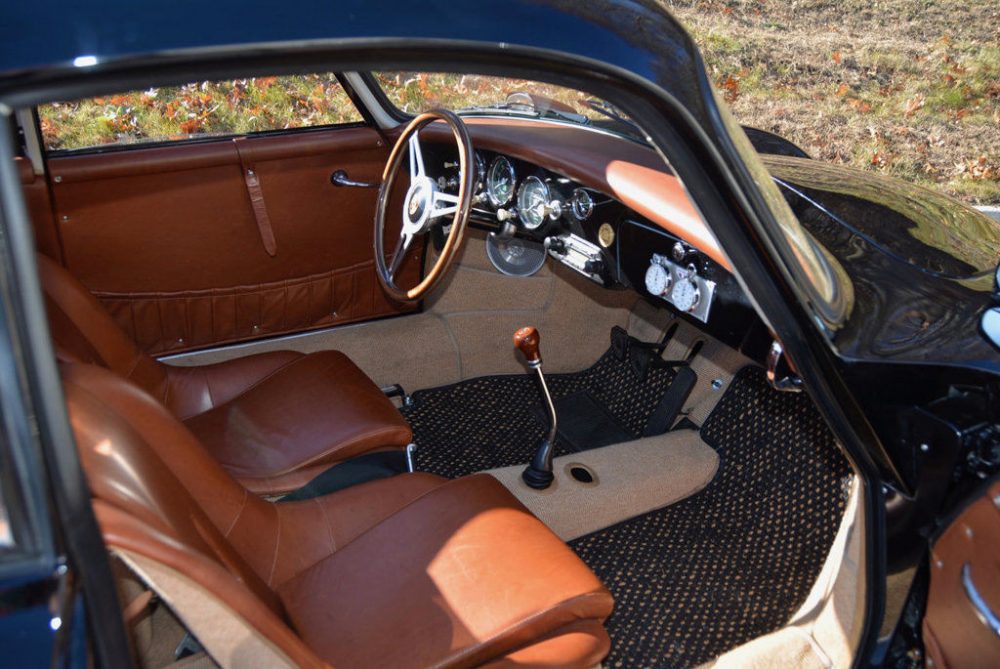 PRICE LOWERED!!!! 1958 Porsche 356 A Sun Roof Coupe finished in Black with Saddle Brown Leather Speedster seats. Previously owned by an avid collector and a concours judge, this rare Sun Roof A Coupe was treated to some freshening and modifications by Emory Motorsports.
Emory painted the car, added their GT Fender Mirrors, removed, serviced and tested the engine, added an M&K Stainless exhaust, rebuilt the fuel cell, refinished the wheels, installed fog lamps with custom brackets, added a wood/aluminum steering wheel and a few additional touches.
Emory refinished the interior with a rich buttery soft Italian leather that still smells and feels like new. Rear luggage straps were added along with Coco mats to finish the Mild Outlaw look.

Mechanically, the engine # 1085761 is a reliable performance modified 912 engine. It has been fully sorted and the car runs incredibly well. The four speed manual transmission shifts smoothly and effortlessly.

The wider wheels, Koni shocks and rear compensator spring add a surefooted handling sensation that makes this Vintage Coupe a total pleasure to drive.
It is ready for weekend excurions, car shows and is perfectly suited for any long distance rally.

Serious inquiries should be directed to Mark Starr @ 914 217-4817.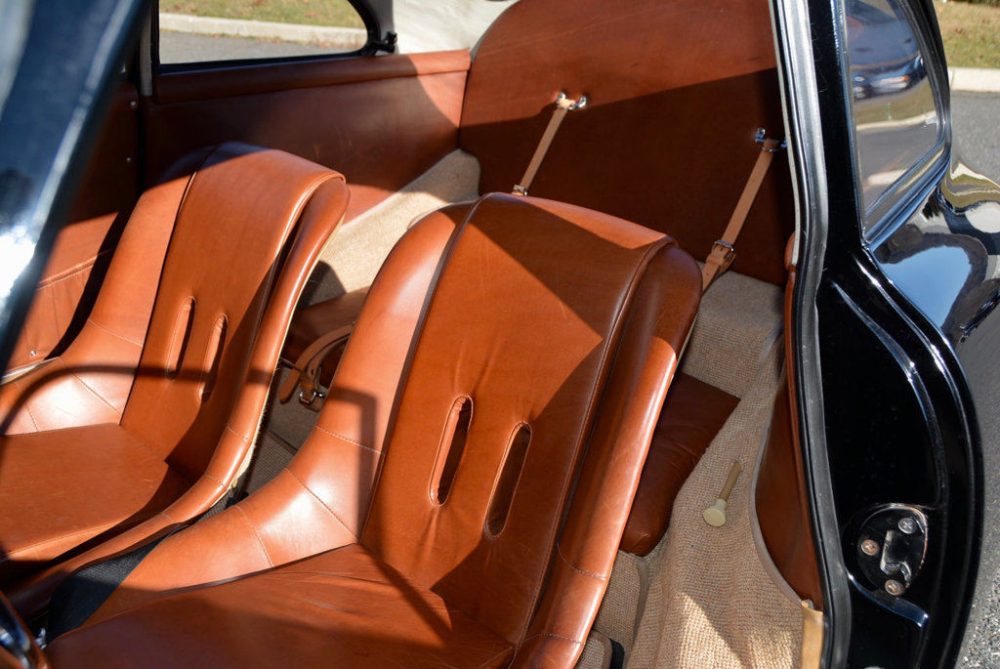 From what I can gather it sounds like until recently this was a fairly standard '58 356A. I'm guessing it needed a little work to get things looking good again, and perhaps some mechanical sorting, at which point this Outlaw build began. Given that it has a "performance modified" engine from the 912 I assume the original engine is long gone meaning keeping this 356 in its original state probably would not have been worth the money necessary to do the work. So why not build an Outlaw instead? It makes sense.
For the look the exterior has widened fenders and lowered suspension. Fender mirrors and fog lamps provide a unique look and the wheels provide it a level of inelegance that goes well with its outlaw nature. It looks good and in black definitely looks meaner and more aggressive than your standard 356. When we turn to the interior we really begin to see the transformation. The seats are from the Speedster and, along with the dash and doors, have been fitted with wonderful saddle brown leather. A wood and aluminum vintage steering wheel looks right at home, as do the leather luggage straps in the rear and Heuer timing gauges on the console. A set of Coco mats and lighter carpeting complete the look. It's simple like all 356 interiors, but looks completely transformed and really good. There are other little touches throughout the exterior and interior and overall this is one of the better Outlaw builds I can recall.
If you're interested in the price you can head over to Hunting Ridge's website and have a look, but this has been set up as a reserve auction and I'm pretty curious what sort of bidding we'll see. It's a pretty neat early 356. The 356 may largely appeal to me for its elegance and beauty, but an Outlaw build like this one really makes me see and appreciate that more aggressive demeanor and it certainly attracts my attention.
-Rob