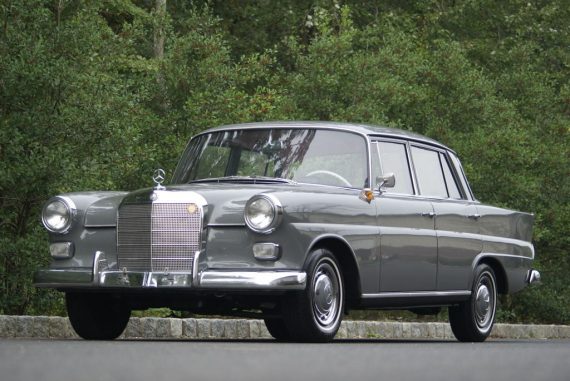 It's amazing what happens to a car when you put fins on it. That's what happened to the entry level line Mercedes-Benz in 1961. The W110 was a perfectly tame, conservatively styled basic sedan all the way up to the point past the rear axle then the fins come out and the crowd goes wild. Because of these fins, the W110 now carries the name 'Heckflosse' which is of course is German for 'Fintail.' These Heckflosse sedans were nothing special outside of the style point and Mercedes really didn't plan for them to be their flagship. You had two options for the engine in a 1.9 liter gas four cylinder or the 2.0 liter diesel. Both a little under powered, but sturdy and dependable. With the newest of these cars just being almost 50 years old, the Heckflosse is starting to become more rare by the year. So let's take a look at this wonderful 190D for sale in New Jersey.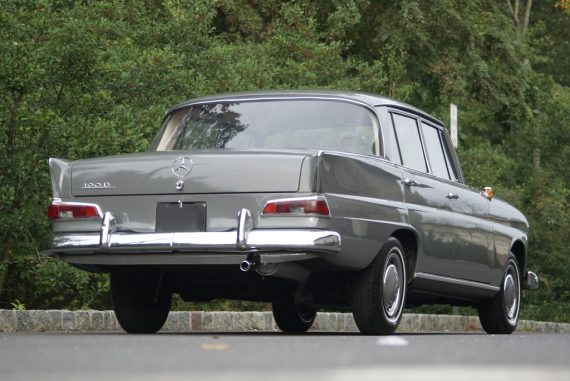 Year:Â 1964
Model: 190D
Engine: 2.0 liter inline 4
Transmission: 4-speed manual
Mileage: 41,828 mi
Price:Â Auction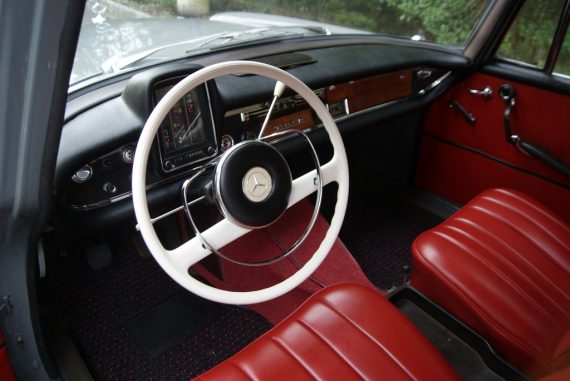 1964 Mercedes Benz 190D

NO RESERVE AUCTION !!!

Heckflosse Model W110

Showing 41,828 miles

Very strong running and driving example of one the most utilitarian vehicles ever built by Mercedes Benz.

These 80 hp diesels were known for their fuel efficiency, comfort, extreme durability and a large trunk, because of these attributes they were used primarily as taxicabs throughout Northern Europe.

These diesel motors were literally built to run forever with extensive testing of this model in Africa and Europe and at a average of 35 MPG.

Known for their chrome trim "fins" on there rear quarters, these cars are very appealing and collectible to the true Mercedes Benz purist.

I discovered this particular vehicle in Texas, and it has been in my personal collection for a few years, where it was only driven on fair weather days.

It has been garaged and covered at all times while not in use by myself and the previous long time owner.

The gray exterior finish has an excellent shine and has benefited from a respray approximately 15 years ago.

Bright-work is very good condition all around and original Securit glass was removed and gaskets replaced at the time of respray.

Painted stainless steel hubcaps look fantastic with whitewall Dayton tires.

Red interior shows beautifully and is well accented by period correct coco-mats.

Engine bay has been restored to a high level and shows beautifully.

Undercarriage is very clean and original.

All of the engines, belts, hoses, and fluids were changed within the past year.

Brand new Interstate battery in the past year.

Runs and drives strong and the manual 4 speed transmission shifts smooth.

Not known for there speed, but more for durability.

All electrical lights and blinkers function 100%.

This is a very rare car to find in this condition !!!

You will be extremely hard pressed to find a W190D like this one !!!

Clear New Jersey title in hand.

Located in Central NJ 07753.

Perspective buyers are encouraged to come see and inspect the vehicle at my facility.

This car will sell to highest bidder NO RESERVE AUCTION !!!

Contact Dean at 848-459-7776.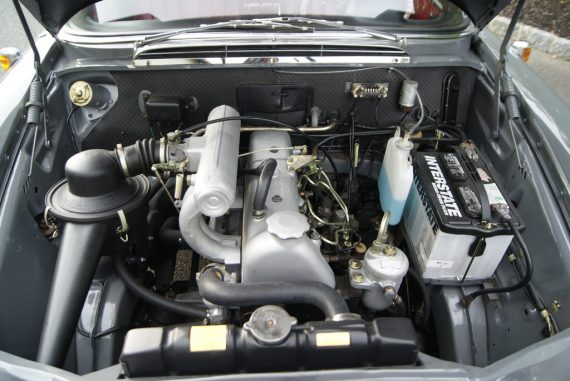 This 190D is about as close to perfect as you can get it. Under the hood is where I'm most impressed because even with a little over 40,000 miles, you could eat your lunch off that engine. Every little detail is nearly perfect. Inside, the red leather is flawless. You can tell Mercedes didn't go too crazy with the design of this car because it was supposed to be entry level, but it's just enough to fulfill you. The W111 had the exact same interior layout and dimensions but of course a little less optioned.
Historically the Heckflosse hasn't brought much in terms of value. An average condition car usually can be found in the $5,000-7,000 range but these prices are slowly rising. Seeing as this car is nearly perfect with low mileage, I wouldn't be surprised to see it get into the $15,000 range. If you really like these cars and are looking for a keeper that is collector worthy, this is probably at the top of your list.
– Andrew