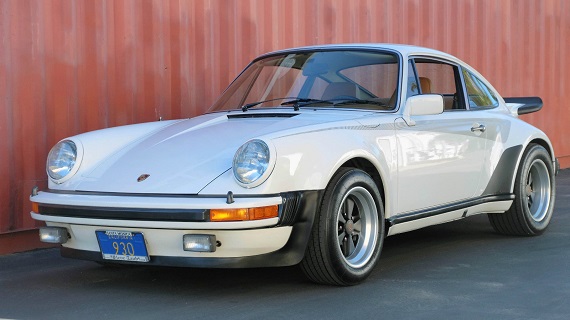 I've been waiting for this 1976 Porsche 930 Turbo Carrera to come back around and am happy it finally has. This 930 was listed at the same time (and by the same seller) as the Ice Green Metallic 930 I featured a month ago and I chose to feature that one since, well, it's Ice Green Metallic and that's such a wonderful color. But I've had this Grand Prix White example on my mind ever since. The condition is excellent and it looks to be well documented, but what really draws my attention are the specially ordered RSR 8- and 9-inch wheels. That extra width really helps fill in the wheel wells and gives this 930 some additional presence. Other than changing the headlights out for the much better looking H4 units this 930 also has retained its originality. There's certainly a lot of positives surrounding this early Turbo, but whether it will reach this sort of price may be another matter.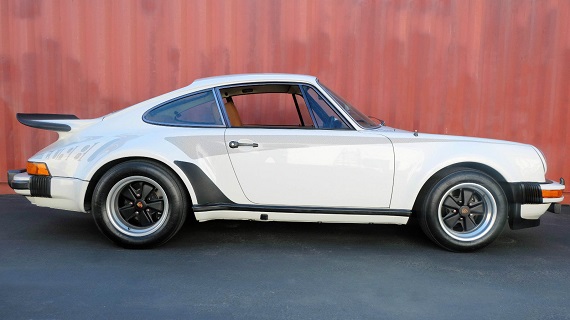 Year: 1976
Model: 911 Turbo Carrera
Engine: 3.0 liter turbocharged flat-6
Transmission: 4-speed manual
Mileage: 63,939 mi
Price: $269,000 Buy It Now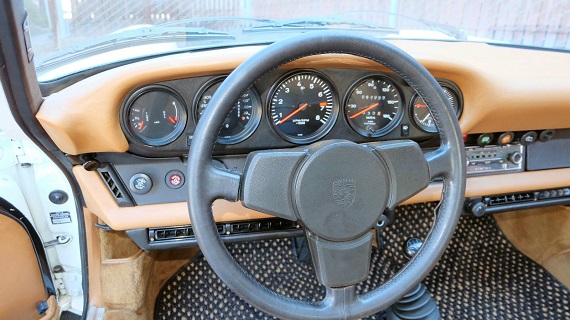 1976 Porsche 930 Turbo Carrera
This particular 930 Turbo Carrera Coupé was the very first example ordered new for the USA market and noted as such on the original invoice. This was a "Special Order" vehicle with the order being placed by Mr. Ronald Marshall Resch of Los Angeles, California on August 27th, 1975 via Steve Taub Porsche Audi of Santa Monica, California. The order pre-dated actual production of the model which did not commence until September 1st, 1975. Actual delivery did not take place until February 6th, 1976 due to the Special Order features and options which added to the vehicle's lengthy build time. The original order and completion of the vehicle was recorded as follows:

"Special request, earliest possible completion and delivery of one Grand Prix White, Tan, Full Leather Interior, Turbo Carrera Coupé with larger "RSR" 15-inch diameter, 8-inch and 9-inch wide rims, with the following options:"

-California Equipment

-Limited Slip Differential

-Sport Seats Left & Right

-1.5bhp Starter Motor

-Electric Sunroof

-Becker Mexico Cassette Stereo Radio

-Amplifier and Four-Speakers

-"8-Inch" Wide "15-inch" Diameter Front Wheels

-"9-Inch" Wide "15-inch" Diameter Rear Wheels

-Dunlop Tires

Despite being an extremely early ordered example, the "Special Order" and custom features saw 930.680.0074 being completed as the 63rd of a total of just 520 first model year units completed. All were built from September of 1975 until July of 1976. Assembly of 0074 began in October of 1974 and was completed in November of 1974. The order for this Porsche was processed by Volkswagen Porsche Audi of America Western Region in Culver City, California. Production and delivery delays meant that this vehicle was shipped in early January 1976 and that it did not arrive until early February of 1976.

Several weeks earlier in December of 1976, Ronald M. Resch applied for personalized California License Plates, "930." These plates were approved and released to him on January 8th, 1976 prior to actually taking delivery of the vehicle.

On arrival at the Port of Los Angeles, this vehicle was delivered by truck to Steve Taub Porsche Audi in Santa Monica on Wednesday, February 4th and immediately cleaned, detailed and inspected for delivery the following Friday, the 6th of February to first owner, Ronald M. Resch. Mr. Resch originally agreed to pay $27,430 for his new Porsche in August of 1975. This was quickly revised to reflect a total cash price of $29,564.80. At the time of delivery with the odometer showing 60 delivery miles, he was given a final invoice of $29,650.32 which was paid for by Mr. Resch with a bank check.

Mr. Resch's first order of business was to have customs sheep-skin seat and rear parcel tray covers made and fitted as well as custom "930" logo floor mats in order to protect and preserve the original interior. Resch also had the horrid USA type "sealed-beam" lights replaced by his local Porsche dealer with correct European model "H4" units.

Over the next 25 years, this Porsche was treated as an automotive treasure and show car. He drove it less it less than 2,500 miles each year. When not being driven, it was stored in-doors in a climate controlled and UV protected garage. In 1997 Mr. Resch finally agreed to part with his prized 930 Turbo Carrera to local Porsche dealers, the Grant Boys of Costa Mesa, California. The car was carefully stored and remained un-driven until being sold in 2001 with just over 60,000 original miles. It was purchased by another avid Porsche collector in Yorba Linda, California. The new owners likewise rarely drove their new Porsche and it was soon placed in storage by them in Corona, California and not driven again. It remained garaged and stored, untouched over the next decade until our purchase in March of 2015. After completing the purchase, this first year California USA Turbo Carrera was sent to marque experts at Jakob's Porsche in North Vancouver, Canada where the engine was carefully removed and given a complete and thorough rebuild. The gearbox was inspected and serviced and all other maintenance and safety checks were also completed and brought up to date. Brand new, no time Michelin TB5 tires were then fitted to the original special order RSR 8 and 9 inch light alloy Fuch rims.

Today, 930.680.0074 has covered just shy of 64,000 miles since new. It is completely without rust or accident damage with 100% of the original paint and bottom side undercoating intact and un-damaged. The interior is completely untouched as delivered new having always been garaged with full UV protection and floor and seat covers since being purchased new. All original records, invoices, correspondences and receipts from the moment this car was ordered through to the present remain with this vehicle as does all of the original delivery equipment including the following:

-Space Saver Spare Tire

-Factory Touch Up Pain (Still in original packaging)

-Spare tire compressor (Still in original packaging)

-First Aid/Travel Kit

-Took kit (Never opened or used.)

-Mechanics Gloves (Still in original packaging)

-Maintenance manuals, pouch, books, warranty card etc…

-Original "blue/yellow" 1976 issued California Personalized plates "930"

-Original "white/blue" 2000 issued California Personalized plates "930"

930.680.0074 is a completely matching numbers, front to back, top to bottom vehicle. The original date-coded exhaust system is still fitted and all other casting codes, date codes and part-numbered specific items are as originally built and completed in November of 1976.

All services and safety checks are completely current and up to date. The engine and gearbox have less than 20 break-in only miles and the tires are brand new with no running time on them. This vehicle is without question one of the most carefully conserved and preserved original "First-Year" Turbo Carrera Coupés left in existence. If such a vehicle has been on your "wish list" look no further… you have found the very best of the best… a true automotive treasure without equal!

We have a very nice showroom in San Diego, CA and have experience shipping cars throughout the US and Worldwide.
If you are interested and would like to inspect the car personally or have a 3rd party inspection please call us to arrange. You will not be disappointed!

Chris Peterson | Collectible Car Representative

Symbolic International, Inc.

11425 Sorrento Valley Road, San Diego, CA 92121

Mobile: (858) 752-1114 | Office: (858) 259-0100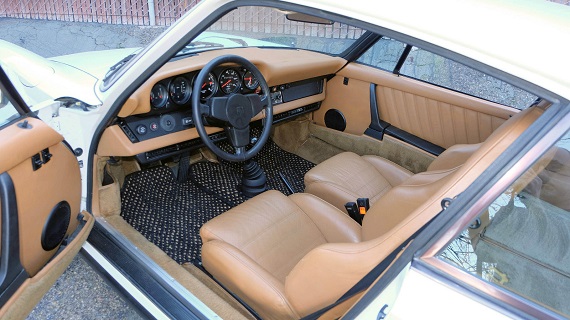 As with the Ice Green Metallic 930, it seems like this seller is hoping to capitalize on the lull in the 930 market as each sold at auctions earlier this year for figures a good deal below their estimate. Each is also currently priced much more in line with those estimates. As we've seen with a wide variety of air-cooled 911s, the market has cooled quite a bit with a few models even beginning to come down in value. For a while I thought the early 930 would remain somewhat insulated from that progression, but at this point it appears safe to say that even such highly-prized models 930 aren't immune. It's something we're going to have to keep an eye on and I suspect the mileage of this one is what might be holding it back from hitting serious money (not that its previous selling price of nearly $200K is nothing). 64K miles isn't a lot of miles for a car of this age, but it may be enough to stifle some interest. Still I really love the look, especially the way those wider wheels contrast with the subtle nature of Grand Prix White. It's not always my favorite color, but in the right application can look fantastic!
-Rob