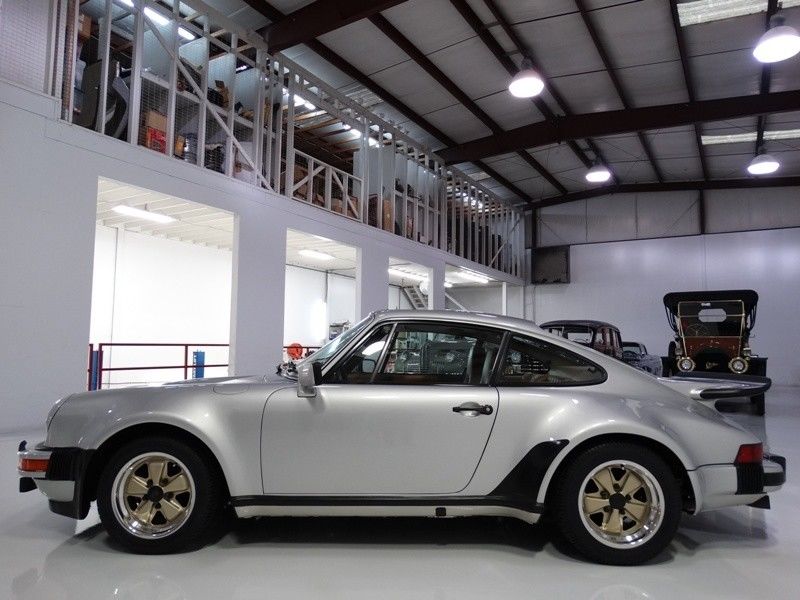 It feels like it's been a long time since I posted an early 930. Like many early editions of a model there is a rawness to them not replicated by later versions whose evolutionary changes sought to smooth the rough edges. There are a few currently up for sale, but I've featured them previously. Meaning they aren't selling. That might tell us something about the current market for these Porsches and helps explain why more of them are not coming up for sale. But this is the first I've seen of this one.
According to the CoA this is a Platinum Metallic 1976 Porsche 930 Turbo Carrera with Cinnamon interior and optional sport seats. It now sits with just 35,770 miles on it. The color combination, especially with the contrasting painted Fuchs wheels, really looks outstanding and the overall condition is promising. Given its age it looks to have been very well cared for.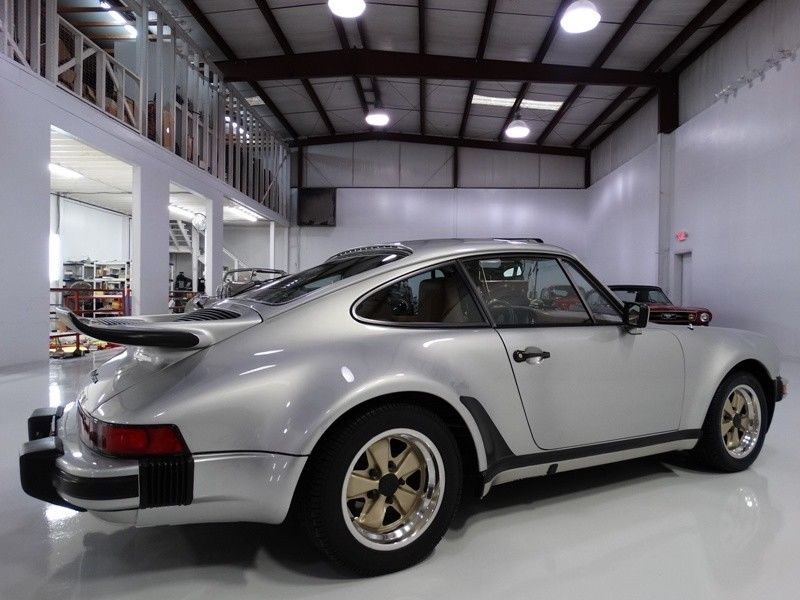 Year: 1976
Model: 911 Turbo Carrera
Engine: 3.0 liter turbocharged flat-6
Transmission: 4-speed manual
Mileage: 35,770 mi
Price: Reserve Auction ($229,900 Buy It Now)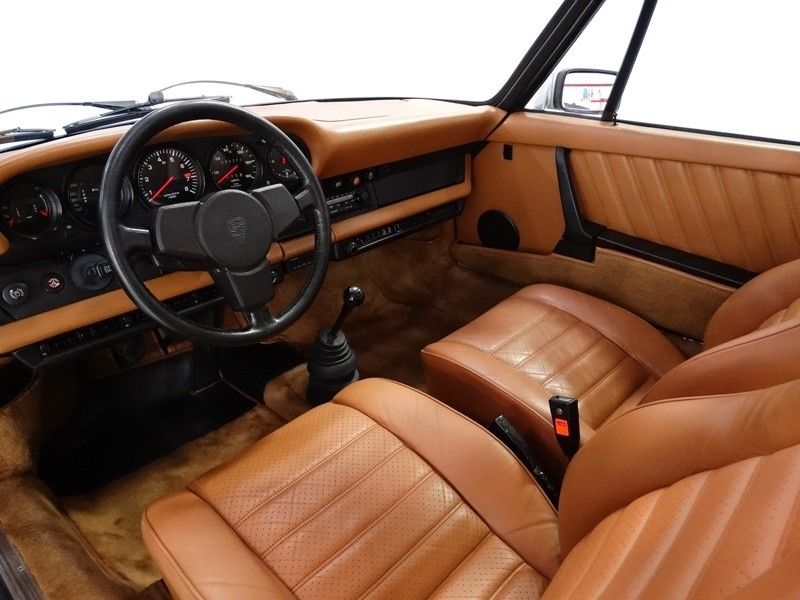 HIGHLIGHTS

SPECTACULAR CONDITION 1976 PORSCHE 930 TURBO CARRERA!!
ONLY 35,770 ACTUAL MILES!
FIRST YEAR FOR THE U.S. SPECIFICATION TURBO CARRERAS
ONE OF ONLY 530 PRODUCED!
SAME METICULOUS PORSCHE CLUB MEMBER OWNER FOR 30 YEARS
MATCHING NUMBERS ENGINE!
MECHANICAL REFURBISHING AND SERVICING BY A MARQUE SPECIALIST LESS THAN 300 MILES AGO INCLUDING COMPLETE ENGINE REBUILD, NEW CLUTCH, NEW PIRELLI TIRES, AND MUCH MORE!
FULLY DOCUMENTED WITH ITS PORSCHE CERTIFICATE OF AUTHENTICITY, ORIGINAL OWNER'S MANUAL, MAINTENANCE BOOKLET AND FACTORY TOOLS
HIGHLY SOUGHT-AFTER COLOR COMBINATION
ONE OF THE VERY BEST EXAMPLES OF THIS HIGHLY DESIRED MODEL TO BE FOUND ANYWHERE IN THE WORLD!
TRULY A COLLECTOR'S DREAM!
OPTIONS INCLUDE:
ELECTRIC SUNROOF
U.S. EQUIPMENT GROUP
TURBO DESIGNATION IN BLACK
FULL LEATHER INTERIOR
LIGHT ALLOY FUCHS RIMS – COMET DIAMOND
BLAUPUNKT AM/FM RADIO WITH CASSETTE
AIR CONDITIONING
POWER ANTENNA
Much of the Porsche 911 Turbo Carrrera's development had resulted from the factory's racing program. The rules for FIA Group 4 homologation required 400 road cars to be built, which spurred the development of 'Project 930' – the legendary 911/930 Turbo. The turbocharged 3.0 liter engine in road trim developed 260bhp with propelled the Turbo Carrera from and standstill to 100 mph in 14 seconds and resulted in a top speed of 155mph. Porsche's first road going super car, this meant it was on par or faster that its contemporary's in the day, the Aston Martin's V8 Vantage, Ferrari's 512 Berlinetta Boxer and Lamborghini's Countach, certainly excellent company. Legendary racing driver Paul Frère stated "It offers the finest blend of ultimate performance and refinement I have ever come across. This is the first year of the Porsche Turbo in the USA and a rare find. This extraordinarily well-restored Turbo Carrera is the 232nd example of 530 car model run for the 1976 Porsche model year.

The 1976 Porsche 930 Turbo Carrera featured here is finished in classic Platinum Metallic with an impeccably-kept Cinnamon leather interior. This 930 has had the same owner for the past thirty years; a Porsche Club member who meticulously maintained and preserved this motorcar. A comprehensive mechanical refurbishing was performed by a marque specialist less than 300 miles ago which included a complete engine rebuild, new clutch, new Pirelli tires and much more. We are extremely pleased to offer this highly-optioned, fully documented 1976 Porsche 930 Turbo Carrera to the most particular collector, investor or enthusiast who appreciates low miles and superior condition. Classic cars have proven to be among the most resilient and rewarding investments in recent years with the Historic Automobile Group Index jumping 39% in 2013, 16% in 2014 and 17% in 2015 while posting gains of 467% over the last 10 years. Ready to make an investment you can actually enjoy? Please contact one of our expert sales consultants for more information. They will be happy to give you a complete walk-around, supply you with a more detailed description and answer any questions you may have. Buy with confidence; you will not be disappointed in this stunning Porsche 930 Turbo Carrera.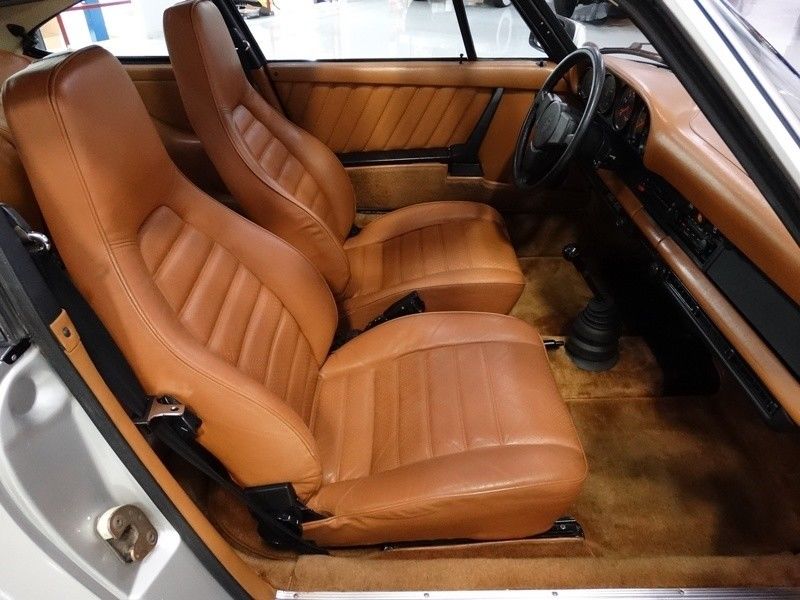 There is a problem though: is this Platinum Metallic? I'm not sure that it is. The wheels look to be, but not the rest of the exterior. That's too bad since I really like the contrast of the silver exterior and platinum wheels. We still have a very pretty 930, just not one that wears its original exterior color. I wonder if it was (inadvertently?) repainted in the later Platinum Silver Metallic, which was available for the 997? There is another problem: I'm pretty sure these aren't sport seats. The interior does appear to be Cinnamon though!
We're not off to a great start here. On the plus side, the condition of this 930 does look excellent. Regardless of the color the paint shows really well, showcasing its metallic flakes within all that silver to produce a vibrant version of the color. The interior looks clean and crisp, free of scuffs and tears and the dash shows no signs of cracks. It's a nice early 930 and these are very hard to come by. It is said to be numbers matching and well documented.
Really the issue will be price. A '76 930 is very valuable and with this sort of mileage we would expect a pretty high price. But this asking price would require full originality. I'm not sure we can even expect it to eclipse $200K, but I also wouldn't expect it to dip too much farther below that.
-Rob