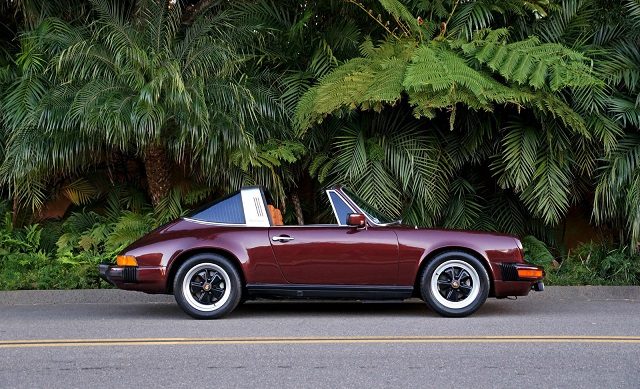 I won't slow play this: at the first sight of the thumbnail featuring this 911 my first words were, "Wow!" My hope as I looked further was that everything else I saw would continue that sense of elation. I was not disappointed. Earlier in the week I featured a very pretty 997 Carrera 4 in a fairly similar shade of burgundy. It's an elegant looking car and given its price shows the sort of value we can find with a modern 911. Here I guess we could say we have the classic version of that 911: A Wine Red Metallic 1978 Porsche 911SC Targa, located in Santa Barbara, with fantastic Cork interior and 77,501 miles on it. The price actually is higher than that of the 997, but the mileage is a good bit lower and its long-term value probably a bit more secure. Still, it's not priced badly at all.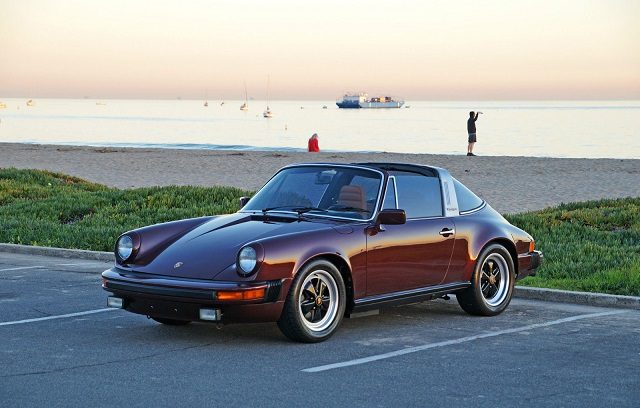 Year: 1978
Model: 911SC Targa
Engine: 3.0 liter flat-6
Transmission: 5-speed manual
Mileage: 77,501 mi
Price: Reserve Auction ($41,500 Buy It Now)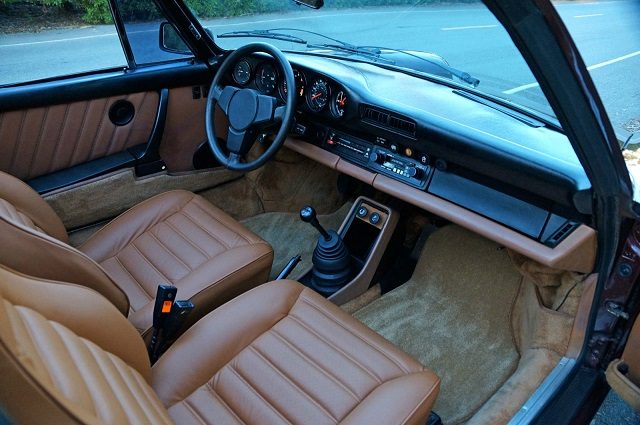 Goodman Reed Motorcars
Santa Barbara, CA
(805) 202-4557

Offered for sale is an very clean, mechanically strong, first year, 77k original mile 1978 Porsche 911SC Targa finished in Wine Red Metallic, a wonderfully era-specific livery that reads anywhere from Burgundy to Copper depending on the light. A perfect finish for this car's already vintage styling cues (polished wheel rims, door handles and Targa bar), it's also beautifully accented by the Cork leather interior, defining an example that evokes early 911 visuals while offering reliable 3.0L mechanicals and superior ride quality. Driven relatively sparingly throughout its 39 years of service, this beautiful example has always been well cared for, garaged and used only in favorable weather, exhibiting no evidence of rust or rust repair with an entirely original undercarriage.

Truly a pleasure to drive, the 3.0L engine starts right up without any smoke and pulls strongly and smoothly through each of the transmission's gears. The brakes are precise and the car stops as straight as it drives. Living up to Porsche's legendary handling, the car is joy in the canyons as well as the highway. The drive train is completely original and the car has benefited from recent service including a new distributor, new fuel pump and new CDI unit. The car's Wine Red Metallic finish is in good shape, marred only by imperfections that don't show up in the pictures. With no evidence of any accidents, the body is straight with factory correct panel fits and gaps. The glass and rubber are in great shape and the refinished Fuchs wheels are impeccable and wrapped in nearly new BF Goodrich tires.

The interior is equally as clean. The front seats have been professionally reupholstered in leather and the back seats, carpets and interior panels are in great original condition. The leather wrapped dash has no cracks, showing only minimal warping, the car is fitted with a relatively uncommon A/C option (that blows cold) and the Targa top is in excellent original condition with both locking keys intact. Also included are the car's original owner's and shop manuals, as well as the original tool kit.

Intended to extend the 911 line through its planned cessation in 1981, the 911SC was introduced in 1978 with only slight aesthetic changes to the 911's previous incarnation. That said, under the hood it was much different, sporting the 3.0L engine upon which Porsche would build its "bulletproof" reputation for reliability. The 911SC was the most tractable and civilized 911 ever, but that's not to say that it gave up any performance, rocketing from 0-60 mph in 6.7 seconds, times comparable to 911 variants all the way through the 1990's. In fact, the 911SC was so popular with the public and so successful for Porsche, that they scrapped their plans of ending the 911 model line, and consequently many Porsche enthusiasts regard the SC as the savior of the iconic model and, by extension, the company.

At 39 years old, this 911SC offers the best of both worlds: an appreciating, charmingly vintage model that's still modern enough to drive comfortably and reliably. With only 77k miles, this "bulletproof" 3.0L engine is sure to provide years of further trusty service and enjoyment. If you've been looking for a clean, low mileage, rust-free 911SC, this first year Targa deserves your serious consideration.

We want this car to go to great home and would be happy to answer any questions or discuss a deal, so please feel free to email us or call us at 805-202-4557. You can also visit us online at GoodmanReed.

For U.S. buyers a 10% non-refundable deposit is required within 3 days of the auction's end, the balance to be paid within 7 days of the auction's end. Foreign buyers must pay in full within 7 business days of the auction's end. Buyer is responsible for shipping, however we'd be more that happy to help with recommendations and arrangements. The car is listed locally and we reserve the right to end the auction at any time should it sell prior to auction's end. Thanks for your interest.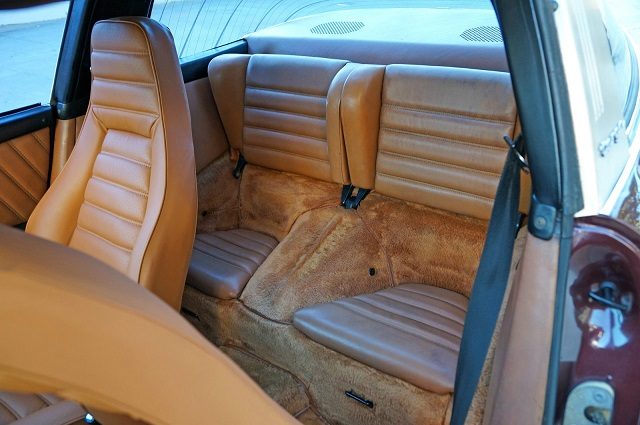 Cork is my favorite interior color on the 911 and it looks absolutely fantastic here as a contrast to the Wine Red exterior. I especially like the look with the Targa top removed where the profile shows just enough of the seat backs that we get a glimpse of that contrast. I do wonder if the first buyer of this 911 had a certain sense of humor in choosing a cork interior to go with a wine red exterior. Very fitting combination.
The overall condition of this 911SC looks quite good and other than the radio it looks to possess its original items. We are told that much of the interior is original, though the seats have been reupholstered. They look to have been done well. We aren't told whether the exterior paint is original. Even if repainted, it looks well cared for. The biggest questions appear to be about its maintenance and history about which we are provided little here. Some research hopefully can provide what we need in that regard. Otherwise, this is a beautiful 911SC Targa coming from the first year of the 911SC's production. Bidding sits currently at $27,300 and I imagine we'll either see that come close to the BIN price or someone simply will step in and purchase it prior to auction's end.
-Rob