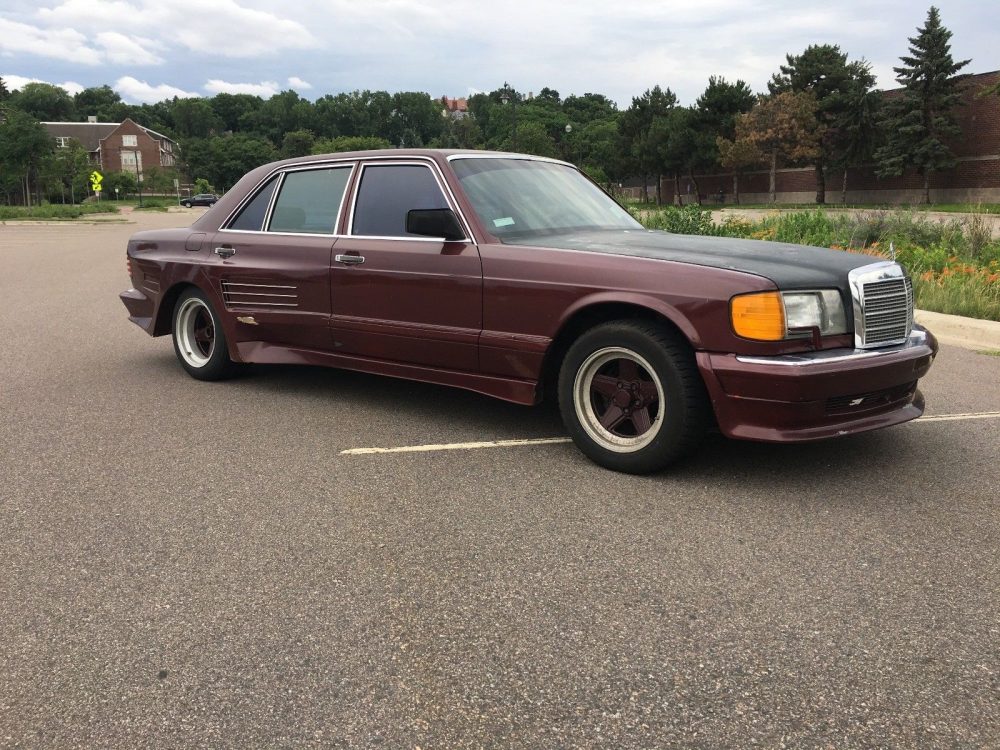 In case you missed or forgot about the totally rad 1986 Mercedes-Benz 560SEC ABC Exclusive, take a look again at a big piece of the 1980s projected in a car. That C126 is a well-preserved look back in time at how extreme popular aftermarket car styling was, and how much our tastes have changed over the years. I was most impressed at how well that car held up because once that kind of styling fell out of favor, often they were dumped off and left to fester. Today's car, a 1987 420SEL, is one of those cars. This car at one point was probably just as stylish and cool as that 560SEC with its massive fender flares and high dollar wheels, but sadly has fallen in to disrepair and probably won't ever recover. Let me tell you why.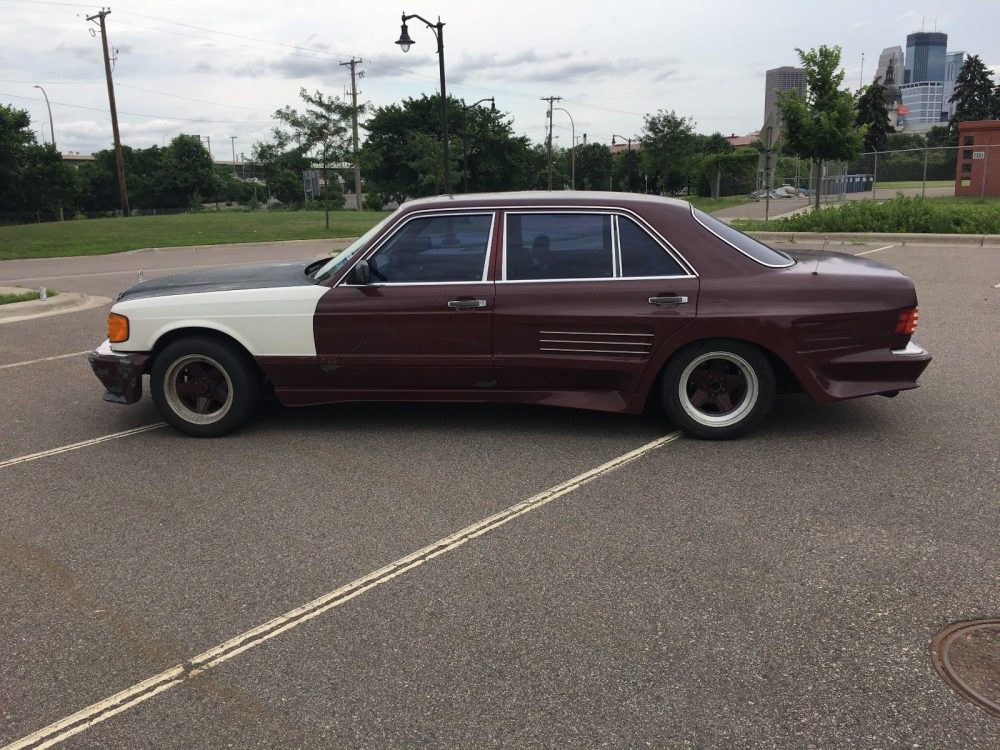 Year: 1987
Model: 420SEL
Engine: 4.2 liter V8
Transmission: 4-speed automatic
Mileage: Unknown
Price: No Reserve Auction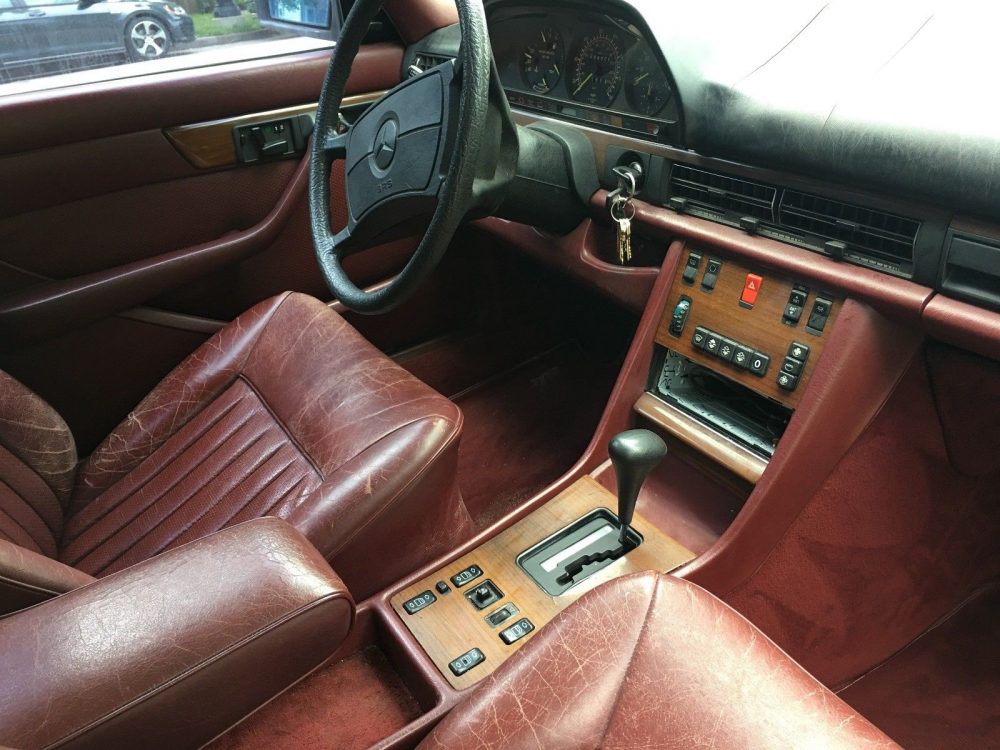 I selling my 1987 420SEL widebody project (Odometer is broken, mileage inaccurate); running and driving, clear title – $1500 (Penta wheels are not included and are not available separately. The car will come with stock 15″ rollers). I had the car shipped from Texas last year as non-op/running. Since then I've been able to get it running and ended up hitting a deer, hence the terrible hood and fender (I tacked in a radiator support as well).

The car sat for an epic amount of time at some point which led to gasoline breakdown and rust in the tank. This prompted someone to cut the screen on the fuel tank strainer as a quick repair damaging the entire fuel system. Here is a quick list of some of this things I have done to get it running again:

New parts (With receipts):
– Fuel strainer and some misc. fuel hoses.
– Fuel filter
– Injector seals
– Karlyn/Bremi sparkplug wires
– MB air distribution hoses (1160942582OE) and plug ends (1169971286)
– All vacuum lines replaced with either genuine or Cohline lines (With the exception of those running under the intake manifold)
– MB connectors 1170780581 (x10), longer elbow 1170780281,
– MB injector seals at (1160700077)
– All new contitech belts
– New air cleaner mount 1169880511
– Valve cover gaskets
– All new copper fuses
– hood release handle (1268800020)

Replaced Used parts/Or I had on the shelf (Some receipts):
– OEM fuel pumps from a low mileage 560
– brass fuel injectors
– Fuel distributor (The car idles relatively well now but I believe this has developed an internal leak)
– OVP relay
– Idle Control Unit
– Recent Cap, rotor, and coil
– Air filter

Exterior –
The paint is terrible; looks to be on its second bad respray (Currently a metallic maroon color, previous a red color similar to orient red – the original color was blauschwartz). The widebody kit is fiberglass but was really well done. There is some cracking, etc. which is to be expected with a old fiberglass kit that sat out in the sun. The front spoiler is the plastic (Not fiberglass) version and is genuine AMG, the paint is cracked from hitting the deer but the spoiler itself is not damaged. It also doesn't have any cracks and very little wear underneath because it was not a lowered car. There is some damage here and there, I did my best to represent it in photographs. There is an AMG part number on one of the sideskirts (Image in photobucket); 788037 / 1810025305).

mechanically –
The car runs and drives but still has some vacuum leaks. I believe its the injector holders, when I spray them with carb cleaner the idle fluctuates. I also think the used distributor has developed an internal leak. The idle is decent but not perfect. I took a video after driving. It is occasionally hard to start (Takes 2-3 cranks), I'm guessing due to vacuum leaks or a clogged cold start injector.

The car needs works -*suspension, body, interior, etc. Consider this a project or parts car (I think the price is reflective that). I did my best to describe the car but I'm sure I forgot some things. No guarantees stated or implied, it is a +30 year old neglected car. Random things; wipers aren't working, radio is missing (after market speakers are in place), antenna is wonky, exhaust is original and quiet, the "fins" are aluminum.

I haven't run a carfax report but I assume the car spent most of its time in Texas as its very dry/solid (Some rust on the trunk seal as it was damaged and poorly repaired. The replacement body panels have some rust as they came from a parts car in poor condition).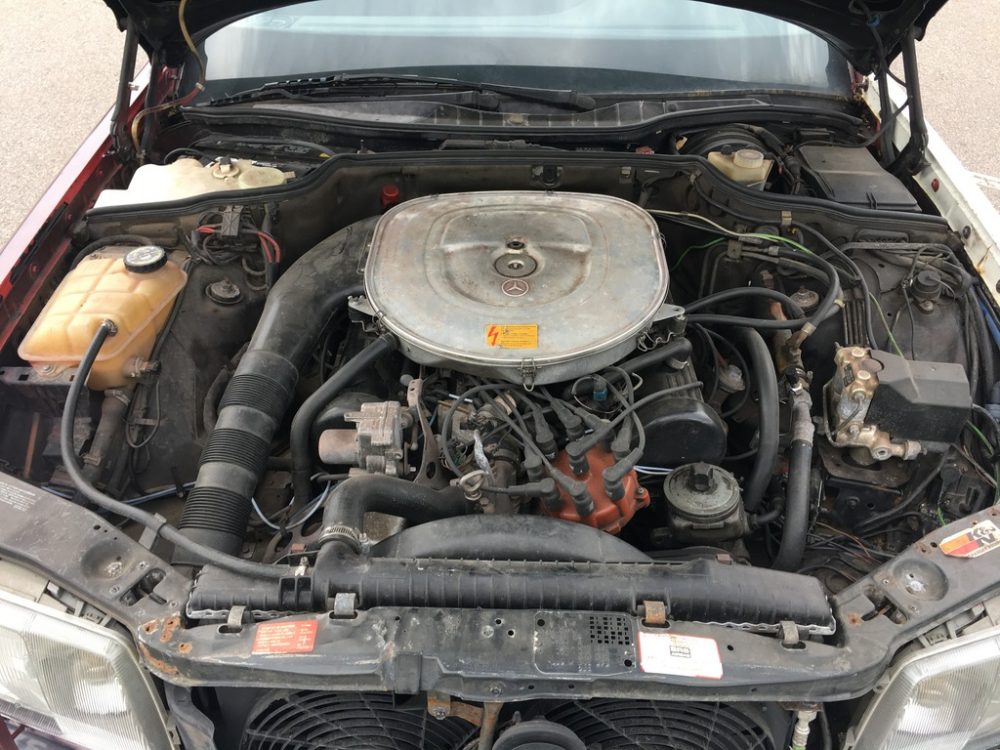 This poor, poor car. I'm curious as to what the story was and how it ended up like this. It is pretty clear at one point someone had big dreams of a widebody car but it looks like that is a far as they got. What is really throwing me off is the color of this car. It is a shade of burgundy now, but the door jams are red. Well, the data card says the original color is Blue-Black Metallic and the front cross member confirms that. Add in the black hood and white fender and we are looking at five different paint colors on this car. Technically, six if you want to add the primer color on the front bumper. Everything else is a disaster as well. The current owner threw a bunch of parts at it to get it moving, but there still a laundry list to even get this car anywhere near presentable. Even worse, the auction says the Penta wheels aren't included and you'll be given 15 inch stock wheels. So the only thing of real value on this car isn't even included.
I don't even know where this auction will end. This is a really miserable example and there aren't even a lot of good parts on this thing to try to harvest. There is no value is trying to restore to any kind of nice condition because of the associated costs and what the end value would be. I suppose maybe you could try to spray this car all one color again to try to have some fun with this, but I'm stumped as why anyone would sign up for this. Comparing to the recent ABC Exclusive car, it is just another of example of how things can go really well and how they can turn out to be a disaster.
– Andrew