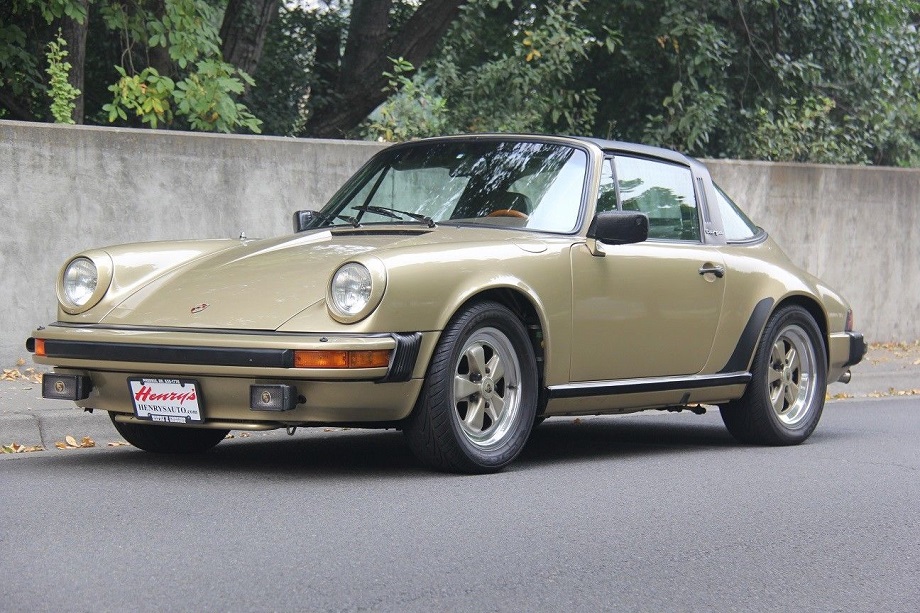 Here we have a 1983 Porsche 911SC Targa that comes in a kind of unusual color. Unusual in the sense that I'm not quite sure what it is. The seller simply lists it as Gold, but that's not terribly helpful. It could be Gold Metallic, which had been available in earlier years though I don't think it was available in 1983. Platinum Metallic could be another option, which I believe was available in 1983. But it doesn't really look like either of those colors. Or perhaps Casablanca Beige, a rare color we have seen before. To me, the color it looks most like actually is Lime Gold Metallic, but unless I'm mistaken that's a relatively recent color. It, of course, recently could have been repainted Lime Gold. The seller doesn't mention this and, unfortunately, because most of the pictures show it parked in the shade we can't get a very good sense of how it truly looks. The interior is brown leather, which was available in the early '80s and works reasonably well with this exterior color. Overall I don't know that I've seen a 911SC with this color combination. It may not be original, but that's something that should impact its selling price more than whether we dismiss it entirely or not. I think it looks pretty good!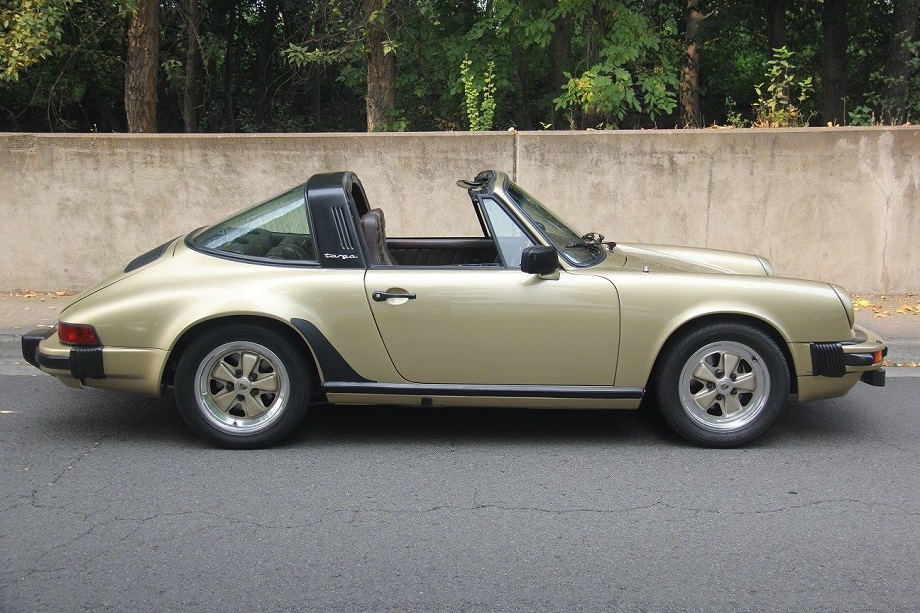 Year: 1983
Model: 911SC Targa
Engine: 3.0 liter flat-6
Transmission: 5-speed manual
Mileage: 99,312 mi
Price: Auction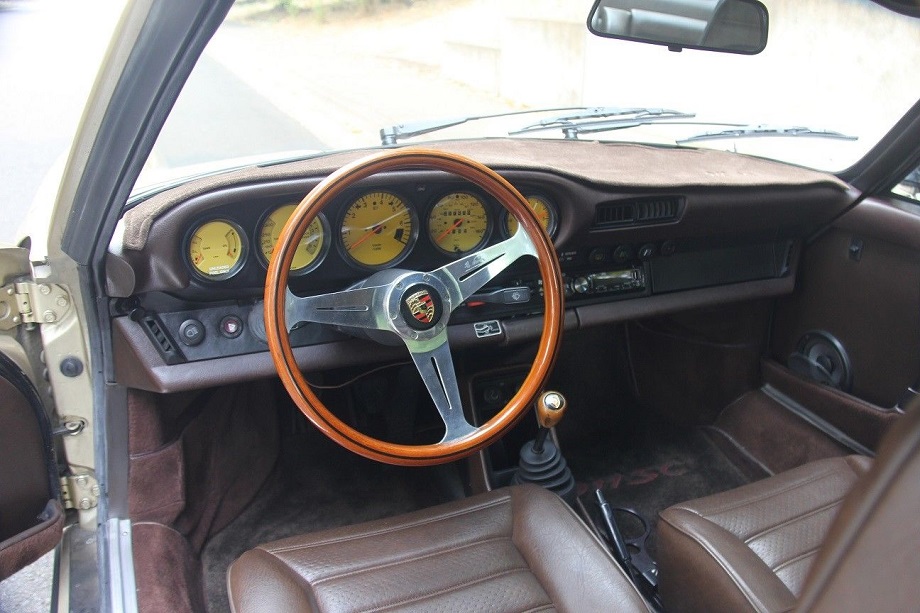 You have found our 1983 Porsche 911 SC Targa we are selling for our client.
Many more photos are available from our website. We have service records ready to email you as well.

The Porsche has just had major service at our shop which included
-New Distributor Cap and Rotor
-New Fuel Filter
-New Fuel Pump
-Replace Fuel Tank Screen
-New Spark Plugs
-Transmission Service
-New Heater Control Valve Cable
-New Oxygen Sensor
-New Warm Up Regulator
-New Fuel Pressure Pulsation Damper

In March 2007 we did complete Engine Overhaul/Rebuild. Work was done by our Late Boss, a Porsche Master Mechanic.

At the same time with the Engine Rebuild the Transmission was also Rebuilt.
Our client had the instrument cluster rebuilt along with this major work to have the miles reflect the motor work. These 7,442 miles that read on the clock are after this major work.
When the Motor Overhaul was done, the Porsche came to us with 91,870 miles.

The Air Scoop on the front passenger headlight was installed as was installed the extra oil cooler system. This oil cooler became available in the following year (1984) that was suppose to improve cooling. When the engine was rebuilt in 2007, we had installed this extra oil cooler system.

The CARFAX Report is clean. The Porsche does not appear to have any accidents.

Call or Text Lukasz at 541-890-1694.

Our business is conveniently located off a major hwy for easy truck deliver/pickup service.

Until then, this 911 rests in our showroom.

Winner of the auction will be give our banking information for wire.

We are Henry's Foreign Auto. 4586 S Pacific Hwy Phoenix, OR 97535 541-535-1775 Oregon Dealer #6362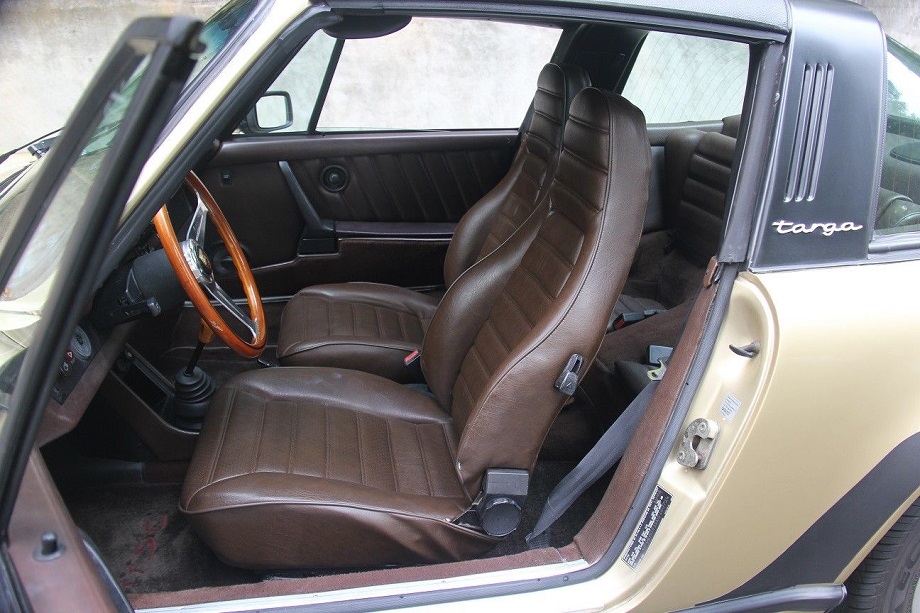 Aside from whether the exterior color is original, there obviously are a few non-original items in the interior. Some of those I don't mind. The wood steering wheel actually works quite well with these colors while providing a more vintage feel to the interior. The wood shift knob functions similarly. On the other hand, I think the yellow gauge faces are horrid. I'm generally not a fan of yellow gauge faces other than a yellow tachometer on a Ferrari, but I find these particularly distracting and quite at odds with the wood wheel. I'd work on swapping those out immediately. Other than the gauge faces (and a speaker screen that appears to have fallen off) most of the interior looks fine. It isn't a pristine interior, but it appears in good shape with no tears, cracks, or scuffs.
Regarding its servicing, the seller has provided us details on a good bit of recent work including an engine and transmission rebuild. This SC hasn't acquired a ton of miles since that rebuild so while you'll certainly want a PPI to make sure everything is working properly we can hope that everything will check out and you'll be getting a reliable and enjoyable 911SC.
With its starting bid set at $40K I don't expect much action in this auction. It's probably more likely to sell in the mid-$30Ks and that's somewhat dependent on the possible originality of that exterior color. Overall that's not too bad for what looks to be an pretty good SC in an unusual color.
-Rob