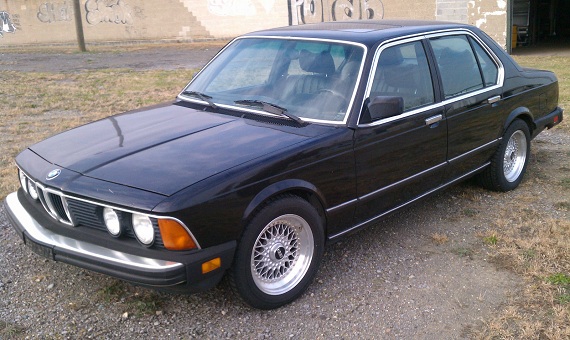 The E23 has always been a design which to me has been quite polarizing. As with the E12 and E24, Paul Bracq was heavily involved in the final design and it shows – in many ways, the E23 looks like a cross between the two that was scaled up 10%. The results of that in my mind weren't always good. Growing up, my father had both E24s and E28s, clean looking, well proportioned designs, and when I first saw an E23 I remember thinking it looked a bit ungainly. In U.S. specification, the bumpers were too big and the wheels were too small, resulting in a car which appeared heavy, sagging and sad. When he's really upset, my son manages to invert his lip and stick it out, tears streaming down his cheeks. It's a look which nearly mimics the U.S. spec front end of the E23 I now recognize. However, in European trim the E23 made more sense – it looked lighter, smaller and better proportioned. While not as stately as the W116, it certainly looked a fair bit sportier outside and more modern. Couple those European-market looks with some great period BBS RS wheels and the look is just about perfect; throw in the turbocharged M106 motor and you've peeked much interest. Of course, unfortunately the M106 was only pared with an automatic transmission – but then, what would happen if you swapped that for a 5-speed?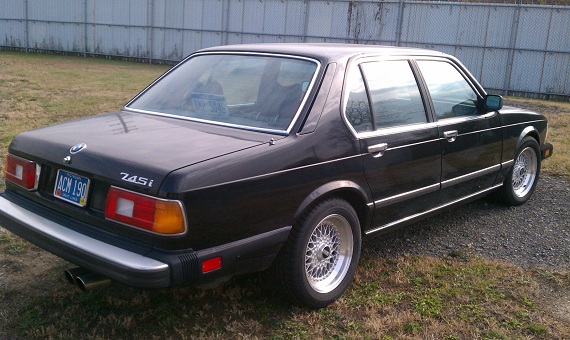 Year: 1984
Model: 745i
Engine: 3.4 liter turbocharged inline-6
Transmission: 5-speed manual
Mileage: 178,341 mi
Price: No Reserve Auction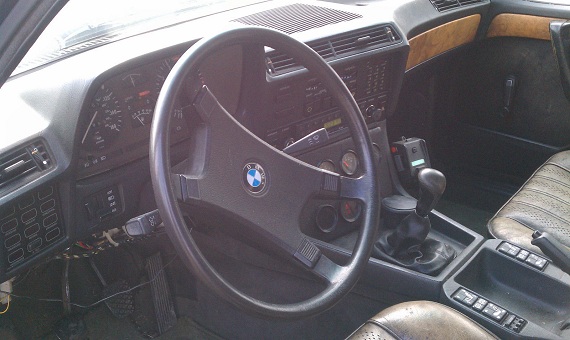 1984 BMW E23 745i Sedan M30 European Model (Grey Market) Garaged kept and stored.
The e23 745i was never sold in the US, so every one of them is a gray-market import; in this case the car was originally purchased by our father (original owner) who really wanted one and went to extreme lengths to purchase, import and federalize the car.
The 745i was also sold only with an automatic transmission; this car is converted to 5-speed. Conversions: Dinan Hop up kit which includes the following: an over sized T04 Garrett turbo charger, high performance camshaft, custom manifold and stainless steel exhaust to adapt to T04 turbo, K&N air intake & filter, K&N full kit air and fuel ratio monitors, larger fuel injectors, Electronic ignition retard, Haltech electronic fuel injection EFI-F3, Bosch 132, 5PSI fuel pump, lowered fully independent adjustable 4 wheel suspension, and BBS RS3 wheels ($3300.00) and much much more…… Odometer Mileage 287157 (Kilometer) 178431 (Miles) on the body. There's about 25,000 on the motor since rebuild.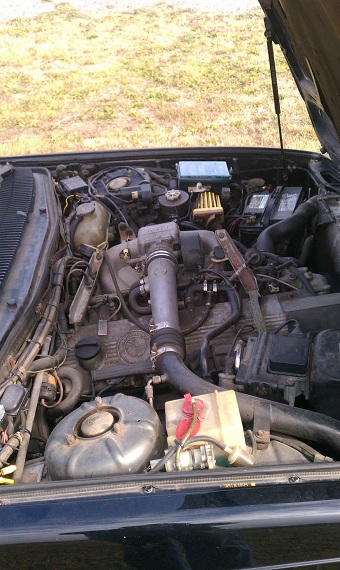 This car is quite interesting; usually interest in the E23 stems from the unusual interiors that some were fitted with, but the turbocharged motor mated to a 5-speed should really make for an entertaining drive. The previous owners have obviously been performance enthusiasts having upped the power with Dinan bits, lowered the suspension and fitted the awesome BBS wheels. Inside, there's a custom-made gauge panel displaying how imminent a turbo meltdown is and how quickly you're breaking the law; useful thing, that! This car certainly isn't for everyone, but for a 1980s BMW enthusiast who doesn't mind some modifications and what will likely be some trips to a mechanic to keep this turned up package running, it's a compelling alternative that isn't often seen compared to the M635CSi or M535i.
-Carter