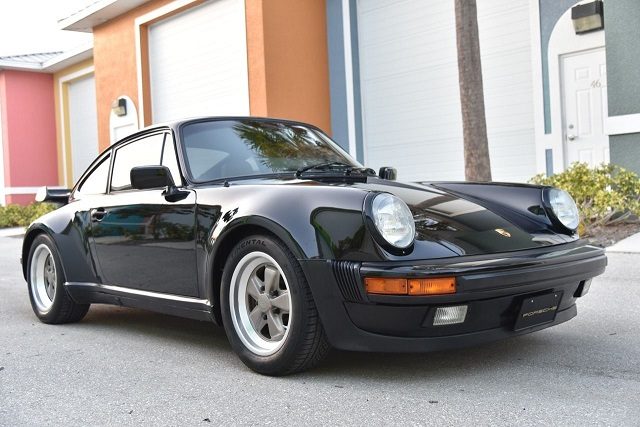 Outside of a few ultra-low-mileage examples, this 1984 Porsche 911 Carrera Coupe might be one of the better looking 3.2 Carreras I can recall coming across. I'll hedge that some by saying I don't necessarily mean the prettiest or best color, but the exterior appears in remarkably good condition. It all looks very clean, scratch, scrape, and ding free. I'm sure a good bit of detailing went into bringing about this condition, but that's okay. The paint is said to be original, though it's clear the seller is not 100% sure of that. That it's a Turbo-look certainly plays a role as the wider rear of the Turbo looks fantastic on the 3.2 Carrera; for me it improves the look to a greater degree than with other 911 models. There's also the wheels. We've seen platinum metallic Fuchs on other 911s so in itself that isn't terribly unusual, but this may be the first instance I've seen it on a black 911. The Weissach edition has platinum metallic wheels paired with its black paint and they looked great, but that was black metallic, which is lighter, and the greater contrast with the non-metallic black exterior here works even better. All together, this is a fantastic looking 911!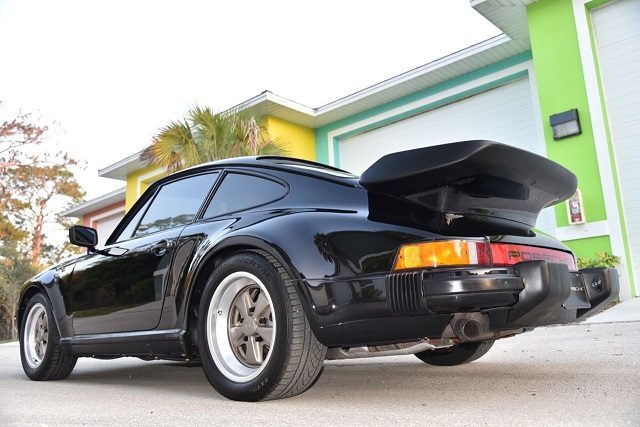 Year: 1984
Model: 911 Carrera
Engine: 3.2 liter flat-6
Transmission: 5-speed manual
Mileage: 51,000 mi
Price: $85,000 Buy It Now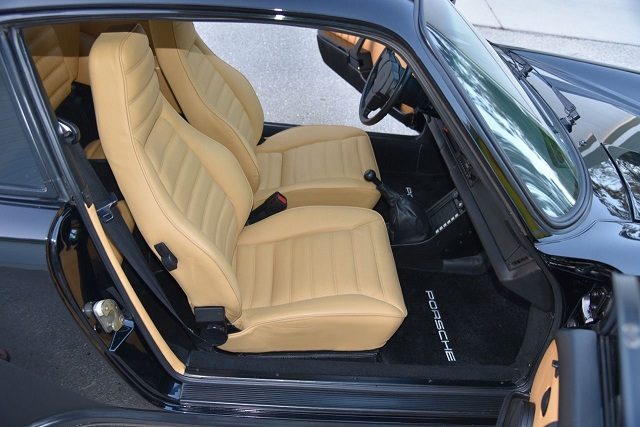 Will consider partial trade.

1984 Factory wide-body, 491, turbo-look coupe. Exceptional condition! Can send more detailed photos if needed.

Factory options:
018 Sport steering wheel with elevated hub
469 Black headliner
491 Turbo look
533 Alarm system
577 Heated and tinted front Windshield
C02 Equipped with catalytic converter
E20 Special Option Group
349 Special Leather interior
000 Wheel centers platinum metallic.

Appears to be original paint. I used digital paint meter all over vehicle.

Recent service and pre-sale inspection with leak down and compression check. $1500.00

Lots of service history.

All owners manuals including original service manual.

Original radio

Factory PORSCHE nose bra

Both keys including alarm key with the leather pouch.

Ph. 954.299.6308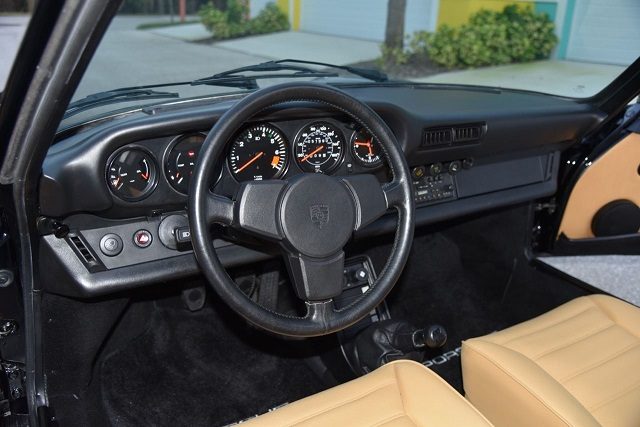 So, everything above was concerning the exterior. The interior, which definitely doesn't look bad and shows a similar level of cleanliness as the exterior, seems off somehow. The seats in particular stand out, but not the way I'd prefer. Perhaps this is down to the "Special Leather" option package. But I think they've been recovered, not to the greatest standards, and that the shade is a little off, a little too light. I could be wrong since pictures can be deceptive, but that's my sense. I think the rear seats highlight this as the seat cushions (perhaps the most likely to have been replaced in that area) look lighter than the rest of the rear leather. As problems go this doesn't seem deal breaking, though it'd certainly have to be factored into the cost.
That's pretty much my largest criticism. Given the asking price here it should be part of our consideration along with the usual statements about the availability and review of its maintenance records and history. It's a lovely 911 though that looks in great shape, the mileage is pretty low, and the M491 package makes for a pretty nice option. The Turbo look, the Turbo brakes, and the Turbo suspension make for a nice package when tied to the lower-strung naturally aspirated 3.2 flat-six of the Carrera. I don't think it'll see $85K, but I'd imagine the price should be strong and hopefully someone gets their hands on a great 911.
-Rob