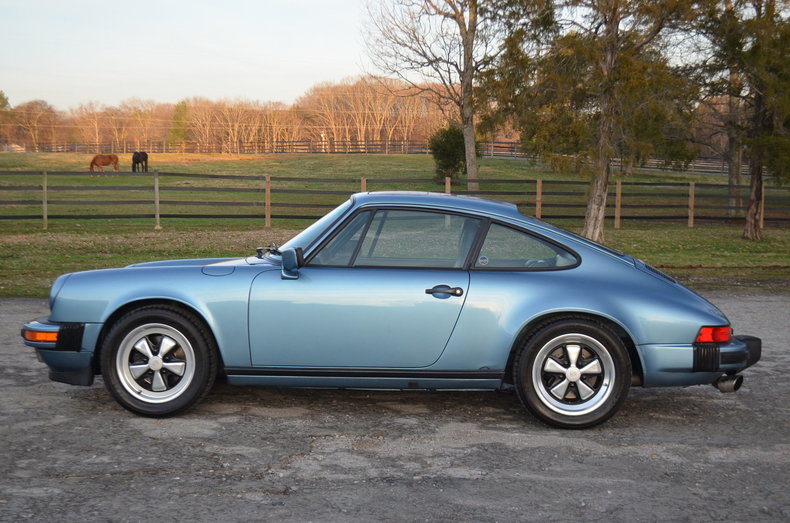 Just beautiful. I can think of no other appropriate way to describe this Iris Blue Metallic 1986 Porsche 911 Carrera Coupe. It isn't perfect, it isn't entirely original, nor is it an ultra-low-mileage garage queen. It's just beautiful.
The version of Iris Blue Porsche gave us in the '80s – note that it did change dramatically when the color came back in the '90s – is one of those shades of blue that we've seen variants of throughout the 911's history and it always captivates. It exists on the lighter side of the spectrum, which differentiates it from other great metallic blues like Gemini Blue and Minerva Blue, but it makes no sacrifices to its appearance. For those who are a fan of that lighter shade it makes for a very nice option. On a classic 911 it's a crowd pleaser.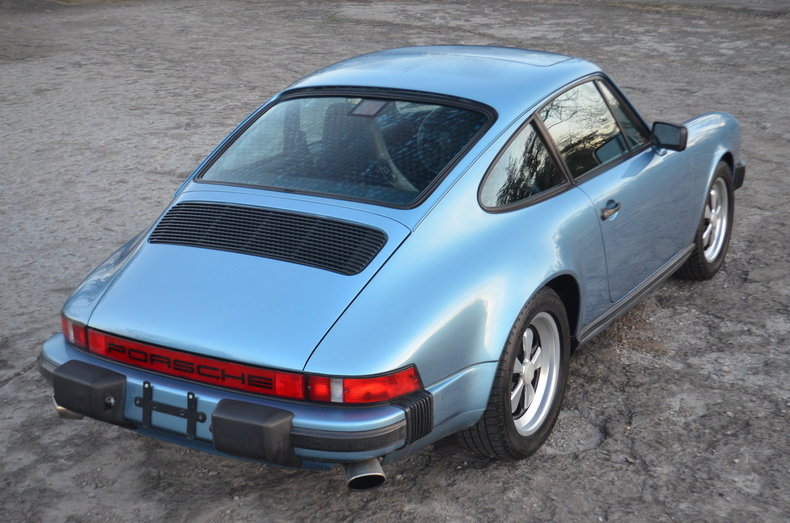 Year: 1986
Model: 911 Carrera
Engine: 3.2 liter flat-6
Transmission: 5-speed manual
Mileage: 119,000 mi
Price: Reserve Auction ($46,911 Buy It Now)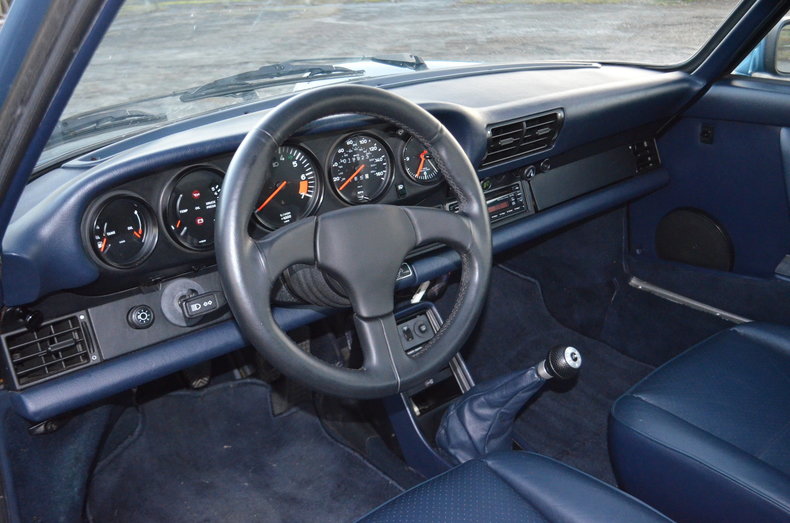 This extraordinary 3.2 coupe is as we all seek out and seldom find.This car looks, acts, drives like it is still 1986.Review the pictures posted, note the crisp, fresh looking original interior on this car, nearly flawless, Review the paint quality and straight body panels, look at the suspension stance, take a close look at the undercarriage and engine shots.Note the dry engine with fresh nuts and washers as result of a recent complete engine and transmission rebuild.This car does everything right.The car comes with original manuals,Porsche Certificate of Authenticity and service tickets.There are no fluid leaks or odd noises emanating from engine or transaxle.In 2009 there was significant work done to the car, including, but not limited to: Ball joints, front struts, rear shocks, brake rotors, wheels refinished, cv joints. Engine was shipped to Competition Engineering in California where heads were resurfaced, and a valve job done. Other work done at this time includes cylinder head studs, transmission mounts, crankcase gaskets, cylinder head gaskets, rod bearings, connecting rod bushings, piston rings, oil lines, main bearings, Mahle piston/cylinder set, etc. At the same time, the transaxle was sent to CMS for rebuild. The thrust bearings and synchro rings were all replaced, as were 1st/2nd shift sleeve, 3rd/4th shift sleeve, and 915 5th gear hub and slider. According to the previous owner, everything was in working order before the engine and transaxle work, he just wanted to start fresh. Some tasteful modifications include Porsche turbo steering wheel, as well as Fabspeed exhaust. All of this work took place in June 2009, and the car has accumulated 19,000 miles since the work was done.
This is an absolutely fabulous well preserved example.If the car interest you,contact me at 615-971-4409.The car is located in our facility 28 miles east of downtown Nashville Tn.Independent inspections as welcomed and encouraged.
This and other European Collectibles may be reviewed at JPFRAZIER.com.
There will be an additional $299 dealer doc fee assessed to final transaction amount.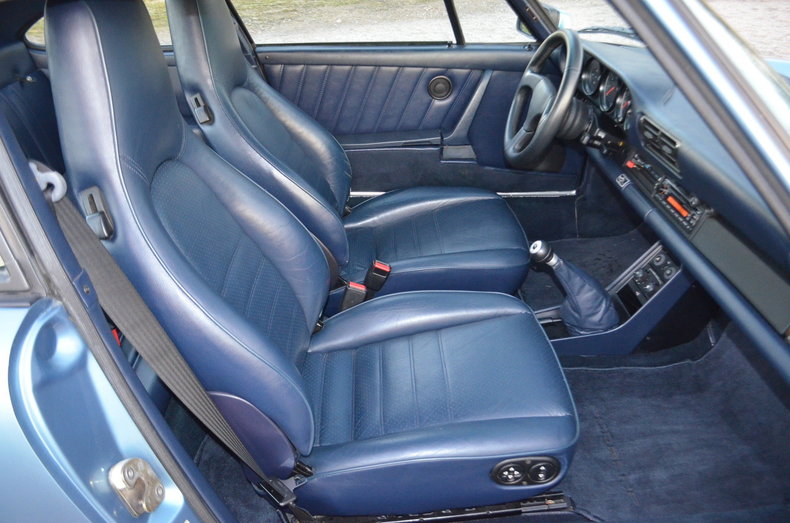 This is one of the best looking blue interiors I have seen on a 3.2 Carrera (or perhaps on any Porsche). Its blue has a brightness to it that many others simply lack. Given that it is said to be the original interior, that brightness is a testament to the care it has received during its life. As a complement to the Iris Blue exterior the combination works quite well even if it is a little monochromatic. We aren't told whether that exterior paint also is original so that will be a point to investigate. It looks in very nice shape though and like the interior its blue possesses plenty of vibrancy. There are clearly a few aspects to this Carrera that are non-original with the dual exhaust likely being the most problematic for any owner who might desire to revert this 911 to original form.
My biggest question concerns the odometer. The first digit doesn't appear to be working. While the seller has stated the mileage as 119,000 the odometer itself shows 19,923. I would want to have verification that the problem only lies with that first digit failing to roll over and that the mileage is indeed accurate at (presumably) 119,923. No one is purchasing this 911 thinking they are getting a low mileage concours car, but still it's nice to know the mileage is what it is stated to be. And, of course, it's always nice to know what works and what doesn't.
Potential mileage issues aside, this is a fine looking Carrera that presents well and I'm sure will turn plenty of heads at any Porsche gathering. Bidding sits currently at $38,100, which isn't too far off of the BIN price. Given that we're still quite early in the auction I would guess there is a good chance this auction does not make it to completion. So if this one checks all the right boxes for you, then you may need to act quickly.
-Rob