Warning!
This post is in our archives. Links in this post may have been updated to point to similar cars available to bid on eBay.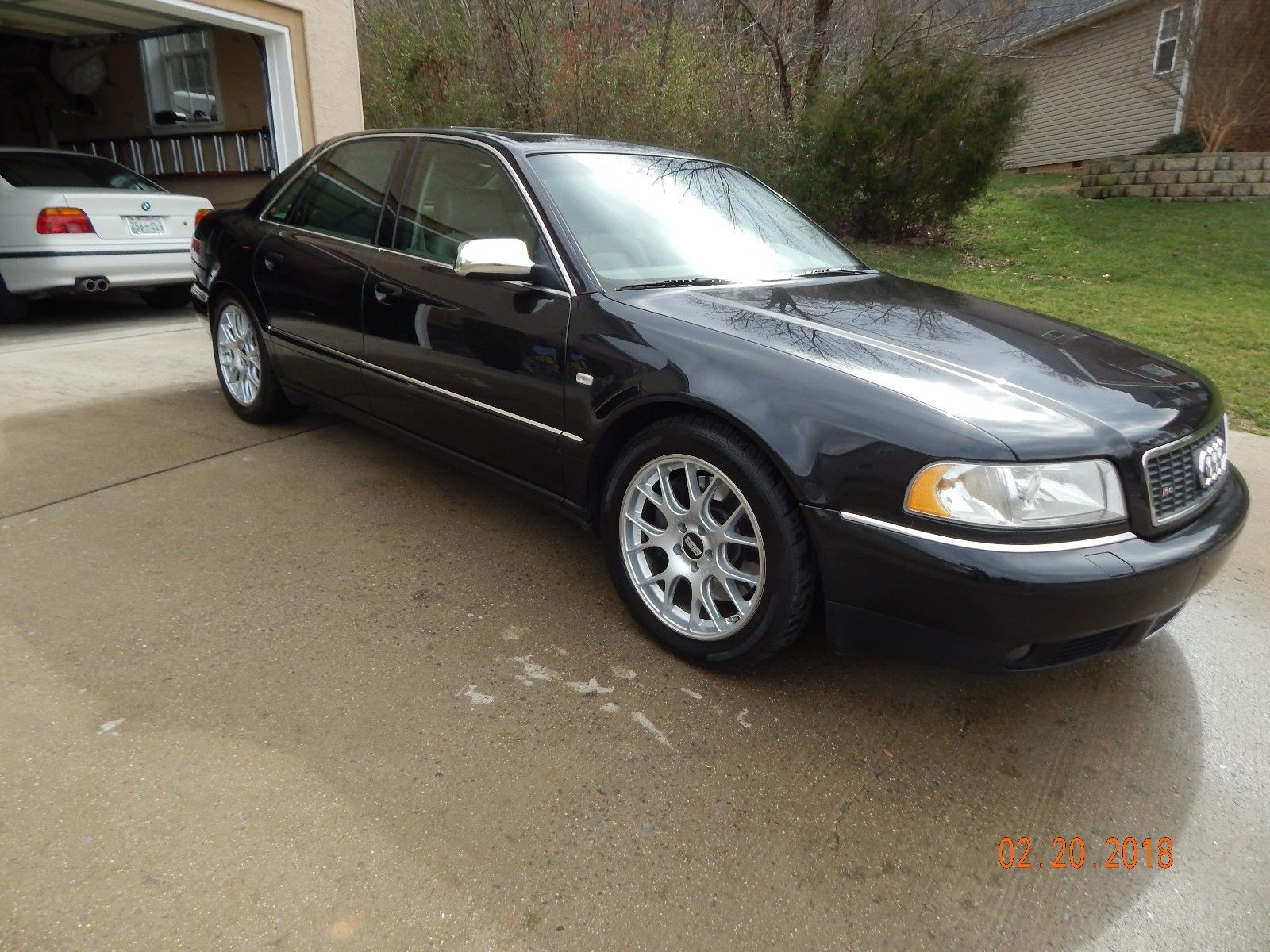 Only a week ago, I looked at a great example of an Audi S8. Granted, it was not perfect; but, the maintenance and ownership ticked the right boxes for proper consideration. Still, the unique Cashmere Pearl paint coupled with the Ecru interior weren't most people's favorite, nor were the C6 Speedline wheels the best match for the design. Does the cost of ownership mean you have to accept a good maintenance history at the expense of the color you want? Not necessarily, as witnessed by this Brilliant Black 2001: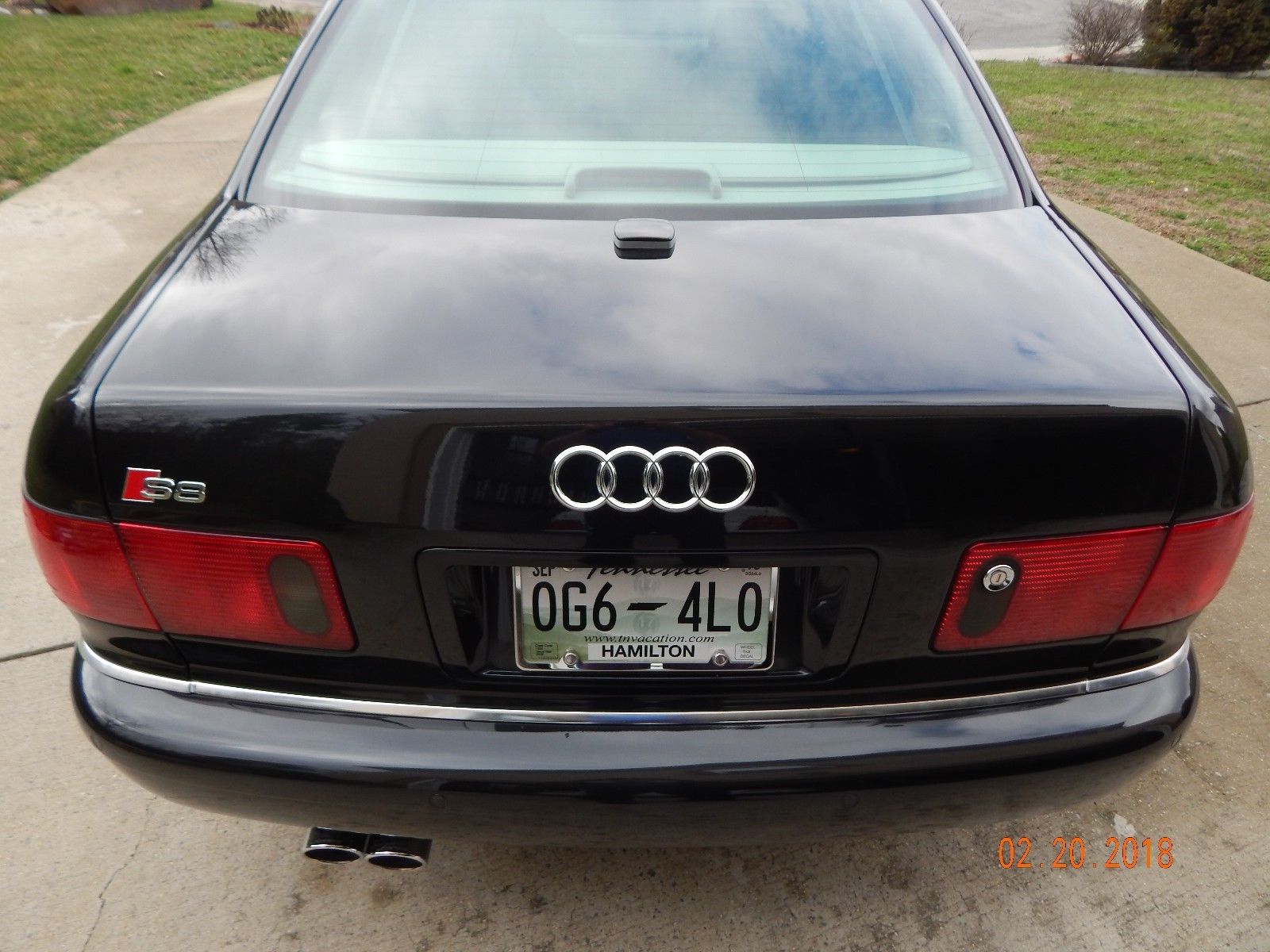 Year: 2001
Model: S8
Engine: 4.2 liter V8
Transmission: 5-speed automatic
Mileage: 138,900 mi
Price: $10,500 Buy It Now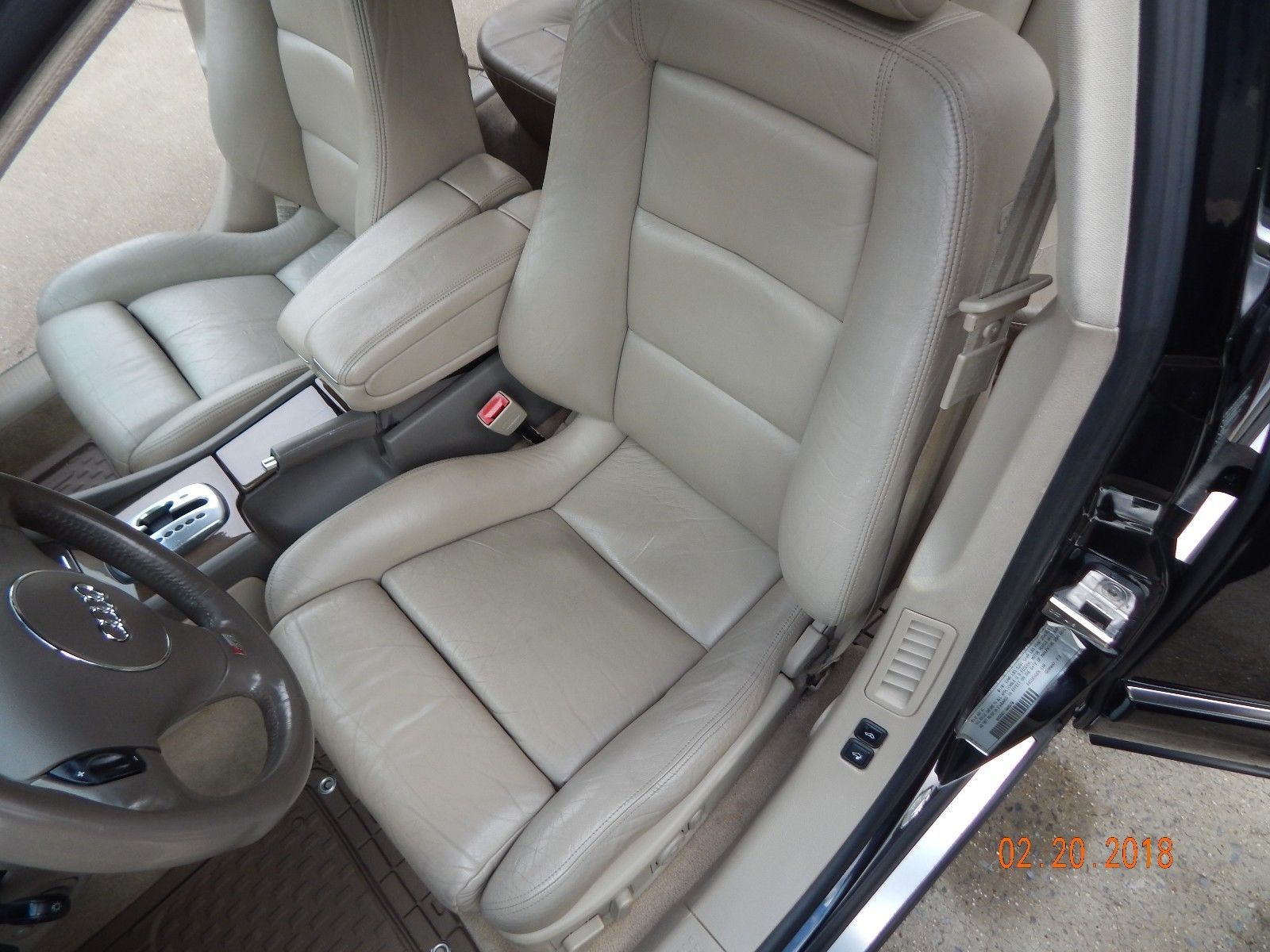 Rare Audi S8 D2, southern car, 2 previous owners former Audi CPO, all records from Audi plus my upgrades, repairs and maintenance add up to 50+ pages folder. Paint is in extremely good condition with very few dings. Interior is in excellent condition as well. I went over this car in last few months and spent $6500+ in parts: Brand new BBS CH-R wheels with new UHP tires, Supersprint exhaust. Complete front and rear suspension (Bilstein / Lemforder / OEM) and timing belt kit (WP, thermostat, seals) not installed yet. Upgraded broken intake arms with Gruven aluminum ones, air filter, cabin air filters, ignition switch, front torque support, tranny output shaft seal, valve covers, spark plugs, proper A/C charge (no sealant used and no leaks), trunk lid buffers, Weather Tech rubber mats and trunk mat, OEM front window regulator, return PS hose, redid seals around blower motor…Dealer: Timing belt, fuel pump + filter, blower motor, oil cooler seal, front brakes, battery, headliner and more.
2-20-18 update:
Just washed and cleaned the car and took some pictures. I didn't bathe car in gallon of Armor All like dealers like to do to hide things but just simple untouched pictures in order to show actual condition of the car. I can take close up picture of any area if requested.

For sale is my 2001 Audi S8 Quattro with 360 HP engine. For those not familiar with it, it's a very rare Audi flagship model with supposedly only about 1500 imported to US from 2001-2003.

Most of these were usually sold in northern part of US since Quattro system is superior in snow and bad weather. Unfortunately, that means majority of them today on the road are not in greatest shape considering they were exposed to a lot of brine and salt. Even though body is all aluminum " Audi Space Frame", paint and undercarriage still suffer the effects.

My car is rare southern car with 2 previous owners and former Audi CPO. It was exclusively serviced at 2 Audi dealers and I have all of those records totaling in over $15,000. These records contain number of big jobs performed including timing belt, oil cooler pipe seal, recent OEM battery, recent front brakes, complete blower motor assembly, complete OEM headliner and sun visors (big $$$), recent alignment, both outer CV joint boots, both outer tie rods, fuel pump + filter and much more..

I've invested a lot of time, effort and money and I believe it to be the best example out there for sale at the moment, considering the price and condition. I'd really prefer for potential buyer to inspect the car in person as this is not one of those cars that looks good on pictures and reality is totally different.

Between me going over mechanical aspects and doing thorough interior cleaning and my friend who spent all day buffing the exterior (he is simply the best paint detalier I know and trust), this car is wonderful example of very nice S8 D2. Also, it's been garaged most of its life and it shows. The only true blemish is rebuilt title which I explained in detail at the end of ad.

Also, I do believe in saying" You're buying owner as much as the car" and I'm type of serious DIY with lift, tools and adequate knowledge to perform everything listed there. While there are certainly better mechanics than me, I did all of this with intention to keep it and I took my time vs typical shop who'll somewhat rush the job to maximize the profit.

But, after all my search and truly enjoying the car, my heart belongs to E39 and if S8 sells I'll use the funds to look for decent E39 M5. Sadly, to find M5 in this condition is going twice as much of money or more. Just as M5 is going for double the blue book value , I'll also ignore the questions with blue book value. Not to seem rude, but there are cars which you simply don't go by the book and this is one of them IMO.

During my 5 month ownership I've spent $6500 + on parts only (most items have been done in last 4 months / 1.5k miles while wheels and tires have less than 1k miles on them):

The first 3 items (wheels, tires and exhaust) were over $3500 but I always believed that great looking quality wheels and great looking and sounding exhaust really make a statement with any car. I'd say it's hard to argue against BBS and Supersprint as a choice. I'm aware I have to take the loss and I'm taking one with this price but I also won't give this car away either.

Anybody who thinks asking price is high, there is always $3500 S8 special with 15+ winters under its belt, 3-4 owners, number of issues and with number of empty generic phrases with no documentations to back it up.

So anyway, back to the list of things I've done:

Installed 4 brand new 18 x 8.5″ BBS CHR 146 wheels which are direct fit while stronger and lighter than OEM wheels. They also have built in Stainless Steel rim protector ring.
Installed 4 brand new 255/45/18 General G-MAX AS-05 Ultra High Performance All Season Tires in 500AA threadwear and A Temperature rating.
Installed brand new Supersprint exhaust which looks much better than tiny OEM exhaust tips, has superior build quality and has very deep and rich sound.
Replaced common broken plastic intake flap arms with upgraded aluminum Gruven units.
Replaced front torque support with OEM part.
Installed new Hengst air filter.
Installed 2 new Mann cabin air filters.
Purchased universal Weathertech front and rear mats rubber mats as well as trunk mat and modified them for OEM look.
Recharged A/C (no selant used and no leaks afterward).
Installed new OEM ignition switch.
Replaced seals around blower motor housing.
Replaced starting relay with genuine Audi unit.
Replaced transmission output shaft seal with ZF part.
Performed oil change and filter with Liqui Moly 5W-40 synthetic oil and Hengst oil filter.
Performed transmission flush with Liqui Moly Top Tec 1200 ( ZF approved) and replaced filter with ZF Filtran.
Replaced return power steering hose and flushed with correct Febi Bilstein mineral oil.
Replaced valve cover gaskets.
Installed new NGK BKR6EQUP spark plugs.
Replaced all 4 trunk rubber buffers with new OEM ones.

I have $2200 in uninstalled parts included as I purchased them with intention to keep the car and in worry that parts might become NLA:
Complete front and rear suspension (Bilstein / Lemforder / OEM) and timing belt kit #2 to be replaced due to age, not miles (WP, thermostat, seals etc).

I'm probably forgetting few more items but I have 50+ pages folder available for viewing containing all receipts in chronological order from previous owners and me.
Paint is excellent condition with no clear coat peeling and very few noticeable dings. The front bumper has 4 small nicks that are hard to see until close up. The hood has some scratches and moderate sandblasting in front but it's only visible from close and it's moderate considering the miles and age. If this was northern car it'd probably much more noticeable.
Interior is excellent condition as well and leather was treated with German Sonax conditioner. Driver seat has very minimum wear on bolster. Passenger seat has small cracks in the middle of the seat which was caused by heat pad issues (repaired by dealer long ago)
Mechanically, it's in near 100% condition with 2 minor leaks on both front CV joints seals (have parts ready, waiting to do front suspension in order not to repeat necessary labor).
The handling and braking are amazing with no noises, shimmies etc…
No engine noise during cold start and it pulls really strong from any rpms.
Transmission shifts smooth with no issues.
Front window operation had developed some noise and I have $200 OEM window regulator assembly which I'll probably install in next few days.

As far as rebuilt title, report speaks for itself: Major Title issue, minor accident?
I've talk extensively with PO who is older gentleman with plenty of means and he clearly got taken by insurance company. The car was hit in the left rear quarter and was driven from the scene by him. He claims that damage was very minor and both Carfax which I have and Auto Report on ebay show minor to moderate damage and then he gets informed it's total damage due to expensive aluminum bodywork repair.
Anyway, additional proof that damage was minor was the fact he kept the car, fixed it at certified aluminum body repair facility and drove it 6 more years with no issues. Unfortunately, he couldn't find paperwork from the body shop since it was number of years passed. I inspected it carefully before purchase and I couldn't find any issues as well. Paint match is simply perfect, no frame damage, it aligns well (have 2 alignments on records) etc…

Whatever the real story is, I encourage PPI or any type of body inspection as I have nothing to hide.

Also, car comes with working remotes, leather owners manual with $78,000 MSRP window sticker, OEM carpet mats, front licence plate holder, Bentley repair manual on CD, Covercraft sun shade, 5 Liters of unopened OEM purple coolant and 3 Liters of unopened Liqui Moly synthetic 75W-90 GLL4 gear oil.
I have current TN title in my name and car has passed emissions with ease.
Current mileage will only slightly go up as I drive car at least once a week in order to keep everything working as it should.
Please fell free to ask any questions.
Thank you.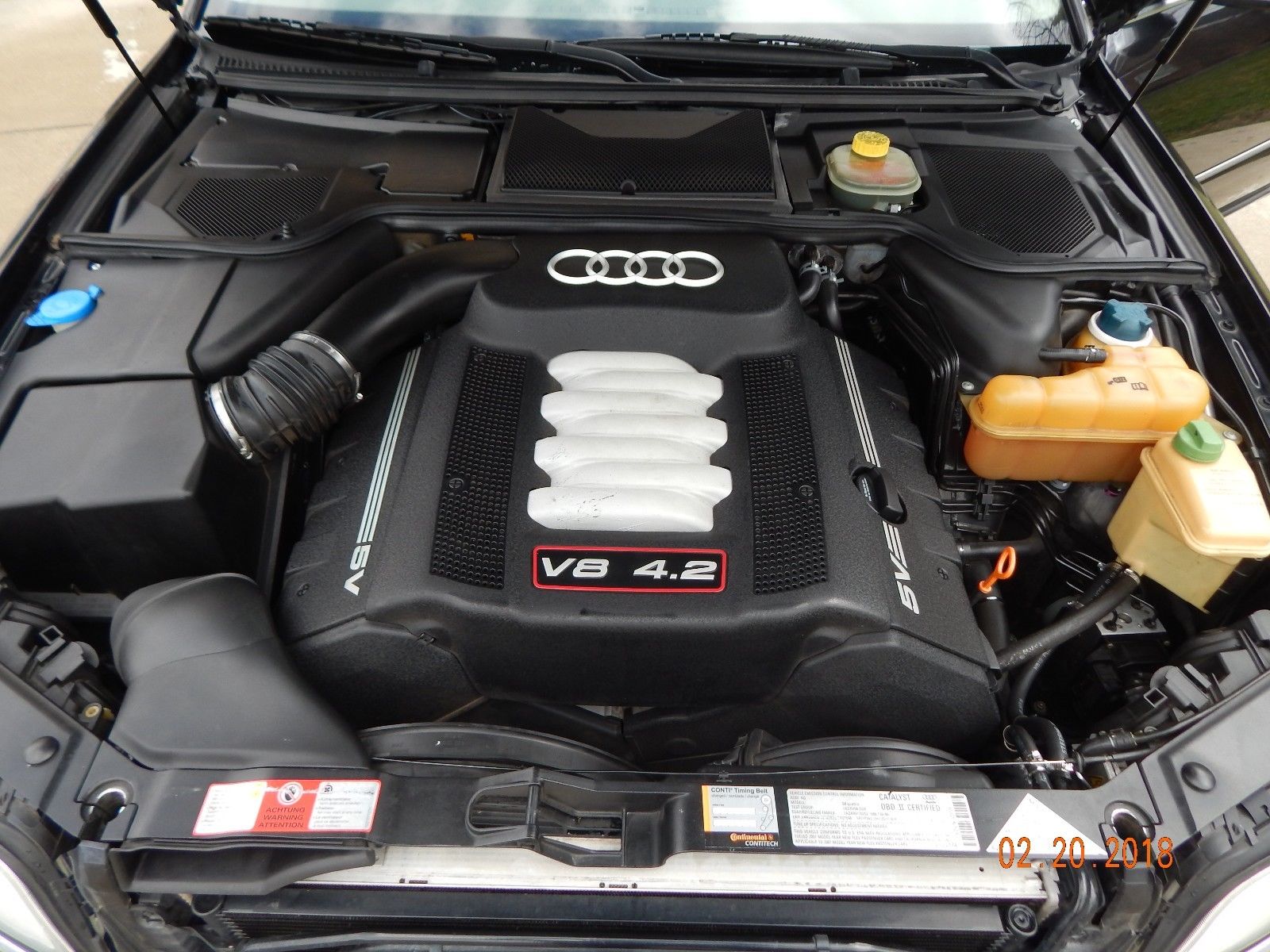 It's always easy to spot an enthusiast through and through, and this seller goes to great lengths to describe the condition of the car and depict it with the photo gallery. It underscores again how proper ownership of these cars is paramount when looking at paying a premium. You could, again, pay half the asking price here for a car full of unknowns – or, you can open up the thick maintenance binder which dates from the first service for this car and know what its life has been like. Impressive? Without a doubt. I happily paid asking price for my Passat which had every single receipt from day one as well. The piece of mind that goes along with enthusiast ownership outweighs the monetary premium to me. Brilliant Black will instantly be a much more popular color than the Cashmere, and though they share the Ecru interior it looks more at home here. More at home look the wheels as well, which manage to make the S8 look more purposeful without looking out of place. And boy, are they pricey – the best part of half the asking price was just eaten up with the purchase and mounting of these wheels alone. Top that with maintenance updates and this one looks great.
The last example sold for asking price; not much of a surprise, given the extensive maintenance disclosed. This one is priced a few thousand dollars lower; it has higher mileage, but it's the ding on the title history that will ultimately keep value down. However, this car appears well documented and cared for, and the underbody shots are especially impressive and unusual to see. A PPI should confirm everything that the seller has disclosed. That makes this a perfect driver candidate to enjoy one of the better dynamic packages Audi produced with the fear of an immediate implosion.
-Carter