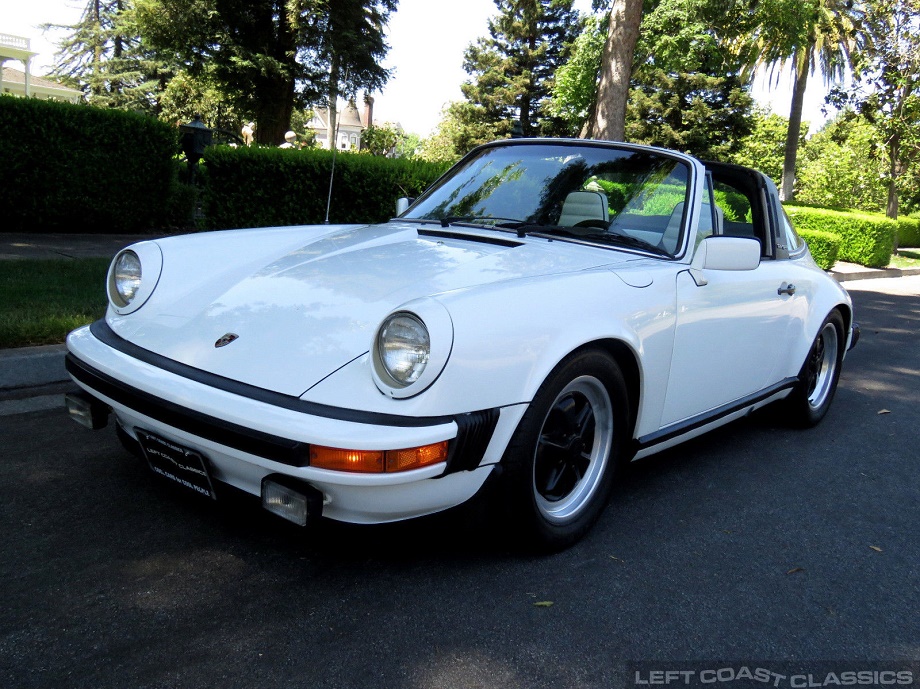 Have you ever been looking over a car and thought, "This looks surprisingly good!" and then gotten to the interior pictures and suddenly, "Whoa"? So that's pretty much what happened to me with this Grand Prix White 1978 Porsche 911SC Targa. There's certainly nothing very flashy about it; it's a white 911SC, but it does look good. That white paint shows good pop for the color and given its age it looks in pretty good condition. This is a driver-quality SC, there's no doubt there, but that's not really a fault. It's a good car that's probably brought its current owner – said to have owned it since 1980 – a good deal of driving pleasure.
The interior does bring with it a little flash. It's a special order white and black combination and it really wasn't what I was expecting. From the exterior pictures I could tell the interior was a lighter shade, but the black/white combination wasn't apparent. It isn't flashy in the way a Can-can Red interior would have been on a white 911SC, but it does bring with it a particular character that is quite unique. But does it work?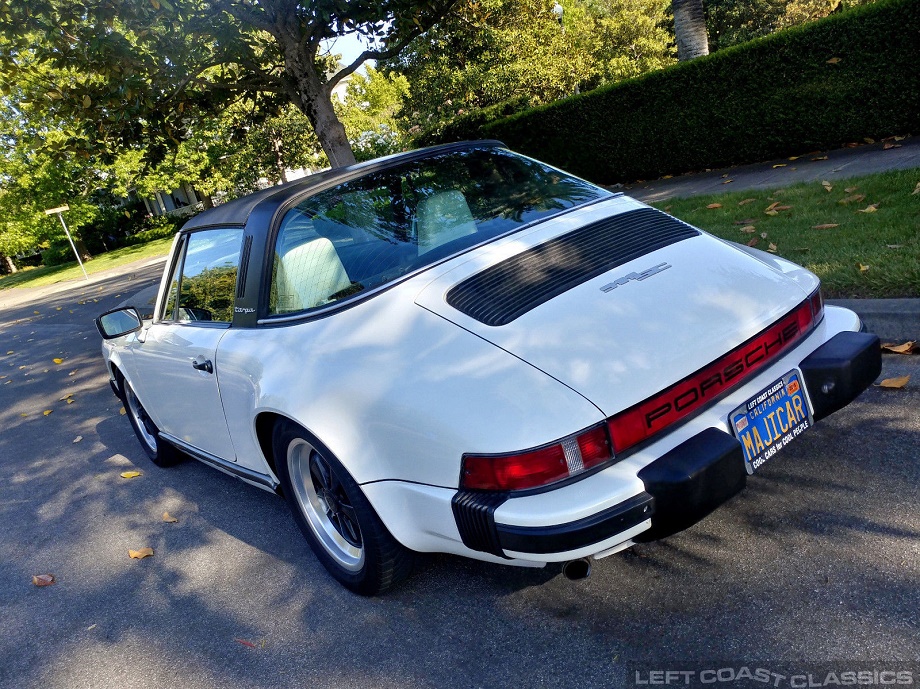 Year: 1978
Model: 911SC Targa
Engine: 3.0 liter flat-6
Transmission: 5-speed manual
Mileage: 144,632 mi
Price: Reserve Auction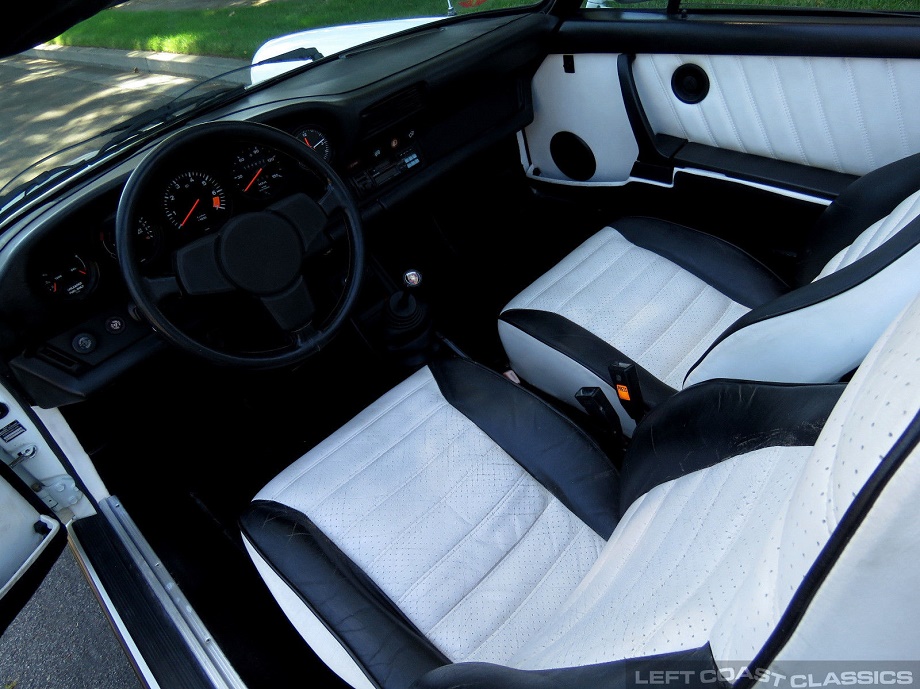 Very nice 1978 Porsche 911 SC Targa for sale. Purchased new May 17, 1978, at Max Dial Porsche in Los Angeles, California. Most current, second owner purchased from the first owner in 1980 and has loved and cared for this special California car since. Rare factory ordered two-toned black and white interior, Fuchs wheels and in all around very good condition, especially after forty years and 144k+ miles.

Nice, straight body with no rust ever. Beautiful, well-preserved undercarriage including straight floors. Paint has a nice shine to it and it's original trim and glass still look nice. Touched up over the years as needed so it continues to present well.

The car starts; runs and drives beautifully burns clean and has plenty of oil pressure. Shifting, brakes, and suspension feel nice and tight. The engine compartment is clean and new deck shocks have been installed.

Interior is all original. The unusual, black & white interior was custom ordered according to the original owner. The leather has held up well though there is wear on the driver's seat surfaces. The rugs, dash and console all present well. The rear shelf leather has had some typical shrinkage. The Targa top was refurbished a few years ago, seals up nicely and looks great. The A/C blows cool. It is very comfortable and nice to ride in. The trunk area as shown is complete and the pan is straight. New hood shocks just installed.

This is a wonderful vintage Porsche, a California car with its second owner now for 38 out of its 40 years. Books included. Call Donn Dabney at 844-533-8262 for additional information or to make an offer.

This listing will end the moment a reasonable offer is made. Available only at Left Coast Classics!

Click here if you need assistance importing and shipping this car to Netherlands, Germany, France
or anywhere in Europe (opens in new window)

Thank you for visiting!
VIN# 9118210849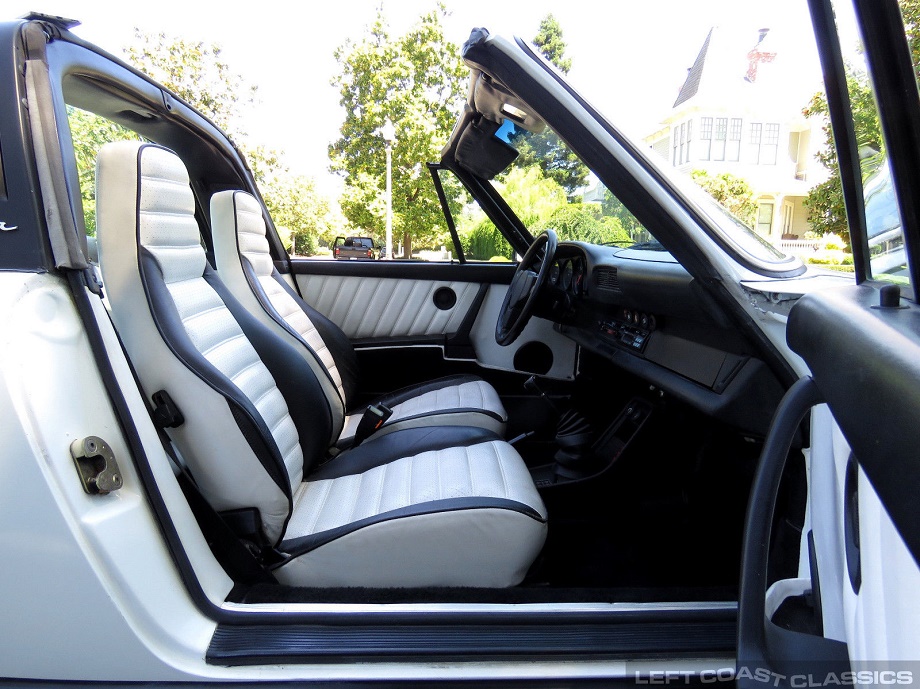 I will be quite blunt and state that this is not the interior for me. I don't mind interesting interiors by any means, but white and black simply aren't an interior combination I prefer. That's fine though, it's not the car for me, but I'm sure there are those out there that would find it desirable. I will say that it's a good choice for a Targa. Meaning: if you want to go this route with the interior I do think it works much better on the Targa, where some of the interior color is visible even from outside, than it would work on a Coupe.
The seller states that the interior is entirely original and was special ordered in this combination. We aren't provided any documentation to attest to it as a factory option and the way I read the ad it sounds like we're relying a little bit on the word of the original owner. My first thought was that someone had recovered the seats with these white and black seat covers and they weren't original. Perhaps I'm wrong on that, but I would want some verification beyond an owner saying it's so. Assuming they are factory, it is nice to see that they are still the originals. The seats do show some wear and a closer look should tell us just how much wear there is, but there don't appear to be any tears or serious scuffs on them. This is just the typical wear of a well used set of seats on a 40-year-old car.
But really the color combination is my only quibble. Generally speaking this is a nice looking 911SC, it's been under long-term ownership, the mileage is higher but everything is said to function properly and looks well cared for, and it does have an interesting interior. I wouldn't expect bidding to get out of hand here so if you are looking for an early 911SC with a little flare it might make for a very nice option and a reasonable price.
-Rob