Warning!
This post is in our archives. Links in this post may have been updated to point to similar cars available to bid on eBay.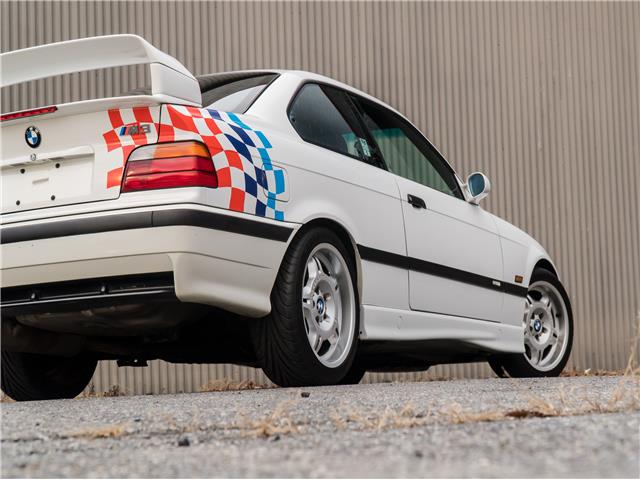 I'm going to continue on the M3 theme, and again we're looking at a '95. Just the other day, I pointed out how the E36 M3 – even in 'diluted' USA form – was a great value for a driver-oriented enthusiast compared to the E30 M3. But that's not true of all E36s. There's the Canadian M3 – essentially, a Euro import with all the verboten goodies we didn't get here, one of which we saw sell last year for $65,000. There the M3 GT, which also upped the 'special' quotient quite a bit on the mass-produced M, and also will cost you a pretty penny. But for U.S. specification collectors, there's really only one option in the E36 catalog: the Lightweight.
Over the past few years I've written up several of these cars as speculation has continued to grow that this will be the next logical step in market capital following the E30. Asking prices have been, at times, what most would consider outrageous for the E36. But never quite this outrageous. I hope you're sitting down, swallow and move the drink away from your computer. Consider yourself warned.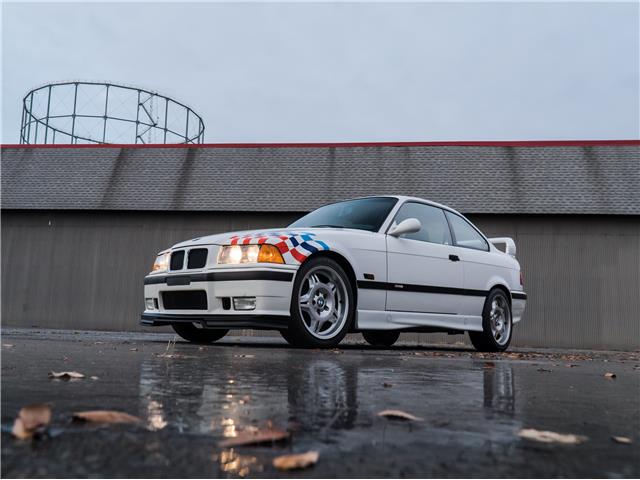 Year: 1995
Model: M3 Lightweight
Engine: 3.0 liter inline-6
Transmission: 5-speed manual
Mileage: 53,338 mi
Price: $110,000 Buy It Now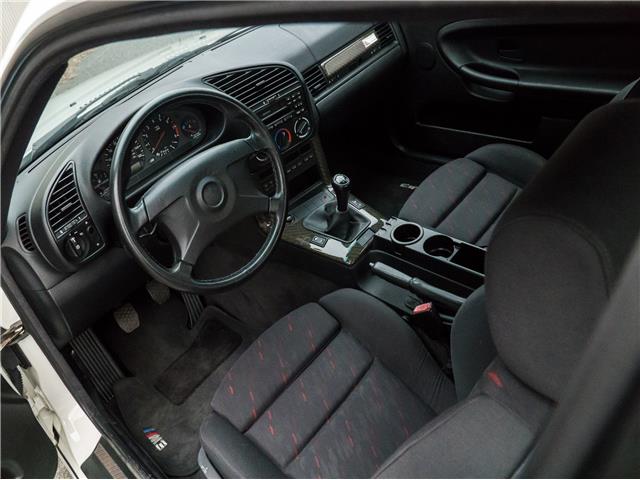 **Please contact us for a link to our complete photo set and all included documentation. **

The E36 M3 was introduced in 1992 at the Paris Motor Show to a crowd of eager M enthusiasts. Though BMW had no intentions of releasing a US version of the new M3 after meager sales of the previous E30 M3, it ultimately did unveil a US spec variant in 1994 during the Los Angeles Motor Show after a letter-writing campaign through the BMW Car Club of America sparked production. An overwhelming amount of letters poured in as fans, avid enthusiasts, and loyal customers plead their case as to why the US should get an M3 variant of their own. In typical BMW fashion, the M division answered by producing the US Spec E36 M3 which had slight variations to the original Euro Spec cars. BMW wanted to keep MSRP around the $35,000 mark so instead of manufacturing the costly Euro Spec S50 engine with individual throttle bodies and other upgrades, they instead omitted these items to create the US Spec 3.0-Liter S50 engines which still developed 240hp. In total, over 8,500 US Spec M3's were produced through 1995.

In another display of BMW's dedication to fulfilling the demands of diehard M fanatics, BMW produced the E36 M3 Lightweight for both track and road use. Approximately, 125 were produced in 1995 and all were finished in Alpine White III (0300) over Black Hurricane Cloth (0638). Staying true to its name, the lightweight eliminated comfort items in an effort to reduce weight. These weight saving items included, aluminum doors, manual cloth sport seats, magnesium alloy wheels from the M3 GT, no radio, no air-conditioning, reduced sound insulation, no sunroof, carbon fiber interior trim, and no tool kit. Total weight savings compared to the normal M3 was 225 lbs. Other performance and cosmetic features that were unique to the Lightweights were, a shortened final drive of 3.23:1, stiffer shocks and springs, BMW Motorsport chequered flag decals on the front and rear of car, Motorsport International emblems on both sides of the car, and the M3 GT front spoiler lip extension. All M3 Lightweights were delivered to BMW racing team, Prototype Technology Group (PTG) who prepped them for sale and provided each car with the optional GT Parts kit. The trunk kit consisted of track-centric, GT goodies including a lower chassis X-brace, strut tower bar, oil pan with dual pick up oil pump, adjustable suspension, M3 GT style adjustable spoiler, cross drilled brake rotors, and camber plates. It is also rumored that BMW only picked the S50 engines that achieved the highest of compliance ratings.

The Lightweight on offer here, chassis number WBSBF9321SEH07179 was sold new out of Otto's BMW in West Chester, PA on March 9th 1996 to a Mr. Bonanni of Fort Washington, Pennsylvania. Per the original sales agreement on file, we know that Mr. Bonanni traded in his 1989 Porsche 944 Turbo as partial payment for his new M3. The total Manufacturer's Suggested Retail Price as indicated on the original window sticker was $48,470.00. All of the original supplemental sales documents from BMW and PTG are present including a letter from BMW stating that each customer can order optional track-only "GT Parts" for the cost of $1,000. Ironically enough, the letter also states that if the parts are installed, this voids the factory warranty! Mr. Bonanni, owned, serviced, and enjoyed the car from new until 2006 when it went to its second owner with 51,524 miles who was a dealer which owned it via his dealer name and never registered the car in his personal name until 2010 as indicated by the clean CARFAX. The second owner put a mere 1,800 miles in his 12 years of ownership.

Cosmetically, this lightweight is in excellent condition per the miles and is clearly a well taken care of example that was never tracked. The paint quality is consistent and has a deep finish. All of the panels are straight with no dings to be noted or major scratched besides a one inch scratch on the left side of the front bumper, some minor peppering on the front nose, and a few small scratches on the center of the rear bumper, all of which are enclosed in the photos. The rear GT wing is crack free, all of the glass is clean and both front and rear lights are free of any cracks or fading. There are some minor blemishes on the wheels but no serious curbing but there are some scratches on the bottom of the front spoiler. The rubber exterior trim is supple and consistent. All of the factory VIN stickers are in-place and there is no evidence of any bolts being turned on any of the body panels. Even the factory original 3M clear bra protective film is still present on the tops of both quarter panels where the wing sits. The interior also presents extremely well per the miles with no stains or rips or excessive wear. There is a small amount of wear on the bottom of the driver's side seat bolster though it nothing serious. The headliner has a tight, firm fit, as do the seats and door panels. The interior carbon fiber trim notoriously known for shrinking, fading and cracking is free from all of these blemish besides a small amount of shrinking on the ash tray trim. The car currently has an OEM set of rear wheels installed on the front as the original owner preferred the driving characteristics of the wider wheels up front. The two original front wheels come with the car and are in excellent condition. Overall, the exterior and interior quality is that of a car with half the miles and has clearly been exceptionally well taken care by each of its two owners.

Mechanically, the car feels virtually brand new. The suspension is stiff and handle is sharp, responsive, and road gripping. There is no shimmying or pulling upon braking and shifts are extremely smooth. This example was always taken to either the dealer for service or BMW specialty shops with a consistent record of service from both owners. One significant receipt is that of a full rebuild of the original transmission done in 2010 at 52,923 at BMW of the Mainline. Once the second owner noticed a very slight grind going from 3rd to 4th gear, he commissioned the dealer to perform the rebuild and made sure they noted on the repair order that the transmission was rebuilt, not replaced. Past this, the car has only needed basic servicing and minor odds and ends throughout the years- the benefit of a car that has actually been driven. Cosmetically speaking, the engine bay, underside and trunk are all tidy, clean, original and still exhibit factory markings, stickers, and cosmoline. Each of these aspects again present as a car with half of the miles.

What attributes make a car collectible? Limited production, generational desirability, pedigree, visual attractiveness, and unique driving characteristics. The BMW M3 Lightweight has all of these special attributes which has solidified its place in the upper echelon of next generation collector cars. Included in the sale are the manuals, original purchase documents, service documents, clean carfax, and two original front wheels.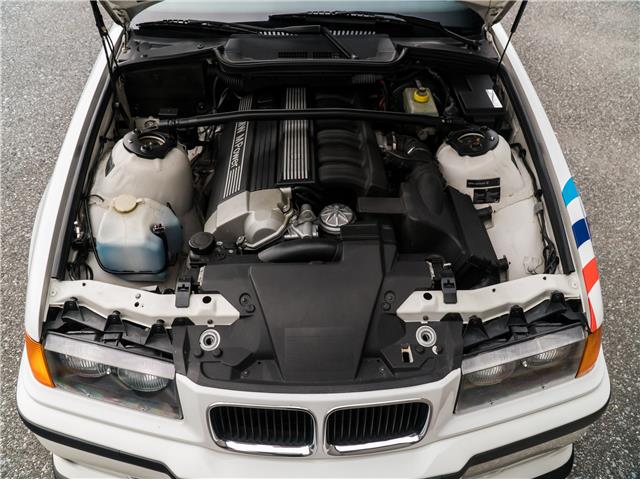 An impressive write up, for sure, and unusually one which both includes useful and relevant details about the model AND discloses history of this particular example. Kudos there, seller. One thing that really stands out to me is the repair claim on the car. If the transmission was done at just shy of 53,000 miles in 2010, and it now has 53,338 miles, it doesn't take a MIT-level grad to figure out it's basically been un-driven over the past 8 years. ~380 miles is just north of one tank of gas. Not only that, but the owner prior was a dealer and didn't drive it much in the four years before the repair. That's the antithesis of the point of this car; to talk about how it's track focused and then never let it turn a wheel seems disingenuous.
Of course, the flip side is that it leaves potential buyers with a fairly pristine M3 Lightweight. But you'll have to pay, and this one's price is set far in excess of any I've seen to this point. The arguably more neat M3 GT hit the market at "only" $65,000 last Summer, and the last comparable Lightweight I looked at was already priced towards the top of the market for $75,000. This example even makes Enthusiast Auto Group's pricing seem like a bargain. Has the market moved ahead 50 – 100% since May 2017? That seems as exceedingly unlikely as the prospect of this car adding more miles to its odometer in the near future.
-Carter