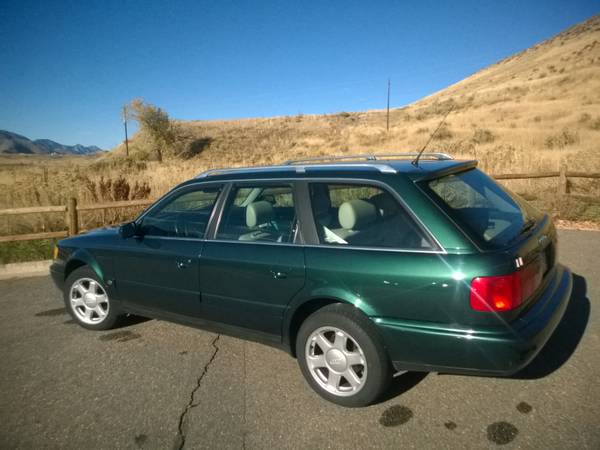 The C4 Audi S6 Avant is certainly one of the best packages Audi has ever produced as an all-around car; legendary reliability, tuning potential, all-wheel drive, go anywhere ability coupled with good classic looks in a versatile 5-door configuration. While I'd argue we didn't get the best of the bunch with the S6+ Avant, most fans of the C4 love the AAN turbocharged inline-5 for its Group B soundtrack and grunt. Today, thanks to contributions from our readers Daniel and John, I've got a lineup of 5 different colored Avants; ranging not only the spectrum of color but also price. Which is the winner? Let's start with the Emerald Green Mica example: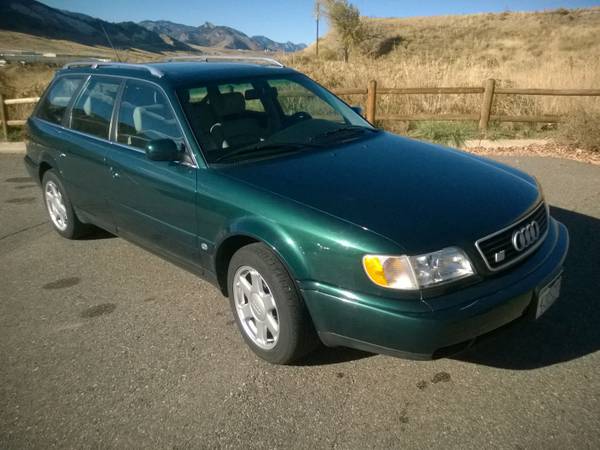 Year: 1995
Model: S6 Avant
Engine: 2.2 liter turbocharged inline-5
Transmission: 5-speed manual
Mileage: 161,000 mi
Price: $8,000 Buy It Now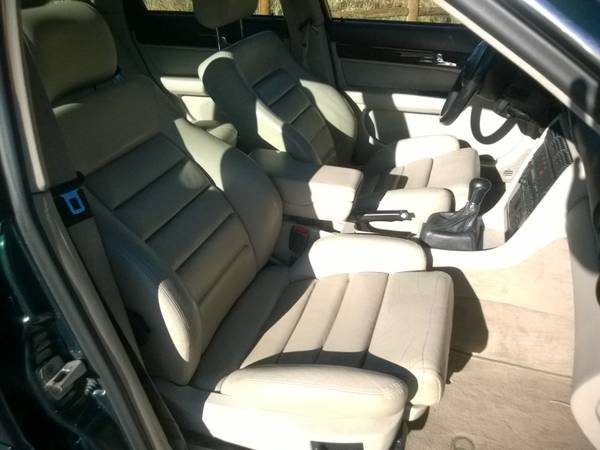 I am parting with a rare URS6 Wagon in the not so rare color combo of Emerald with Ecru interior. I am the second owner and purchased it last fall as a ski car. It is very stock with only reliability upgrades done (silicone boost hoses, A6 Brake Booster, Redline Power Steering Fluid). This is the 1995.5 model that includes the 3rd row seating, solid headrests and no lockable rear diff. Overall the exterior is an 8/10 with very minor blemishes from gravel used in the Colorado winters, no rust and is a joy to work on. The interior is an 8/10 with the typical ecru wear, the drivers bolsters show the most wear but are very presentable. Mechanically it is 9/10 with the only need being the center driveshaft support bearing, it wobbles at exactly 17 mph when cold.

The reason I am selling? A car this big doesn't fit in my life.

Needs
– Center Driveshaft Support Bearing, no noise, just a light cold wobble
– Windshield, took a rock during the winter but cracks are out of view

Highlights of Work Performed
– Bumper Front Fiberglass Cap added to lower bumper to fix damage and reinforce for winter (very presentable)
– Front control arms and wheel bearings replaced
– Brakes serviced with New Front rotors and Front and Rear Mintex Brake Pads
– Brake Booster converted to Vacuum from A6, All new parts (bomb removed)
– Brakes lines replaced with stainless braided from ECS
– Rear Diff Fluid Replaced with Royal Purple
– Rear Suspension inspected and worn bushings replaced
– Power steering Fluid replaced with Redline fluid, X-plug replaced
– Engine PCV system inspected and valves replaced
– Engine Intake inspected and Silicone hoses installed
– Engine Cam Position Sensor Replaced
– Engine Timing belt service performed at 125k
– Headlights disassembled, cleaned and HID kit installed
– New General Altimax Snow tires on dedicated rims

The price is firm, I can bear holding on to it for another season if I am forced to :). Values on these wagons are increasing.

-Kelly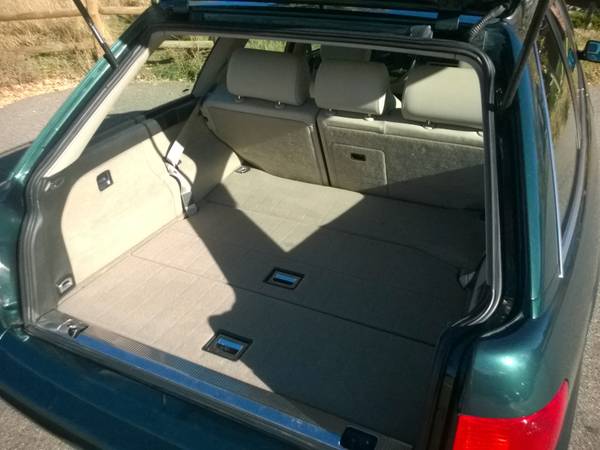 "A car this big doesn't fit into my life" generally only works as an excuse in New York City and heavily populated areas of Asia and Europe; nevertheless, that's the reason given for leaving this excellent looking Avant. Condition appears to be well above average, mileage is reasonable and there's recent maintenance. There's even a second set of winter tires included. There are some minor needs but overall this is probably one of the better presented Avants I've seen over the past two years and I think the price is probably spot on; hence why it's firm. Still, I'm not a fan of Emerald….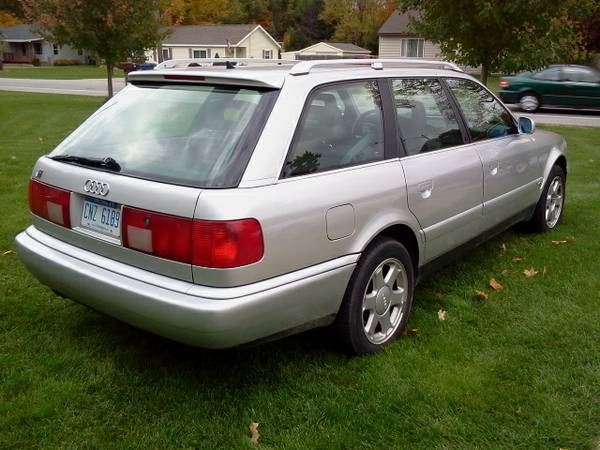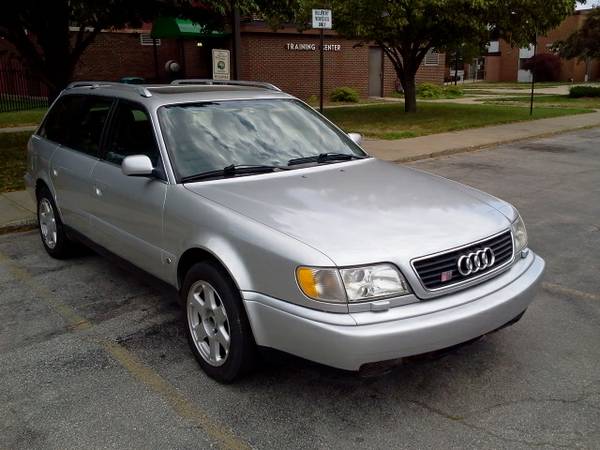 Year: 1995
Model: S6 Avant
Engine: 2.2 liter turbocharged inline-5
Transmission: 5-speed manual
Mileage: 230,000 mi
Price: $4,900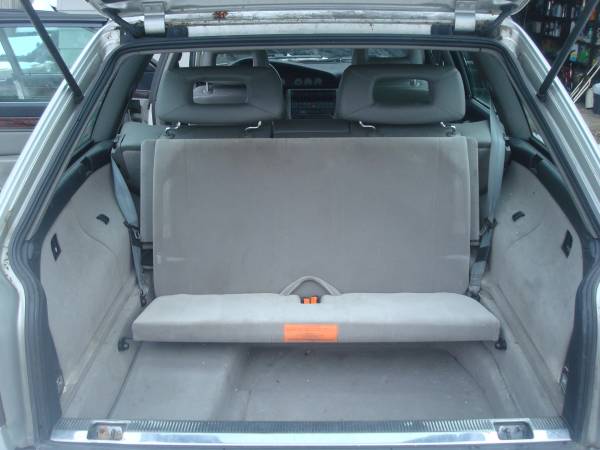 A very rare and desirable avant in an appealing color. Great Carfax and says it spent most of it's life in Ca. and Co.and has had no accidents. It is by no means a new car but it is nice and has been well cared for. Some records available. Previous owner did timing belt service about 50k ago. No record of the engine ever being opened but this one feels very fresh, and crisp off idle like an engine with very good compression sealing. I have had a few of these cars and driven many and this engine sounds and feels the best. Maybe was properly refreshed or maybe the miles are mostly highway. It was a businessman's car for some time out west. Does not burn or drip a drop of oil or anything else and gets an honest 26mpg. Lockable dif. Car is AWESOME in snow. Body and glass all good. Gray interior. Has third row seat, new battery, factory bose 10 disc changer, working heated leather seats, etc. Do not be afraid of the miles. These cars last a very long time and I have not hesitated to take it on road trips. A better car than the newer models. $50k new. Audi's best engine ever and that is what the older ones were always known for. 227hp and meant to compete against the BMW M5. When chipped these cars are 280hp and with turbo and injector upgrades approx 360 reliable hp. Selling because I really do not need as many cars as I have now. Yes I do have all of the center caps and all of the front grill sections. More pics to come.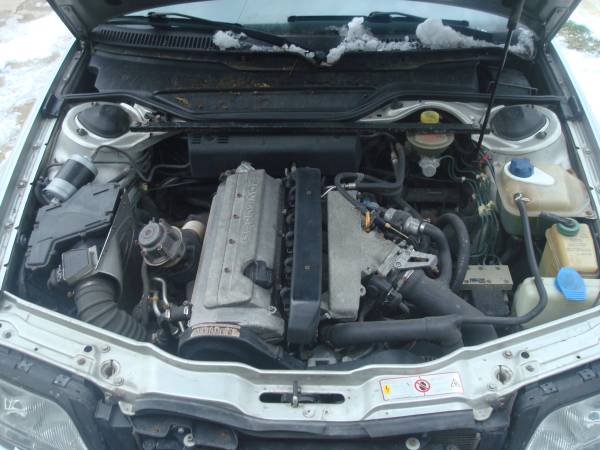 Now Silver on the other hand, with grey leather, is to me an excellent color combination on the wagons. Even better yet, it's rare to see not only on the already rare S6 Avant, but there aren't many normal A6s in this shade either; it really helps to distinguish the package and the color-coded Avus alloys blend in nicely, but the crimson S6 badge also stands out. Mileage is higher but this example also presents quite well, and this model is priced aggressively below $5,000. I wouldn't expect it to be around much longer for sale.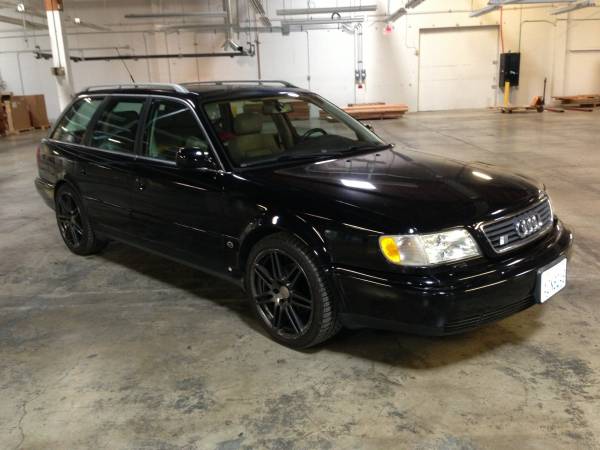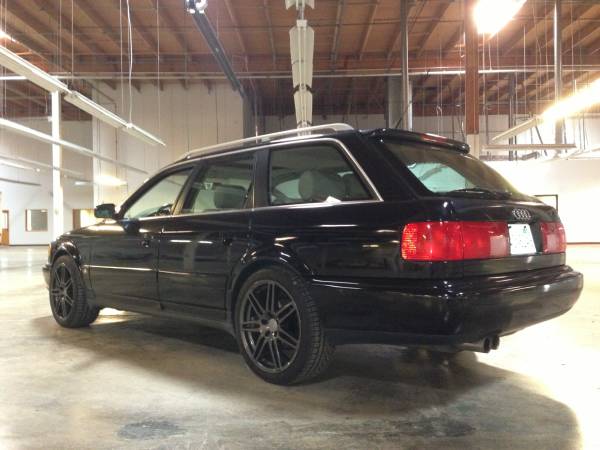 Year: 1995
Model: S6 Avant
Engine: 2.2 liter turbocharged inline-5
Transmission: 5-speed manual
Mileage: 110,000 mi
Price: $15,000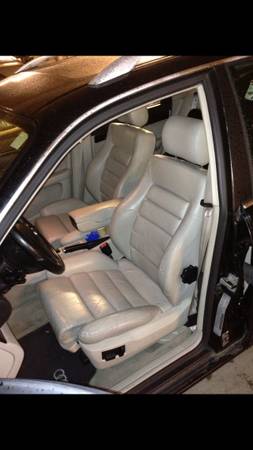 1995 UrS6 Avant For Sale
Approx. 110K orig. mi.
Overall the car is in great shape, runs and drives great!
Clean Car Fax
Black exterior with Ecru leather interior, Recaro ft seats show normal wear for the age of the vehicle, no tears in the leather.
Seven seat configuration
Stock 16″ wheels with 225/50ZR16 Continental Extreme Contact DWS tires. 80% or more tread left.
Stage one ECU
Stainless Stromung exhaust
All new Suspension inc 2 Bennett coil over kit and caster/camber kit
All new brakes inc. F&R drilled rotors, upgraded pads, SS brake lines and 4 rebuilt calipers.
New front wheel bearings and CV boots.
Stock audio system
Timing belt / roller / water pump / t-stat done at 98, 900 mi. (7-10)
Eng speed sensor and hall sensor replaced at. 97,710 mi. (7-10)
2 coils / air and fuel filters and dist cap replaced. 12-09
Refurbished stock Blaupunkt Delta audio unit. 11-09
Both outer CV joints replaced 11-09
New rear brake hoses and brake flush at 103,000 mi.
Installing 2.0 VW coil kit now.

Needs:
Door panels have cloth that is warped from the previous owner steam cleaning them. The vehicle comes with a replacement set of four panels that are in great condition.
The V C gasket seeps slightly, occasionally there is a burning oil odor as a drip accumulates and gets onto the exhaust.
Cracked front bumper cover.

I'm $20K + into this car, asking $15K OBO, no lowball offers or trades. Likely the only of the 300 imported examples currently for sale with this few miles.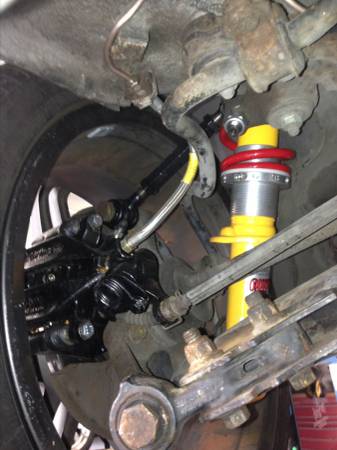 If you're going to charge nearly double top dollar for an S6 Avant, you better have your ducks in a row; this black example looks tidy and the mileage is lower than average, but there's an unreasonably long list of needs; the front bumper is expensive, the valve cover gasket is a relatively simple fix that you shouldn't have to explain at this price, and if there's a problem with the door cards and you have replacements, swap them out – seriously, this is only a few hours work, but I'm not going to pay over double the asking price of the Emerald example and have these problems lingering. Perhaps that makes me unrealistic when pondering a 20 year old Audi wagon, but I think the only unrealistic thing here is the asking price – no matter how nice it looks. Plus, it has black wheels. We've seen better, frankly.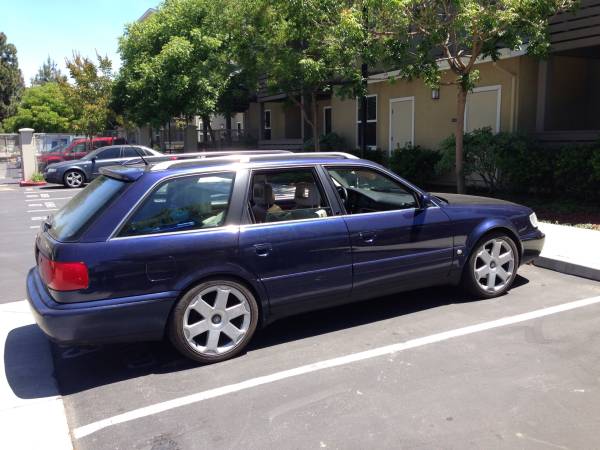 Year: 1995
Model: S6 Avant
Engine: 2.2 liter turbocharged inline-5
Transmission: 5-speed manual
Mileage: 147,000 mi
Price: $7,200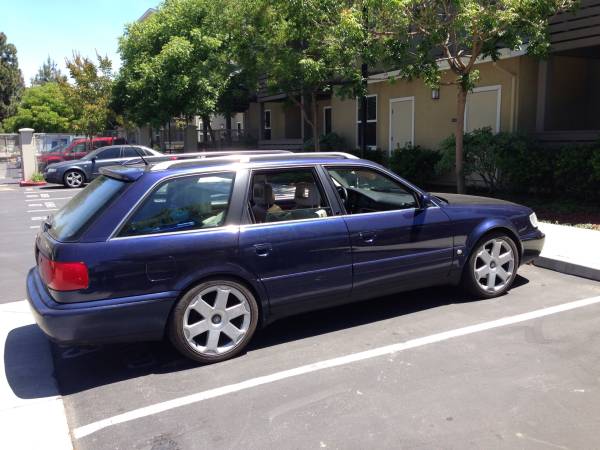 1995 S6 Avant
147K ,ignition coils upgrade,lowering springs and Bilsteins.
New brakes,control arms F+R
Few dings but mostly nice car.
$7200 Obo
Euro bumpers can be included for an aditional price.
I've always loved Europa Blue Mica, but seldom is it properly kept; like many, this car could use a good polish. The Avus B6 S4 wheels channel the original Speedlines but aren't quite the right look; if you want to go 18″ and this design, you really need to source the European market S8 wheels from the pre-facelift D2. This car is intriguing because little information is offered; it looks nice and has modest upgrades, and the expensive European bumpers are apparently optional (and not shown). Mileage is quite reasonable, but at the asking price I'd like to see and know more; if the bumpers were included at $7,200, I'd think this was a better deal.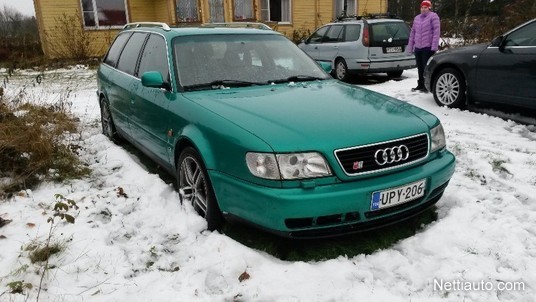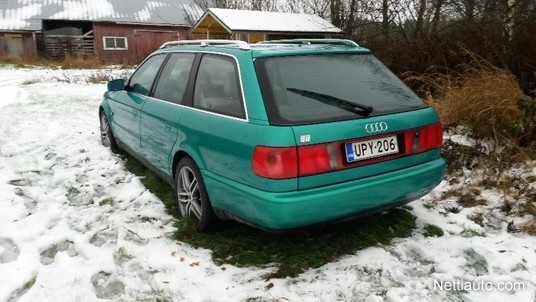 Year: 1996
Model: S6 Avant
Engine: 2.2 liter turbocharged inline-5
Transmission: 5-speed manual
Mileage: 199,000 mi
Price: Not Listed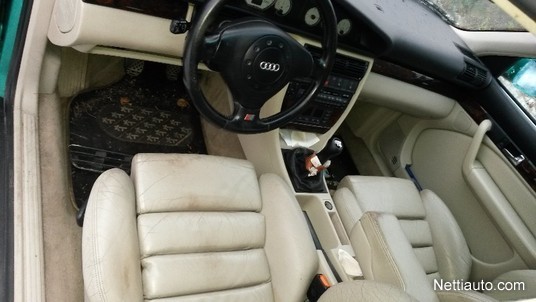 Ylivieska
1996, Audi S6 2.2 Avant Quattro 5d

Green metallic station wagon car
Year model: 1996
Mileage: 320 000 km
Engine: 2.2 l Petrol
Gearbox: Manual
Drive type: Four wheel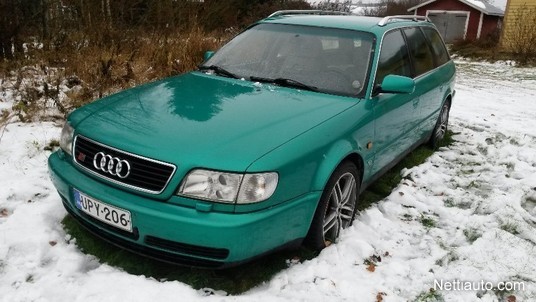 Talk about no information and bad photos! At first glance, you'd be forgiven for thinking this might be a cheap respray; however, I think it may be Tropical Green Metallic from the Audi Lifestyle collection that wasn't available in the U.S.. To be honest, I'm not really even sure this example is for sale or sold – the website isn't very good – and there is precious little information included. But it's always interesting to see a different color combination than you're used to, and this one is certainly that. If it is indeed Tropical Green, it's likely one of only single numbers produced in that shade.
What's the winner of the group? Ranking them, I'd go Emerald, then Europa, then Silver, then Tropical (curiosity factor!), then the black example. It may sound counter intuitive to place the lowest mileage example last, but in this case I don't see any advantage to paying such a hefty premium for that particular example. Which would you choose?
Thanks again to Daniel and John for sending these in!
-Carter