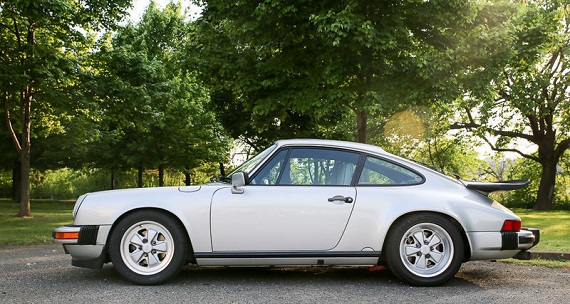 Like many of Porsche's special additions the Silver Anniversary Edition Carrera, released to celebrate 25 years of 911 production, featured a host of cosmetic changes intended to set it apart from other Carreras of its day, but there wasn't really anything in the performance realm to complement those aesthetic changes. As such, values for the special editions have tended to be higher than for standard models, but not significantly higher. I'm curious whether that will remain the case as the 911 market slows down. With only the best examples commanding premiums will the special editions remain in that category? The one here should tell us something as it appears in fantastic condition. Here we have a Silver Metallic 1989 Porsche 911 Carrera Coupe Silver Anniversary Edition, located in New Jersey, with 50,942 miles on it. This one comes in the lighter of the two available colors – the other being Satin Black Metallic – to contrast with the Silk Grey interior.
Year: 1989
Model: 911 Carrera
Engine: 3.2 liter flat-6
Transmission: 5-speed manual
Mileage: 50,942 mi
Price: Reserve Auction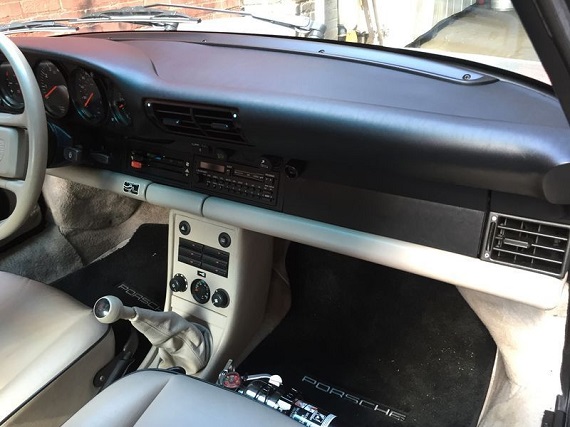 One of our clients has asked us to aid in the sale of this stunning 1989 Porsche 911 Silver 25th Anniversary Coupe. If you are a NNJR member and in to concours, you may recognize this car as a concours winner. This is a get in, drive anywhere, no excuses car that has been pampered, driven respectfully and put away clean and dry. In the several years we have known this car, it has not once been driven in the rain to our shop. Her owner is quite particular, and with that comes no expense spared maintenance. Here is your chance to own a special collectible vehicle!

1989 PORSCHE 911 CARRERA COUPE – Silver Anniversary
(50,942 miles)
2 owner vehicle
All keys, books, and tools

Original Specifications:
Engine type: M930/25
Transmission type: G50/01
Exterior color: Silver Metallic
Interior color: Silk Grey
Production Date 03/28/1989

Modifications:
Bilstein Sport Shocks
22/19mm Hollow Torsion Bars
22/19mm Hollow Sway Bars
Tarett Adjustable Rear Suspension
Polybronze Bushings
Turbo Tie Rod Upgrade
Bump Steer Kit
Monoball Camber Plates
Decambered Front Ball Joints
European Ride Height
Bridgestone Potenza RE-11 Tires
Steve Wong DME Chip
Fabspeed Maxflo Performance Exhaust System
Fabspeed CUP High Performance Airbox Cover
Fabspeed High Flow Catalytic Converter
Virtually Rebuilt A/C, New Compressor & More
Top-end Rebuild
Service Records
Certificate of Authenticity
Original Window Sticker
2 Sets of Keys and Key Card

The vehicle also comes with all the original take off parts
The upgrades done are all welcomed upgrades.

If you are local and a real buyer please give us a call and come check her out.
Please let us know if you have any questions.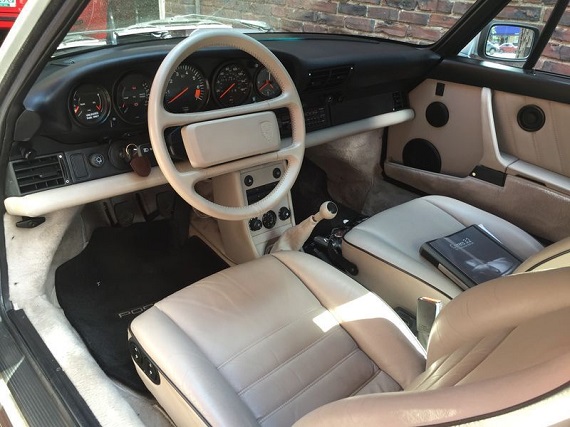 This Carrera presents extremely well showing very little wear and remaining mostly dirt free outside what's on the carpets. It also has a decent number of modifications though the seller states that all of the original parts come with the car. In that regard it offers a little bit of a best of both worlds: some nice upgrades to improve performance, but should the new owner desire to revert the car to its original state that seems a possibility (at least in most ways). Overall it's the care and attention to detail that are of note to us here as they are suggestive of a car that should have a great deal of life left in it – not to mention the mileage is pretty low – and should come in the sort of condition that we'd hope for when looking at a second-hand 911. For those desiring the classic 911 design this 911 is as modern as they come. Bidding has been strong thus far, sitting currently at $50,600 with reserve unmet. I'll be interested to see where this goes as we don't see a lot of 911s that present this well and its status as a Anniversary Edition may garner it some additional appeal. Either way, it looks great and I'm sure its new owner will be quite pleased.
-Rob