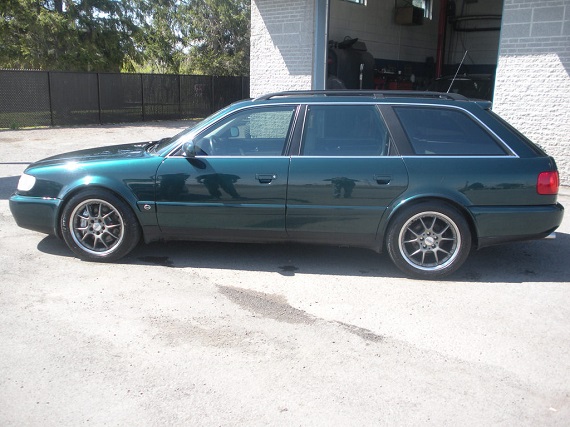 Though they may not generate the gasps and pleasure groans of the RS models Craig and Andrew wrote up last week among enthusiasts outside of the brand, classic Audi fans in the U.S. still regard the original S4 and S6 one of the best models produced by the company. Indeed the S6 Avant has gained notoriety as a "Holy Grail" for fans of the marque here, as it offered the ultimate development of the C4 chassis and inline-5 coupled to analogue all-wheel drive offered in this market. Only a few hundred of these wagons made it here, increasing the mystique and desirability of the package. Both of today's examples are presented in the defacto signature color of the C4, Emerald Green Mica (Smaragdgruen Pearl) with Ecru leather and both have been turned up a notch from stock. The first example has all the wizz-bang completed, while the second has been maintained and is ready for further upgrades. Which is the one you'd like?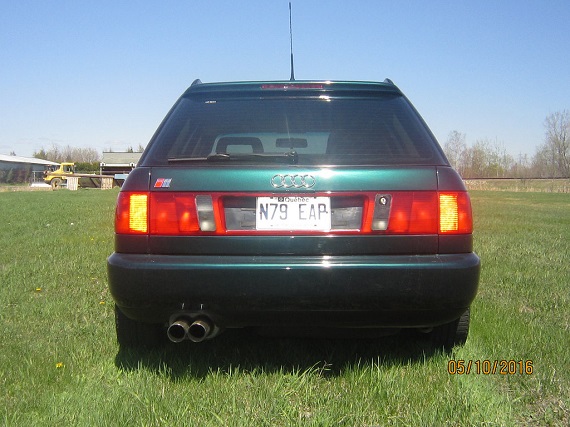 Year: 1995.5
Model: S6 Avant
Engine: 2.2 liter turbocharged inline-5
Transmission: 5-speed manual
Mileage: 160,000 mi
Price: $12,000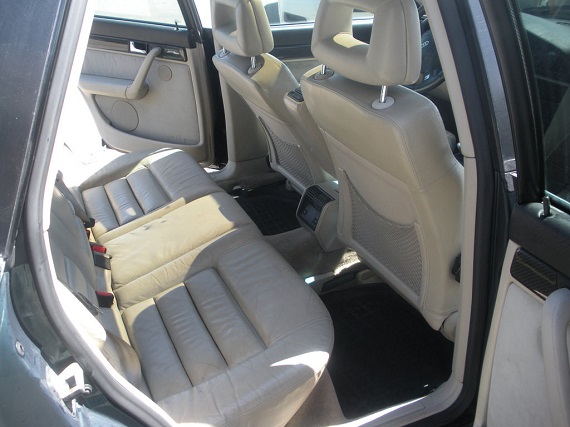 FS: Exceptional1995.5 URS6 Avant with everything a performance oriented enthusiast needs

After 10 years of URquattro ownership I am selling my avant.

I am looking to get 12,000.00 for the car. This car has been my daily driver since I purchased it in June 2012.

History:
Car has been in OH and QC. Owned by enthusiast and currently in Montreal Qc. I will be happy to bring the car in the US for shipping as I am only 1 hr from Champlain NY. Built as a euro clone with 330 WHP & 320 WTQ power level UrS6 combined with the reliability of a daily driver, the car spools at @3000rpms and pulls hard to 7200rpm redline. No expense has been spared regarding maintenance and upgrades.
Current car is garaged as it has been replaced by current daily driver. All exterior surfaces present very well, with proper care over my years of ownership. The car is emerald green on ecru, paint is a1 with bright clear coat absolutely no rust spots. AC and heat both work as they should. Euro Headlights are clear and bright. Wheels genuine BBS RK2 with S6 17's for winter. All rubber, plastic, and glass are in good condition. No cracks in dash. Sunroof doesn't leak. The interior is clean. Seats replaced in 2013 with S4 seats. Dash lights are all bright. Head unit Becker Cascade BE 7944 has all modern conveniences. Integrity is still very high, no rattles. Alarm works, key fob works. There are no fluid leaks, and doesn't use oil.

Maintenance : Everything was done well rightaway.Car has only known mobil syntec 5-40. Service records from purchase available.

Engine/Performance Upgrades:
Mods completed at DT Autowerks in Montreal, QC.

– Delphi/Lucas 440cc 42lb Injector (Set of 5)
– EV1 to EV6 Injector Connector Adapters (Set of 5)
– 034EFI VariMAP with Installation Accesories
– 034EFI GT2871R Stage 1 Chipset (Boost & Timing/Fuel Chips)
– 034EFI 1.9 BAR Wastegate
– 034: 2871R BB turbo, oil/water line kit
– Custom Water to air Intercooler
– EFI LS2 Coils w/ Magnacore wires
– EFI I5 20vt 3″ downpipe, Stromung fitment
– Stromung Exhaust : Complete 3″ cat back exhaust gen VI
– Siemens SM320B – Fuel Pump, 300LPH
– 034 Adjustable fuel pressure regulator
– 034 RS2 High Output Manifold NLA

– 034EFI 20v 5-cyl header with full gasket set
– 034 Fuel Pump relay kit
– 034 silicone hose kit
– 034 3.0 BAR VMAP sensor
– 034 Diverter Valve*
– 034 1.9bar Waste gate Spring

Chasis Upgrades
– VAC Brake Conversion
– Apikol rear diff crossmember bushings
– Apikol rear subframe bushings
– Apikol rear diff mount
– SlaterMounts foreward-most rear trap arm bushings
– 034 Motorsport Street Density and Track Density transmission mount
– 034Motorsport's Density Line Engine Mounts
– Thuppa Solid Subframe Bushings
– BOGE rear inner trap arm bushings ($45)
– 2Bennett Stage2GT 330mmx32mm Big Brakes
– 2B "Revolution" Camber/ Caster adjustment system
– ISC Thrust Bearings
– Swift C/O sport springs F&R
– Custom C/O front and rear

– Front Koni 86111259RACE Road Racing/Autocross Double Adjustable Twin Tube Strut Insert
– Rear QA1 Proma Star Shocks bottom adjustable rebound/compression
– 28mm Front Sway Bar
– V8 Torsen Rear Differential
– McMaster Carr endlinks (Carbon-Fiber Insert Ball Joint Rod End)

Interior Pics

I have the rear head rest it was off because I had me childs car seat in there.

Interior/Exterior Cosmetic Upgrades:
– Front s4 seats clean un ripped leather fully fonctioning
– Full Euro fender extention kit F&R
– Complete carbon fiber retrofit
– 2 watt dash bulb upgrade
– Euro Headlights/with motor

– 5000K HID low beams with ballast enclosed in light housing
– Tinted windows Hauper ceramic film
– 17×8″ BBS RK2 wheels with Michelin PSS tires
– 17×8 OEM Audi S6 wheels Winter with Michelin Artic Ice2
– Becker Cacade with Hirshman Antena and Becker CD Player Pack
– Black OEM roof rails
– Audi roof rails cross bars with original locks and keys
– Euro trailer hitch (WESTFALIA ANHÄNGERKUPPLU)
– Euro rear tail gate lights and handle
– Contains Audi med kit, Audi tow rope Audi emergency triangle and booster cables

Undercar condition

Milage: Comes with 160K miles

Minor Issues
– Driver side bolster a little worn (but you get a new color coded Color Plus Leather Kit with the car)
– Side mirrors controls inverted my bad on an install
– Where luggage cover sits/clips into is cracked on one side
– Will need some new rear tires
– Head light washer trim could do with some paint

Accidents:

02/25/2014 Montreal, Quebec, Canada 03/07/2014 Estimate LEFT REAR CORNER $487.00 230,000 KM
04/11/2014 Montreal, Quebec, Canada 04/15/2014 Estimate FRONT CENTER $502.00 235,007 KM
02/27/2015 Montreal, Quebec, Canada 03/07/2015 Estimate REAR CENTER $3,694.00 247,794 KM

– No rolling accidents 2 fender benders thus the cracked front bumper(Happended twice in a parking lot with a hit and run) and the rear cracked bumper at the stop sign with the car behind me running out of braking distance on snow). The rear accident craked the Euro rear so the insurance company replaced with a new OEM from the UK airfreight (thus the price 😉

Conveys with purchase:
– 2 keys,
– 2 central locking remotes
– All original manuals & Bentleys
-Full set of new adjustable koni F&R
-New Dual Mass Flywheel
-New tail gate harness
-Full side mirror for franken mirror conversion
-Set of used strut housings
-Stock turbo, cross over, IC.
-S6 seats F&R
-Front and rear NA s6 bumper (front cracked)
-OE new engine mounts and subframe bushings
-One passenger side fender clean
Plus+++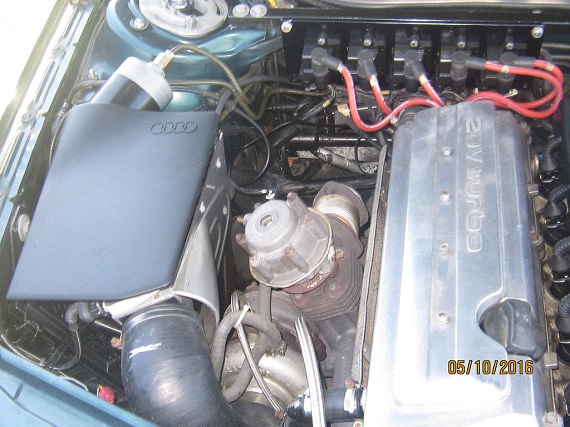 Our readers Jason and John both spotted this well presented and heavily modified Avant. The 034 mods coupled with the European S6 bits make this look and perform more like the S6 Plus we never got. Generally I'm a huge BBS fan but the graphite RKIIs look a bit cheap though they're light and expensive; I'd opt to run the C5 wheels, personally. $12,000 is higher in the marketplace but not unheard of for such an Avant, though it'll take just the right buyer to plunk down that amount for this one.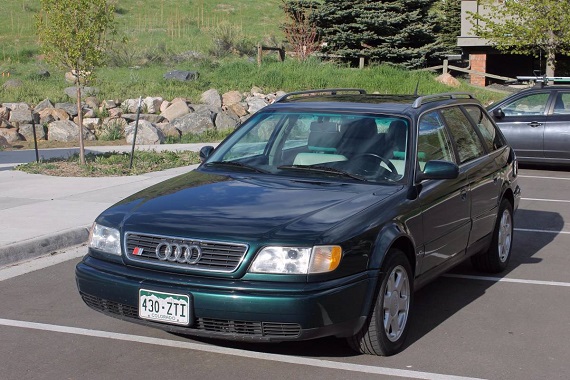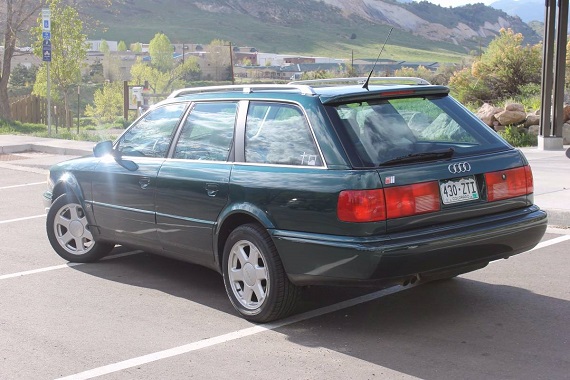 Year: 1995.5
Model: S6 Avant
Engine: 2.2 liter turbocharged inline-5
Transmission: 5-speed manual
Mileage: 180,000 mi
Price: $8,000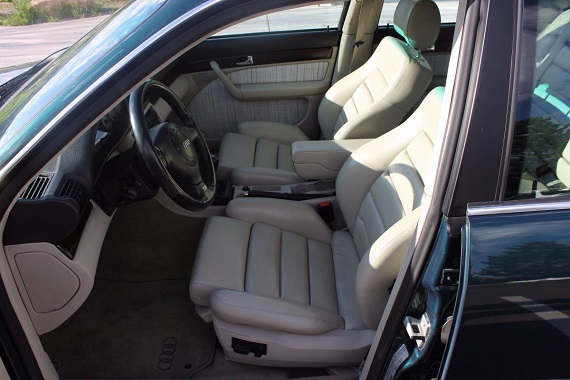 I am parting with a rare URS6 Wagon in the not so rare color combo of Emerald with Ecru interior. I am the second owner and purchased it September 2013 as a ski car. It is largely stock with reliability upgrades done (silicone boost hoses, A6 Brake Booster, Redline Power Steering Fluid, V8 Coil Conversion). This is the 1995.5 model that includes the 3rd row seating, solid headrests and non-lockable rear diff. Overall the exterior is an 8/10 with minor blemishes from gravel used in the Colorado winters, little rust and is a joy to work on. The interior is an 9/10 with the redyed ecru leather and very minimal wear. Mechanically it is 10/10, All issues addressed.

Need
— Windshield, took a rock during the winter but cracks are out of view

Highlights of Work Performed
— Interior Refresh (Leather Redyed with Leatherique custom mix, Walnut Satin cleared, Door Fabric)
— Driveshaft replaced
— V8 Coil Conversion with fabricated harness
— Bumper Front Fiberglass Cap added to lower bumper to fix damage and reinforce for winter
— Front control arms and wheel bearings replaced
— Brakes serviced with New Front rotors and Front and Rear Mintex Brake Pads
— Brake Booster converted to Vacuum from A6, All new parts (bomb removed)
— Brakes lines replaced with stainless braided from ECS
— Rear Diff Fluid Replaced with Royal Purple
— Rear Suspension inspected and worn bushings replaced
— Power steering Fluid replaced with Redline fluid, X-plug replaced
— Engine PCV system inspected and valves replaced
— Engine Intake inspected and Silicone hoses installed
— Engine Cam Position Sensor Replaced
— Engine Timing belt service performed at 125k
— Headlights disassembled, cleaned and High Output Halogens installed
I have a list of all the work done during my ownership. This is the perfect platform to start moding. It is strong and reliable.

-Kelly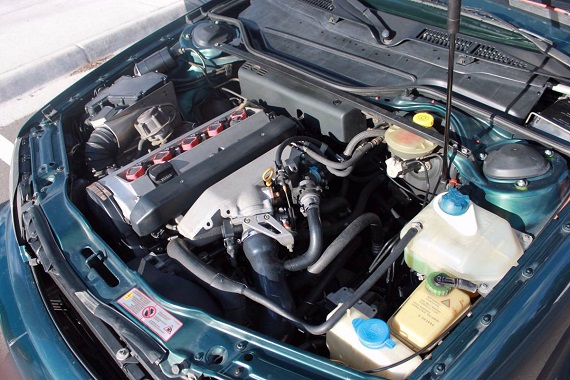 I don't know Kelly, but I like Kelly. Kelly has presented this car extremely well and priced it right. Maintenance is right on and outlined well, the pictures are descriptive and unapologetic, and the car is not heavily modified but has been upgraded in the right spots. Miles are higher than the more heavily modified first example, but with a lower price and in more original form, it would be the one I'd prefer of the two. Which would you take?
Thanks to our readers John and Jason for sending the top listing in!
-Carter