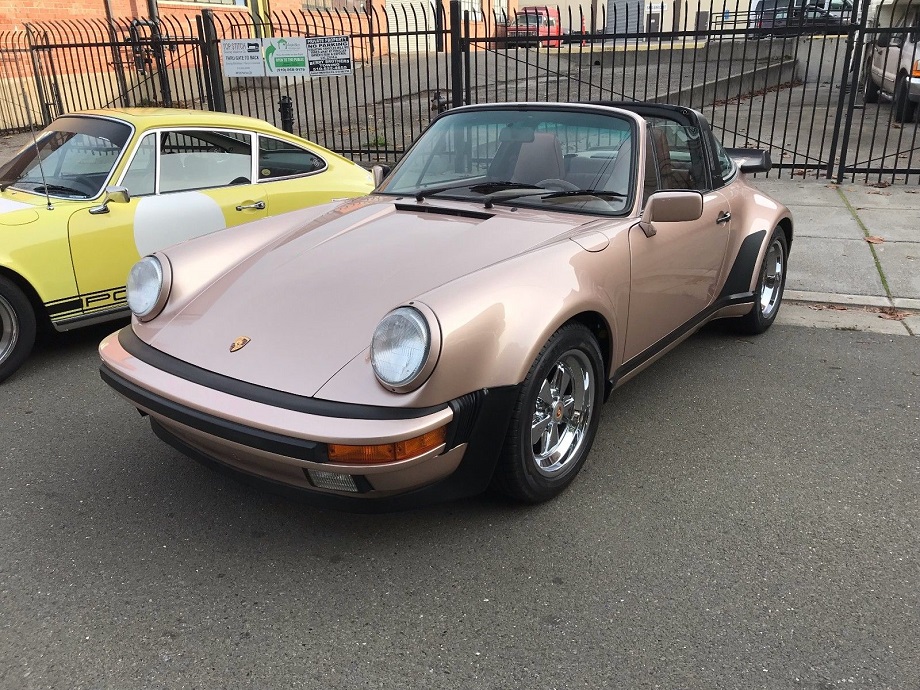 Among Porsche option packages there aren't many that draw more attention than the M491 package (along with the associated M470 spoiler delete) available for the 3.2 Carrera. Commonly dubbed the Turbo-look, the M491 Carreras were exactly that: a 3.2 Carrera with braking, suspension, and rear body from the 930, but no turbocharged 3.3 liter engine. For some this was a very desirable package as it gave the look and improved handling and braking of the Turbo, but without the higher maintenance (and higher cost) engine. Of course, some simply saw them as fake Turbos and in a way the original purpose was as a way to placate the market during the years the 930 was not available in the US. Once the 930 became available again in 1986 M491 numbers shifted and dwindled. Cabriolets became the most popular and by the time we reach the final model year the Targa and Coupe had become exceedingly rare. This being an option package numbers aren't always easy to pin down as the VIN tells us nothing more than that it is a Carrera, but we see them very, very, rarely.
That means when we do come across one we must snap to attention. Here we have one of those very rare G50-equipped M491 Carreras: a Coral Metallic 1989 Porsche 911 Carrera Targa, located in California, with Mahogany leather interior and 43,354 miles on it. If you've been looking for a M491 Targa with the G50 transmission you'll find yourself with few opportunities.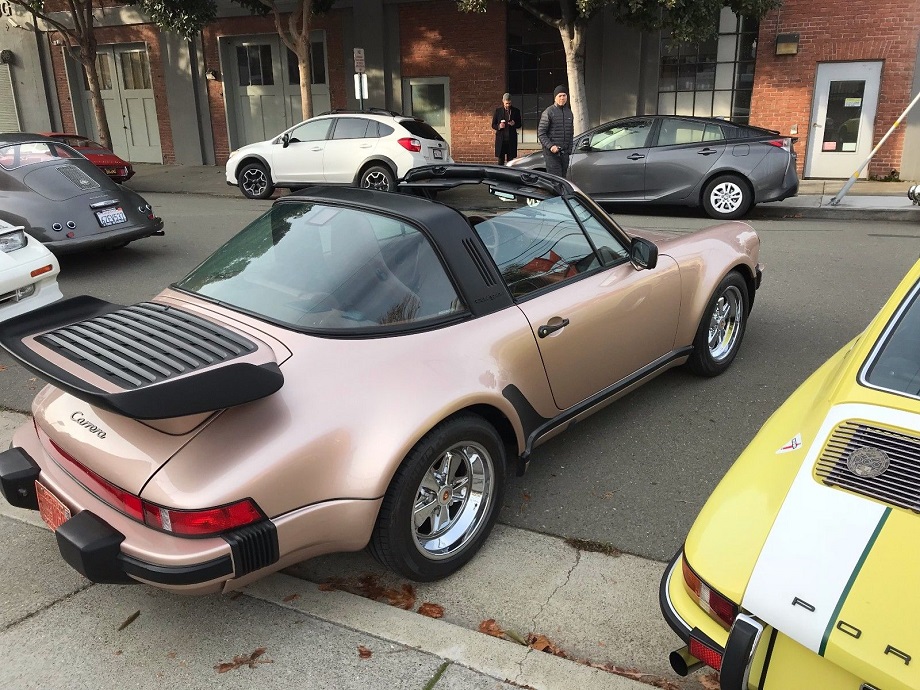 Year: 1989
Model: 911 Carrera Targa
Engine: 3.2 liter flat-6
Transmission: 5-speed manual
Mileage: 43,354 mi
Price: Reserve Auction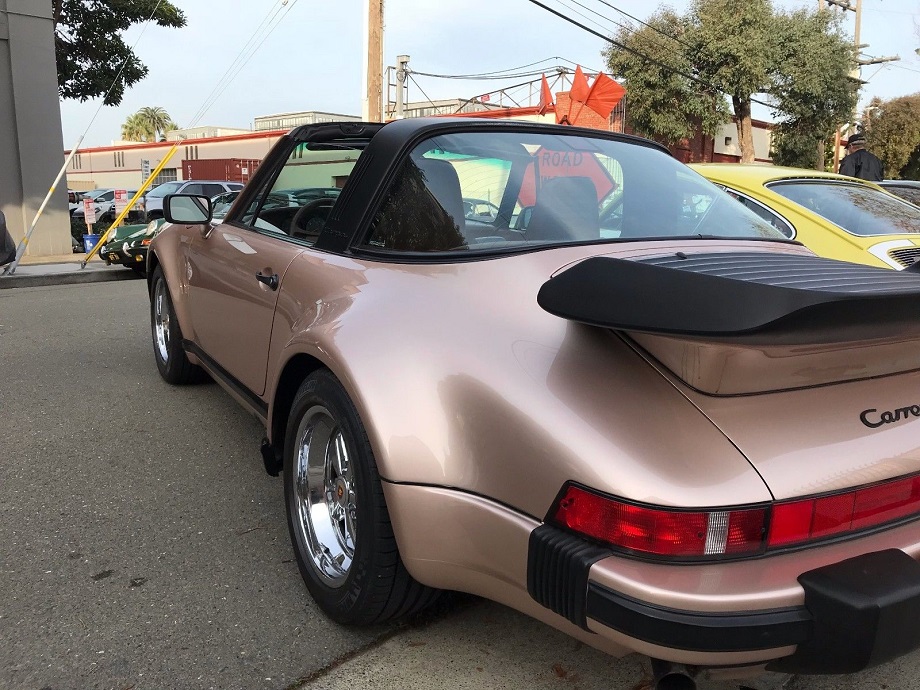 I recently acquired this 1989 Porsche 911 Carrera Targa 'M491' option from a fellow PCA member. I am considering selling the car only to purchase a newly available limited edition 997.2 Turbo S. This is #2 of 15 "Turbo Look" examples built for the '89 model year, and only 1 of 6 with CA Emissions. It is the only one in this color on the register. The M491 package featured the Turbo's widened body, larger brakes, and wheels while retaining the Carrera's naturally-aspirated 3.2 liter flat six-cylinder engine, G50 5-speed manual transmission, and suspension. This particular car is a number-matching example with only 43,300 miles that was originally in CA and spent the last 5 years in Arizona. Verified with a Porsche CoA, factory books, tools, spare, jack, and accessories, a clean Carfax report, and a clean title.

Optional equipment included California emissions, Shorter Gear Shifter, Blaupunkt 'Reno' radio, central locking system, 4-way power seats, cruise control.

The car has had 1 windows out repaint in its factory 'Silver Salmon Metallic L81K' in 2013, and shows excellently. At this time rubber seals were replaced. Matching identification tags are adhered to the door jambs, underside of the hood including the original options sticker.

The 'Mahogany' partial leather (code SY) interior is believed to remain original. There are no rips or tears in the seats. The seat bolsters show some wear consistent with age. The original Blaupunkt Reno radio has been replaced with a single CD player consistent with the period of the car.

The naturally-aspirated 3.2 liter flat six-cylinder engine and G50 5-speed manual transmission are numbers-matching according to the Porsche CoA and remain mechanically stock.

This M491 is complemented by its original manuals and booklets in a vinyl sleeve, 2 keys, and recent servicing receipts. The car has recently had 4 new Michelin tires, and oil return tubes replaced.

The Porsche CoA confirms original specification, colors, and drivetrain. Note "Turbo Look" under Optional Equipment.

The Carfax report is accident-free and confirms the mileage as original.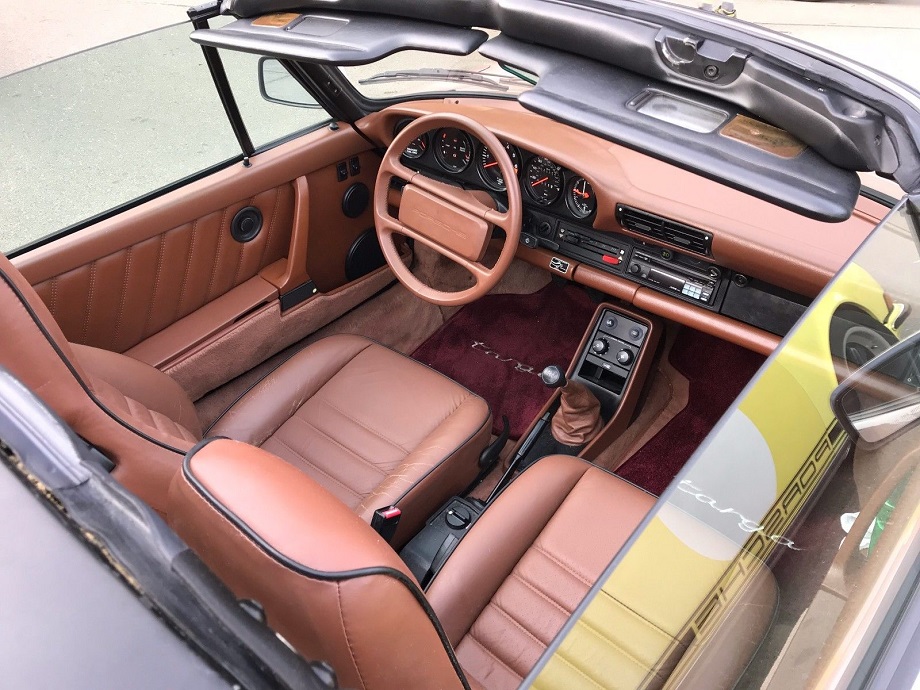 The seller lists this Targa as 1 of 15 total produced in the US in 1989 and 1 of 6 with California emissions equipment. Those numbers are backed up by the Turbo-look Register, which seems the foremost registry for these hard to find option packages. It goes without saying: 15 total is not a lot! While they don't attract as much attention as the Coupes, M491 Targas consistently were the more rare model. For many that may not matter quite as much, but it's certainly worth having in mind.
This particular Targa is made even more rare by its color combination of Lachsilber Metallic (81K) (Salmon Silver Metallic) over Mahogany. The CoA calls the color Coral Metallic (Z9) though my various sources for Porsche paint codes show them to be the same color under two different names and codes. This Targa has had one repaint in Salmon Silver, but otherwise is said to be original and numbers matching. I wouldn't call this my absolute favorite color combination, but it's pretty attractive. I definitely could do without the chrome wheels though. While further investigation surely is warranted to confirm everything we see and are told this looks to be a very nice example of one of these rare 911s.
Because we see a G50 M491 911 so rarely it's tough to know where this should sell. Especially given that the air-cooled 911 market in general has moved down a good bit. Bidding right now sits at $30,100. It will not (nor should it) sell for that and I am very curious where bidding ultimately takes it.
-Rob