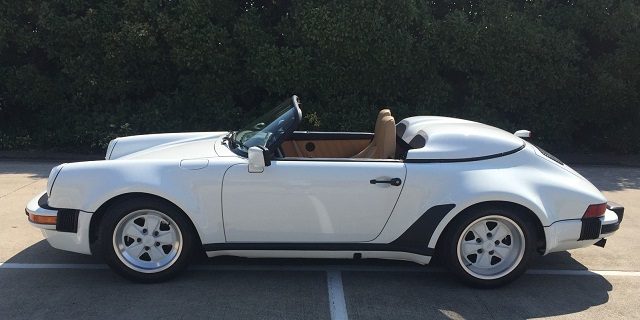 It's been a while since we checked in on the 911 Speedster so I figured it was as good a time as any to see how the market is appreciating these very collectible 911s. Plus, this one looks really nice. As we check in a couple things quickly become clear: despite the air-cooled 911 market generally showing some stagnancy that has not hindered Speedster values. They're still quite expensive. Relatedly, there are still a good number of ultra-low-mileage examples to be found. The 911 Speedster found its way into many collections from the jump and that has meant they rarely see the light of day. We've seen a couple of them with more miles – and if you happen to want a Speedster so you can enjoy some driving it's highly suggested you seek those out since prices are far lower – but they seem the exception.
This one ably demonstrates each of those points. Here we have a Grand Prix White 1989 Porsche 911 Speedster, located in Texas, with Tan interior and just 8,713 miles on it.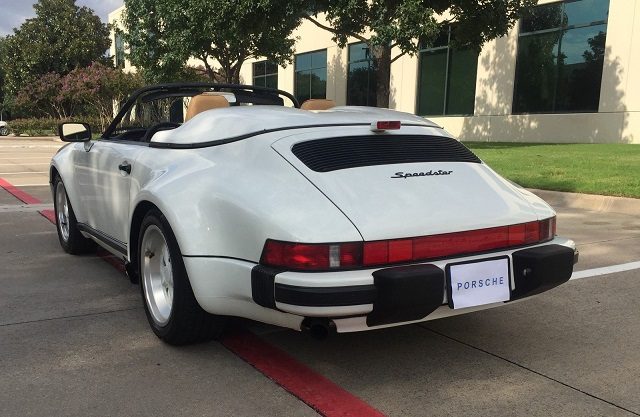 Year: 1989
Model: 911 Speedster
Engine: 3.2 liter flat-6
Transmission: 5-speed manual
Mileage: 8,713 mi
Price: $220,000 Buy It Now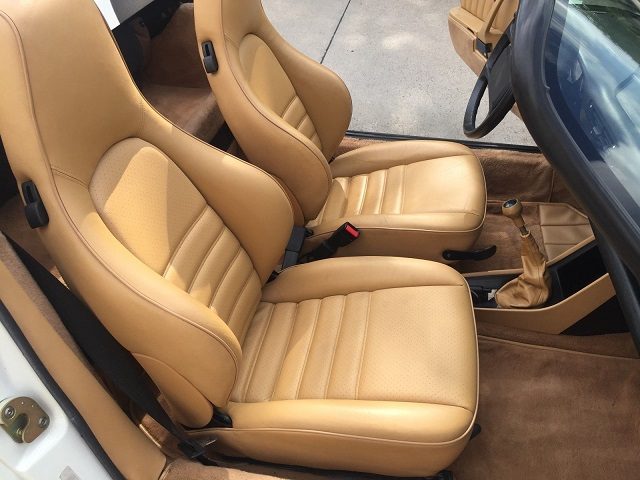 For many years, Porsche has turned out beautiful sports cars one after another and many times these beauties packed quite a punch too. One of these brawn-meets-beauty machines was the limited production (only 823 were ever produced for the U.S.) 1989 Porsche 911 Speedster. This model marked the first time that the Speedster moniker was put on a Porsche in 30 years, as the last one was the 1959 Porsche 356 Speedster. With its stylish lines including wide body, and high-powered (for the time) flat six-cylinder engine, this model indeed helped thrust Porsche back to what it once was. This beautiful white 1989 Porsche 911 Carrera Speedster is offered to you for sale today.

Details from the 1989 brochure introducing this car indicate:

· Top speed: 149 mph
· 0-60 6.0 sec.
· Engine type: Six-Cylinder
· Displacement: 3,164 cc
· Max power; 214 bhp at 5,900 rpm
· Max torque: 195 lb-ft at 4,800 rpm
· Weight: 2,925 lbs.
· Gas mileage: 24 mpg
· Price (1989): $65,480

The 1989 brochure goes on to describe the engine as "a ferocious flat-six engine". No doubt it was in 1989, but today it remains a very drive-able car with adequate power to maintain highway speeds all day. This car starts and drives perfectly.

I am honored to present this beautiful example of pure vehicle design decadence…this is the vehicle of dreams! The paint is in excellent condition and it is apparent that this car has been garaged and meticulously-maintained over the years. It is a very low mileage vehicle with only 8,713 miles. The interior of this vehicle is virtually flawless. A 1989 911 Carrera Speedster in this condition, with these options and this color combination is an absolute rarity!

Call 214-704-0200 Fred for more details!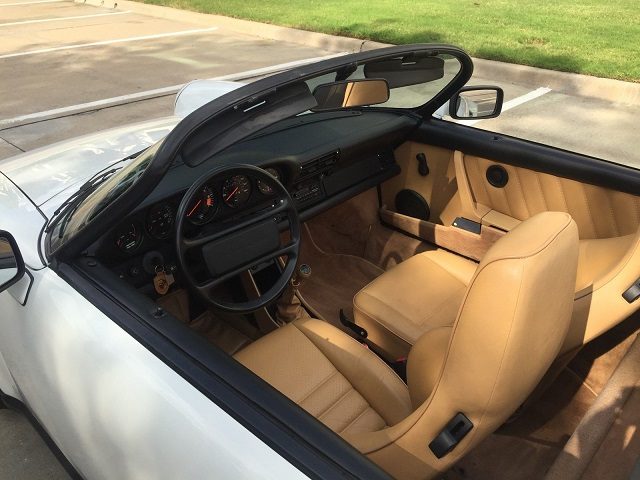 Compared with the more common white over black, this Speedster looks great with its Tan interior. It's not as captivating as something like Can Can Red, an option we have seen on the Speedster, but for those who aren't looking for quite that much brightness Tan works very well. The overall condition is immaculate and befitting of the very low mileage and collector quality of this Speedster. The sport seats look particularly nice!
Somewhat surprising for a car like this we hear nothing, and are shown nothing, regarding available documentation. I'd be shocked if it wasn't available, but you never know so it's worth inquiring. Assuming such documents are available the asking price here is pretty much in line with Speedster auctions I've seen when miles and condition are of a similar quality. So I expect it should eventually sell for something around this price, though with any car like this it could take some time.
-Rob