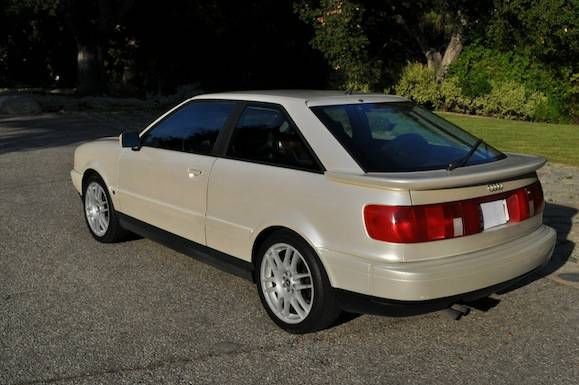 While earlier this week I reviewed a importable 1989 Audi Coupe, the car we received in the United States in late 1989 was this car, the 1990 Coupe Quattro. While on paper the new B3 chassis car had specifications very similar to the U.S. spec Audi Quattro that it replaced, the truth was that the new Coupe sported much more luxury and the accompanying weight, dulling performance and making the car feel fairly sluggish. What the B3 coupes did gain was a much more user-friendly design and a less driver-dependent all-wheel drive system. With a commodious hatchback and fold-down seats, it was now easier to carry large items that the Quattro simply couldn't fit. Further, where the early car had driver-selected lockable differentials, the new car sported the next generation of quattro, with Torsen torque-splitting diff in place of the old lockers and a electronic lockup for the rear that was disabled above 15 m.p.h.. Despite the dumbed-down for the driver but smarter for the car AWD system, these Coupes were nearly as good as the previous generation cars in snow and ice. They arrived expensive and at a bad time for Audi, so it's no surprise that they're a rare find these days: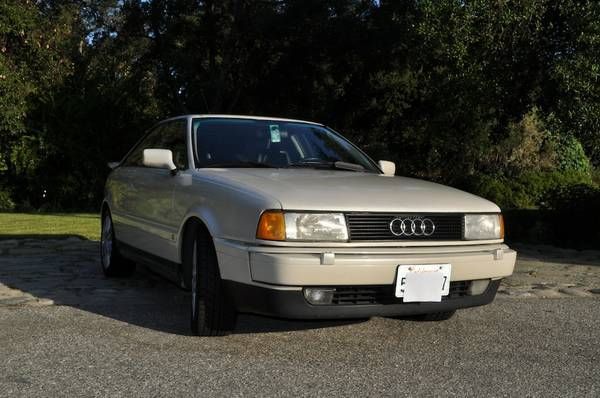 Year: 1990
Model: Coupe Quattro
Engine: 2.3 liter inline-5
Transmission: 5-speed manual
Mileage: 185,000 mi
Price: $5,700 Buy It Now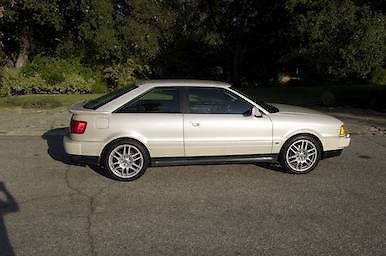 Still a fun ride after 10 years; I will miss it greatly, but this is a collector's car, incredibly rare. Anyone familiar with the 90 series will know that the engine is built like a tank, and the rest of the car is equally well built. The TORSEN quattro is constant AWD, unlike the newer Haldex is is only AWD when needed, and it makes a difference when driving. The interior is still in great condition, with one small (4 inch ) tear in the driver's seat. All of the electronics work. Please feel free to email with any questions.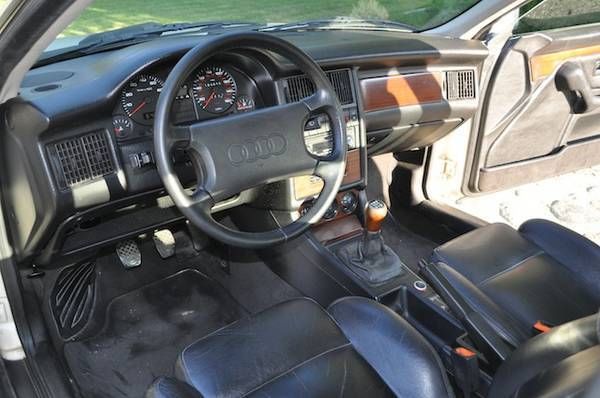 This certainly isn't the best example we've shown over the past few months, but it seems very presentable in spite of the higher miles. Generally at close to 200,000 miles these Coupes are fairly well worn but the basis for the car is capable of many more miles than that. The 7A 20V powerplant is great when freed of weight and properly maintained, but as is this is a great highway car. Everything in the car is claimed to work – a bit of a rarity on the older Audis. I have to say, I'm really not a fan of the wheels at all but there are many options that can be had inexpensively these days, so that wouldn't sway me. However, I do think the price is a bit optimistic considering the mileage and accident history; I'd probably argue this car was a $4,000 – $4,500 example at best, but these 20 valve Coupe Quattros have a cult following that loves to dress them up in S2 guise – and they're always looking for fresh meat. A prime S2 conversion candidate, I'd expect there are several Audi fans already watching this one.
-Carter