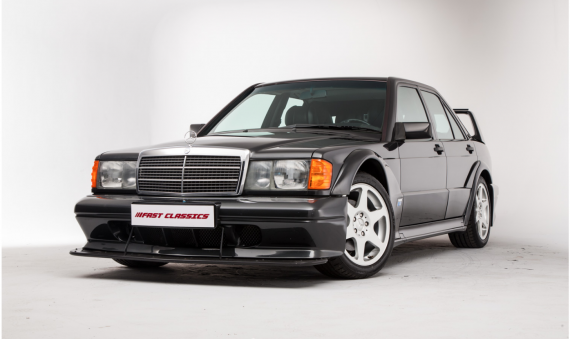 The 1980s and early 1990s rare DTM inspired car market is hot right now. The Audi Ur-Quattro now costs more than a loaded up Honda Accord and a BMW E30 M3 in nice shape is about as much as a starter home. The next car that's on the rise is the Mercedes-Benz 190E 2.3-16. For years this was a $5,000-8,500 car. Not anymore. Prices have more than doubled. But this post isn't about that the lowly 2.3-16. This is about the 2.5-16 Evolution II.  The king W201. About a month ago Paul featured a 1991 Mercedes-Benz 190E 2.5-16 Evolution II that was listed for $279,000. If you missed out on that one, don't worry, this 2.5-16 Evolution II for sale outside of London is your second chance at DTM glory — if you have $333,352.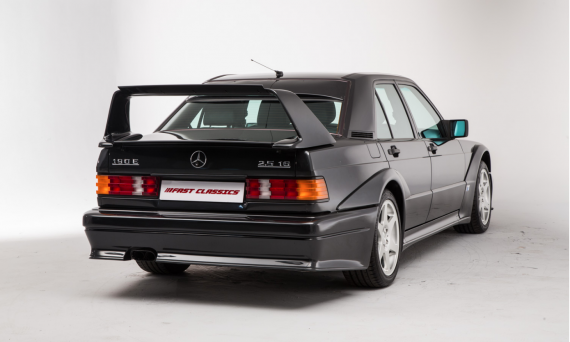 Year: 1990
Model: 190E 2.5-16 Evolution II
Engine: 2.5 liter inline-4
Transmission: 5-speed manual
Mileage: 8,663 mi
Price: £234,995 ($333,352)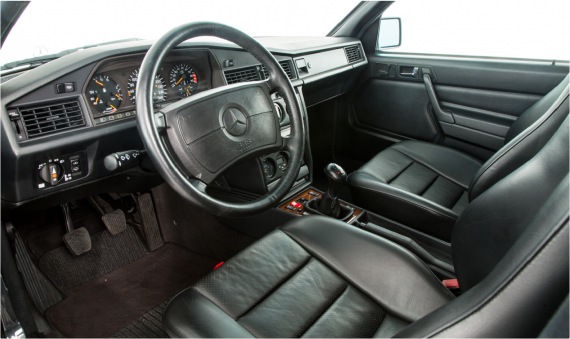 This Evo II is originally a German car which was imported by a Japanese collector with 2800km on the clock; prior to export the car was serviced with the main dealer at Kundendienst in June of 2005. The first Japanese owner would service the car at 3,284km. A second Japanese collector then bought the car on 10 June 2009 with 8100km and it received a further service with Mercedes Benz at 9,244km.

The original import document and Japanese registration docs are present in the history file as well as a checklist on the car conducted by Mercedes-Benz in Kyoto. The full book pack is also present and correct.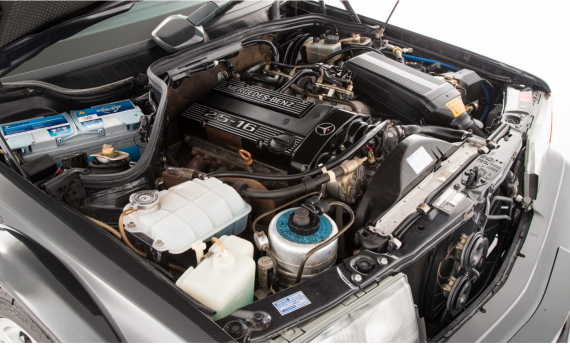 I love these cars. I think the fact that Mercedes actually green lighted the Evo1 and then followed it up with the Evo2, which was bonkers to say the least, says a lot about what kind of leeway the engineers and designers got at that time. Now that 25 years have past, the new potential of the US market has owners and dealers licking their lips for deep-pocketed Mercedes lovers. This 1990 with 8,663 miles is prime for the export. It's been well traveled as it started out in Germany, then to Japan, and it now makes its home in England. My guess is that anyone who is seriously considering buying this car probably has the resources to relocate it anywhere in the world.
Now the price tag of $333,352 is crazy. I know it, you know it, we all know it. This is one of those throw a big price out there and see if anyone bites. Will it sell for a ton of money? Probably. The car Paul featured sold for a crazy about of money that had a few thousand more miles. One thing I wanted to point out with this car is that it has the updated steering wheel with airbag. It seems like most of the Evo2 cars have the classic non-airbag steering wheel, even with the later cars.
Thanks to our reader John for sending this one in!
– Andrew