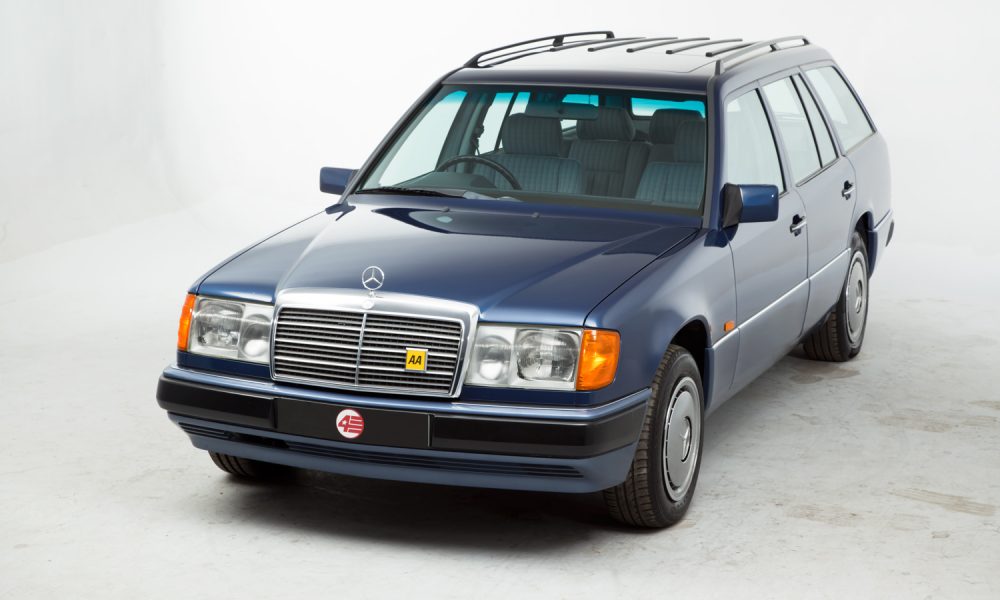 Last week I looked at a really cool 1992 Mercedes-Benz 250TD that was an European import that I'd love to own to rack up the miles. Today, we have another European-spec W124 estate although this one is still in Europe and has the steering wheel on the other side. This 1990 230TE resides in Northern England and as you might have noticed from the photo, this wagon wasn't used as the workhorse that most were subjected to.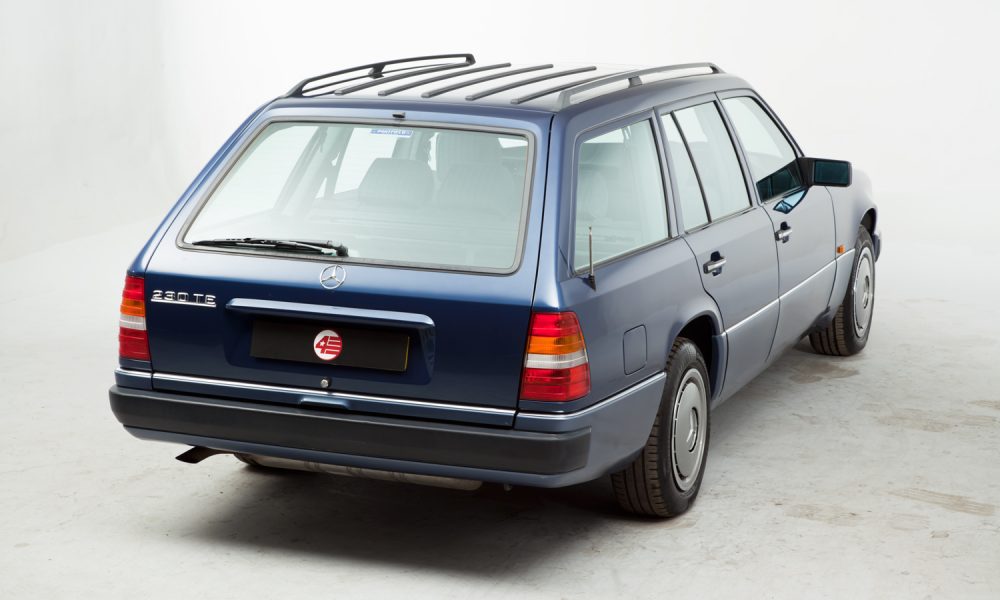 Year: 1990
Model: 230TE
Engine: 2.3 liter inline-4
Transmission: 4-speed automatic
Mileage: 30,814 mi
Price: £13,745 ($19,105)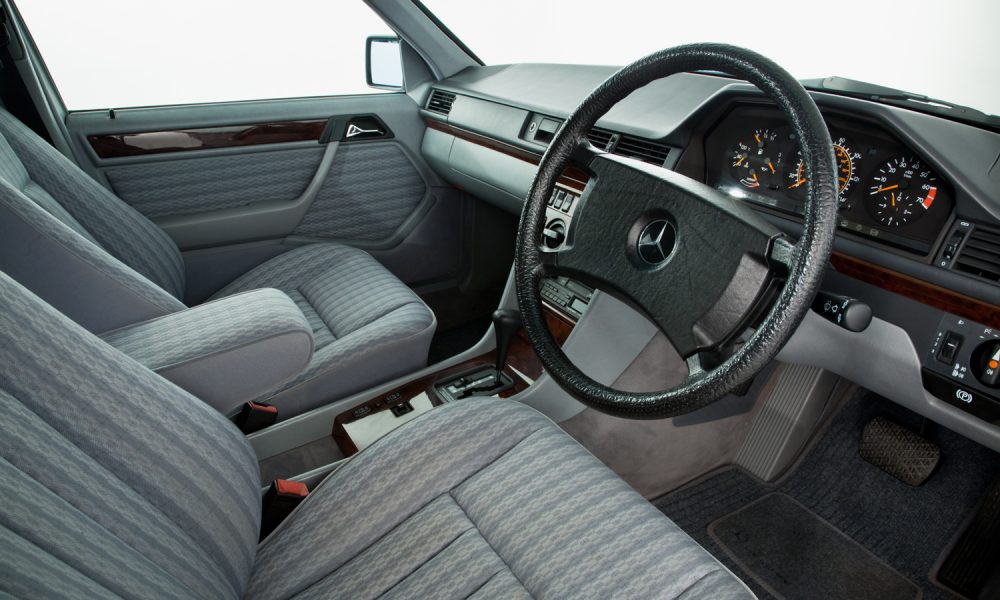 MODEL HISTORY
W124 is the Mercedes-Benz internal chassis designation for the 1984-1996 version of the Mercedes-Benz E-Class, and was as the first generation to be officially referred to as E-Class. The W124 models replaced the W123 models after 1984 and were succeeded by the W210 E-Class after 1995.

Much of the 124's engineering and many of its features were advanced automotive technology at its introduction, incorporating innovations that have been adopted throughout the industry. It had one of the lowest drag coefficients of any vehicle of the time due to its aerodynamic body, that included plastic molding for the undercarriage to streamline airflow beneath the car, thus reducing fuel consumption and wind noise. It had a single windscreen wiper that had an eccentric mechanism at its base that extended the wiper's reach to the top corners of the windscreen (more than if it had traveled in a simple arc). The saloon, coupes, and convertibles had optional rear headrests that would fold down remotely to improve rearward visibility when required. This feature was not available for the T-model because of its specific layout (no space to store the retractable headrests), but the estate serially came with a "neighbour-friendly" rear door that was pulled in the shut-position silently and automatically by a sensor-controlled servomotor. This allowed the use of a tighter fitting rear gate, minimizing the cabin noise in the T-model, sometimes an area of concern for estate cars.

With the exception of the 200, fuel injection was standard and the engines incorporated features that maximised performance. The most notable feature was the addition of an oxygen sensor in the exhaust system which, in conjunction with a semi-electronic fuel injection system, could make the engine run more efficiently. This improved fuel consumption while simultaneously meeting stricter emission regulations. Mercedes-Benz's four-wheel drive system, the 4Matic was first introduced on the W124 in 1987.

The estate cars (chassis designation S124) came in five or seven-seat variants, the seven-seater having a rear-facing bench seat that folded flush into the luggage compartment floor. The S124 estate continued in production alongside the new W210 until the S210 estate launched more than a year later.

EQUIPMENT
Electric tilt and sliding sunroof (412), 4-speed automatic transmission (420), Electronic locking differential (467), Retractable dog guard and load cover (541), Front folding armrest (570), Front and rear electric windows (584), Heat-insulating glass all round (593), Baggage rack (722), Burred walnut trim (731), Transverse roof bars, Spare wheel, Spare key, Blaupunkt cassette radio, Mercedes overmats.

EXTERIOR
With just 30k miles covered in 27 years, the Mercedes presents superbly throughout. As you would expect with such mileage there are very few imperfections to note, which is even more impressive considering the paintwork is largely original all-round. Being an earlier example the car features very retro looking amber indicators and the two-tone paint scheme of Nautical Blue Metallic (929) with Aquamarine Blue Metallic (341) trim. Both front and rear bumpers are free from any unsightly scuffs or dents, and all light clusters are clear without cracks or moisture damage.

INTERIOR
The grey cloth fabric remains in exquisite condition showing no signs of major use. The seat upholstery is free from any of the usual sagging or worn bolsters, as is the chunky armrest. The well-appointed cabin features unmarked burl wood trim laced across the centre console and door cards, an electrically operated sunroof, and the factory-fitted Blaupunkt stereo. All the switchgear is still pleasingly solid to operate, and all features work just as they should. Other heavily used items such as the steering wheel and gear knob still retain a fresh texture. The carpets are protected in the foot-wells by a set of unworn Mercedes overmats. The vast boot space houses the optional third row seats, offering seating for up to seven people. When not in use, this row of seats fold down into the recess that otherwise serves as a foot-well.

ENGINE & TRANSMISSION
The E-Class is equipped with the Mercedes-Benz 2.3-litre inline-4 engine. Beneath the bonnet the engine bay is particularly clean and tidy with no signs of corrosion or poor repair to be found. On test the 4-speed automatic gearbox feels smooth and seamless to operate, pulling through the gears with ease.

WHEELS, TYRES & BRAKES
The Mercedes sits on 15-inch wheels covered by stylish factory-correct hubcaps. They all remain in excellent order with a no major scuffs or cracks to be found. The wheels are shod in a set of quality Continental tyres. The brakes feel strong and do an excellent job of pulling the car up quickly in a straight line.

HISTORY FILE
The E-Class was first registered in May 1990. Portfield of Chichester supplied the car new to the first owner who kept it until 2010, covering a mere 5k miles in his twenty years of ownership. The car is still present with its original dealer-supplied number plates and rear window sticker. It has now had just three keepers from new and remains an excellent early example of the timeless and now sought after W124 Mercedes.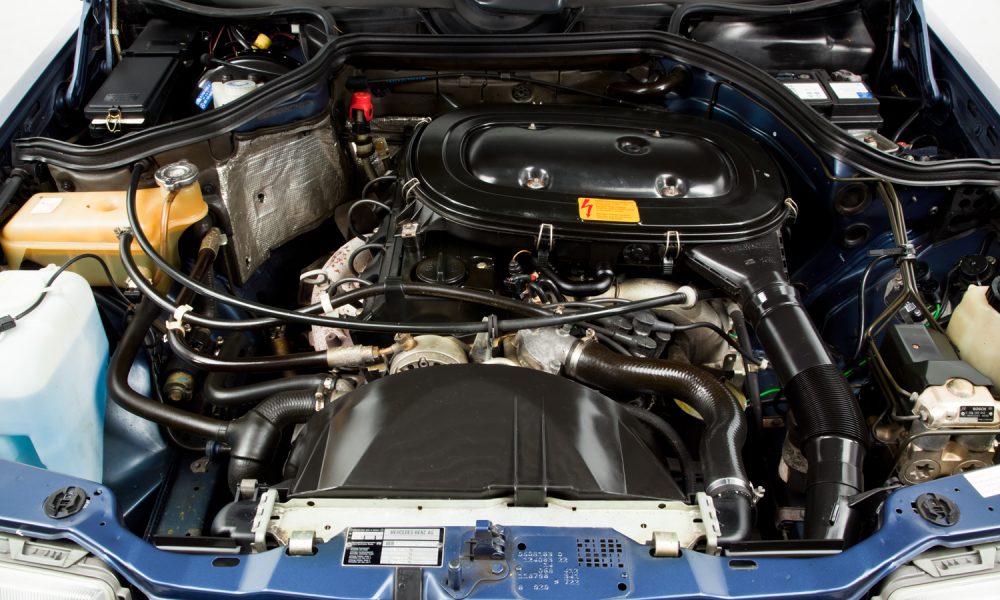 This 230TE checks in with a hair under 31,000 miles and it looks every bit the part. The condition is flawless in every way and I am having a tough time finding an flaws. I really enjoy the Nautical Blue with the Aquamarine Blue trim that match with the no-frills hubcaps. The interior is where this estate really shines with the plaid fabric seats and wood trim that is outstanding. This example truly shows what it was like to walk on a Mercedes dealer's lot some 25 years ago and be driven to spend a bunch of money on a basic station wagon. It is practical, comfortable, the quality is unmatched and even though the M102 K-Jet inline-4 might feel a tad underpowered at 130hp, you aren't stressing for merging or passing power. Much like the 250TD last week, the could be your ultimate daily driver.
The price for this rare bird? Just over $19,000. That is a lot of money for in the grand scheme of things, but if you want nearly perfect, this is what you'll pay. You can probably go find a handful of these for a fourth of the price all around England, but you always are playing catch up with things that need fixed and deferred maintenance. Not to mention it won't look like an almost new car. Will this thing fly off this dealer's lot? Probably not. But for the right person who wants a second chance at one of these, this one is probably it.
– Andrew